Chargers Top Fantasy Players
These are the top fantasy football players of the Los Angeles Chargers as ranked by Average Draft Position (ADP) in PPR-format mock drafts.
Data as of April 7, 2020.
Keenan Allen
Keenan Allen's current ADP is 3.02, which is the 2nd pick of the 3rd round, and 25th selection overall.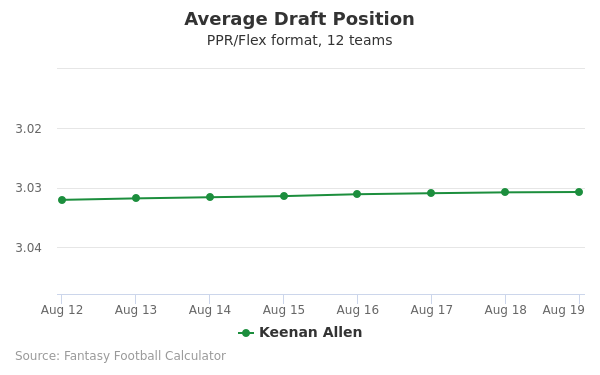 Austin Ekeler
Austin Ekeler's current ADP is 4.07, which is the 7th pick of the 4th round, and 42nd selection overall.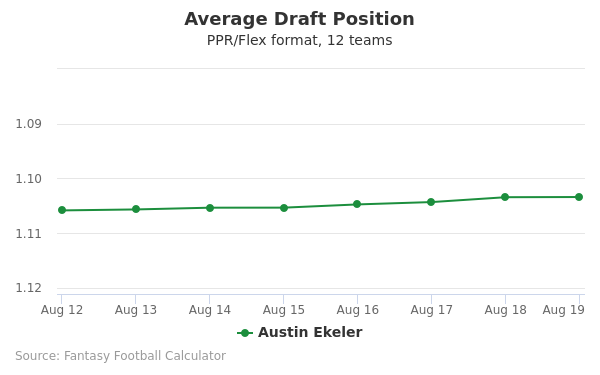 Hunter Henry
Hunter Henry's current ADP is 6.09, which is the 9th pick of the 6th round, and 69th selection overall.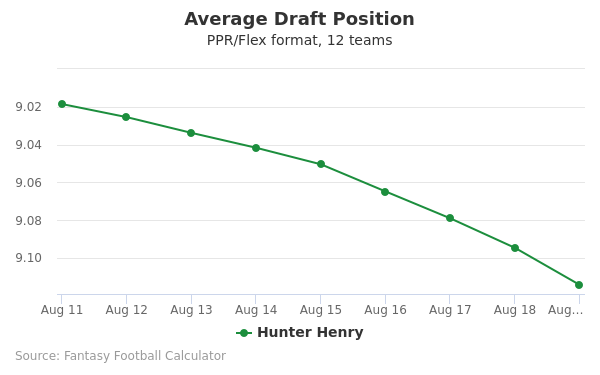 Mike Williams
Mike Williams's current ADP is 8.06, which is the 6th pick of the 8th round, and 89th selection overall.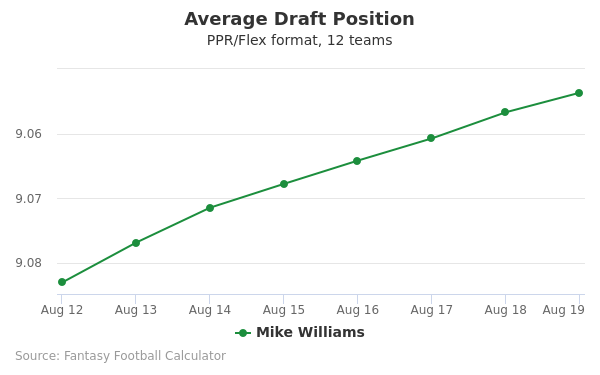 Justin Jackson
Justin Jackson's current ADP is 14.01, which is the 1st pick of the 14th round, and 156th selection overall.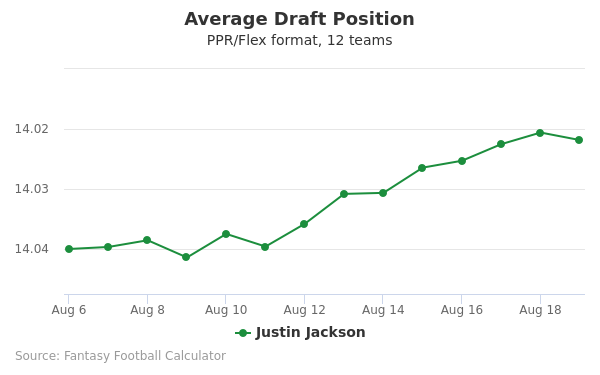 LA Chargers Defense
LA Chargers Defense's current ADP is 14.12, which is the 12th pick of the 14th round, and 168th selection overall.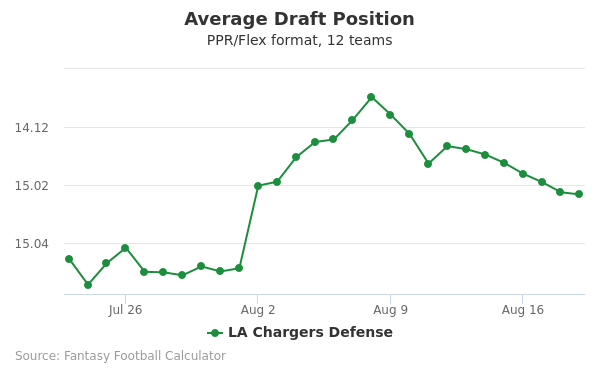 Los Angeles Chargers 2019 Schedule
| Week | Home/Away | Opponent |
| --- | --- | --- |
| 1 | Home | Indianapolis Colts |
| 2 | Away | Detroit Lions |
| 3 | Home | Houston Texans |
| 4 | Away | Miami Dolphins |
| 5 | Home | Denver Broncos |
| 6 | Home | Pittsburgh Steelers |
| 7 | Away | Tennessee Titans |
| 8 | Away | Chicago Bears |
| 9 | Home | Green Bay Packers |
| 10 | Away | Las Vegas Raiders |
| 11 | Home | Kansas City Chiefs |
| 13 | Away | Denver Broncos |
| 14 | Away | Jacksonville Jaguars |
| 15 | Home | Minnesota Vikings |
| 16 | Home | Las Vegas Raiders |
| 17 | Away | Kansas City Chiefs |
Los Angeles Chargers News
Philip Rivers, Familiar with Indy offense
Coach Frank Reich believes Rivers will know "80-to-85 percent" of the Colts' offense before he even walks in the door, Zak Keefer of The Athletic reports.
Analysis: Reich points to the 38-year-old's experience and intelligence as clear assets, even mentioning that he came to prefer Rivers over Tom Brady after watching tape of both veteran quarterbacks. There's also an element of familiarity, as Reich was the Chargers' offensive coordinator in 2014 and 2015 -- a two-year stretch in which Rivers averaged 4,539 passing yards, 30 touchdowns and 15.5 interceptions while completing 66.3 percent of his throws for 7.4 YPA. Colts offensive coordinator Nick Sirianni was the QBs coach for those teams, and he spent two more years with the Chargers after Reich left for Philadelphia in 2016.
March 31, 2020 8:40 AM EST
---
Melvin Gordon, Willing to share with Lindsay
Gordon anticipates working in a "one-two punch" with Phillip Lindsay (wrist) in the Denver backfield, ESPN.com's Jeff Legwold reports.
Analysis: Broncos GM John Elway used the same terminology earlier this week, suggesting both Gordon and Lindsay will have key roles in the offense. Gordon's two-year, $16 million contract suggests he'll be the "one" in that one-two punch, though it's Lindsay who owns the impressive career average of 4.9 yards per carry. Gordon's mark of 4.0 YPC has been oft-cited as a criticism, and while there is some merit to the argument against him, it's also true that he's spent most of his career running behind subpar offensive lines. The breakdown of snaps and carries appears uncertain, but Gordon should at least have the advantage when it comes to pass-catching and goal-line work.
March 27, 2020 12:19 PM EST
---
Geremy Davis, Heads to Detroit
Davis (hamstring) is signing a one-year contract with the Lions, Justin Rogers of The Detroit News reports.
Analysis: Selected by the Giants in the sixth round of the 2015 draft, Davis spent the past four seasons bouncing on and off the Chargers' roster, catching three passes in 26 games. A hamstring injury sent him to IR in late November, and he'll now need to compete for a spot on the 53-man roster in Detroit.
March 26, 2020 9:13 AM EST
---
Travis Benjamin, Inks deal with Niners
Benjamin (quadriceps) is signing a one-year contract with the 49ers, Ian Rapoport of NFL Network reports.
Analysis: The 30-year-old joins a crowded wideout depth chart in San Francisco, where Deebo Samuel is the only sure-thing starter but Kendrick Bourne, Trent Taylor (foot), Dante Pettis, Marquise Goodwin (knee), Richie James and Jalen Hurd (back) could all be in the mix for snaps. Benjamin may thus find himself battling for a roster spot, depending on what happens with injuries, cuts and trades in the coming months. He spent the past four seasons with the Chargers, unable to recapture the magic of his 2015 breakout season in Cleveland.
March 24, 2020 12:11 PM EST
---
Melvin Gordon, Joins Denver backfield
The Broncos have signed Gordon to a two-year deal worth $16 million, that includes $13.5 million guaranteed, Ian Rapoport of NFL Network reports.
Analysis: Gordon will be joining a Denver backfield that also includes Phillip Lindsay and Royce Freeman, with Rapoport adding that the "lure of playing in the same division as the Chargers" appealed to the 2015 first-rounder, who reportedly had a better offer from another team.
March 20, 2020 10:47 AM EST
---