Fantasy Football Mock Draft 2023
A fantasy football mock draft for 2023 is a free, fast, fun way to prepare for your real draft!
Our drafters are the most dedicated fantasy football players you can find.
Custom & Keeper Mock Drafts
It's important to customize your draft experience to be as close to your real draft as possible.
This is especially important if you have a unique scoring system or keeper players in your draft.
The Draft Simulator helps you practice drafting against any of these custom scenarios.
Practice with the Draft Simulator
Public Mock Drafts
What is a Fantasy Football Mock Draft?
An NFL fantasy football mock draft is the best way to prepare for your real fantasy football draft.
Pick a 2023 mock draft from the lobby above and draft against other people to practice draft strategies for the real thing.
Choose from Non-PPR (previously known as 'standard'), points per reception (PPR), half-point per reception (Half-PPR), 2 Quarterback (2-QB), dynasty start-up, and dynasty rookie formats for your mock draft.
You'll be truly prepared for your real draft if you've done a lot of practice drafts in advance. With practice, you'll know:
What draft strategies work and which ones don't
Which draft spots are the best to pick from
What rounds you need to draft your sleepers in
What players are rising up draft boards
Additional Mock Draft Resources
If you just want to see the drafts that others have done, you can browse all the completed drafts or see the aggregated data on the ADP page.
Use the custom draft simulator for when you want to draft instantly against the computer, or when you need to customize it for your keeper league.
Fantasy football rankings generated from these fantasy football mock drafts are also available.
Most people take a cheat sheet to their draft. You can generate a fantasy football cheat sheet based on our ADP data.
Want a cool team name this year? Check out these fantasy football team names?
Mock Draft Room
This is a view of the fantasy football mock draft room. The rankings and computer algorithm will change depending on whether you are doing a standard/non-ppr, PPR, Half-Point PPR, Two Quarterback, dynasty or dynasty rookie mock draft.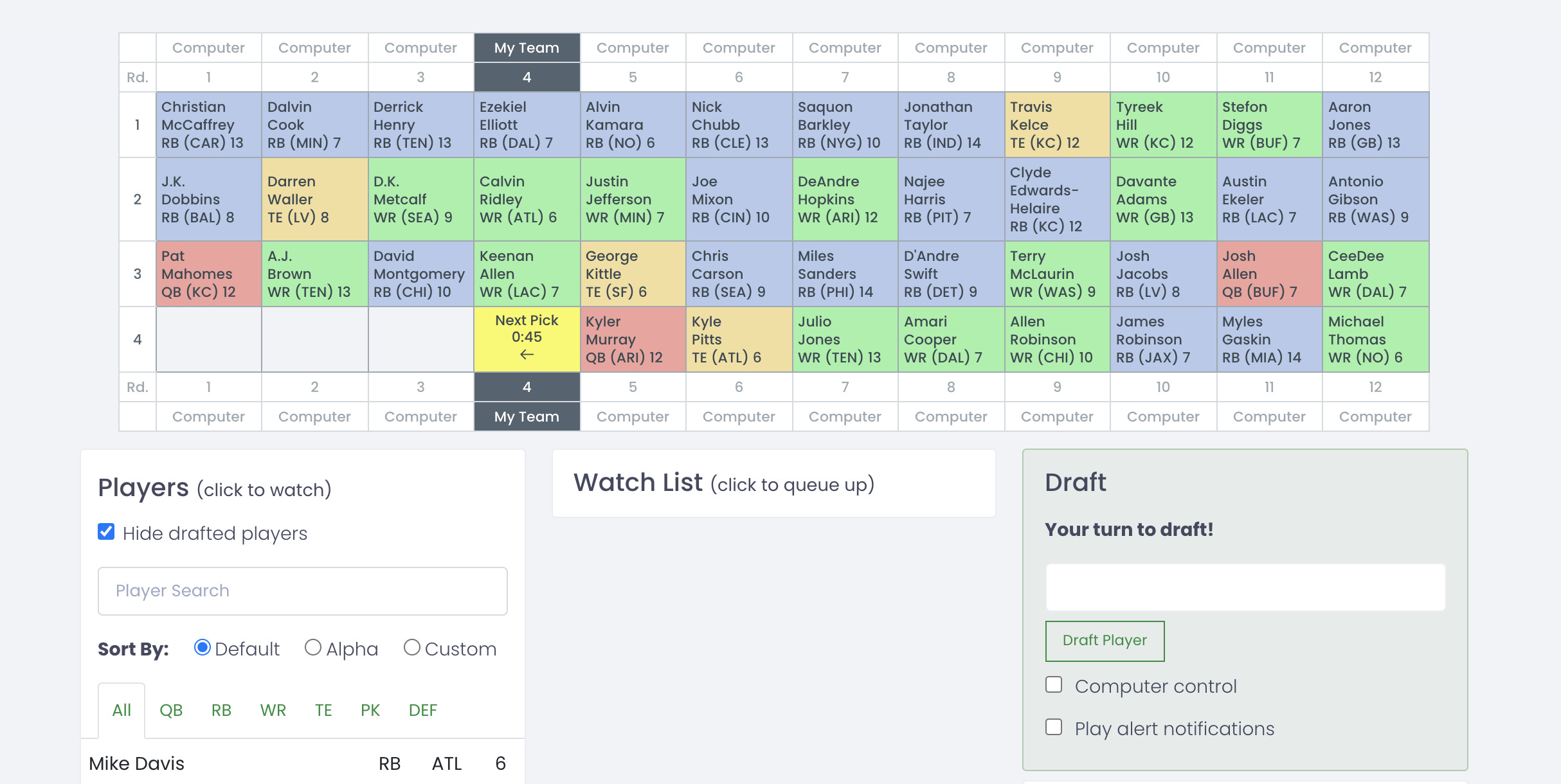 How Can I Practice For My Draft?
Want to focus on just one format for mock drafts? Use one of the links below to go directly to drafts of just one scoring format.
What is the Best Draft Strategy?
Looking for the perfect draft strategy? Our innovative Draft Strategy tool goes deep inside our mock data to find what the best draft strategy at every position.
For in-season advice, use our rankings to find out Who should I start?