Rams Top Fantasy Players
These are the top fantasy football players of the Los Angeles Rams as ranked by Average Draft Position (ADP) in PPR-format mock drafts.
Data as of April 9, 2020.
Cooper Kupp
Cooper Kupp's current ADP is 3.01, which is the 1st pick of the 3rd round, and 25th selection overall.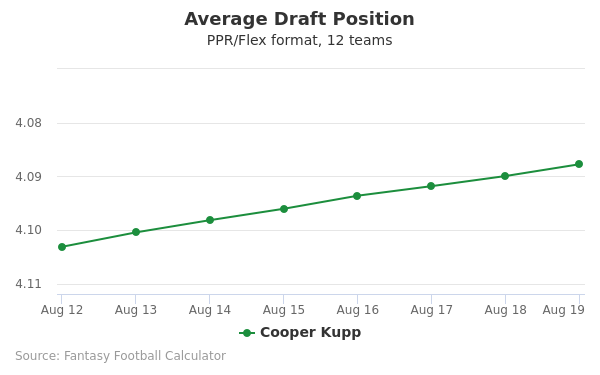 Robert Woods
Robert Woods's current ADP is 4.12, which is the 12th pick of the 4th round, and 48th selection overall.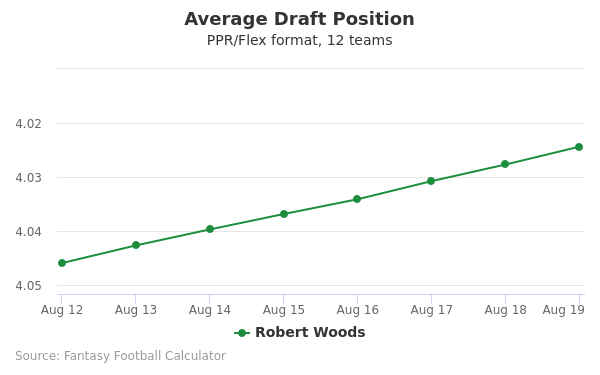 Brandin Cooks
Brandin Cooks's current ADP is 7.08, which is the 8th pick of the 7th round, and 79th selection overall.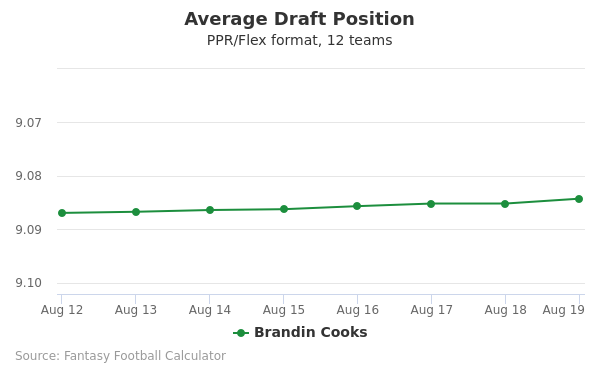 Darrell Henderson
Darrell Henderson's current ADP is 9.05, which is the 5th pick of the 9th round, and 100th selection overall.
Jared Goff
Jared Goff's current ADP is 11.01, which is the 1st pick of the 11th round, and 121st selection overall.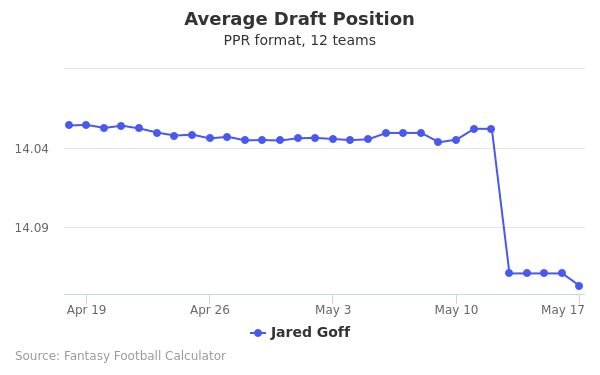 Tyler Higbee
Tyler Higbee's current ADP is 12.08, which is the 8th pick of the 12th round, and 139th selection overall.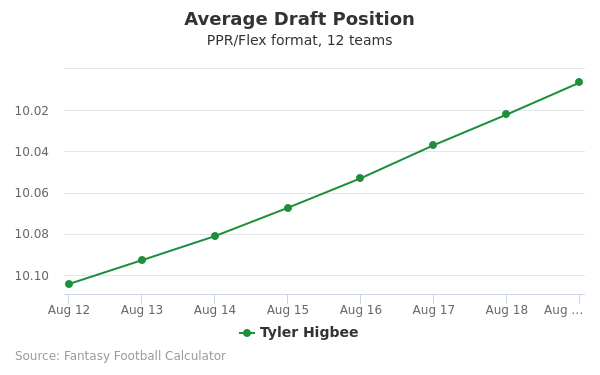 Malcolm Brown
Malcolm Brown's current ADP is 13.09, which is the 9th pick of the 13th round, and 152nd selection overall.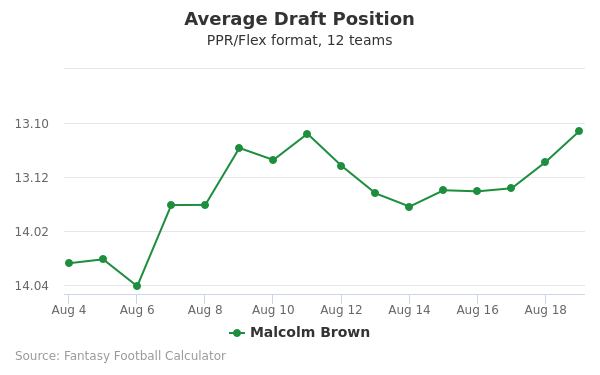 LA Rams Defense
LA Rams Defense's current ADP is 13.10, which is the 10th pick of the 13th round, and 153rd selection overall.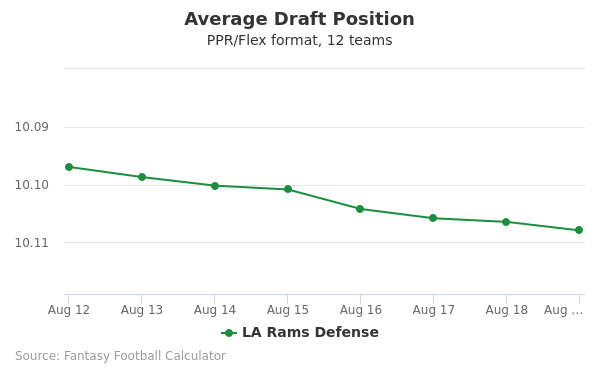 Gerald Everett
Gerald Everett's current ADP is 13.12, which is the 12th pick of the 13th round, and 155th selection overall.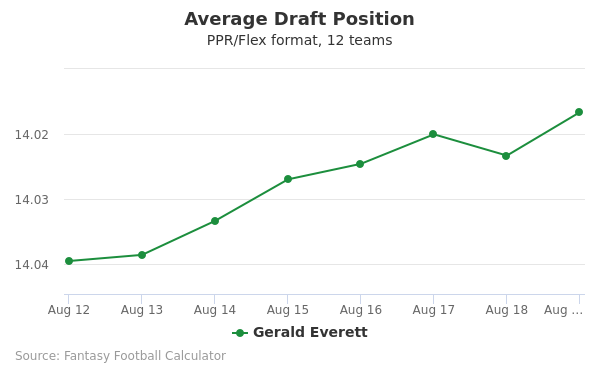 Josh Reynolds
Josh Reynolds's current ADP is 14.03, which is the 3rd pick of the 14th round, and 158th selection overall.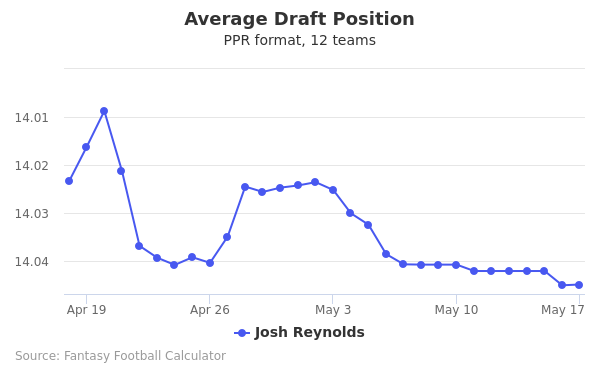 Greg Zuerlein
Greg Zuerlein's current ADP is 14.11, which is the 11th pick of the 14th round, and 166th selection overall.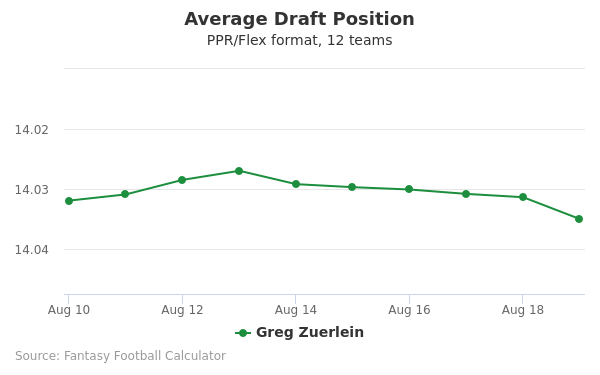 Los Angeles Rams 2019 Schedule
| Week | Home/Away | Opponent |
| --- | --- | --- |
| 1 | Away | Carolina Panthers |
| 2 | Home | New Orleans Saints |
| 3 | Away | Cleveland Browns |
| 4 | Home | Tampa Bay Buccaneers |
| 5 | Away | Seattle Seahawks |
| 6 | Home | San Francisco 49ers |
| 7 | Away | Atlanta Falcons |
| 8 | Home | Cincinnati Bengals |
| 10 | Away | Pittsburgh Steelers |
| 11 | Home | Chicago Bears |
| 12 | Home | Baltimore Ravens |
| 13 | Away | Arizona Cardinals |
| 14 | Home | Seattle Seahawks |
| 15 | Away | Dallas Cowboys |
| 16 | Away | San Francisco 49ers |
| 17 | Home | Arizona Cardinals |
Los Angeles Rams News
Gerald Everett, Still valued by McVay
Coach Sean McVay believes he can do a better job utilizing Everett in the Rams offense, Cameron DaSilva of Rams Wire reports. "Really, really excited about what Gerald Everett's going to do," McVay said Monday. "I think Tyler Higbee did a phenomenal job, but I think Gerald Everett's a guy that I've got to do a better job of utilizing his skill set because he's a difference-maker."
Analysis: Everett appeared on track for his long-awaited breakout as recently as early November, averaging 55.6 yards and 8.2 targets over a five-game stretch Weeks 5-10. He slowed down over the next couple games and then suffered a knee injury, opening the door for Tyler Higbee to go wild in December. Higbee is now locked in as the Rams' No. 1 tight end in the first season of a four-year, $29 million extension, but Everett could also see a decent share of snaps and targets if McVay increases his usage of two-TE formations. Of course, that involves the sacrifice of taking Cooper Kupp, Robert Woods or Brandin Cooks off the field, assuming Cooks isn't traded at some point in the coming months. In any case, Everett is entering the final season of his rookie contract, and quite possibly his final season with the Rams.
April 9, 2020 8:13 AM EST
---
Darrell Henderson, Likely leader of committee?
Rams GM Les Snead envisions Henderson (ankle) operating as part of a multi-player backfield, Greg Beacham of The Associated Press reports. "What we want to be is a team that utilizes more than just one workhorse running the ball," Snead said. "We have this big-picture vision, Darrell (Henderson) being a part of it, but we do expect other pieces to be a big part of it as well."
Analysis: The Rams leaned on Todd Gurley as a three-down workhorse for the better part of the past three seasons, including in 2019 when his production drastically declined. With Gurley released last month and now signed by Atlanta, the Rams are preparing for a new reality in the backfield, where Henderson and Malcolm Brown currently stand as the top options. Brown has more experience in Sean McVay's system and was a bit more efficient with his opportunities last season, but he doesn't offer much in terms of speed or pass-catching skill -- areas where Henderson theoretically could thrive. In any case, the 2019 third-round pick is working his way back from December ankle surgery, waiting on the upcoming NFL Draft to see if the Rams add tougher competition for carries.
Darrell Henderson player page.
April 7, 2020 8:06 AM EST
---
Todd Gurley, Deal with Atlanta becomes official
Gurley and the Falcons agreed to terms on a one-year, $6 million contract Monday, D. Orlando Ledbetter of the Atlanta Journal-Constitution reports.
Analysis: The 2017 AP Offensive Player of the Year committed to Atlanta just one day after being let go by the Rams on March 19, but the transaction was not officially passed through the Falcons' transaction wire until Monday, when the two sides landed on a finalized agreement. A tweet from ESPN's Adam Schefter indicates that Gurley has still not yet taken nor passed a physical with Falcons medical staff, so the condition of his left knee will be of great interest upon return to organized team activities. The addition of the three-time Pro Bowl back provides Atlanta with one of the NFL's most explosive groups of skill-position players, though his workload may have to be managed as it was last year, when Gurley garnered just 254 offensive touches -- a near 20 percent reduction from his 2018 touch count of 315.
April 6, 2020 4:17 PM EST
---
Sammy Watkins, Agrees to Restructured Deal
Watkins and Kansas City agreed to a one-year, $9 million contract with up to an additional $7 million in incentives, Yahoo! Sports' Terez A. Paylor reports.
Analysis: Watkins would have counted $21 million against Kansas City's cap space under the original deal, which was in the last of its three years. There's probably something to infer from the fact that the Chiefs didn't extend Watkins -- he simply took a paycut on his one remaining year -- but with this restructured deal he's all but guaranteed to start in Kansas City another year. If he retains the same role as he did in 2019, Watkins would likely serve as the Chiefs' primary slot and underneath wideout target. It's a development that will likely delay the proper breakout of second-year wideout Mecole Hardman.
April 3, 2020 5:50 AM EST
---
Greg Zuerlein, Exits LA for Dallas
Zuerlein has reached agreement on a three-year, $7.5 million contract with the Cowboys, Mike Garafolo of NFL Network reports.
Analysis: Coming off a down season with nine missed field goals, Zuerlein will settle for a contract that leaves him outside the top tier at his position, and he may even need to compete with Kai Forbath -- who recently signed a one-year contract -- for the placekicking job. Zuerlein, the presumptive favorite, still has plenty of leg strength, as evidenced by his five conversions from 50-plus yards for the Rams last season. The 32-year-old primarily struggled on medium-distance kicks, going 5-of-11 in the 40-49 range. The winner between Zuerlein and Forbath should be useful for fantasy purposes, considering Dallas led the NFL in yards (6,904) and field-goal attempts (40) last year.
March 27, 2020 1:03 PM EST
---