Rams Top Fantasy Players
These are the top fantasy football players of the Los Angeles Rams as ranked by Average Draft Position (ADP) in PPR-format mock drafts.
Data as of May 16, 2022.
Cooper Kupp
Cooper Kupp's current ADP is 1.05, which is the 5th pick of the 1st round, and 5th selection overall.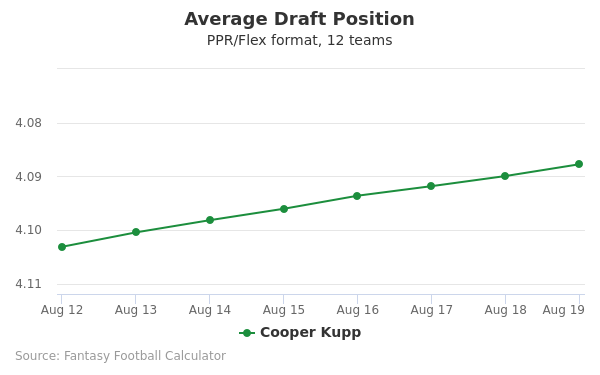 Cam Akers
Cam Akers's current ADP is 6.08, which is the 8th pick of the 6th round, and 67th selection overall.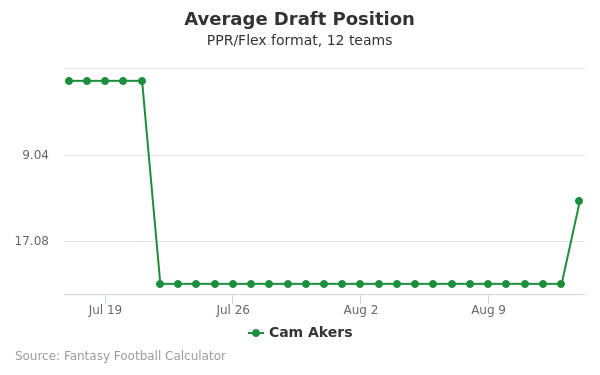 Odell Beckham Jr
Odell Beckham Jr's current ADP is 6.08, which is the 8th pick of the 6th round, and 68th selection overall.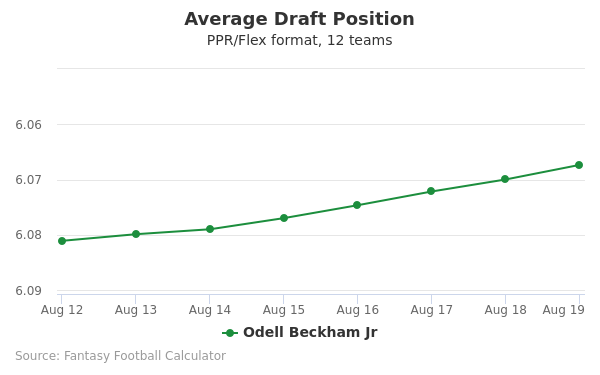 Matthew Stafford
Matthew Stafford's current ADP is 7.04, which is the 4th pick of the 7th round, and 75th selection overall.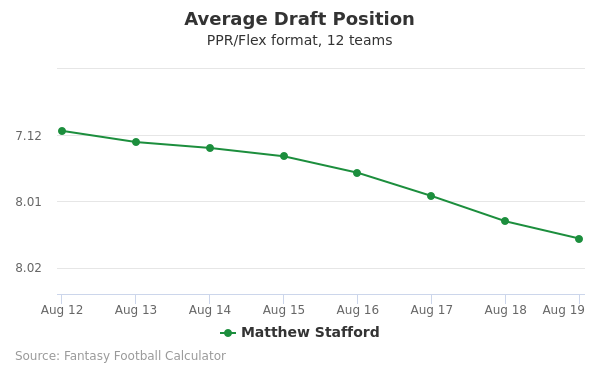 Allen Robinson
Allen Robinson's current ADP is 7.09, which is the 9th pick of the 7th round, and 81st selection overall.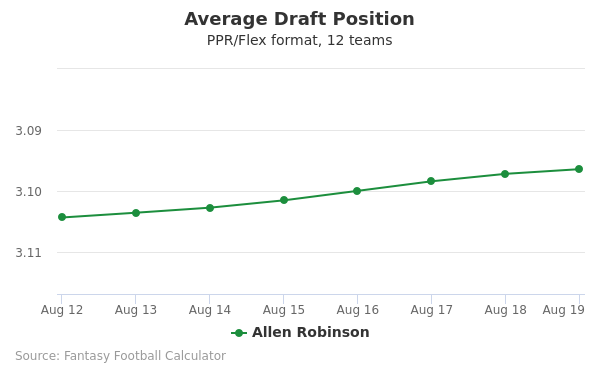 Darrell Henderson
Darrell Henderson's current ADP is 9.01, which is the 1st pick of the 9th round, and 97th selection overall.
Van Jefferson
Van Jefferson's current ADP is 9.09, which is the 9th pick of the 9th round, and 104th selection overall.
LA Rams Defense
LA Rams Defense's current ADP is 12.11, which is the 11th pick of the 12th round, and 143rd selection overall.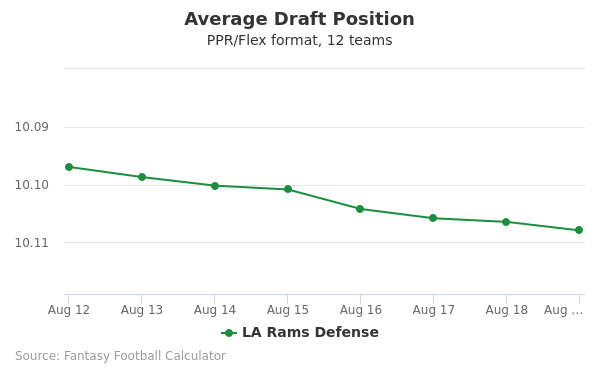 Tyler Higbee
Tyler Higbee's current ADP is 13.04, which is the 4th pick of the 13th round, and 148th selection overall.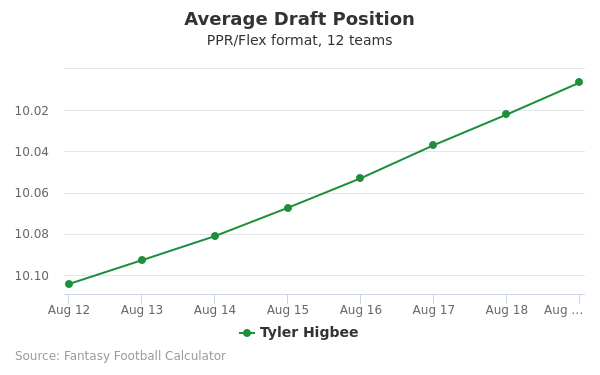 Los Angeles Rams 2020 Schedule
| Week | Home/Away | Opponent |
| --- | --- | --- |
| 1 | Home | Dallas Cowboys |
| 2 | Away | Philadelphia Eagles |
| 3 | Away | Buffalo Bills |
| 4 | Home | New York Giants |
| 5 | Away | Washington Redskins |
| 6 | Away | San Francisco 49ers |
| 7 | Home | Chicago Bears |
| 8 | Away | Miami Dolphins |
| 10 | Home | Seattle Seahawks |
| 11 | Away | Tampa Bay Buccaneers |
| 12 | Home | San Francisco 49ers |
| 13 | Away | Arizona Cardinals |
| 14 | Home | New England Patriots |
| 15 | Home | New York Jets |
| 16 | Away | Seattle Seahawks |
| 17 | Home | Arizona Cardinals |
Los Angeles Rams News
Garrett Gilbert, Parts ways with Raiders
The Raiders will cut Gilbert on Thursday, Tom Pelissero of NFL Network reports.
Analysis: Gilbert spent most of last year on the Patriots' practice squad but signed with Las Vegas in March. However, he'll be let go after the Raiders traded for quarterback Jarrett Stidham on Thursday. Gilbert has appeared in eight regular-season games in the NFL, completing 43 of 75 passes for 477 yards, a touchdown and an interception.
May 12, 2022 2:09 PM EST
---
Kendall Blanton, Still in backup mix
Following the recent NFL Draft, Blanton and Brycen Hopkins continue to follow Tyler Higbee on the Rams' tight end depth chart, Jourdan Rodrigue of The Athletic reports.
Analysis: Meanwhile, 2021 fourth-rounder Jacob Harris is bouncing back from a knee injury, but at this stage Blanton -- who is presumably past a shoulder issue that slowed him in Super Bowl LVI -- and Hopkins remain next up for tight end targets in the event that Higbee misses time this season.
May 6, 2022 3:05 PM EST
---
Lirim Hajrullahu, Cut on Wednesday
Hajrullahu was waived by the Panthers on Wednesday, Aaron Wilson of ProFootballNetwork.com reports.
Analysis: Hajrullahu spent time with the Cowboys and Panthers last year, appearing in a total of four contests. He closed the season as Carolina's kicker, appearing in their final three games, after Zane Gonzalez suffered a quadriceps injury. Hajrullahu connected on four of five field-goal attempts and made all eight of his extra-point tries for the Panthers.
May 4, 2022 1:42 PM EST
---
Jared Goff, Facing make-or-break season
Goff is facing a make-or-break season after Detroit spent its offseason improving his supporting cast without acquiring a potential successor at quarterback, Dave Birkett of the Detroit Free Press reports.
Analysis: The Lions front office not only steered clear of the quarterback market in free agency, but they did not spend a draft pick on a developmental prospect either. Instead, they bolstered Goff's receiving options with D.J. Chark, first-round rookie Jameson Williams (knee), and tight end James Mitchell (knee). Now, Goff has a fantastic receiving corps to complement a highly-pedigreed offensive line and a capable backfield. If Goff can't succeed within this talented offensive roster, it seems highly likely that Detroit will look for someone who can next offseason, when Goff could be cut with relatively minimal salary cap implications.
May 2, 2022 9:06 AM EST
---
Cam Akers, Continuing to progress
Akers is aiming to make "big strides" this offseason after making a quicker than expected recovery from a torn Achilles suffered last July, Greg Beacham of the Associated Press reports.
Analysis: Despite picking up the serious injury just before training camp, Akers was given a chance to return at some point during the 2021 campaign when the Rams opted to place him on the reserve/non-football injury list on Aug. 31 versus injured reserve, the latter of which would have made him ineligible to play. He eventually was activated prior to Week 16 and made his season debut Week 18, and during the Rams' run to a Super Bowl LVI victory he served as the team's primary running back. In those five games, though, Akers averaged just 2.4 yards on his 72 carries, corralled 11 of 13 passes for 86 yards and didn't score a touchdown. During Thursday's media appearance, he relayed, "I wouldn't say I did well. ... I did what I was supposed to do, but obviously that's not enough for me." As he puts the injury further in the rearview mirror, the soon-to-be 23-year-old (in June) will look to fulfill his standing as a 2020 second-round pick, with his primary competition Darrell Henderson, a three-year pro.
April 21, 2022 3:18 PM EST
---