Vikings Top Fantasy Players
These are the top fantasy football players of the Minnesota Vikings as ranked by Average Draft Position (ADP) in PPR-format mock drafts.
Data as of May 7, 2021.
Dalvin Cook
Dalvin Cook's current ADP is 1.03, which is the 3rd pick of the 1st round, and 2nd selection overall.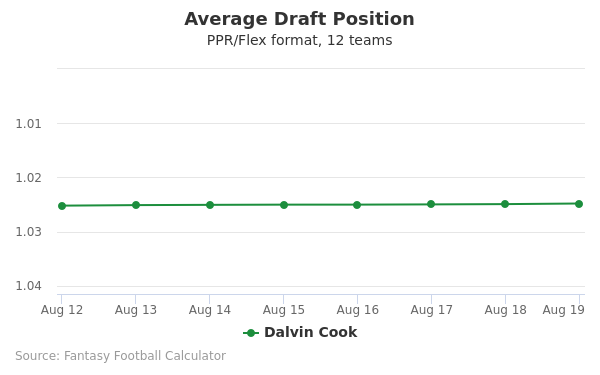 Justin Jefferson
Justin Jefferson's current ADP is 3.06, which is the 6th pick of the 3rd round, and 30th selection overall.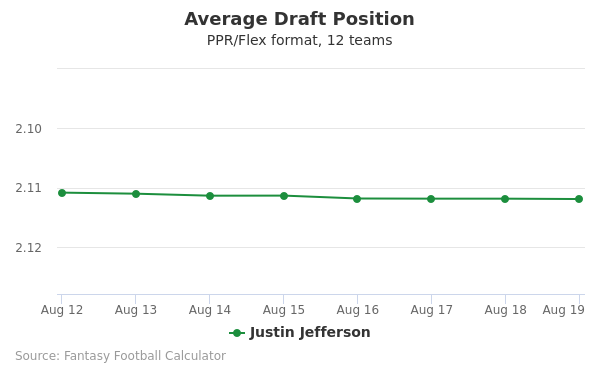 Adam Thielen
Adam Thielen's current ADP is 4.08, which is the 8th pick of the 4th round, and 44th selection overall.
Alexander Mattison
Alexander Mattison's current ADP is 10.01, which is the 1st pick of the 10th round, and 108th selection overall.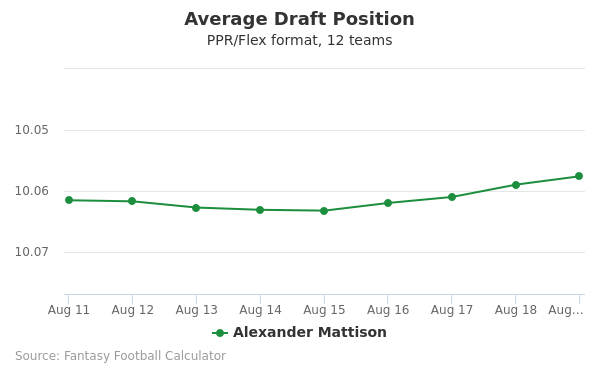 Kirk Cousins
Kirk Cousins's current ADP is 11.10, which is the 10th pick of the 11th round, and 129th selection overall.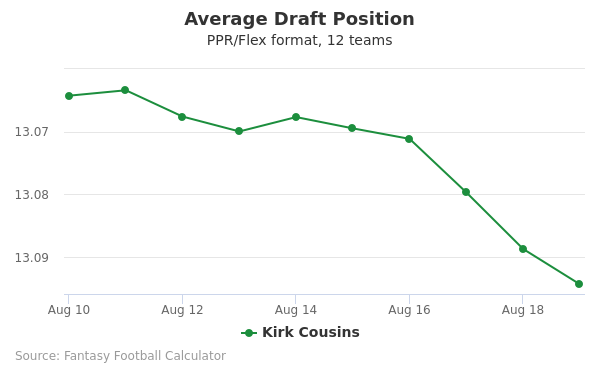 Irv Smith Jr.
Irv Smith Jr.'s current ADP is 12.10, which is the 10th pick of the 12th round, and 142nd selection overall.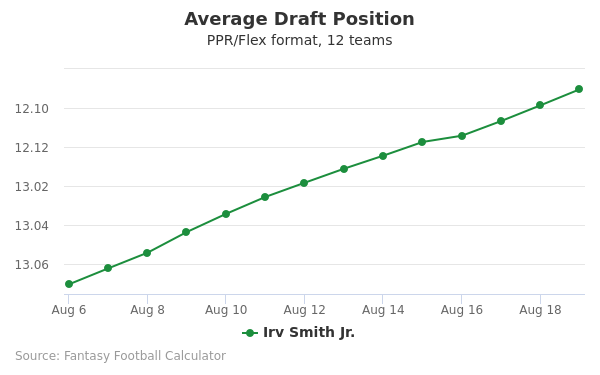 Minnesota Defense
Minnesota Defense's current ADP is 14.07, which is the 7th pick of the 14th round, and 163rd selection overall.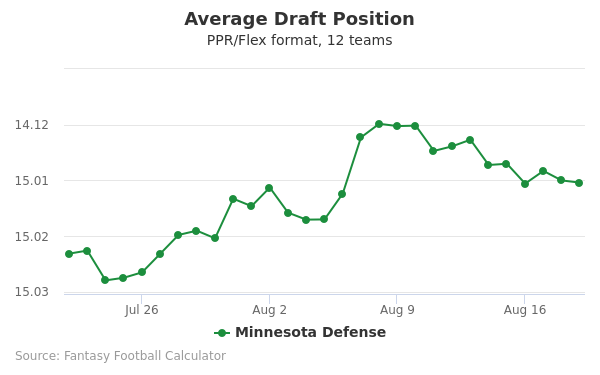 Minnesota Vikings 2020 Schedule
| Week | Home/Away | Opponent |
| --- | --- | --- |
| 1 | Home | Green Bay Packers |
| 2 | Away | Indianapolis Colts |
| 3 | Home | Tennessee Titans |
| 4 | Away | Houston Texans |
| 5 | Away | Seattle Seahawks |
| 6 | Home | Atlanta Falcons |
| 8 | Away | Green Bay Packers |
| 9 | Home | Detroit Lions |
| 10 | Away | Chicago Bears |
| 11 | Home | Dallas Cowboys |
| 12 | Home | Carolina Panthers |
| 13 | Home | Jacksonville Jaguars |
| 14 | Away | Tampa Bay Buccaneers |
| 15 | Home | Chicago Bears |
| 16 | Away | New Orleans Saints |
| 17 | Away | Detroit Lions |
Minnesota Vikings News
Jeff Badet, Speedster hits open market
Washington will release Badet on Monday, NFL reporter Aaron Wilson reports.
Analysis: Badet boasts a blistering 4.27 40-yard dash time, so it shouldn't take him long to find another team willing to provide an opportunity. He suited up for three games with Washington in 2020, handling 21 offensive snaps while failing to secure his lone target.
May 3, 2021 12:40 PM EST
---
Teddy Bridgewater, Going against Lock for No. 1 gig
Coach Vic Fangio said Bridgewater and Drew Lock will split reps "50-50" during the offseason program and training camp, Mike Klis of 9News Denver reports.
Analysis: Fangio's statement comes as no surprise after the Broncos acquired Bridgewater from the Panthers this week and made no additions to the QB room during the draft. Since his devastating knee injury just before the start of the 2016 season, Bridgewater has started 21 of his 29 appearances between the Saints and Panthers on his way to a 68.5 completion percentage, 5,235 yards, 25 touchdowns and 14 interceptions. He also racked up 315 yards and five scores on the ground during that stretch. The next few months will determine who among Bridgewater and Lock is under center for Denver in Week 1.
Teddy Bridgewater player page.
May 1, 2021 7:46 PM EST
---
Daniel Carlson, Signs tender Thursday
Carlson signed his restricted free agent tender from the Raiders on Thursday, NFL reporter Aaron Wilson reports.
Analysis: In March, Las Vegas extended Carlson a second-round tender, a price that other organizations were unlikely to pay. Thus he's back in the desert for a second consecutive year and a member of the Raiders for a fourth campaign. Carlson is coming off his best statistical season, when he connected on 33 of 35 field-goal attempts (94 percent) and 45 of 47 point-after tries (96 percent).
April 29, 2021 2:33 PM EST
---
Teddy Bridgewater, Dealt to Denver
The Panthers are trading Bridgewater to the Broncos for a sixth-round draft pick, Tom Pelissero of NFL Network reports.
Analysis: Wit $10 million of his $17 million base salary for 2021 being guaranteed, Bridgewater didn't have much trade value. In fact, Troy Renck of Denver 7 News reports the Panthers will pay some of the quarterback's salary to facilitate the trade. Bridgewater now figures to compete with Drew Lock for a starting job, while Sam Darnold is left as the only QB in Carolina with significant NFL experience. This trade seemingly increases the odds of the Panthers drafting a QB and decreases the odds of the Broncos taking one, but it could still go either way in both cases. None of Bridgewater, Lock or Darnold looks especially likely to become a true franchise QB.
Teddy Bridgewater player page.
April 28, 2021 10:57 AM EST
---
Kyle Sloter, Waived by Las Vegas
The Raiders waived Sloter on Thursday.
Analysis: Sloter seems likely to go unclaimed on waivers, after which point he'll be free to begin searching for a depth role elsewhere. He's still looking for an opportunity to make his NFL debut.
April 15, 2021 2:27 PM EST
---