Vikings Top Fantasy Players
These are the top fantasy football players of the Minnesota Vikings as ranked by Average Draft Position (ADP) in PPR-format mock drafts.
Data as of April 7, 2020.
Dalvin Cook
Dalvin Cook's current ADP is 2.04, which is the 4th pick of the 2nd round, and 15th selection overall.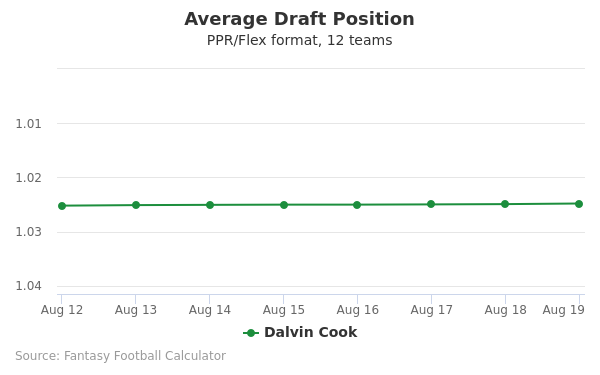 Adam Thielen
Adam Thielen's current ADP is 3.09, which is the 9th pick of the 3rd round, and 33rd selection overall.
Kirk Cousins
Kirk Cousins's current ADP is 9.03, which is the 3rd pick of the 9th round, and 99th selection overall.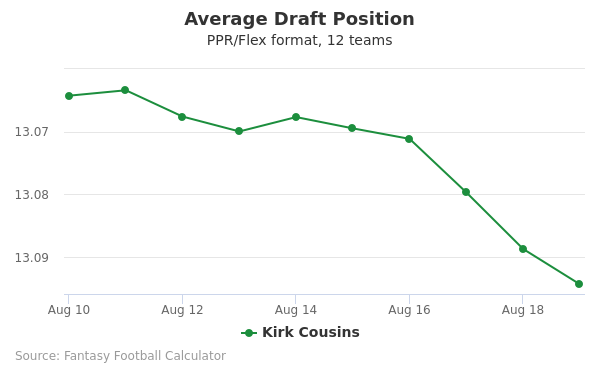 Alexander Mattison
Alexander Mattison's current ADP is 9.04, which is the 4th pick of the 9th round, and 100th selection overall.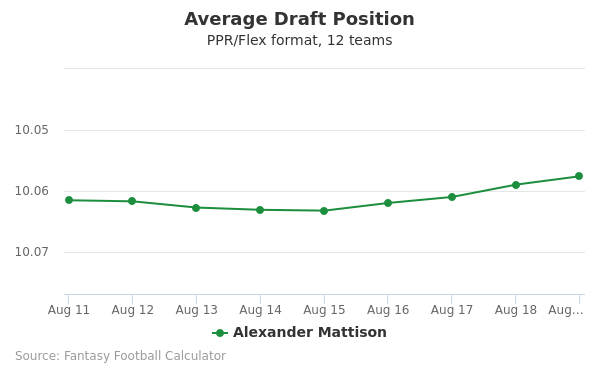 Kyle Rudolph
Kyle Rudolph's current ADP is 12.06, which is the 6th pick of the 12th round, and 137th selection overall.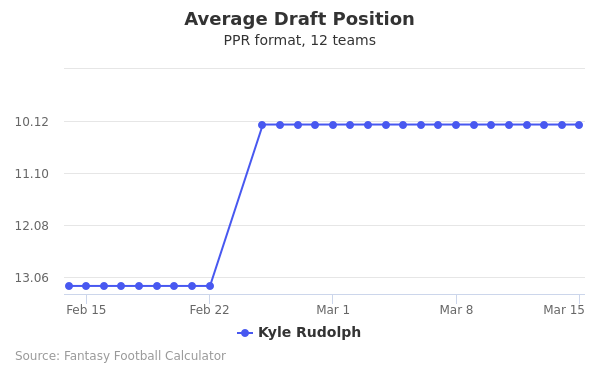 Irv Smith Jr.
Irv Smith Jr.'s current ADP is 13.08, which is the 8th pick of the 13th round, and 151st selection overall.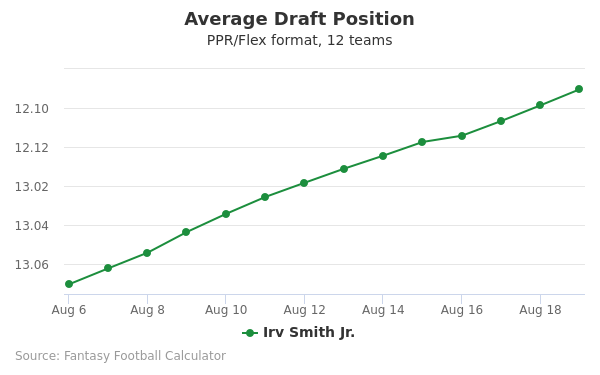 Minnesota Defense
Minnesota Defense's current ADP is 14.11, which is the 11th pick of the 14th round, and 166th selection overall.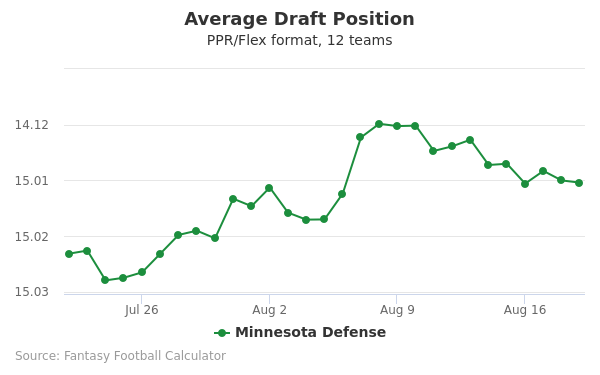 Dan Bailey
Dan Bailey's current ADP is 14.12, which is the 12th pick of the 14th round, and 168th selection overall.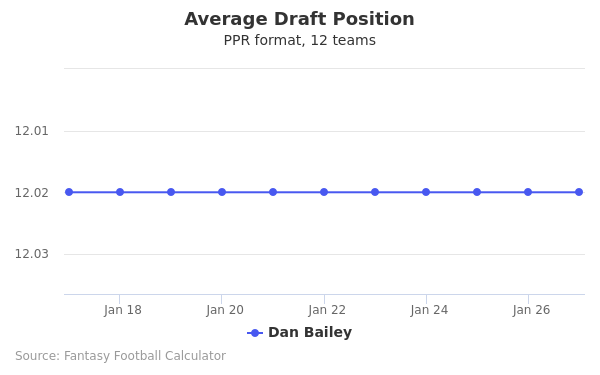 Minnesota Vikings 2019 Schedule
| Week | Home/Away | Opponent |
| --- | --- | --- |
| 1 | Home | Atlanta Falcons |
| 2 | Away | Green Bay Packers |
| 3 | Home | Las Vegas Raiders |
| 4 | Away | Chicago Bears |
| 5 | Away | New York Giants |
| 6 | Home | Philadelphia Eagles |
| 7 | Away | Detroit Lions |
| 8 | Home | Washington Redskins |
| 9 | Away | Kansas City Chiefs |
| 10 | Away | Dallas Cowboys |
| 11 | Home | Denver Broncos |
| 13 | Away | Seattle Seahawks |
| 14 | Home | Detroit Lions |
| 15 | Away | Los Angeles Chargers |
| 16 | Home | Green Bay Packers |
| 17 | Home | Chicago Bears |
Minnesota Vikings News
Adam Thielen, Sad to see Diggs leave
Thielen was disappointed when he found out the Vikings were trading Stefon Diggs to the Bills, Chris Tomasson of the St. Paul Pioneer Press reports.
Analysis: Thielen said he and Diggs became close friends while playing on the same team for the past five years. On the bright side, Thielen should see plenty of targets in his age-30 season ahead, as the Vikings are left with a weak WR depth chart behind him -- Tajae Sharpe, Bisi Johnson and Chad Beebe (ankle) being the top candidates to earn snaps. The upcoming draft likely will bring some form of competition, but there's no question about Thielen serving as the go-to receiver under new offensive coordinator Gary Kubiak. The veteran wideout rebounded from an injury-plagued 2019 campaign with a solid showing during the playoffs, bringing in 12 of 16 targets for 179 yards in two games.
April 7, 2020 8:41 AM EST
---
Kai Forbath, Facing job competition
The Cowboys signed Greg Zuerlein to challenge Forbath for the placekicker job, Patrik Walker of CBS Sports reports.
Analysis: A three-year, $7.5 million contract makes Zuerlein the presumptive favorite, even though Forbath converted each of his 10 field-goal attempts and each of his 10 PATs in three games with the Cowboys late last season. Forbath owns the superior mark for career field-goal percentage (86.8), but Zuerlein has the bigger leg and the bigger contract.
March 27, 2020 1:09 PM EST
---
Ameer Abdullah, Back with Minnesota
The Vikings have re-signed Abdullah.
Analysis: The 26-year-old logged 23 carries for 115 yards to go along with 15 catches for 88 yards and a TD in 16 games for the team last season. Now that he's back in the fold, Abdullah will continue to serve as a depth option in Minnesota's backfield and should also reprise his role as the squad's primary kickoff returner in 2020.
March 27, 2020 9:45 AM EST
---
Laquon Treadwell, Heading to Atlanta
Treadwell signed a contract with the Falcons on Sunday, Zach Klein of WSB-TV reports.
Analysis: Treadwell hasn't lived up to his draft status as a first-round pick of the Vikings in 2016, but perhaps a change of scenery will help him take flight in Atlanta. Expectations should be tempered, as Treadwell will have a hard time carving out a major role in a deep receiving corps headlined by Julio Jones and Calvin Ridley.
March 22, 2020 3:09 PM EST
---
MyCole Pruitt, Back with Tennessee
Pruitt agreed to a contract with the Titans on Saturday, Adam Caplan of SiriusXM NFL Radio reports.
Analysis: Pruitt appeared in 31 games for the Titans over the last two seasons, and he'll rejoin the team after a brief time on the open market. The 27-year-old totaled 15 catches for 192 yards and two touchdowns, so he's unclear to become a significant factor in the passing game in 2020.
March 21, 2020 7:13 PM EST
---