We're almost a month removed from the first online NFL draft and are ready to start looking forward to the 2020 Fantasy Football season. It's time to jump in and review a recent 12-team half-PPR mock draft.
Completing the mock drafts will give you a general idea of who you're able to get if you know your draft slot ahead of time and will also give you a feel for those "sleepers" who you can wait on later on in your draft.
From now until late August, when most drafts will be completed, the ADP will change for a lot of players, including rookies who are bound to create several highlight reels during the preseason games.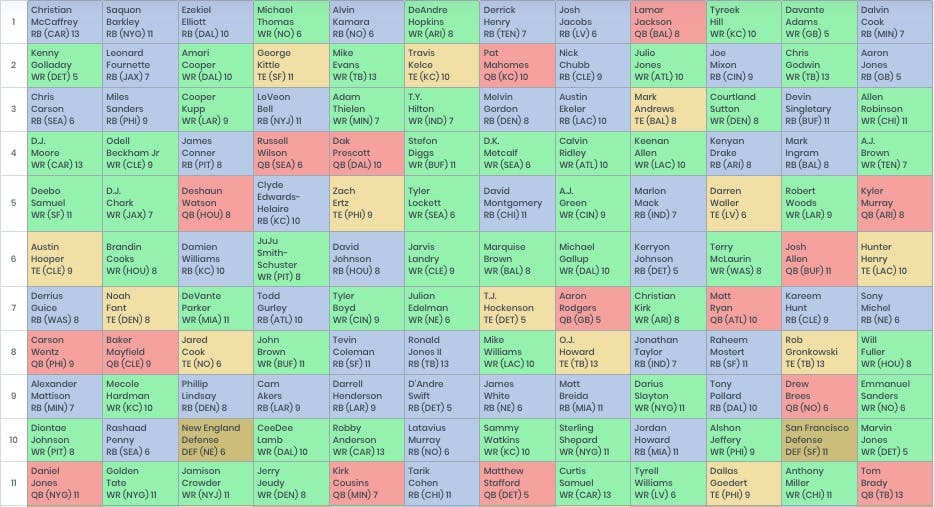 You can mock draft on your phone for free on iPhone and Android .
Round 1
Best Pick – Davante Adams - Pick 1.11
An injury-plagued season limited Davante Adams' fantasy finish, but when he was on the field, he was a beast. Adams averaged 14.3 fantasy points per game which would have ranked him sixth highest for receivers. Add in the fact that the Packers did not draft a wide receiver and Adams will finish as a top-5 receiver if both he and Rodgers can stay healthy this season, with the upside of WR1. The floor is very safe for a first-round pick.
Worst Pick – Derrick Henry - Pick 1.07
It's a different year, but the same dilemma with Derrick Henry. His end of year stats seem to skew the overall fantasy finish, however, if you had him on your playoff roster, it's likely you won your championship. Over the last 6 games he played, Henry averaged almost 150 yards per game and 1.6 touchdowns per game. When Mike Vrabel uses him correctly and the Titans are not down multiple scores they are tough to stop. Is this efficiency something he can repeat again next year? I'm doubtful. Henry is drafted as the RB5 and isn't used much in the passing game (18 receptions in 2019). I'd rather have an RB who isn't game-script dependent, such as Dalvin Cook or Joe Mixon.
Round 2
Best Pick – Joe Mixon - Pick 2.03
With a better offensive line, a healthy A.J. Green, and a star-in-the-making QB, Joe Mixon has a chance to be a top-5 RB this season and was the next best pick for Team 10 in this draft, Mixon finished the year as RB13 on a team that was 2-14 last season. Isn't this his floor? In this draft he was the 9th RB off the board and has better offensive talent around him than Josh Jacobs and Derrick Henry, both of whom are first-round picks. While there's still a lot to be seen with this new Bengals team, Mixon is a solid second-round pick to build your team around.
Worst Pick – Chris Godwin - PIck 2.02
While Chris Godwin could have a monster year with Tom Brady as his QB this season, picking him over Julio Jones is too "cute" of a move this early in the draft. Godwin finished with more fantasy points last season than Julio Jones, however, I will take the consistency Jones has brought fantasy owners over hoping Godwin repeats his production from last year. Jones has been the WR6 or higher every year for the past 5 years and has no signs of slowing down anytime soon.
Rounds 3 & 4
Best Pick – Odell Beckham Jr. - Pick 4.11
Only a couple years removed from being a first-round pick, Odell Beckham Jr has slipped into the late fourth round in some drafts so far early on. Beckham undoubtedly has immense talent, however, since joining the Browns his target share has significantly decreased. The Browns offense should be better this year with Mayfield having another season under center, and if Beckham can see his targets increase, the sky really is the limit.
Worst Pick – Courtland Sutton– Pick 3.10
Courtland Sutton finished as the WR19 last year in half-PPR leagues and the Broncos bolstered its offense by drafting Jerry Jeudy in the first round of the NFL draft this offseason. While we are optimistic about Drew Lock this season, he's being selected as the WR13 this season ahead of Allen Robinson, AJ Brown, Keenan Allen, among others. While Sutton has a lot of upsides this season, I would rather have the aforementioned receivers who are arguably all on better offensive teams.
Rounds 5 & 6
Best Pick – JuJu Smith-Schuster - Pick 6.09
After losing his hall of fame QB after week 2 and an injury that kept him out for four weeks last season, JuJu is flying under the radar this year. Additionally, the Steelers have come out and said they will have JuJu play in the slot since they drafted Chase Claypool and have Diontae Johnson to play out wide. JuJu was unable to make an impact on the outside last season and will move into a more comfortable role, one that made him the WR8 back in 2018.
Worst Pick – Marquise Brown - Pick 6.06
Marquise "Hollywood" Brown played through an injured foot last season and finished as the WR46 in half-PPR leagues in 14 games. While he will look to improve on his rookie season, the Ravens threw the ball only 440 times last year which was last in the league. On the year, Brown had 4 or fewer targets in 8 games and had less than 50 receiving yards in 11 games. Brown was a boom-or-bust type player during his rookie season, and with the aforementioned JuJu, and Jarvis Landry, two safer players entering this season, still on the board, I would've gone with one of them over a WR3/4.
Rounds 7 & 8
Best Pick – Will Fuller - Pick 8.01
With DeAndre Hopkins gone, Will Fuller has a serious chance to be the WR1 on the Texans this year. Yes, the Texans signed Brandin Cooks in the offseason and have Kenny Stills competing for catches every game, but Fuller has a rapport with Watson and the next-level talent that could make him a top-15 WR. The only question regarding his production this season will be directly tied to his health as the season goes on. If healthy for even 14 games this season, Fuller is a steal in the 8th round.
Worst Pick – Julian Edelman - Pick 7.06
Team 6 looks to be drafting the strategy of "zero-RB", however, Julian Edelman is not the type of player you would want with this pick. Edelman has had a safe floor in years' past, but considering the team has already drafted 5 wide receivers, you may want to go boom-or-bust with the WRs and reach for upside at this point, such as Will Fuller or Mecole Hardman.
Rounds 9-11
Best Pick – James White - Pick 9.07
Even with Brady leaving town, James White is being undervalued in mock drafts so far. White is currently the 40th RB taken off the board (in this draft) and, while he will not be the focal point of the Patriots offense, he'll be a safety valve for whoever is under center for the Patriots this season. White finished as the 22nd ranked RB last season and he's currently being drafted at his absolute floor.
Worst Pick – Darrell Henderson 9.05
Darrell Henderson was a 2019 preseason darling last season and everyone thought he would handle quite the workload for the Rams with Todd Gurley's injury status up in the air. The Rams spent a second-round pick on Cam Akers in this year's draft, and with Malcolm Brown and John Kelly still in the backfield, it's hard to see Henderson amounting to much this season after failing to produce when given a shot last season. A better choice with this pick could have been the aforementioned James White, Tony Pollard, or even rookie J.K. Dobbins, who you know will have an impact at some point this season.
---
Filed under: Free Articles