Best Ball draft season is upon us as we prepare for the upcoming fantasy football season by analyzing player rankings and average draft positions (ADP). While the early rounds of the draft often capture the most attention, it is crucial not to overlook the middle rounds. These rounds present a valuable opportunity to uncover hidden gems and secure players who can outperform their ADP, providing excellent value for your team.
Identifying players who are ranked higher in your personal rankings than their ADP is a key aspect of finding value in the middle rounds. ADP reflects the average draft position across various leagues, but it doesn't necessarily capture the individual insights that you bring to the table. 
The middle rounds of the draft often feature players who may be undervalued due to a variety of factors. These players present an opportunity to capitalize on the market's hesitation and secure them at a discounted draft position. By this point in the draft, you likely have established a solid core of players in the earlier rounds. The middle rounds allow you to fill in the gaps, addressing positions where you may have overlooked or have a lack of depth. 
I wanted to take a look at which players available in rounds 6-10 offer the best value, according to my rankings. I uncovered some good options at both RB and WR and one 10th-round gem at TE. Each of these players should outperform their current ADP and bolster your overall roster.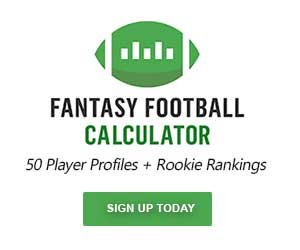 Round 6
Cam Akers, RB, ARI 
Akers had a disappointing year after returning from an Achilles tear in 2021, but he still rushed for 786 yards in a struggling offense. He was the overall RB4 the last six weeks of the season. If you trust Rams Head Coach Sean McVay to bring the offense back to life with a healthy Matthew Stafford and Cooper Kupp, then Akers suddenly has a ton of upside as the clear lead back. He has the potential to finish as an RB1 and is a safe RB2 in round six. 
Brandon Aiyuk, WR, SF 
Aiyuk set career highs in targets, receiving yards, and touchdown last season to finish as the WR23 last season. His early season upside could be capped somewhat by the QB uncertainty in San Francisco before Brock Purdy returns, but he could still easily outperform his 2022 numbers. Aiyuk has averaged about 18 yards per catch in his career and he was in the 90th percentile of deep ball target share, so he's always a threat to score. He's a great WR3 for your fantasy team, but also a fine WR2 target if you plan to draft a QB and TE early. 
Round 7
David Montgomery, RB, DET 
Montgomery is sliding down draft boards after the Lions drafted rookie Jahmyr Gibbs in the first round. I do have Gibbs ahead of Montgomery in my rankings, but I think it should be a pretty evenly split workload and Montgomery will get plenty of touches. Detroit didn't sign him to a 3-year $18 million deal just to let a rookie come in and take over. Montgomery had a down year in Chicago last season, but will benefit from the Lion's strong offensive line and potent offense. There's room for both running backs to flourish and it's conceivable Gibbs and Montgomery both finish as top-15 RBs. 

Treylon Burks, WR, TEN 
Burks struggled with injuries his rookie season after being the first WR taken in the 2022 draft. He has a huge opportunity to redeem himself this year as the Titans number-one receiver. Burks was efficient when on the field last season, finishing as the top rookie WR in Matt Harmon's Reception Perception, ahead of Drake London and Garrett Wilson. While we can't expect much more than 100 targets for Burks in the Titans run-heavy offense, he has all the tools to make the most of his opportunities and outperform his ADP by a wide margin. 

Round 8
Jahan Dotson, WR, WAS 
Dotson had a strong rookie season, leading the Commanders in target share and air-yards share. He finished 8th among all wide receivers in Completion Percentage over Expected, 14th in Air Yards per Target and 11th in Touchdown Percentage. Washington's offense was anemic last season, but should improve by leaps and bounds this year with former Chiefs Offensive Coordinator, Eric Bieniemy, calling the plays. Dotson is solid WR3 and a good value in the 8th round. 

Gabe Davis, WR, BUF 8th 
Davis is Josh Allen's favorite deep ball threat, with 29.2% of Davis' targets coming on deep routes last season. His 6.3 touchdown percentage ranked 20th among wide receivers. Davis is especially good for Best Ball formats given his weekly boom/bust potential. Davis' high ceiling makes him a great target for fantasy teams in need of a WR3 in round 8. His status as the second WR behind Stefon Diggs in Buffalo's offense assures his floor isn't too low, either. 
Round 9
Brian Robinson, RB, WAS 
Robinson had a miraculous return to football last year after being shot earlier in the preseason. He finished with 797 yards on the ground. He was efficient with the ball, achieving a 50% rushing success rate and averaged 2.4 yards after contact per attempt. He had the most carries inside the 10-yard line of any player to score fewer than three rushing touchdowns. Positive TD regression should be coming his way this season. The Commanders backfield is crowded and Robinson will compete with Antonio Gibson for touches, but Robinson should get the majority of early-down work. 

Michael Thomas, WR, NO 
Thomas has been plagued by injuries the last few years, but in the three games he played last season, he had a 19.6% target share and 33.3% of end zone targets. Thomas might be option 1B behind Chris Olave this year, but with an upgraded QB in Derek Carr, there will be plenty of targets for both receivers. This pick is all about upside. When Thomas is healthy, he's elite. There aren't many players drafted in the 9th round that you can say that about, so I'm willing to take the injury risk. 
Round 10
Rashod Bateman, WR, BAL 10th
Bateman was a first-round pick last season but suffered a Lisfranc injury after only playing six games. He managed a 22.6% target share and a 64.8% catch rate, both above-average numbers for receivers. He will be the WR1 in Baltimore in a revamped offensive that should focus more on passing this year. Bateman has great speed and big play potential. He's another ideal pick for Best Ball drafters looking for upside in the 10th round. 

Dalton Schultz, TE, HOU 
Schultz might be my favorite mid-round tight end target. He's going to give you solid production at a very low cost. Over the last three seasons, Schultz averaged 66 catches and 5.7 touchdowns for the Cowboys. His production dipped last year, but he was dealing with a PCL strain the first month of the season, which affected his numbers. After week 7, he was the overall TE6. Schultz can be a security blanket for Texans' rookie QB, CJ Stroud and should command a large enough target share to finish as a top 10 TE. 
---
Filed under: Free Articles