Falcons Top Fantasy Players
These are the top fantasy football players of the Atlanta Falcons as ranked by Average Draft Position (ADP) in PPR-format mock drafts.
Data as of March 31, 2020.
Julio Jones
Julio Jones's current ADP is 1.12, which is the 12th pick of the 1st round, and 11th selection overall.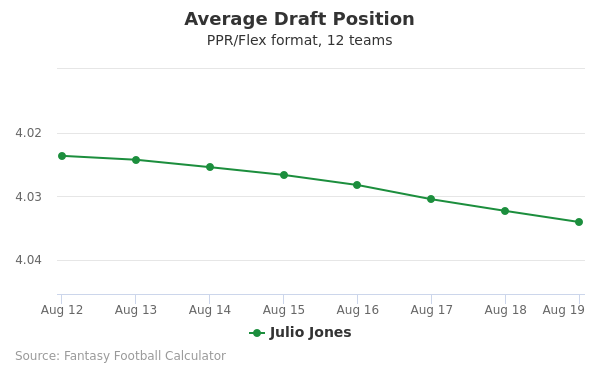 Todd Gurley
Todd Gurley's current ADP is 3.08, which is the 8th pick of the 3rd round, and 31st selection overall.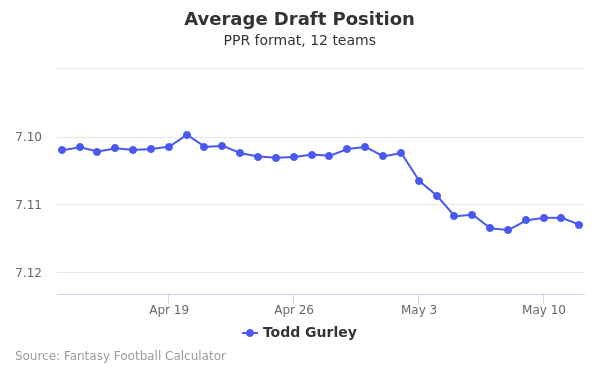 Calvin Ridley
Calvin Ridley's current ADP is 4.06, which is the 6th pick of the 4th round, and 42nd selection overall.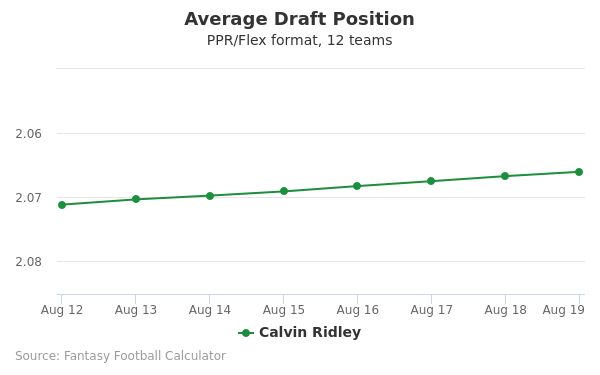 Devonta Freeman
Devonta Freeman's current ADP is 7.02, which is the 2nd pick of the 7th round, and 74th selection overall.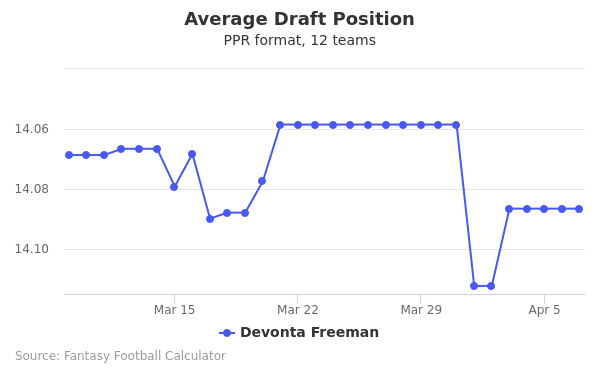 Matt Ryan
Matt Ryan's current ADP is 9.01, which is the 1st pick of the 9th round, and 96th selection overall.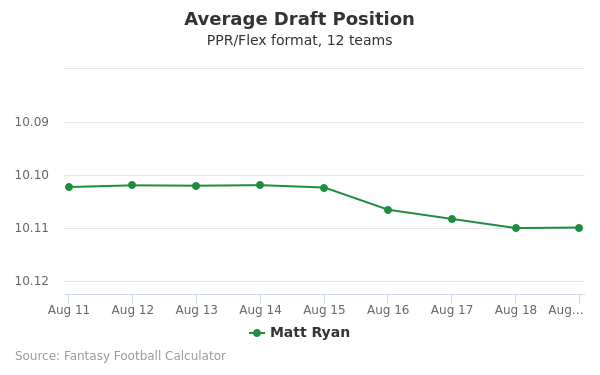 Ito Smith
Ito Smith's current ADP is 14.02, which is the 2nd pick of the 14th round, and 157th selection overall.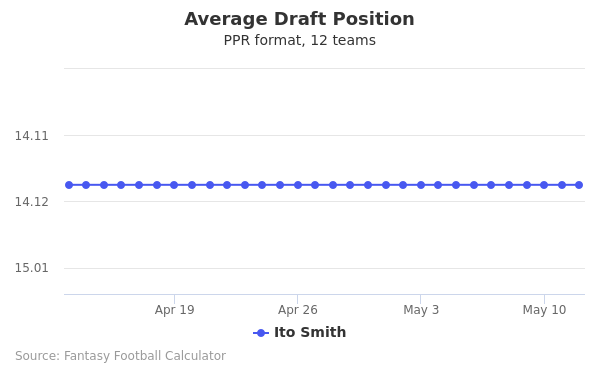 Younghoe Koo
Younghoe Koo's current ADP is 15.04, which is the 4th pick of the 15th round, and 171st selection overall.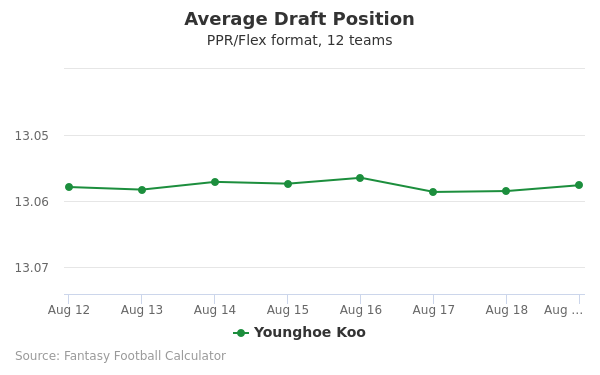 Atlanta Falcons 2019 Schedule
| Week | Home/Away | Opponent |
| --- | --- | --- |
| 1 | Away | Minnesota Vikings |
| 2 | Home | Philadelphia Eagles |
| 3 | Away | Indianapolis Colts |
| 4 | Home | Tennessee Titans |
| 5 | Away | Houston Texans |
| 6 | Away | Arizona Cardinals |
| 7 | Home | Los Angeles Rams |
| 8 | Home | Seattle Seahawks |
| 10 | Away | New Orleans Saints |
| 11 | Away | Carolina Panthers |
| 12 | Home | Tampa Bay Buccaneers |
| 13 | Home | New Orleans Saints |
| 14 | Home | Carolina Panthers |
| 15 | Away | San Francisco 49ers |
| 16 | Home | Jacksonville Jaguars |
| 17 | Away | Tampa Bay Buccaneers |
Atlanta Falcons News
Matt Ryan, Agrees to restructure contract
Ryan has reached an agreement to restructure his contract, Vaughn McClure of ESPN.com reports.
Analysis: The Falcons have restructured multiple contracts, converting 2020 base salaries into bonuses to clear out cap space. It's been an interesting offseason in Atlanta, with Todd Gurley and Hayden Hurst brought in to replace Devonta Freeman and Austin Hooper. The team still appears weak on defense, but Ryan shouldn't lack for weapons in the passing game.
March 25, 2020 7:30 AM EST
---
Daniel Brunskill, Signs tender
Brunskill signed his contract tender with the 49ers on Friday.
Analysis: The 49ers tendered Brunskill as an exclusive-rights free agent. He'll spend the summer competing for the starting right guard gig.
March 20, 2020 1:07 PM EST
---
Brian Hill, Receives tender from Falcons
The Falcons have placed an original-round tender on Hill, who is a restricted free agent, Will McFadden of the team's official site reports.
Analysis: Hill was a fifth-round pick in the 2017 draft, so the Falcons will receive that as compensation if the running back signs an offer sheet and the team doesn't match it. Assuming he's retained, he's a candidate to fill the void (along with Ito Smith) after Devonta Freeman was released Monday. In 12 games (two starts) last season, Hill turned 78 carries into 323 yards (4.1 YPC) and two touchdowns while hauling in 10 of 14 passes for 69 yards and another score.
March 17, 2020 3:22 PM EST
---
Levine Toilolo, Joining Big Blue
Toilolo is signing with the Giants, Adam Schefter of ESPN reports.
Analysis: Toilolo figures to take on the blocking role previously occupied by Rhett Ellison, who announced his retirement from football last week. Toilolo will turn 29 in July, coming off a 2019 campaign with the 49ers in which he caught two passes on 191 offensive snaps. He has 97 receptions in 108 career regular-season games.
March 17, 2020 7:16 AM EST
---
Austin Hooper, Four-year, $42 million deal reported
Hooper is poised to sign a four-year, $42 million deal with the Browns, Albert Breer of TheMMQB.com reports.
Analysis: Breer notes that the tight end is line to earn $23 million over the first two years of the deal, all of which is slated to be guaranteed. With Hooper set to join the mix, David Njoku's volume figures to take a hit. Hooper is coming off a 2019 campaign in which he set career highs in the catch (75), yards (787) and TD (six) categories, while playing 13 games. The money Cleveland plans to give him is a clear indication that he'll be a focal part of the team's passing attack in 2020.
March 16, 2020 1:46 PM EST
---