Falcons Top Fantasy Players
These are the top fantasy football players of the Atlanta Falcons as ranked by Average Draft Position (ADP) in PPR-format mock drafts.
Data as of June 25, 2022.
Kyle Pitts
Kyle Pitts's current ADP is 3.11, which is the 11th pick of the 3rd round, and 34th selection overall.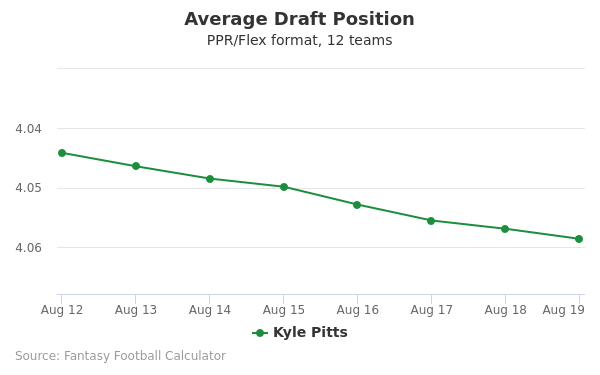 Cordarrelle Patterson
Cordarrelle Patterson's current ADP is 8.06, which is the 6th pick of the 8th round, and 89th selection overall.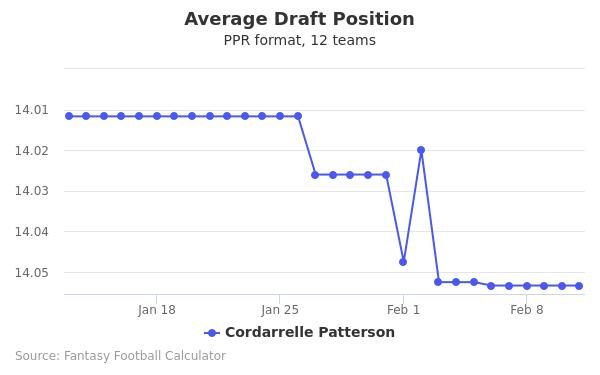 Calvin Ridley
Calvin Ridley's current ADP is 8.10, which is the 10th pick of the 8th round, and 93rd selection overall.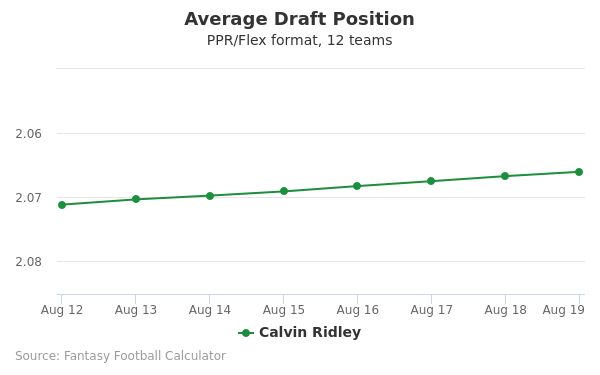 Drake London
Drake London's current ADP is 11.11, which is the 11th pick of the 11th round, and 131st selection overall.
Younghoe Koo
Younghoe Koo's current ADP is 13.07, which is the 7th pick of the 13th round, and 150th selection overall.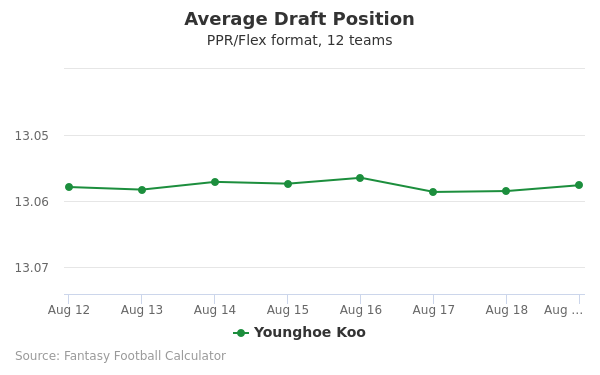 Tyler Allgeier
Tyler Allgeier's current ADP is 13.08, which is the 8th pick of the 13th round, and 151st selection overall.
Damien Williams
Damien Williams's current ADP is 14.02, which is the 2nd pick of the 14th round, and 158th selection overall.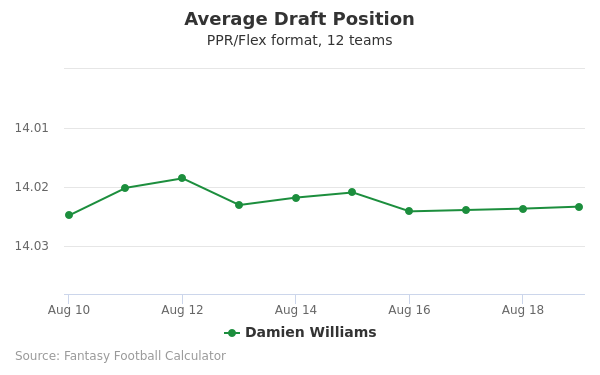 Atlanta Falcons 2020 Schedule
| Week | Home/Away | Opponent |
| --- | --- | --- |
| 1 | Home | Seattle Seahawks |
| 2 | Away | Dallas Cowboys |
| 3 | Home | Chicago Bears |
| 4 | Away | Green Bay Packers |
| 5 | Home | Carolina Panthers |
| 6 | Away | Minnesota Vikings |
| 7 | Home | Detroit Lions |
| 8 | Away | Carolina Panthers |
| 9 | Home | Denver Broncos |
| 11 | Away | New Orleans Saints |
| 12 | Home | Las Vegas Raiders |
| 13 | Home | New Orleans Saints |
| 14 | Away | Los Angeles Chargers |
| 15 | Home | Tampa Bay Buccaneers |
| 16 | Away | Kansas City Chiefs |
| 17 | Away | Tampa Bay Buccaneers |
Atlanta Falcons News
Kurt Benkert, Waived by Green Bay
The Packers waived Benkert on Friday, Tom Pelissero of NFL Network reports.
Analysis: Benkert signed a reserve/future contract at the end of January after spending the 2021 season on the practice squad. In his absence, Danny Etling will be elevated to the No. 3 spot on the depth chart behind Jordan Love and Aaron Rodgers.
June 17, 2022 12:59 PM EST
---
Jared Pinkney, Signs with LAR
The Rams signed Pinkney on Wednesday.
Analysis: Pinkney spent time on the Rams' practice squad last season before finishing the campaign with the Lions. However, he was waived in May with an injury settlement. Now healthy, the Vanderbilt product will look to carve out a role in Los Angeles' crowded tight end room, though he may garner increased reps during the offseason with Tyler Higbee and Jacob Harris both currently rehabbing from knee surgery.
June 15, 2022 11:38 AM EST
---
Russell Gage, Looks primed for key role
Quarterback Tom Brady said Thursday that Gage will play a "very important" role in Tampa Bay's offense, Scott Smith of the Buccaneers' official site reports.
Analysis: Gage inked a three-year, $30 million dollar with the Buccaneers early on in free agency, and Brady is now talking up his involvement on "a pass-heavy offense," which seems indicative that the two have already established some chemistry. While Chris Godwin (knee) works his way back from a Week 15 ACL tear Gage stands to operate as the No. 2 wideout behind Mike Evans, a role which could certainly involve significant and high-value targets from Brady, especially if Godwin is unavailable for the early portion of the season.
June 9, 2022 8:17 AM EST
---
Juwan Green, Signs with Tennessee
The Titans signed Green to a contract following a workout Wednesday, Aaron Wilson of ProFootballNetwork.com reports.
Analysis: The wide receiver spent the 2021-2022 season on and off of multiple practice squads but he will now have another shot at cracking an active roster with the Titans. Green has yet to make his NFL debut after going undrafted in 2020 following a two year career at Albany.
June 1, 2022 7:11 AM EST
---
Christian Blake, Inks deal in Arizona
Blake signed a contract with the Cardinals on Monday, Darren Urban of the team's official site reports.
Analysis: Blake will get a look with the Cardinals after spending the previous three seasons in Atlanta. The former Northern Illinois product played in 16 games in each of the last two seasons, but only amassed 17 receptions on 28 targets for 166 yards.
May 16, 2022 5:04 PM EST
---