Panthers Top Fantasy Players
These are the top fantasy football players of the Carolina Panthers as ranked by Average Draft Position (ADP) in PPR-format mock drafts.
Data as of April 4, 2020.
Christian McCaffrey
Christian McCaffrey's current ADP is 1.01, which is the 1st pick of the 1st round, and 1st selection overall.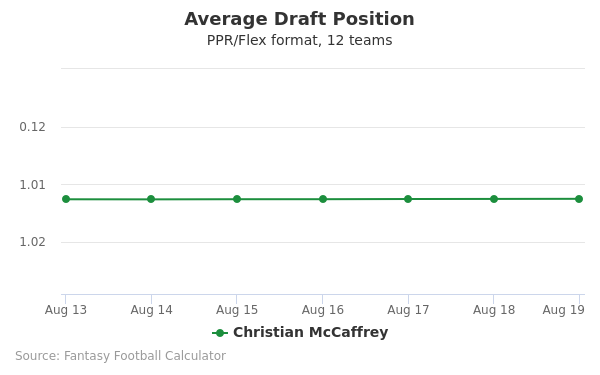 D.J. Moore
D.J. Moore's current ADP is 4.05, which is the 5th pick of the 4th round, and 41st selection overall.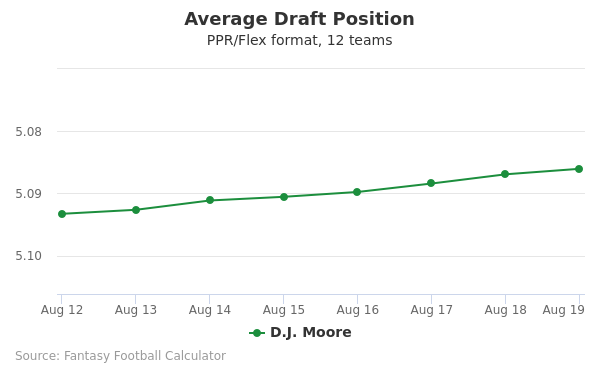 Curtis Samuel
Curtis Samuel's current ADP is 9.02, which is the 2nd pick of the 9th round, and 98th selection overall.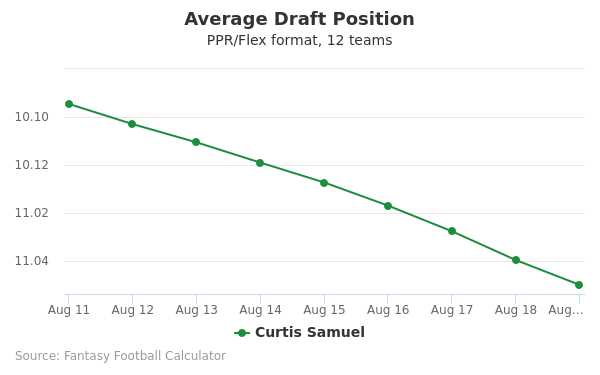 Robby Anderson
Robby Anderson's current ADP is 9.10, which is the 10th pick of the 9th round, and 106th selection overall.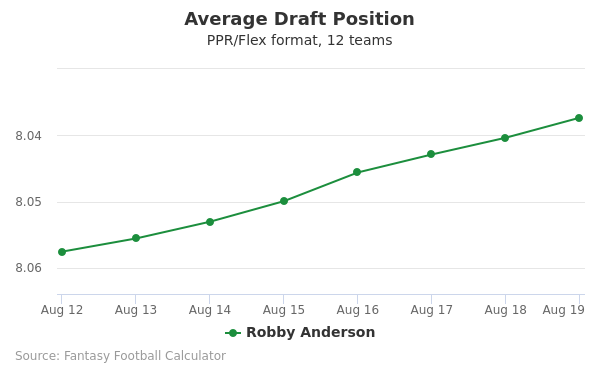 Cam Newton
Cam Newton's current ADP is 11.09, which is the 9th pick of the 11th round, and 128th selection overall.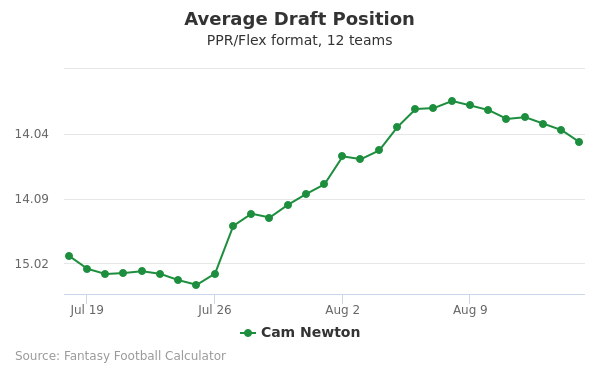 Ian Thomas
Ian Thomas's current ADP is 14.06, which is the 6th pick of the 14th round, and 162nd selection overall.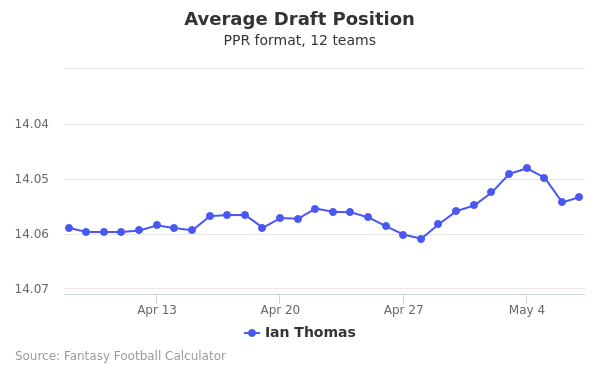 Teddy Bridgewater
Teddy Bridgewater's current ADP is 14.07, which is the 7th pick of the 14th round, and 162nd selection overall.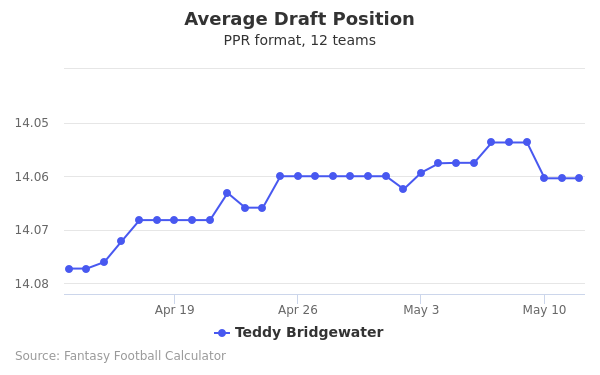 Carolina Defense
Carolina Defense's current ADP is 14.08, which is the 8th pick of the 14th round, and 164th selection overall.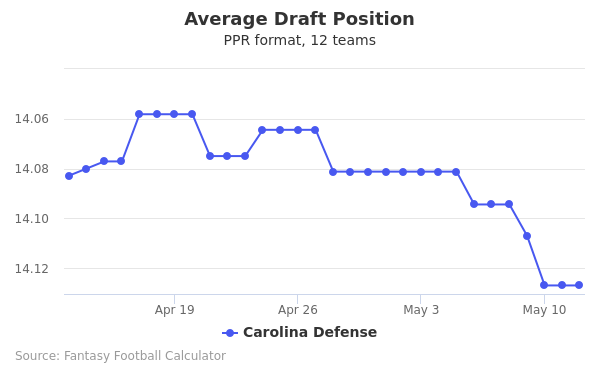 Graham Gano
Graham Gano's current ADP is 15.05, which is the 5th pick of the 15th round, and 173rd selection overall.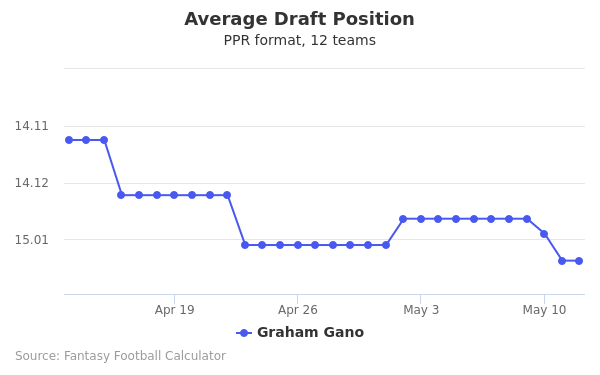 Carolina Panthers 2019 Schedule
| Week | Home/Away | Opponent |
| --- | --- | --- |
| 1 | Home | Los Angeles Rams |
| 2 | Home | Tampa Bay Buccaneers |
| 3 | Away | Arizona Cardinals |
| 4 | Away | Houston Texans |
| 5 | Home | Jacksonville Jaguars |
| 6 | Away | Tampa Bay Buccaneers |
| 8 | Away | San Francisco 49ers |
| 9 | Home | Tennessee Titans |
| 10 | Away | Green Bay Packers |
| 11 | Home | Atlanta Falcons |
| 12 | Away | New Orleans Saints |
| 13 | Home | Washington Redskins |
| 14 | Away | Atlanta Falcons |
| 15 | Home | Seattle Seahawks |
| 16 | Away | Indianapolis Colts |
| 17 | Home | New Orleans Saints |
Carolina Panthers News
Curtis Samuel, Not being shopped
The Panthers aren't shopping Samuel, despite the recent signing of Robby Anderson, Joe Person of The Athletic reports.
Analysis: This doesn't mean the team won't listen to trade offers, but it does suggest Anderson wasn't signed as a replacement for Samuel, even though both players largely operated as deep threats for their respective teams last year. Samuel's 14.3 aDOT was tied for third deepest among 38 players with triple-digit targets, while Anderson had a 15.1 aDOT on 96 passes. Both finished in the bottom 10 for catch rate among qualified receivers, in part because Sam Darnold and Kyle Allen both finished bottom five in accuracy on throws 20-plus yards downfield, per PFF. Anderson and Samuel will now work with Teddy Bridgewater, whose 6.0 aDOT last season was shallowest in the league among all QBs. The addition of Anderson suggests new OC Joe Brady wants Bridgewater to take more deep shots in Carolina, likely operating an offense centered around three-wide formations. Samuel probably won't see as many deep balls as he did last season, but his efficiency might improve if he's used on quicker, high-percentage throws.
April 2, 2020 6:37 AM EST
---
Ed Dickson, To be released by Seattle
The Seahawks will release Dickson, Liz Matthews of USA Today reports.
Analysis: The team is also reportedly letting safety Tedric Thompson go, with the pair of moves combining to save Seattle $5.3 million in salary cap space. A knee injury derailed Dickson's 2019 season, but if he can prove that he's moved past the issue, the 32-year-old could catch on with another team looking to add tight end depth.
March 31, 2020 11:46 AM EST
---
Terry Godwin, Earns deal with Jacksonville
Godwin inked a contract with the Jaguars on Thursday.
Analysis: Godwin spent much of the 2019 season on the Jaguars' practice squad and earned another shot. Originally a seventh-round pick by Carolina in 2019, Godwin racked up 133 catches for 1,788 yards in his career at Georgia. He'll likely be battling for a spot on the active roster in 2020 during training camp.
March 26, 2020 5:07 PM EST
---
Devin Funchess, Gets one-year deal with Packers
Funchess (collarbone) has agreed to a one-year contract with the Packers, Jason Wilde of The Wisconsin State Journal reports.
Analysis: Funchess is signing a one-year deal for a second straight offseason, following a lost year in Indianapolis where he never made it back from injured reserve after suffering a broken collarbone Week 1. He should have plenty of time to recover before the 2020 campaign, likely challenging fellow big-bodied wideout Allen Lazard for the starting job opposite No. 1 target Davante Adams. The Green Bay offense still figures to go through Adams and the running backs, but there's potential for another receiving weapon to establish mainstream fantasy value (even though it didn't quite work out that way last year).
March 26, 2020 12:08 PM EST
---
Devin Funchess, Nearing deal with Green Bay
Funchess (collarbone) is expected to sign with the Packers in the near future, Tom Pelissero of NFL Network reports.
Analysis: The particulars of Funchess' pending deal with Green Bay aren't yet known, but he'll likely be forced to settle for a one- or two-year deal with a modest amount of guaranteed money after a broken collarbone kept him sidelined for all but one game with the Colts last season. Assuming he finalizes a contract and proves healthy for the start of camp, the 6-foot-4, 225-pound Funchess could contend for a starting role in a Packers wideout corps that often lacked reliable options beyond top target Davante Adams in 2019. The 25-year-old turned in his best season in 2017 with the Panthers, recording 63 catches for 840 yards and eight touchdowns while playing all 16 games.
March 24, 2020 5:55 PM EST
---