Panthers Top Fantasy Players
These are the top fantasy football players of the Carolina Panthers as ranked by Average Draft Position (ADP) in PPR-format mock drafts.
Data as of May 16, 2021.
Christian McCaffrey
Christian McCaffrey's current ADP is 1.01, which is the 1st pick of the 1st round, and 1st selection overall.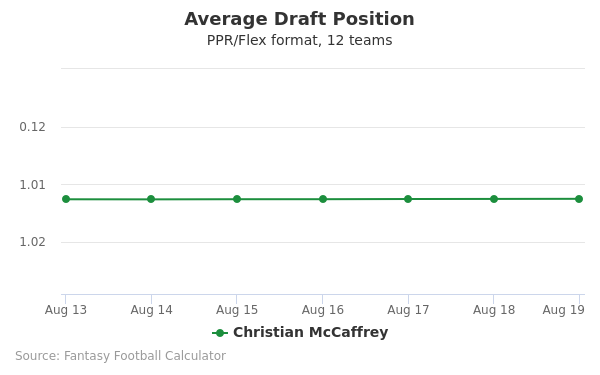 D.J. Moore
D.J. Moore's current ADP is 6.03, which is the 3rd pick of the 6th round, and 63rd selection overall.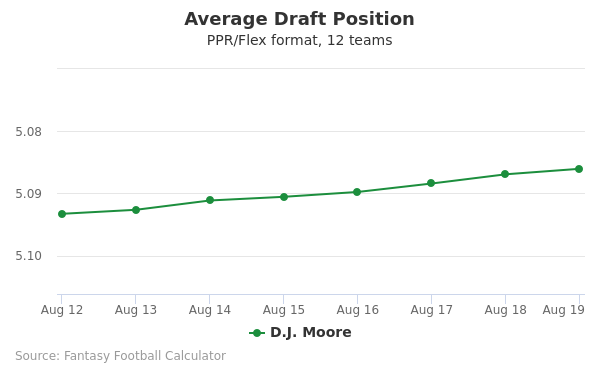 Robby Anderson
Robby Anderson's current ADP is 8.01, which is the 1st pick of the 8th round, and 84th selection overall.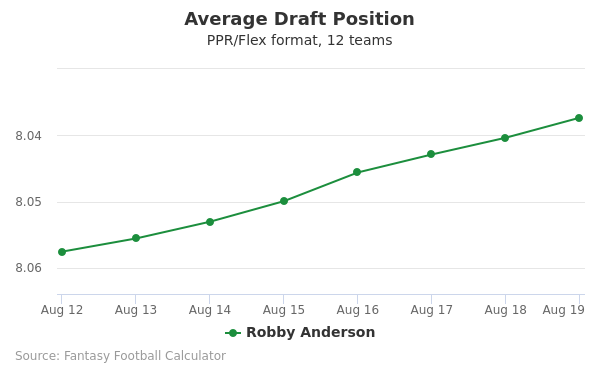 Chuba Hubbard
Chuba Hubbard's current ADP is 13.03, which is the 3rd pick of the 13th round, and 147th selection overall.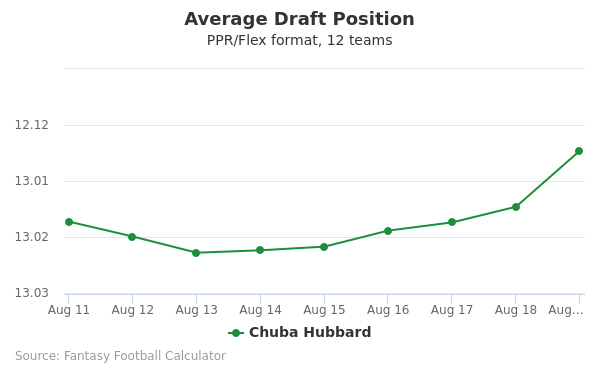 Sam Darnold
Sam Darnold's current ADP is 14.02, which is the 2nd pick of the 14th round, and 158th selection overall.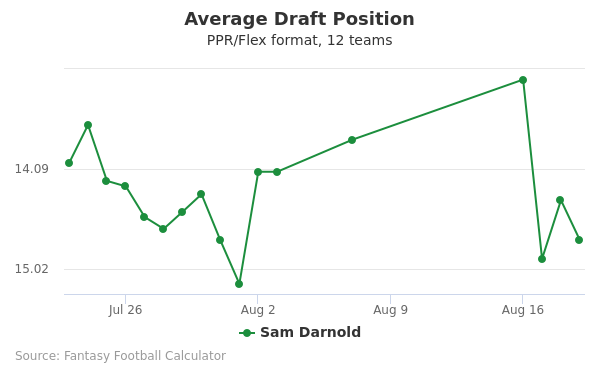 Joey Slye
Joey Slye's current ADP is 15.07, which is the 7th pick of the 15th round, and 174th selection overall.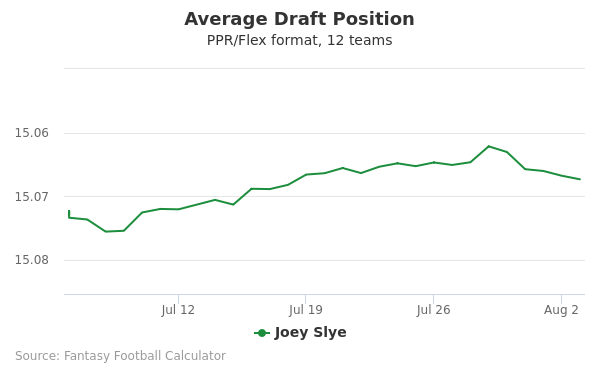 Carolina Panthers 2020 Schedule
| Week | Home/Away | Opponent |
| --- | --- | --- |
| 1 | Home | Las Vegas Raiders |
| 2 | Away | Tampa Bay Buccaneers |
| 3 | Away | Los Angeles Chargers |
| 4 | Home | Arizona Cardinals |
| 5 | Away | Atlanta Falcons |
| 6 | Home | Chicago Bears |
| 7 | Away | New Orleans Saints |
| 8 | Home | Atlanta Falcons |
| 9 | Away | Kansas City Chiefs |
| 10 | Home | Tampa Bay Buccaneers |
| 11 | Home | Detroit Lions |
| 12 | Away | Minnesota Vikings |
| 14 | Home | Denver Broncos |
| 15 | Away | Green Bay Packers |
| 16 | Away | Washington Redskins |
| 17 | Home | New Orleans Saints |
Carolina Panthers News
Kelvin Benjamin, Joining Giants as tight end
Benjamin has signed with the Giants as a tight end, Ian Rapoport of NFL Network reports.
Analysis: Selected in the first round of the 2014 draft as a wide receiver, the big-bodied Benjamin will switch positions in his return to the league. Benjamin scored 16 touchdowns in his first two years with the Panthers but struggled to keep his weight down and has been out of the league since 2018. If fellow offseason addition Kyle Rudolph (foot) isn't ready for Week 1, Benjamin could see increased opportunities for playing time behind enigmatic starter Evan Engram.
May 16, 2021 7:05 AM EST
---
Kelvin Benjamin, Resurfaces as Giants tryout
Benjamin will work out for the Giants this weekend, Jordan Raanan of ESPN.com reports.
Analysis: Benjamin was last seen working out for the Giants as a free agent back in 2019, and he'll once again try his luck with the team. General manager Dave Gettleman drafted Benjamin during his time in Carolina, where the former Florida State standout logged a 1,008-yard rookie season. The 30-year-old will have his work cut out for him to resurface in New York's crowded receiving corps, and at this point his upside may only be as a big-bodied role player in designed packages.
May 13, 2021 5:29 PM EST
---
Damiere Byrd, Signs one-year deal with Chicago
Byrd signed a one-year deal with the Bears on Monday, Mike Garafolo of NFL Network reports.
Analysis: The sixth-year pro had his most productive campaign with the Patriots in 2020, recording 47 receptions for 604 yards and one touchdown. Now in Chicago, Byrd figures to compete with fellow veterans Darnell Mooney, Anthony Miller and Marquise Goodwin for reps behind Allen Robinson.
May 4, 2021 9:07 PM EST
---
D.J. Moore, Gets fifth-year option
The Panthers are exercising their fifth-year option on Moore's rookie contract, keeping him under team control through 2022, Adam Schefter of ESPN reports.
Analysis: This was a foregone conclusion, with Moore producing 3,156 receiving yards and 234 rushing yards before his 24th birthday. He's scored only 10 touchdowns in 46 games, but the yardage should eventually translate to more trips to the end zone, especially if the Panthers can find a franchise QB. The team has Sam Darnold, P.J. Walker and Will Grier under contract ahead of the 2021 NFL Draft.
April 29, 2021 7:46 AM EST
---
Reggie Bonnafon, Could compete for No. 2 role
Bonnafon (ankle) should get the opportunity to compete for the backup role behind Christian McCaffrey this offseason, Rushil Vashee of USA Today reports.
Analysis: As Carolina's roster stands ahead of the 2021 NFL Draft, Bonnafon appears set to compete with Rodney Smith and Trenton Cannon for the top backup gig. An ankle injury limited Bonnafon to just two appearances last season, but with a full offseason to get healthy and continue his development, the 25-year-old could earn a notable reserve role Year 3. Of course, the Panthers may still add rookie depth to the backfield.
April 21, 2021 12:11 PM EST
---