Bears Top Fantasy Players
These are the top fantasy football players of the Chicago Bears as ranked by Average Draft Position (ADP) in PPR-format mock drafts.
Data as of October 25, 2020.
Allen Robinson
Allen Robinson's current ADP is 3.11, which is the 11th pick of the 3rd round, and 35th selection overall.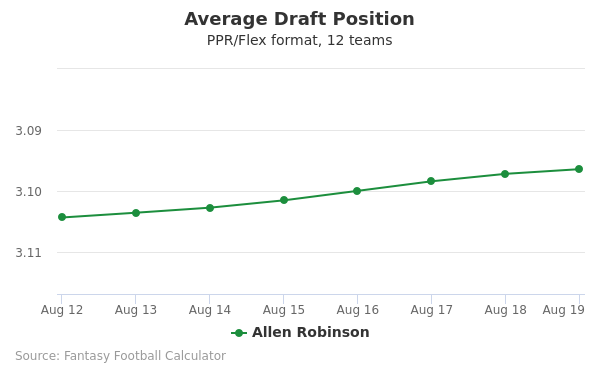 David Montgomery
David Montgomery's current ADP is 6.02, which is the 2nd pick of the 6th round, and 62nd selection overall.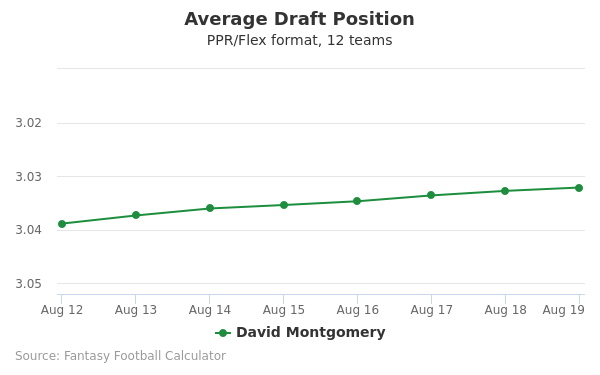 Tarik Cohen
Tarik Cohen's current ADP is 7.07, which is the 7th pick of the 7th round, and 78th selection overall.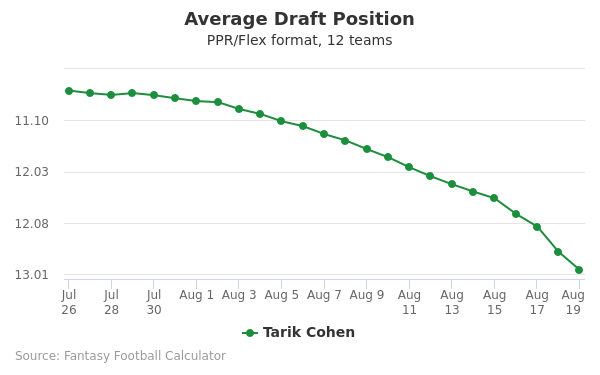 Anthony Miller
Anthony Miller's current ADP is 11.12, which is the 12th pick of the 11th round, and 132nd selection overall.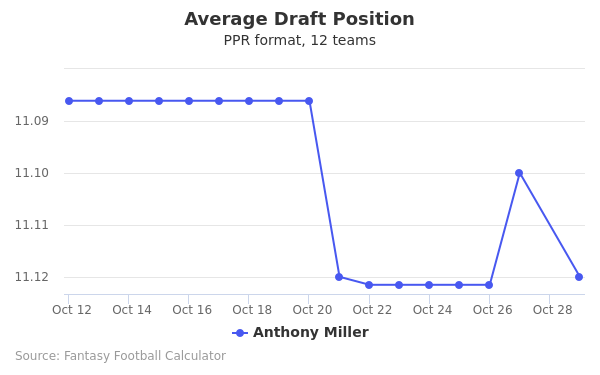 Chicago Defense
Chicago Defense's current ADP is 12.12, which is the 12th pick of the 12th round, and 143rd selection overall.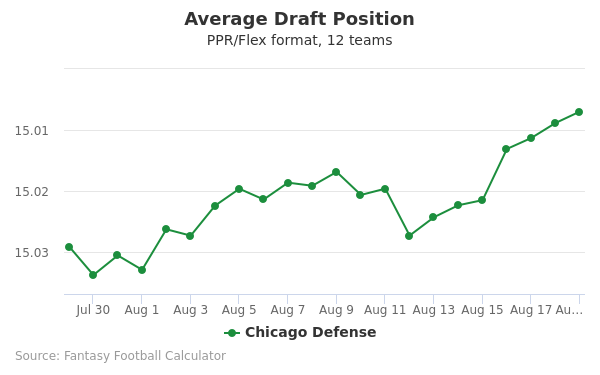 Chicago Bears 2020 Schedule
| Week | Home/Away | Opponent |
| --- | --- | --- |
| 1 | Away | Detroit Lions |
| 2 | Home | New York Giants |
| 3 | Away | Atlanta Falcons |
| 4 | Home | Indianapolis Colts |
| 5 | Home | Tampa Bay Buccaneers |
| 6 | Away | Carolina Panthers |
| 7 | Away | Los Angeles Rams |
| 8 | Home | New Orleans Saints |
| 9 | Away | Tennessee Titans |
| 10 | Home | Minnesota Vikings |
| 12 | Away | Green Bay Packers |
| 13 | Home | Detroit Lions |
| 14 | Home | Houston Texans |
| 15 | Away | Minnesota Vikings |
| 16 | Away | Jacksonville Jaguars |
| 17 | Home | Green Bay Packers |
Chicago Bears News
Kevin White, Back to practice squad
White reverted to the 49ers practice squad Monday, per the NFL's transaction log.
Analysis: White was promoted to the active roster for Week 6 against the Rams but has since been sent back to the practice squad. He logged seven snaps on special teams in the victory.
October 19, 2020 7:55 PM EST
---
Adam Shaheen, Scores another TD in Sunday's win
Shaheen caught all three of his targets for 51 yards and a touchdown in Sunday's 24-0 win over the Jets.
Analysis: He surprisingly lead the Dolphins in receiving yards on the afternoon as the offense mostly focused on chewing up the clock after taking a 21-0 lead into halftime, and Shaheen also found the end zone for the second straight game. Mike Gesicki, meanwhile, failed to catch either of his two targets Sunday. Shaheen's elite athletic profile made him a second-round pick of the Bears in 2017, but he wasn't able to stay healthy enough to take advantage of it in Chicago. Given his performance the last couple of games, he may cut into Gesicki's snaps and targets further coming out of Miami's Week 7 bye.
October 18, 2020 7:50 PM EST
---
Dontrelle Inman, Posts season-high for yardage
Inman caught each of his five targets for 45 yards in Sunday's 20-19 loss to the Giants.
Analysis: The 31-year-old has drawn exactly five targets in four of six games this year, with his 45 yards from Sunday representing a season high. The team might eventually give more work to younger players, but Inman likely will retain his top-three role for at least Week 7 against the Cowboys. A Week 8 bye could be a logical time for Washington to kick off a youth movement, though the current state of the NFC East means the team will be right in the hunt if it can upset Dallas next Sunday.
October 18, 2020 5:00 PM EST
---
Trey Burton, Scores two TDs vs. Bengals
Burton caught four of five targets for 58 yards and a touchdown while adding a one-yard rushing score during Sunday's 31-27 win over the Bengals.
Analysis: Burton got his team on the board with a one-yard rushing score in the second quarter and scored a 10-yard receiving touchdown just a few minutes later. He finished second on the team in receiving yards while tying for third in receptions and fourth in targets. He's enjoyed a healthy 16 targets through three games this season and will look to continue his ascent in Week 8 against the Lions, though the team's upcoming bye could allow teammate Mo Alie-Cox (knee) to return from an injury.
October 18, 2020 4:19 PM EST
---
Anthony Miller, Fails to reach 10 yards
Miller caught three passes for 8 yards in Chicago's 23-16 victory over the Panthers on Sunday.
Analysis: Although Miller caught each of his three targets, he was unable to generate any yardage after the catch, leading to a disappointing fantasy performance. He's now had three games in which he's failed to reach 20 yards while not posting more than 41 yards in any contest the season, and unless his role in the offense changes significantly, he'll be very difficult to trust in weekly fantasy lineups.
October 18, 2020 2:23 PM EST
---