Bears Top Fantasy Players
These are the top fantasy football players of the Chicago Bears as ranked by Average Draft Position (ADP) in PPR-format mock drafts.
Data as of March 2, 2021.
Allen Robinson
Allen Robinson's current ADP is 3.07, which is the 7th pick of the 3rd round, and 31st selection overall.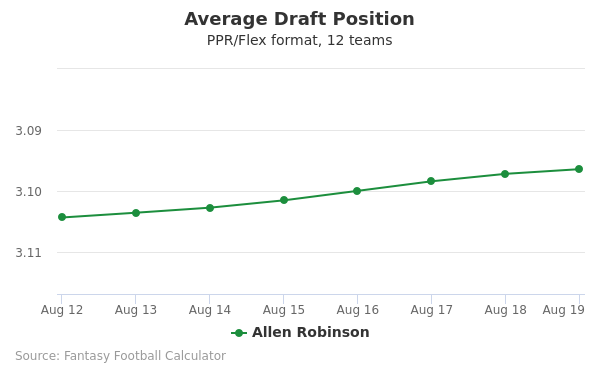 David Montgomery
David Montgomery's current ADP is 3.09, which is the 9th pick of the 3rd round, and 33rd selection overall.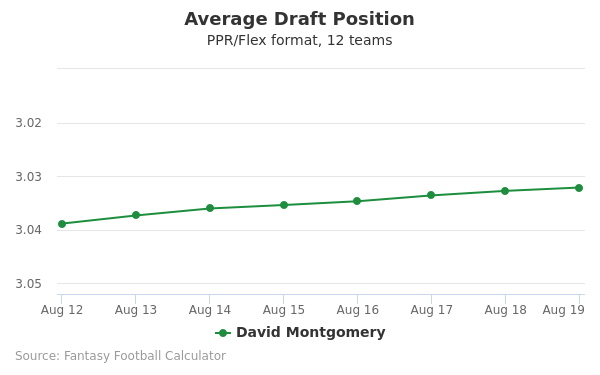 Tarik Cohen
Tarik Cohen's current ADP is 10.10, which is the 10th pick of the 10th round, and 118th selection overall.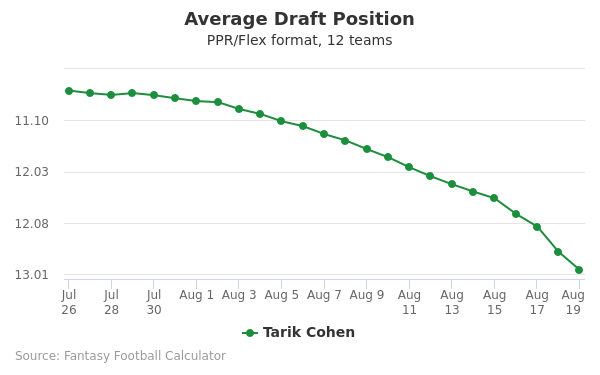 Jimmy Graham
Jimmy Graham's current ADP is 13.04, which is the 4th pick of the 13th round, and 147th selection overall.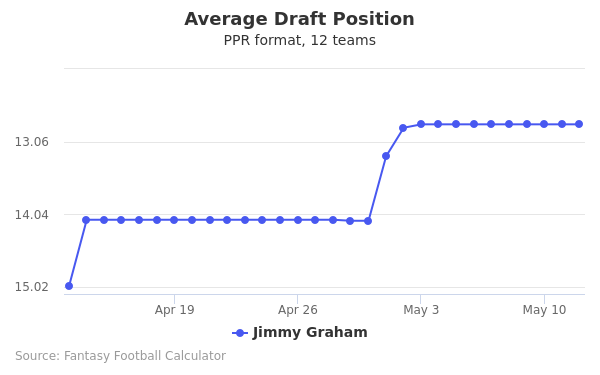 Darnell Mooney
Darnell Mooney's current ADP is 14.01, which is the 1st pick of the 14th round, and 156th selection overall.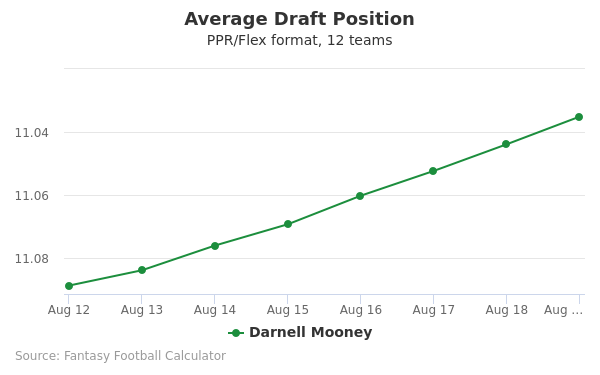 Cole Kmet
Cole Kmet's current ADP is 14.04, which is the 4th pick of the 14th round, and 160th selection overall.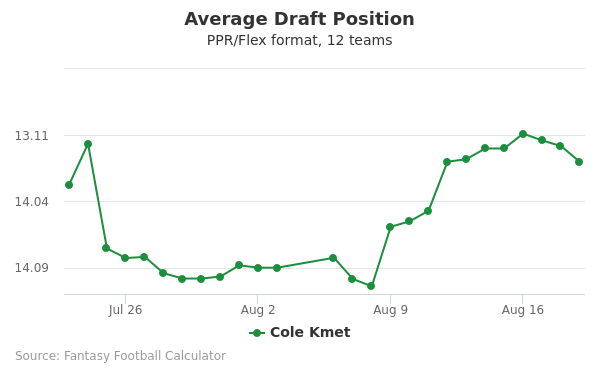 Chicago Defense
Chicago Defense's current ADP is 14.07, which is the 7th pick of the 14th round, and 163rd selection overall.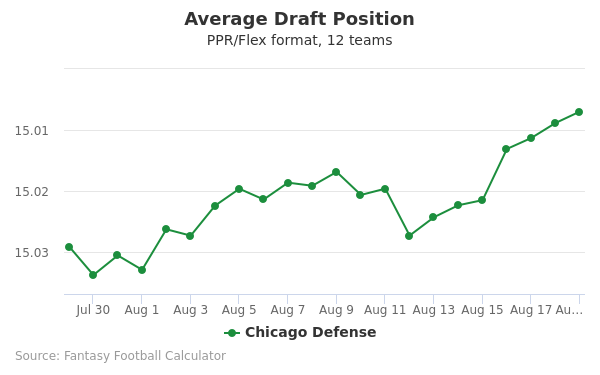 Cairo Santos
Cairo Santos's current ADP is 15.08, which is the 8th pick of the 15th round, and 176th selection overall.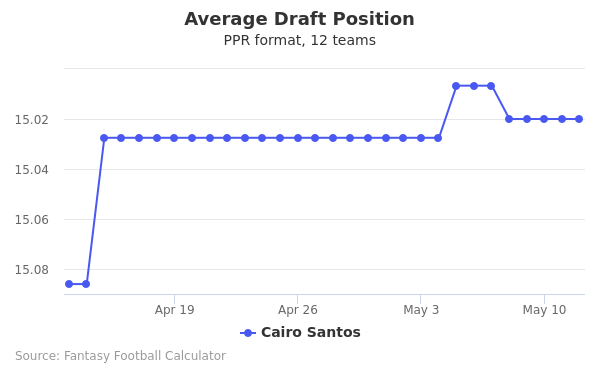 Chicago Bears 2020 Schedule
| Week | Home/Away | Opponent |
| --- | --- | --- |
| 1 | Away | Detroit Lions |
| 2 | Home | New York Giants |
| 3 | Away | Atlanta Falcons |
| 4 | Home | Indianapolis Colts |
| 5 | Home | Tampa Bay Buccaneers |
| 6 | Away | Carolina Panthers |
| 7 | Away | Los Angeles Rams |
| 8 | Home | New Orleans Saints |
| 9 | Away | Tennessee Titans |
| 10 | Home | Minnesota Vikings |
| 12 | Away | Green Bay Packers |
| 13 | Home | Detroit Lions |
| 14 | Home | Houston Texans |
| 15 | Away | Minnesota Vikings |
| 16 | Away | Jacksonville Jaguars |
| 17 | Home | Green Bay Packers |
Chicago Bears News
Allen Robinson, Not discussing extension
Robinson and the Bears haven't discussed a long-term contract since September, potentially setting up a franchise tag in the coming weeks, according to NFL Network's Tom Pelissero.
Analysis: The window to apply franchise tags runs from Feb. 23 through March 9, with the number for most wide receivers expected to be around $16-17 million. Robinson, however, would be a bit more expensive, as tag rules require the Bears to pay him 120 percent of his 2020 cap hit ($15 million), which would work out to $18 million. The Bears can use the tag even if they don't intend to keep Robinson, setting the table for a tag-and-trade to net draft picks or another player.
February 16, 2021 12:57 PM EST
---
Michael Burton, Limited touches in 2020
Burton recorded seven carries for 18 yards and four receptions for 28 yards in his first season with the Saints.
Analysis: The 11 touches were his first in two seasons after failing to touch the ball in 2019 with Washington. The journeyman fullback is set to be an unrestricted free agent in 2021, so whether or not he returns to New Orleans is still unclear.
January 30, 2021 2:54 PM EST
---
Trey Burton, Set to hit open market
Burton is scheduled to become an unrestricted free agent this offseason, Andrew Walker of Colts.com reports.
Analysis: It'll be an interesting offseason in Indianapolis, where Marcus Brady was promoted from QBs coach to offensive coordinator after the Eagles hired Nick Sirianni. With QB Philip Rivers retiring and WR T.Y. Hilton headed for free agency, the Colts could aim for a youth movement on the offensive side of the ball. Burton had three receiving touchdowns and two rushing TDs in 2020, but he averaged only 2.2 catches for 19.2 yards per game, working in a timeshare with Jack Doyle and Mo Alie-Cox. Both Burton and Alie-Cox are scheduled for free agency, while the Colts can clear up more than $4 million in cap space if Doyle is released. It's anyone's guess what the Indianapolis TE group will look like next season.
January 28, 2021 8:32 AM EST
---
Anthony Miller, Unclear future in Chicago
Bears chairman George McCaskey isn't sure if Miller will be on the team in 2021, Patrick Finley of The Chicago Sun-Times reports.
Analysis: Miller had a frustrating end to a disappointing season, getting ejected from the wild-card loss to New Orleans after he punched Saints defensive back C.J. Gardner-Johnson. McKaskey revealed that the team had a meeting to discuss Gardner-Johnson before the game, warning players not to respond to his antics the way fellow wideout Javon Wims did during the Week 8 matchup with New Orleans. Regardless, Miller ended up making the same mistake and was ejected in the third quarter of Chicago's season-ending loss. The 2018 second-round pick averaged just 3.1 catches for 30.3 yards per game during the regular season, and he didn't score a touchdown after Week 3. Miller has one year remaining on his rookie contract, but it sounds like the Bears might consider a trade or perhaps even an outright release.
January 28, 2021 6:53 AM EST
---
Tanner Gentry, Signs reserve/future contract
Gentry signed a reserve/future contract with the Bills on Tuesday.
Analysis: Gentry, a teammate of Josh Allen at Wyoming, was brought into Buffalo ahead of their Wild Card matchup as they were dealing with several injuries on the wide receiver front. Gentry will now get the opportunity to stick with the team through offseason activities in hopes of landing a roster spot in 2021.
January 26, 2021 7:51 PM EST
---