Cowboys Top Fantasy Players
These are the top fantasy football players of the Dallas Cowboys as ranked by Average Draft Position (ADP) in PPR-format mock drafts.
Data as of May 29, 2023.
CeeDee Lamb
CeeDee Lamb's current ADP is 2.03, which is the 3rd pick of the 2nd round, and 15th selection overall.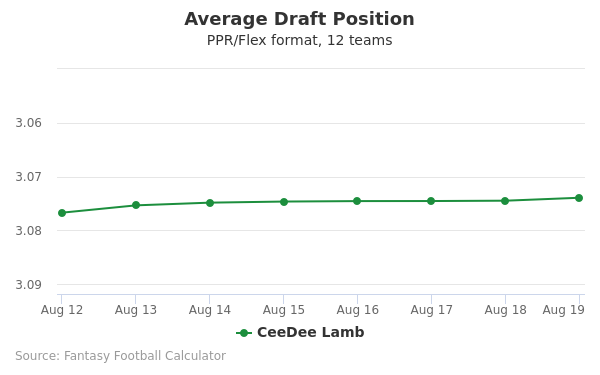 Tony Pollard
Tony Pollard's current ADP is 2.12, which is the 12th pick of the 2nd round, and 23rd selection overall.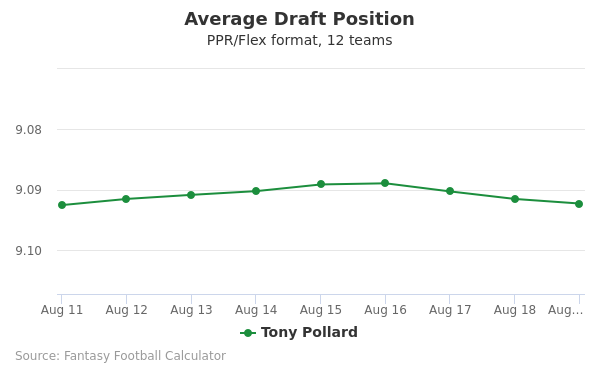 Brandin Cooks
Brandin Cooks's current ADP is 7.08, which is the 8th pick of the 7th round, and 79th selection overall.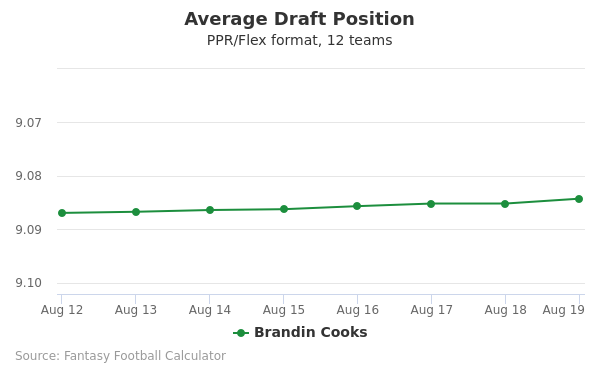 Dallas Cowboys 2020 Schedule
| Week | Home/Away | Opponent |
| --- | --- | --- |
| 1 | Away | Los Angeles Rams |
| 2 | Home | Atlanta Falcons |
| 3 | Away | Seattle Seahawks |
| 4 | Home | Cleveland Browns |
| 5 | Home | New York Giants |
| 6 | Home | Arizona Cardinals |
| 7 | Away | Washington Redskins |
| 8 | Away | Philadelphia Eagles |
| 9 | Home | Pittsburgh Steelers |
| 11 | Away | Minnesota Vikings |
| 12 | Home | Washington Redskins |
| 13 | Away | Baltimore Ravens |
| 14 | Away | Cincinnati Bengals |
| 15 | Home | San Francisco 49ers |
| 16 | Home | Philadelphia Eagles |
| 17 | Away | New York Giants |
Dallas Cowboys News
Tony Pollard, Taking part in OTAs
Pollard (ankle) has been participating in reduced-tempo OTA practices, Michael Gehlken of The Dallas Morning News reports.
Analysis: Pollard signed a franchise tag March 23, two months after having tightrope surgery on a high-ankle sprain in his left leg. He also broke the fibula, but it's still an easier rehab than something like an ACL or Achilles tear. While he may have some limitations as the offseason progresses and practices become more intense, Pollard is well on his way to starting Week 1 in the Dallas backfield.
May 25, 2023 10:13 AM EST
---
Amari Cooper, Working off to side at OTAs
Cooper (abdomen) is not practicing at OTAs this week, Zac Jackson of The Athletic reports.
Analysis: Cooper had core muscle surgery back in February, and that's typically comes with a recovery timeline of 6-8 weeks. While Cooper was in attendance at OTAs Wednesday, he was working off to the side with the training staff. There's no reason to rush the 28-year-old veteran onto the field ahead of training camp. Cooper should be 100 percent in time for padded practices.
May 24, 2023 3:06 PM EST
---
Brett Maher, Works out for Denver
Maher was one of three kickers to work out for the Broncos on Wednesday, Chris Tomasson of the St. Paul Pioneer Press reports.
Analysis: The Broncos currently don't have a kicker on their roster after waiving Brandon McManus on Tuesday, so they worked out Maher, Elliott Fry and Parker White. Maher's tenure in Dallas came to a close this offseason after he struggled mightily in the playoffs, but overall, he was solid in 2022 and made 31 of his 34 field-goal attempts across 19 games. Tomasson added that Maher also got a physical Wednesday, so while no deal is imminent, it does sound like Denver is interested in bringing in the 33-year-old for an extended look.
May 24, 2023 11:44 AM EST
---
Michael Gallup, Feeling good again
Gallup (knee/ankle) said Wednesday that he feels "springy again" after dealing with knee soreness for much of last year, Todd Archer of ESPN.com reports.
Analysis: His recovery from arthroscopic knee and ankle procedures in January unsurprisingly was much easier than his rehab from surgery on an ACL tear the preceding February. Gallup made it back on the field less than eight months after his major surgery last year, missing only the first three games before suiting up for 16 in a row (including playoffs). The 27-year-old seems to be healthy now and should improve on his 2022 career-low averages of 30.3 yards per game and 5.7 yards per target, but Gallup doesn't project for much volume as the likely third option at WR after the Cowboys traded for Brandin Cooks in the offseason. They also brought in an offensive coordinator who is considered more run-focused than predecessor Kellen Moore, though the Cowboys' other offseason moves don't lend to the notion of a higher rush rate under new OC Brian Schottenheimer.
May 17, 2023 5:33 PM EST
---
Ben DiNucci, Earns new opportunity
DeNucci signed a contract with the Broncos on Sunday, Adam Schefter of ESPN reports.
Analysis: DiNucci most recently played for Seattle in the XFL, where he led the league in passing with 2,671 yards in 10 contests. The 26-year-old previously spent time in the NFL with the Cowboys, who selected him in the seventh round of the 2022 Draft. With Russell Wilson firmly in place as the starter and offseason addition, Jarrett Stidham expected to hold down the No. 2 role, DiNucci will likely have an uphill battle to make the team's 53-man roster.
May 14, 2023 1:59 PM EST
---