Cowboys Top Fantasy Players
These are the top fantasy football players of the Dallas Cowboys as ranked by Average Draft Position (ADP) in PPR-format mock drafts.
Data as of March 28, 2020.
Ezekiel Elliott
Ezekiel Elliott's current ADP is 1.11, which is the 11th pick of the 1st round, and 11th selection overall.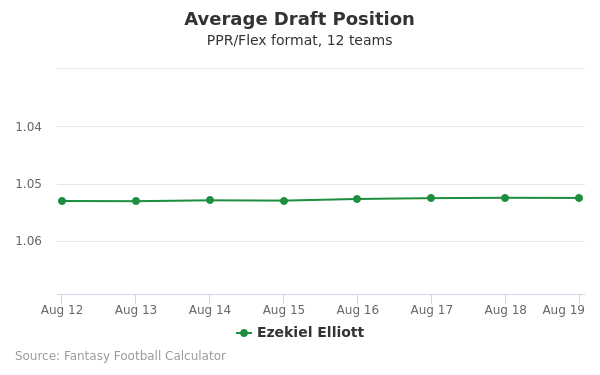 Amari Cooper
Amari Cooper's current ADP is 2.12, which is the 12th pick of the 2nd round, and 23rd selection overall.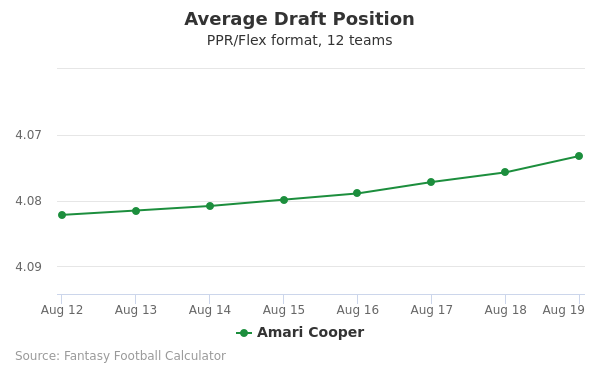 Michael Gallup
Michael Gallup's current ADP is 5.01, which is the 1st pick of the 5th round, and 49th selection overall.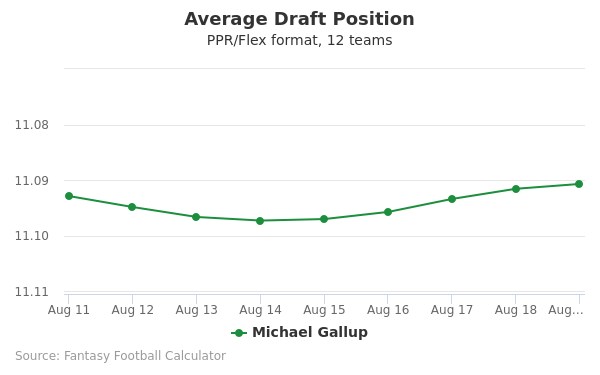 Dak Prescott
Dak Prescott's current ADP is 6.12, which is the 12th pick of the 6th round, and 71st selection overall.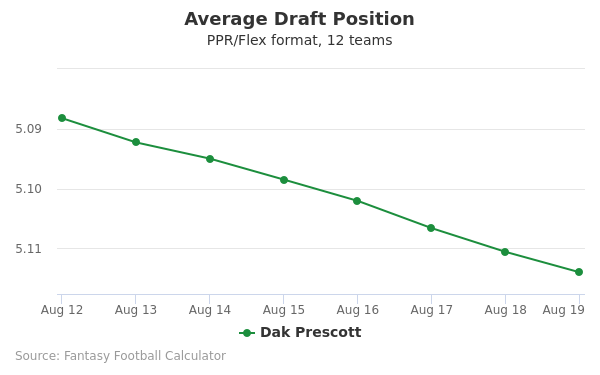 Tony Pollard
Tony Pollard's current ADP is 11.10, which is the 10th pick of the 11th round, and 130th selection overall.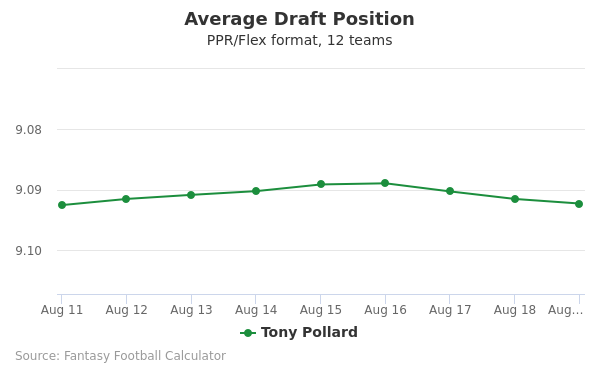 Dallas Defense
Dallas Defense's current ADP is 13.07, which is the 7th pick of the 13th round, and 150th selection overall.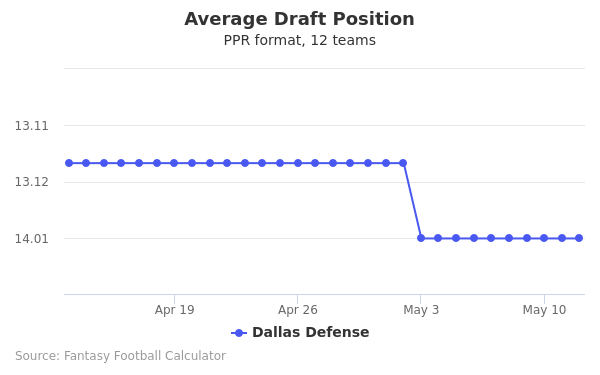 Kai Forbath
Kai Forbath's current ADP is 15.03, which is the 3rd pick of the 15th round, and 170th selection overall.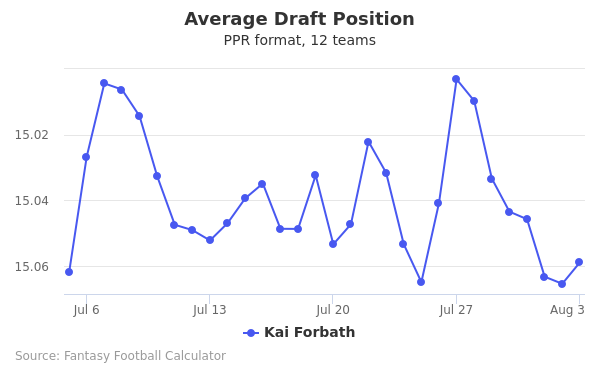 Dallas Cowboys 2019 Schedule
| Week | Home/Away | Opponent |
| --- | --- | --- |
| 1 | Home | New York Giants |
| 2 | Away | Washington Redskins |
| 3 | Home | Miami Dolphins |
| 4 | Away | New Orleans Saints |
| 5 | Home | Green Bay Packers |
| 6 | Away | New York Jets |
| 7 | Home | Philadelphia Eagles |
| 9 | Away | New York Giants |
| 10 | Home | Minnesota Vikings |
| 11 | Away | Detroit Lions |
| 12 | Away | New England Patriots |
| 13 | Home | Buffalo Bills |
| 14 | Away | Chicago Bears |
| 15 | Home | Los Angeles Rams |
| 16 | Away | Philadelphia Eagles |
| 17 | Home | Washington Redskins |
Dallas Cowboys News
Randall Cobb, Credits improved hamstring strength
Cobb, who recently agreed to sign with the Texans, said he felt better in 2019 than he had in previous seasons, getting good results after he strengthened his hamstrings, James Palmer of NFL Network reports.
Analysis: Cobb claims the Cowboys training staff identified his weak hamstrings as a potential limiting factor and worked with him to strengthen the muscles during the offseason. He went on to produce his most receiving yards (828) since 2015 and his best mark for yards per target (10.0) since 2014, despite being charged with eight drops. Cobb averaged 9.1 yards before the catch on his 55 receptions, compared to 3.9 in his final season with the Packers. He's proven himself a bit more dynamic than the typical slot receiver, and Texans quarterback Deshaun Watson should be able to take advantage of Cobb's ability to work downfield from an inside alignment. The 29-year-old has agreed to a three-year, $27 million contract, joining Will Fuller and Kenny Stills in a receiving corps that recently lost DeAndre Hopkins to the Cardinals.
March 27, 2020 12:35 PM EST
---
Dak Prescott, Restarts extension talks
Prescott and the Cowboys have resumed contract negotiations, ESPN.com's Ed Werder reports.
Analysis: The Dallas front office shifted its focus to free agency after using the franchise tag on Prescott in mid-March. The team can now turn its attention back to the young quarterback, who reportedly wants a four-year contract. The Cowboys are hoping for a five-year deal, with July 15 representing the negotiation deadline before Prescott is forced to play under the tag in 2020.
March 26, 2020 7:53 AM EST
---
Rod Smith, Re-ups with Raiders
Smith signed a one-year deal with the Raiders on Saturday, Adam Schefter of ESPN reports.
Analysis: Smith joined the Raiders all the way back in December and played just a single offensive snap, so it's fair to say it's entirely possible the running back could be battling for his job in the preseason. As it stands, Smith is likely just a depth piece behind obvious offensive factors, Josh Jacobs and Jalen Richard.
March 21, 2020 12:14 PM EST
---
Dan Bailey, Back with Vikings
The Vikings re-signed Bailey on Thursday, Lindsey Young of the team's official site reports.
Analysis: Bailey was hit-and-miss in 2018, connecting on 21 of 28 field-goal attempts, but his accuracy returned last season when he went awry on just two of his 29 such kicks. Overall, he ranks fourth in NFL history with a 93.1 percent success rate on field goals, so he should continue to remain a viable kicker option in support of a Kirk Cousins-led offense.
March 19, 2020 12:17 PM EST
---
Cooper Rush, Signs RFA tender
Rush signed a one-year, $2.1 million contract with the Cowboys on Wednesday, Todd Archer of ESPN.com reports.
Analysis: The Cowboys have opted to lock Rush up for 2020 via a restricted free agent tender, putting him on track to return as the team's No. 2 option behind Dak Prescott. It remains to be seen whether the Cowboys will bring in competition for the backup gig during the offseason, and it's worth noting that Clayton Thorson will be retained for at least another year after having signed a reserve/futures contract.
March 18, 2020 2:27 PM EST
---