Cowboys Top Fantasy Players
These are the top fantasy football players of the Dallas Cowboys as ranked by Average Draft Position (ADP) in PPR-format mock drafts.
Data as of June 27, 2022.
CeeDee Lamb
CeeDee Lamb's current ADP is 2.04, which is the 4th pick of the 2nd round, and 16th selection overall.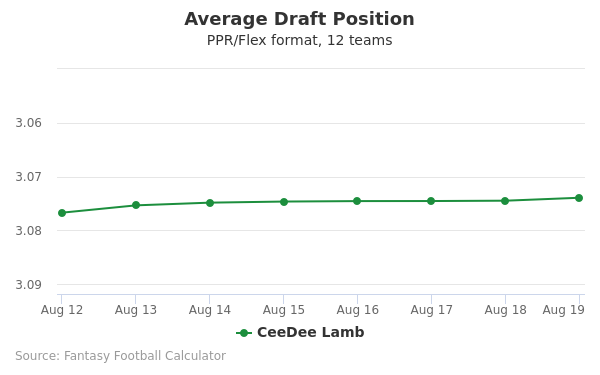 Ezekiel Elliott
Ezekiel Elliott's current ADP is 3.02, which is the 2nd pick of the 3rd round, and 26th selection overall.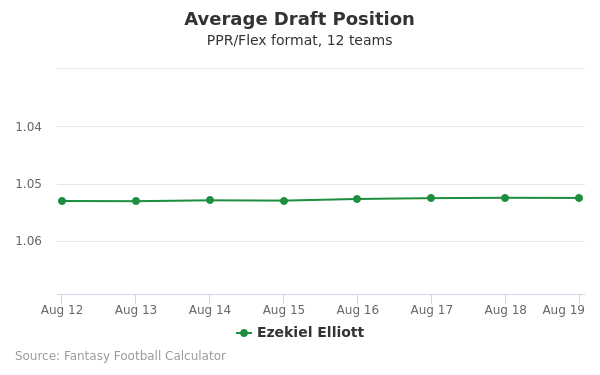 Tony Pollard
Tony Pollard's current ADP is 7.01, which is the 1st pick of the 7th round, and 72nd selection overall.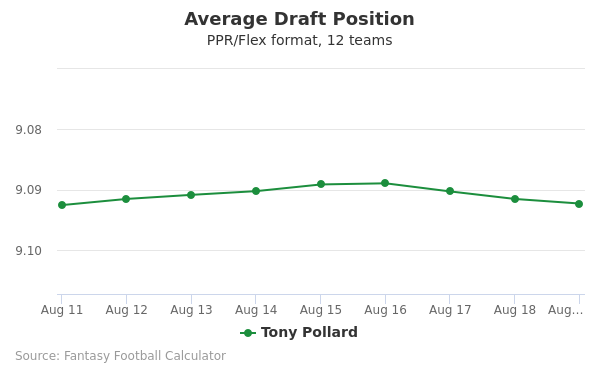 Dak Prescott
Dak Prescott's current ADP is 7.07, which is the 7th pick of the 7th round, and 78th selection overall.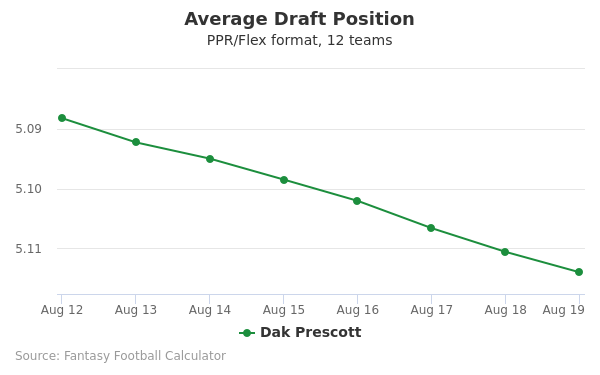 Dalton Schultz
Dalton Schultz's current ADP is 8.05, which is the 5th pick of the 8th round, and 88th selection overall.
Michael Gallup
Michael Gallup's current ADP is 9.08, which is the 8th pick of the 9th round, and 104th selection overall.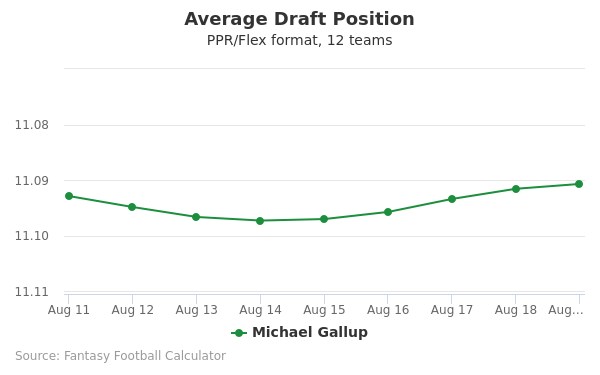 Dallas Defense
Dallas Defense's current ADP is 14.04, which is the 4th pick of the 14th round, and 160th selection overall.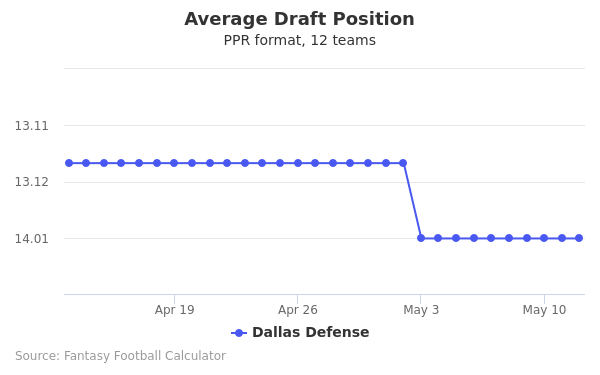 Dallas Cowboys 2020 Schedule
| Week | Home/Away | Opponent |
| --- | --- | --- |
| 1 | Away | Los Angeles Rams |
| 2 | Home | Atlanta Falcons |
| 3 | Away | Seattle Seahawks |
| 4 | Home | Cleveland Browns |
| 5 | Home | New York Giants |
| 6 | Home | Arizona Cardinals |
| 7 | Away | Washington Redskins |
| 8 | Away | Philadelphia Eagles |
| 9 | Home | Pittsburgh Steelers |
| 11 | Away | Minnesota Vikings |
| 12 | Home | Washington Redskins |
| 13 | Away | Baltimore Ravens |
| 14 | Away | Cincinnati Bengals |
| 15 | Home | San Francisco 49ers |
| 16 | Home | Philadelphia Eagles |
| 17 | Away | New York Giants |
Dallas Cowboys News
Jalen Guyton, Draws praise for special teams
Guyton earned rave reviews from coach Brandon Staley regarding his performance on special teams during OTAs, Gavino Borquez of Chargers Wire reports.
Analysis: Porous special teams have been a consistent issue for the Chargers, and it appears as if Guyton's utility as both a capable returner and special teams gunner could be one answer to the equation. Considering Joshua Palmer was spotted working with the first-string offense during offseason OTAs, the additional special teams work could come at a detriment when it comes to Guyton's offensive snaps. Expect the two to have a spirited battle for the No. 3 wideout role throughout training camp.
June 22, 2022 10:44 AM EST
---
Noah Brown, Dealing with minor hamstring injury
Brown was sidelined during the Cowboys' minicamp practices due to a minor hamstring injury, Mickey Spagnola of Dallas' official site reports.
Analysis: Brown signed a one-year deal to return to Dallas at the beginning of March, and while the wideout has been sidelined during offseason work, he's expected to be full go by training camp. Brown finished the 2021 campaign with 16 catches on 25 targets for 184 yards over 13 games.
June 17, 2022 9:38 AM EST
---
CeeDee Lamb, Held out with minor hammy injury
Lamb was held out of June minicamp with a hamstring injury but wasn't worried about his availability for training camp, Mickey Spagnola of DallasCowboys.com reports.
Analysis: Michael Gehlken of The Dallas Morning News believes Lamb would've been able to practice if it had been the regular season. The 23-year-old wideout has missed one game through two years in the NFL, and he doesn't have a noteworthy history of soft-tissue injuries, hamstring or otherwise. This shouldn't have much impact on Lamb's second-round ADP in summer fantasy drafts as he prepares for his first season as the Cowboys' clear-cut No. 1 receiver.
June 17, 2022 8:34 AM EST
---
Ezekiel Elliott, Fully healthy ahead of camp
Elliott has no injury concerns ahead of training camp, Clarence Hill Jr. of the Fort Worth Star-Telegram reports.
Analysis: "I think the biggest thing with Zeke is he's completely healthy now and he's had a tremendous offseason," Dallas head coach Mike McCarthy said Thursday. "The weight that he has been pushing in the weight room, just the numbers that he's been cranking out have been very, very impressive. I can't tell you it's been the best of his career, but he's in top shape. So, I think he's definitely set himself up for [a strong season]." Elliott played last season with a torn ligament in his knee but still ran for 1,002 rushing yards and 10 TDs, and if he's 100 percent in 2022 it should only improve his performance. The 26-year-old is closing in on 2,000 touches for his career, however, so while being in great shape during the offseason is preferable to the alternative, there's no guarantee he'll stay that way through a 17-game schedule.
June 16, 2022 3:00 PM EST
---
Dak Prescott, Should be more mobile this season
Prescott is expected to have more leeway to make plays outside the pocket this season, Michael Gehlken of The Dallas Morning News reports.
Analysis: The quarterback won't suddenly become a top rushing threat a la Lamar Jackson or Jalen Hurts, but Prescott's passing numbers throughout his career have been better when he's been on the move. He wasn't allowed out of the pocket as much in 2021 after coming off multiple ankle surgeries the prior offseason and then dealing with a midseason calf issue -- his 99 dropbacks with a rollout or scramble was the fewest of his career over a full season, even though he still posted a QB rating of 112.1 on those attempts -- but the 28-year-old appears to be fully healthy ahead of training camp and ready to use his legs again. He could also be more active again as a runner in the red zone in 2022. After scoring exactly six rushing TDs in each of his first three NFL seasons, Prescott ran for only one last year.
June 15, 2022 10:04 AM EST
---