Cowboys Top Fantasy Players
These are the top fantasy football players of the Dallas Cowboys as ranked by Average Draft Position (ADP) in PPR-format mock drafts.
Data as of October 25, 2020.
Ezekiel Elliott
Ezekiel Elliott's current ADP is 1.04, which is the 4th pick of the 1st round, and 3rd selection overall.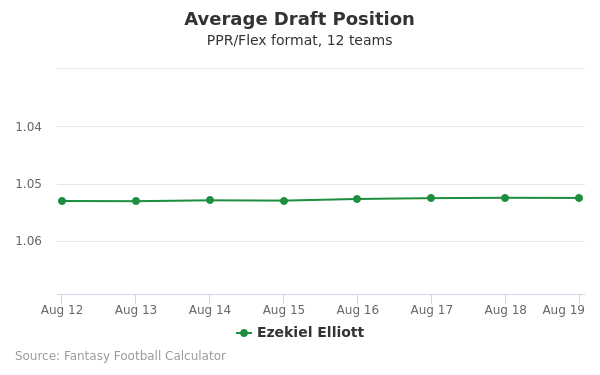 Amari Cooper
Amari Cooper's current ADP is 4.08, which is the 8th pick of the 4th round, and 44th selection overall.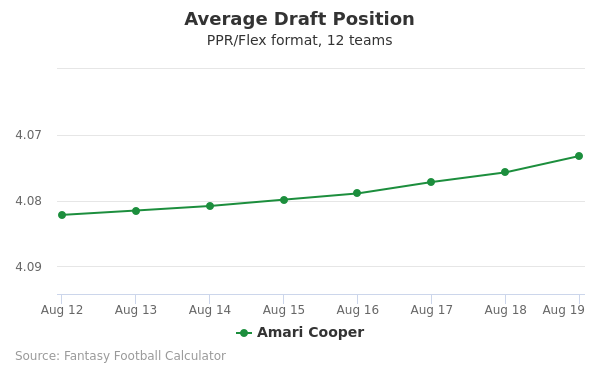 Dak Prescott
Dak Prescott's current ADP is 5.01, which is the 1st pick of the 5th round, and 49th selection overall.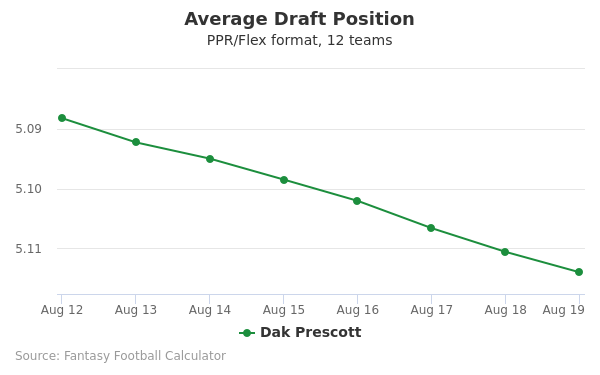 Michael Gallup
Michael Gallup's current ADP is 6.11, which is the 11th pick of the 6th round, and 70th selection overall.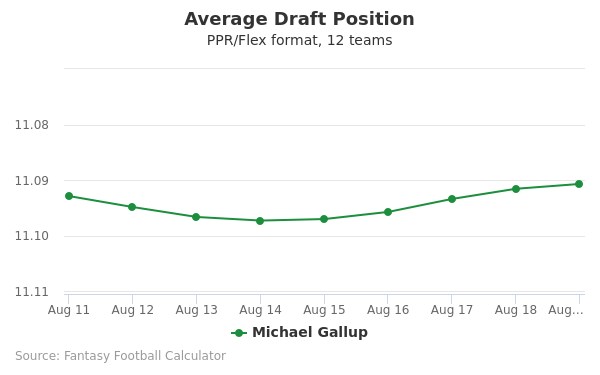 CeeDee Lamb
CeeDee Lamb's current ADP is 7.12, which is the 12th pick of the 7th round, and 83rd selection overall.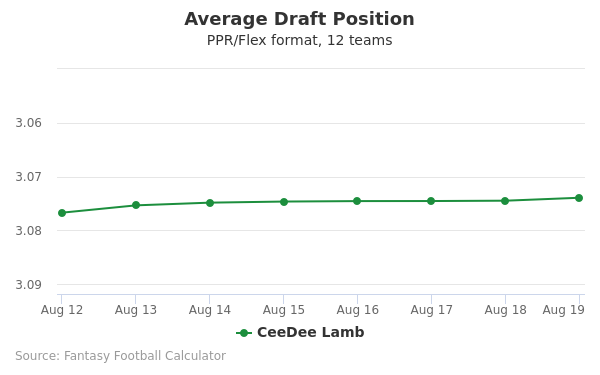 Tony Pollard
Tony Pollard's current ADP is 12.01, which is the 1st pick of the 12th round, and 133rd selection overall.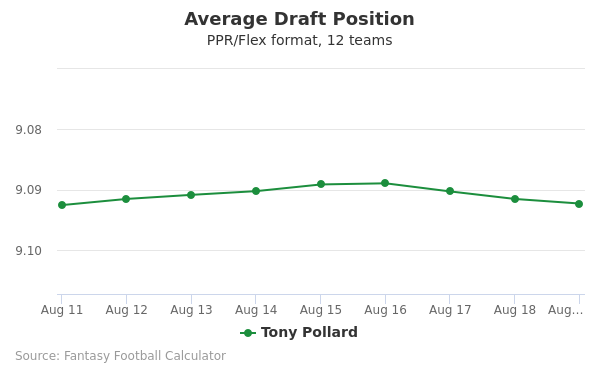 Greg Zuerlein
Greg Zuerlein's current ADP is 12.12, which is the 12th pick of the 12th round, and 143rd selection overall.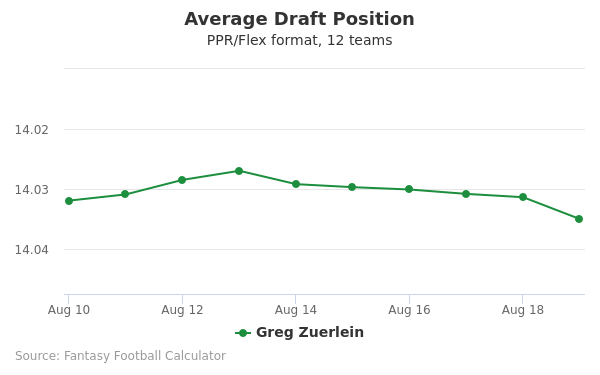 Blake Jarwin
Blake Jarwin's current ADP is 14.03, which is the 3rd pick of the 14th round, and 159th selection overall.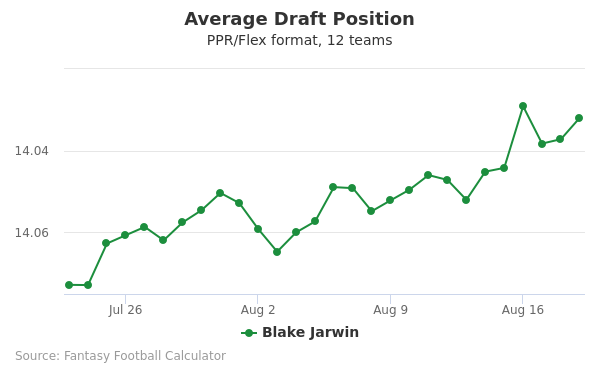 Dallas Cowboys 2020 Schedule
| Week | Home/Away | Opponent |
| --- | --- | --- |
| 1 | Away | Los Angeles Rams |
| 2 | Home | Atlanta Falcons |
| 3 | Away | Seattle Seahawks |
| 4 | Home | Cleveland Browns |
| 5 | Home | New York Giants |
| 6 | Home | Arizona Cardinals |
| 7 | Away | Washington Redskins |
| 8 | Away | Philadelphia Eagles |
| 9 | Home | Pittsburgh Steelers |
| 11 | Away | Minnesota Vikings |
| 12 | Home | Washington Redskins |
| 13 | Away | Baltimore Ravens |
| 14 | Away | Cincinnati Bengals |
| 15 | Home | San Francisco 49ers |
| 16 | Home | Philadelphia Eagles |
| 17 | Away | New York Giants |
Dallas Cowboys News
Bo Scarbrough, Moves off injured reserve
Scarbrough (undisclosed) was activated off injured reserve Saturday.
Analysis: It's unclear why Scarbrough has not played up until this point, but in any case he'll joined a crowded Lions backfield that will likely feature Adrian Peterson, D'Andre Swift and Kerryon Johnson all to varying degrees. As a result, Scarbrough is merely depth at running back and more likely a special teams player so long as the trio all remain healthy.
October 24, 2020 1:14 PM EST
---
Dez Bryant, Headed for Baltimore practice squad
The Ravens plan to sign Bryant to their practice squad if his workout with the team goes well and his physical goes fine, Ian Rapoport of NFL Network reports.
Analysis: The Ravens worked out Bryant in August, so this move doesn't completely come out of nowhere. Bryant, who turns 32 next month, last saw action in an NFL game on Dec. 31, 2017. The wideout sat out the 2019 NFL season while rehabbing from an Achilles tear he suffered in November 2018, but now that he's well past that injury, he'll look to make his way back to the field in a Baltimore uniform. It's unclear how much (and when) he might be able to add to the team's passing attack at this point, but giving the accomplished pass-catcher a look via the practice squad is a low-risk way to evaluate that.
October 22, 2020 8:52 AM EST
---
Cedrick Wilson, Not on Wednesday's report
Wilson (ribs) isn't listed on Wednesday's first injury report.
Analysis: Wilson has received between 20 and 30 percent of the offensive snaps in each of the last four games, totaling 14 catches (on 20 targets) for 173 yards and two touchdowns. The vast majority of that production (5-107-2 on seven targets) came Week 3 at Seattle, and with the change from Dak Prescott (ankle) to Andy Dalton under center, it may be difficult to project much production from week to week.
October 21, 2020 3:30 PM EST
---
Dalton Schultz, Snags four passes in losing effort
Schultz corralled four of his five targets for 35 receiving yards during Monday's 38-10 loss to the Cardinals.
Analysis: On what was a sluggish offensive night that saw the Cowboys generate only 10 total points, Andy Dalton was capable of putting up junk-time production, distributing 34 completions, 266 passing yards and a touchdown to his array of talented targets. Schultz was the team's third-leading receiver, also tying his second-highest catch total of the season during the blowout loss. He had an off game with just one catch and six yards against the Giants last Sunday, but otherwise he has scored two touchdowns while averaging 60.5 receiving yards per game since Week 2.
October 20, 2020 3:43 PM EST
---
Tony Pollard, Handles 10 carries in MNF blowout
Pollard registered 31 rushing yards on 10 carries, also corralling two of his four targets for nine receiving yards during Monday's 38-10 loss to Arizona.
Analysis: After Ezekiel Elliott lost two fumbles in a game for the first time in his NFL career, Pollard handled seven of the Cowboys' final 11 RB touches to close out the first half. Pollard's 12 offensive touches on the night significantly outpaced his previous season high of eight, but the uptick in involvement can largely be attributed to game script, as Dallas fell into a 28-3 hole by the midpoint of the third quarter. Elliott is expected to garner a higher proportion of the RB workload next week in what figures to be a more tightly-contested game, on the road against Washington.
October 20, 2020 3:32 PM EST
---