Broncos Top Fantasy Players
These are the top fantasy football players of the Denver Broncos as ranked by Average Draft Position (ADP) in PPR-format mock drafts.
Data as of April 8, 2020.
Melvin Gordon
Melvin Gordon's current ADP is 2.09, which is the 9th pick of the 2nd round, and 20th selection overall.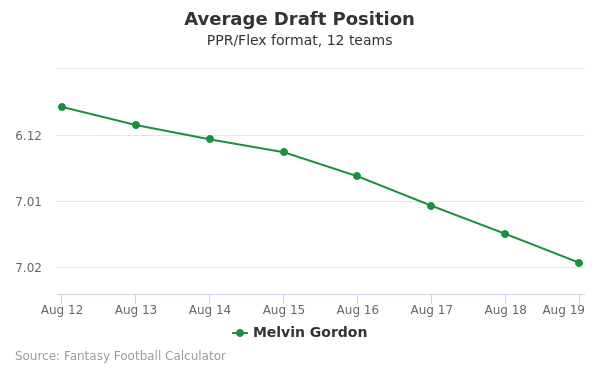 Courtland Sutton
Courtland Sutton's current ADP is 3.02, which is the 2nd pick of the 3rd round, and 26th selection overall.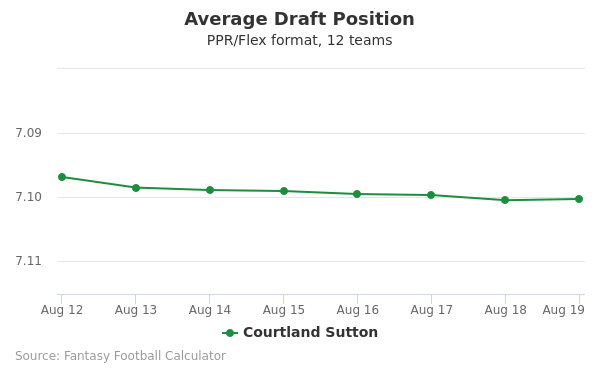 Phillip Lindsay
Phillip Lindsay's current ADP is 5.06, which is the 6th pick of the 5th round, and 53rd selection overall.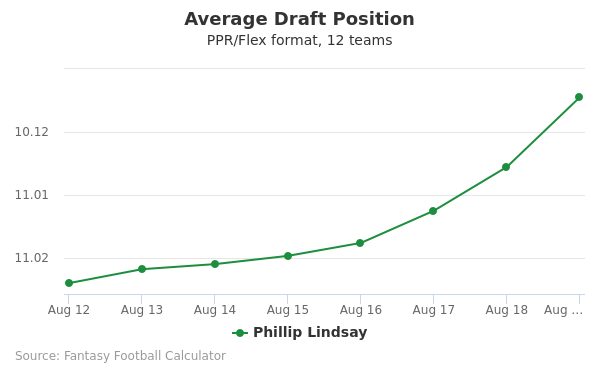 Noah Fant
Noah Fant's current ADP is 8.05, which is the 5th pick of the 8th round, and 89th selection overall.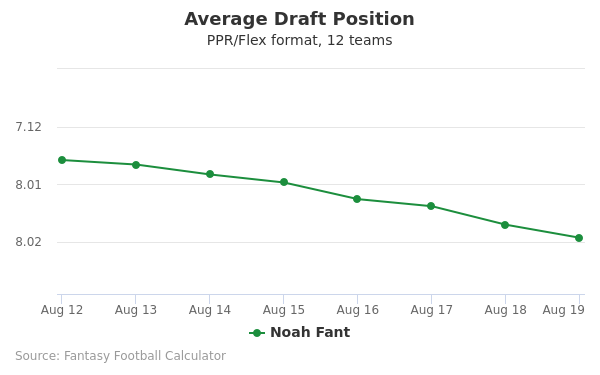 Royce Freeman
Royce Freeman's current ADP is 9.01, which is the 1st pick of the 9th round, and 97th selection overall.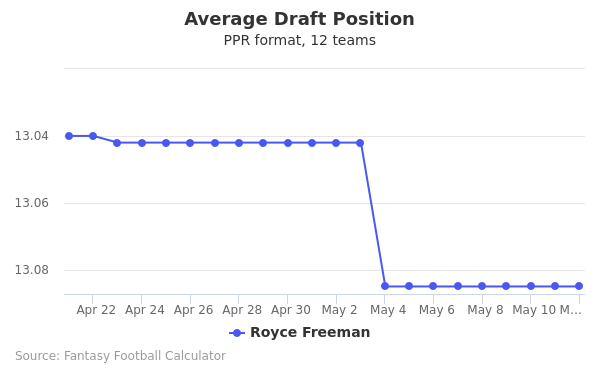 Drew Lock
Drew Lock's current ADP is 13.05, which is the 5th pick of the 13th round, and 149th selection overall.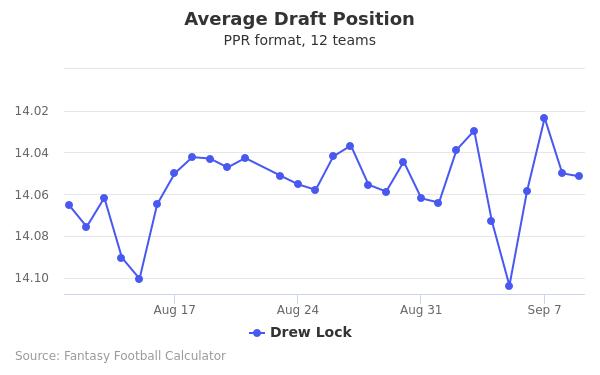 Denver Defense
Denver Defense's current ADP is 14.04, which is the 4th pick of the 14th round, and 159th selection overall.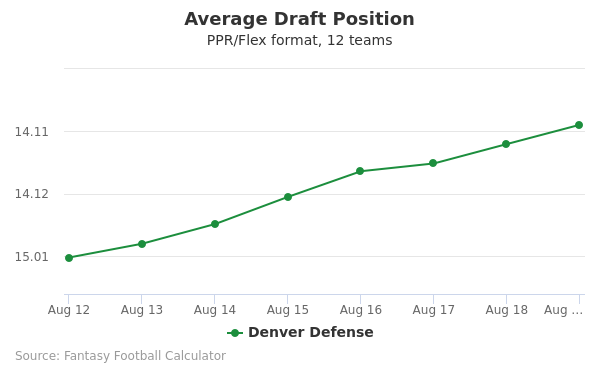 Brandon McManus
Brandon McManus's current ADP is 14.11, which is the 11th pick of the 14th round, and 166th selection overall.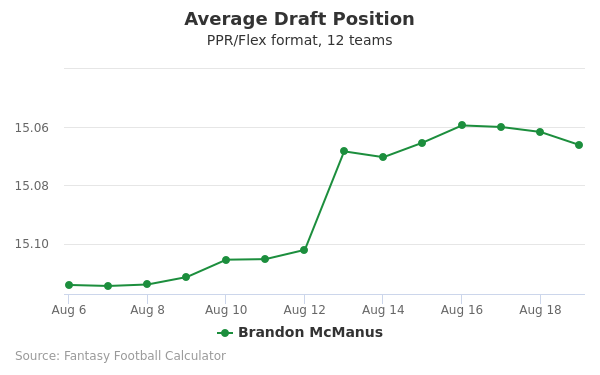 Daesean Hamilton
Daesean Hamilton's current ADP is 15.02, which is the 2nd pick of the 15th round, and 169th selection overall.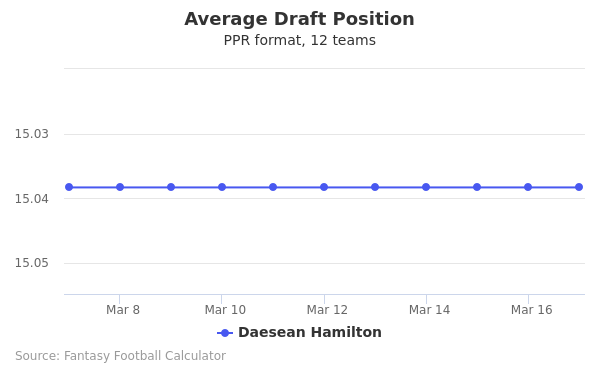 Denver Broncos 2019 Schedule
| Week | Home/Away | Opponent |
| --- | --- | --- |
| 1 | Away | Las Vegas Raiders |
| 2 | Home | Chicago Bears |
| 3 | Away | Green Bay Packers |
| 4 | Home | Jacksonville Jaguars |
| 5 | Away | Los Angeles Chargers |
| 6 | Home | Tennessee Titans |
| 7 | Home | Kansas City Chiefs |
| 8 | Away | Indianapolis Colts |
| 9 | Home | Cleveland Browns |
| 11 | Away | Minnesota Vikings |
| 12 | Away | Buffalo Bills |
| 13 | Home | Los Angeles Chargers |
| 14 | Away | Houston Texans |
| 15 | Away | Kansas City Chiefs |
| 16 | Home | Detroit Lions |
| 17 | Home | Las Vegas Raiders |
Denver Broncos News
Cody Latimer, Signs with Washington
Latimer agreed to terms on a contract with the Redskins on Wednesday, Mike Garafolo of NFL Network reports.
Analysis: Latimer served as the Giants' fourth receiver and primary kick return man in 2019, finishing the season with 24 catches for 300 yards. He'll likely assume a depth role for the Redskins next season, especially with youngsters Terry McLaurin (concussion) Trey Quinn (concussion) and Kelvin Harmon on the roster that were all drafted by the team in the past two seasons. He figures to battle Steven Sims for work as the team's primary kick and punt return man as well.
March 25, 2020 5:47 PM EST
---
Drew Lock, Unlikely to be tested in camp
Following the signing of journeyman Jeff Driskel as the presumptive QB2, Denver appears content to stand pat at quarterback, Benjamin Allbright of KOA News Radio reports.
Analysis: Lock was mostly solid, but showed flashes of real promise down the stretch during his 4-1 tenure as the Broncos' starting quarterback. That didn't prevent some from calling for Denver to bring in a veteran to push Lock in 2020. That hasn't happened and, though Driskel has the athleticism to complement Lock's style, his 1-7 career records as a starter -- albeit on some bad teams -- is unlikely to trigger a camp battle. It is possible that the Broncos look for a developmental quarterback in the late rounds of the draft, but everything is trending toward a full-season audition for Lock in 2020.
March 24, 2020 9:53 AM EST
---
Isaiah McKenzie, Stays with Buffalo
McKenzie re-signed with the Bills on Tuesday, Jay Skurski of The Buffalo News reports.
Analysis: McKenzie served as Buffalo's No. 3 wide receiver for parts of last season, but he'll be no higher than No. 4 after the team traded for Stefon Diggs. With John Brown and Cole Beasley locking down the other top-three spots, McKenzie will be left to compete against Duke Williams, Robert Foster and Andre Roberts for depth jobs.
March 24, 2020 8:56 AM EST
---
Jeff Heuerman, Faces threat from fellow Buckeye
The Broncos' signing of Vannett could place Heuerman's roster spot in jeopardy, Troy Renck of Denver 7 News reports.
Analysis: Heuerman had a nice game or two as an underneath receiver for the Broncos in 2019, but has never really lived up to being the tight end Denver drafted him to be out of Ohio State in 2015. Now, it would seem as though his TE2 role will be taken by Vannett, who was drafted by Seattle out of Ohio State in 2016. Vannett is mostly known as a blocker, but he put together some nice receiving performances in 2018. With Noah Fant leading the way and cheap, promising youngsters like Andrew Beck and Austin Fort at the bottom of the roster, it would seem like there's only room for one of Vannett or Heuerman on the team. Cutting Heuerman would result in a cap hit of $500,000, but a savings of $3.9 million.
March 22, 2020 9:31 AM EST
---
Royce Freeman, Supplanted by Gordon
The acquisition for Melvin Gordon leaves Freeman on the outside looking in in Denver's 1-2 punch, Sean Keeler of The Denver Post reports.
Analysis: There were whispers that Denver was looking for an upgrade over Freeman in free agency, but the investment in Gordon is at least a small shock. Freeman emerged as a solid receiver out of the backfield in 2019, but has never really lived up to his billing has a big, savvy bell-cow back, averaging just 3.88 yards per carry in two seasons. His uber-efficient 2018 season aside, Gordon has averaged just 3.80 yards per carry during his career, but is a more dynamic receiver and has at least shown the ability to be a big-time runner in spurts. Gordon's contract leaves little hope for Freeman to win back the RB2 role in camp and it wouldn't be a total shock to see Freeman traded if Denver adds another back in the draft.
March 22, 2020 9:13 AM EST
---