J.K. Dobbins
Baltimore Ravens
Running Back #27
Baltimore Ravens
Running Back #27
Photo: Icon Sportswire
Personal
| | |
| --- | --- |
| Age | 23 |
| Birthdate | December 17, 1998 |
| Height | 5'10" |
| Weight | 212 lb |
Draft
College
Ohio State
Year
2020
Pick
Round: 2, Overall: 55
Team
BAL
Fantasy Value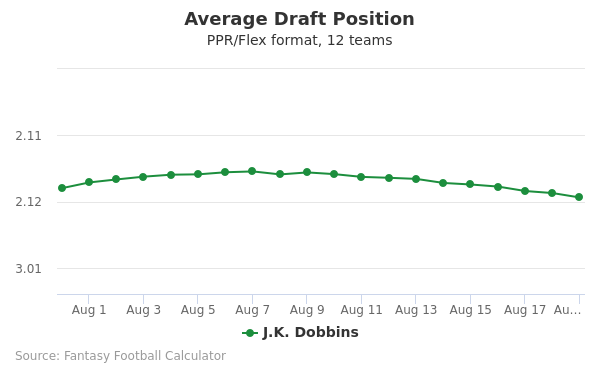 The code below will display a graph that updates every day to show the ADP data for J.K. Dobbins for the past 30 days in 12-team PPR leagues.
You may use this graph on your website for free with a link back to this page for attribution.
Player News
J.K. Dobbins: May open camp on PUP list
Coach John Harbaugh said Monday there's a "chance" that Dobbins (knee) begins training camp on the PUP list, Jonas Shaffer of The Baltimore Sun reports.
Analysis: Harbaugh said both Dobbins and Gus Edwards (knee), who each missed the 2021 campaign due to torn ACLs, could need to start training camp on the PUP list. "We'll probably play it safe a little bit with those guys and take our time and just bring them along for the season," Harbaugh said. Dobbins still appears on track to return to full health in time for the start of the 2022 campaign, and there's not yet any indication that his recovery has run into any sort of setback. The fact that the Ravens have avoided any notable running back additions during free agency would appear to speak to the team's confidence in both Dobbins' and Edwards' recoveries.
Mar. 28, 2022 8:55 AM EST
Player Stats
YEAR
TM
GM
Rushing
Receiving
ATT
YDS
YPC
TD
FUM
REC
TGT
%
YDS
TD
YPC
2020
BAL
16
134
805
6.0
9
0
18
24
75.0
120
0
6.7
Recent Articles
There haven't been any regular-season games yet, however, we've already seen our fair share of big injuries in the NFL.  That said there...
Read more »
September 8, 2021. Premium
September 8, 2021
Premium
So, the season hasn't officially started yet, but most of you have probably drafted and are just waiting for Thursday night.  That is a...
Read more »
September 7, 2021. Premium
September 7, 2021
Premium
We already talked about some sell-high candidates, but what about some guys you can grab cheaply?  A lot of times age factors into...
Read more »
August 26, 2021. Premium
Who Should You Start?
Who Should You Draft?