Lions Top Fantasy Players
These are the top fantasy football players of the Detroit Lions as ranked by Average Draft Position (ADP) in PPR-format mock drafts.
Data as of May 8, 2021.
D'Andre Swift
D'Andre Swift's current ADP is 2.09, which is the 9th pick of the 2nd round, and 21st selection overall.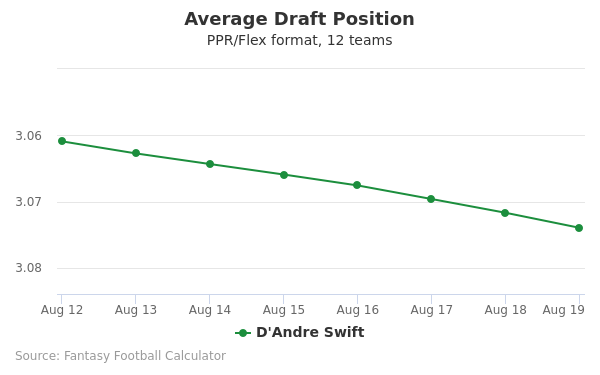 T.J. Hockenson
T.J. Hockenson's current ADP is 5.10, which is the 10th pick of the 5th round, and 58th selection overall.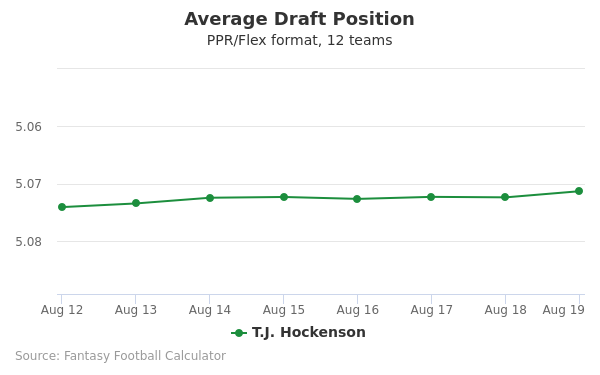 Jamaal Williams
Jamaal Williams's current ADP is 9.12, which is the 12th pick of the 9th round, and 107th selection overall.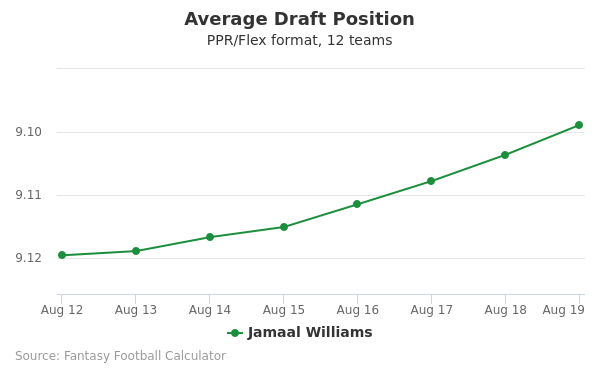 Breshad Perriman
Breshad Perriman's current ADP is 13.07, which is the 7th pick of the 13th round, and 150th selection overall.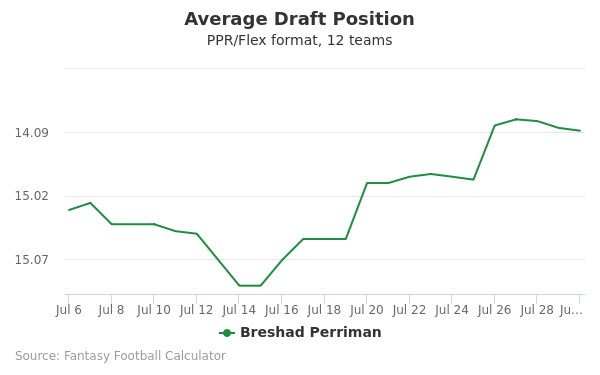 Jared Goff
Jared Goff's current ADP is 14.03, which is the 3rd pick of the 14th round, and 159th selection overall.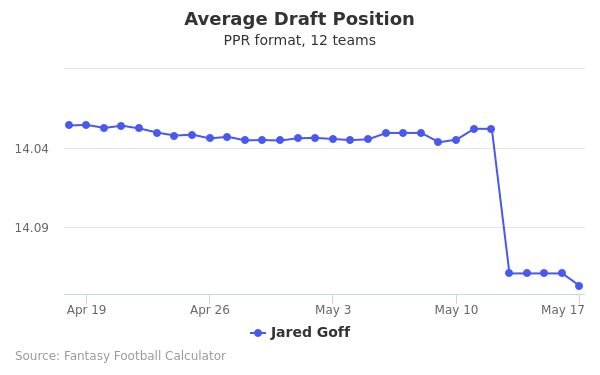 Tyrell Williams
Tyrell Williams's current ADP is 14.07, which is the 7th pick of the 14th round, and 162nd selection overall.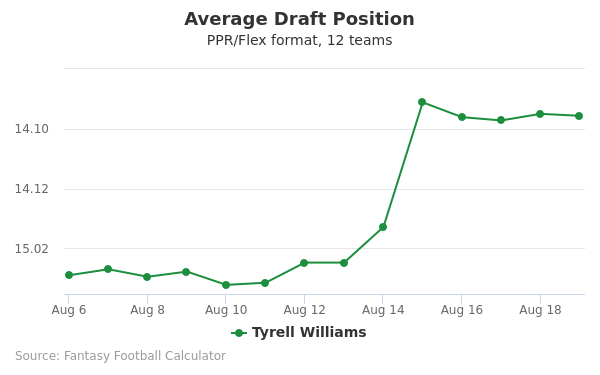 Randy Bullock
Randy Bullock's current ADP is 15.09, which is the 9th pick of the 15th round, and 176th selection overall.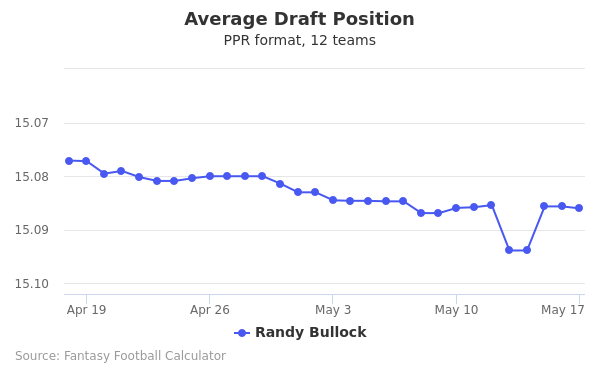 Detroit Lions 2020 Schedule
| Week | Home/Away | Opponent |
| --- | --- | --- |
| 1 | Home | Chicago Bears |
| 2 | Away | Green Bay Packers |
| 3 | Away | Arizona Cardinals |
| 4 | Home | New Orleans Saints |
| 6 | Away | Jacksonville Jaguars |
| 7 | Away | Atlanta Falcons |
| 8 | Home | Indianapolis Colts |
| 9 | Away | Minnesota Vikings |
| 10 | Home | Washington Redskins |
| 11 | Away | Carolina Panthers |
| 12 | Home | Houston Texans |
| 13 | Away | Chicago Bears |
| 14 | Home | Green Bay Packers |
| 15 | Away | Tennessee Titans |
| 16 | Home | Tampa Bay Buccaneers |
| 17 | Home | Minnesota Vikings |
Detroit Lions News
Kerryon Johnson, Claimed by Eagles
Philadelphia claimed Johnson off waivers from the Lions on Friday, Adam Schefter of ESPN reports.
Analysis: The Eagles continue to add depth behind top tailback Miles Sanders, with Johnson joining the likes of Boston Scott, Jordan Howard and fifth-round rookie Kenneth Gainwell in the backfield. Johnson still has youth on his side -- his 24th birthday won't come until June -- and his issues with efficiency and availability over the last two seasons can largely be blamed on injury. Still, facing real competition for a limited amount of depth touches doesn't bode well for Johnson's chances of manufacturing a career resurgence in the final year of his rookie contract.
May 7, 2021 1:15 PM EST
---
Kerryon Johnson, Time in Detroit comes to an end
The Lions are waiving Johnson on Wednesday, Ian Rapoport of NFL Network reports.
Analysis: Johnson never lived up to his status as a 2018 second-round pick, having been limited to 10 games as a rookie due to injuries, then averaging below 4.0 yards per carry in 2019 and 2020. With the Lions having signed Jamaal Williams to back up D'Andre Swift, and bringing in rookies Jermar Jefferson, Rakeem Boyd and Dedrick Mills to compete for reserve roles, the writing has been on the wall regarding Johnson's tenure. Still just staring down his age-24 season, Johnson could end up being claimed on waivers by a team in need of backfield depth, such as the Falcons, Jets or Dolphins.
May 5, 2021 4:58 PM EST
---
Darren Fells, Finds work in Detroit
Fells agreed Wednesday with the Lions on a contract, Mike Garafolo of NFL Network reports.
Analysis: With reports surfacing earlier this week that offseason pickup Josh Hill was leaning toward retirement, the Lions acted quickly to bring in another veteran body at tight end in Fells. The 6-foot-7, 270-pounder is expected to offer most of his value as a blocking-oriented alternative at the position to starter T.J. Hockenson, but the 35-year-old Fells has also shown some ability as a pass catcher, particularly in the red zone. He topped 300 receiving yards in both of his past two seasons in Houston, scoring 11 touchdowns during that span.
May 5, 2021 11:45 AM EST
---
Quintez Cephus, Chance to claim starting role
Cephus should have an opportunity to be a starting outside receiver this season, Nick Baumgardner and Chris Burke of the Athletic report.
Analysis: The offseason has gone about as well as possible for Cephus's potential usage in 2021, as every other wideout who caught a pass in a Lions jersey last season is gone and Detroit only replaced them with a pair of relatively low-cost veterans plus a fourth-round draft pick in Amon-Ra St. Brown. While going from Matthew Stafford to Jared Goff at quarterback is surely a downgrade, Cephus ultimately seems primed to top the 365 total offensive snaps he logged as a rookie.
May 3, 2021 9:53 AM EST
---
Eric Ebron, Faces increased competition
Ebron faces increased competition for targets this season after the Steelers selected Pat Freiermuth with the 55th overall pick in the 2021 NFL Draft, Ed Bouchette of The Athletic reports.
Analysis: Ebron hauled in 31 passes for 375 yards during his final season with the Colts in 2019, his lowest marks since his rookie year in 2014. However, he established himself as the primary tight end in Pittsburgh last season and hauled in 56 of his 91 targets for 558 yards and five touchdowns. The Steelers selected Freiermuth in the second round of the draft after Vance McDonald retired in January. Ebron will likely handle most of the pass-catching duties while Freiermuth serves as the No. 2 tight end to begin the 2021 campaign, but the rookie could compete for targets if Ebron gets off to a slow start this season.
May 2, 2021 9:21 PM EST
---