Lions Top Fantasy Players
These are the top fantasy football players of the Detroit Lions as ranked by Average Draft Position (ADP) in PPR-format mock drafts.
Data as of October 25, 2020.
Kenny Golladay
Kenny Golladay's current ADP is 4.02, which is the 2nd pick of the 4th round, and 38th selection overall.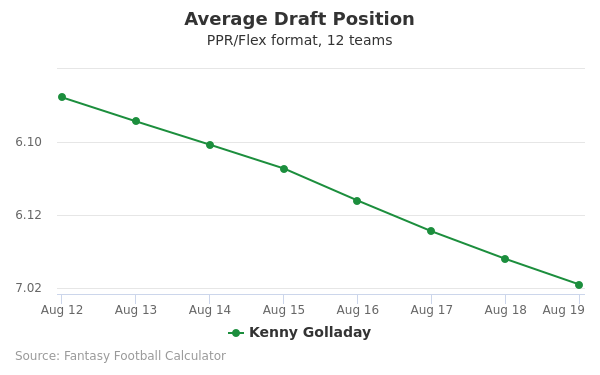 D'Andre Swift
D'Andre Swift's current ADP is 6.07, which is the 7th pick of the 6th round, and 66th selection overall.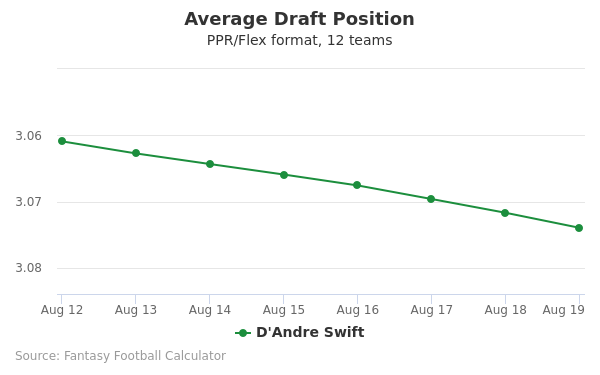 Marvin Jones
Marvin Jones's current ADP is 8.12, which is the 12th pick of the 8th round, and 96th selection overall.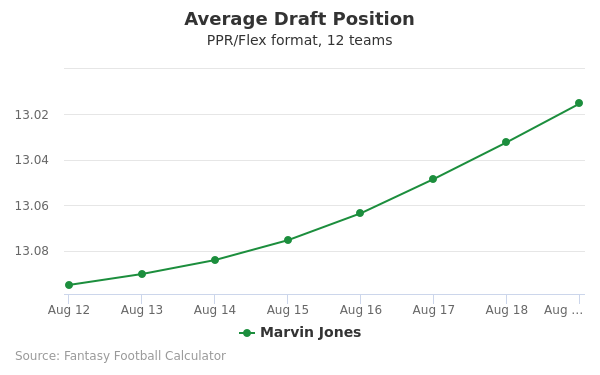 Kerryon Johnson
Kerryon Johnson's current ADP is 9.04, which is the 4th pick of the 9th round, and 100th selection overall.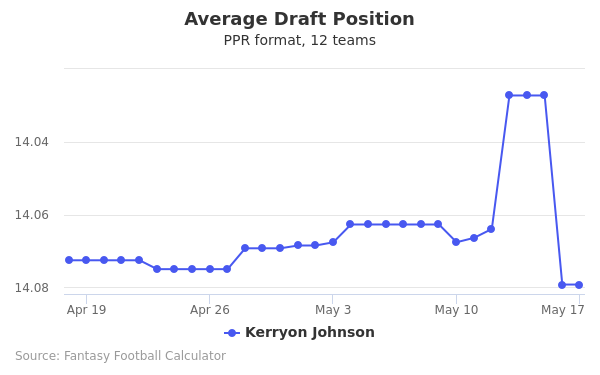 Matthew Stafford
Matthew Stafford's current ADP is 10.02, which is the 2nd pick of the 10th round, and 110th selection overall.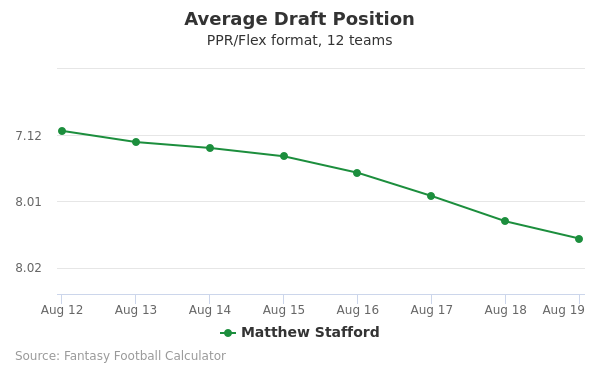 T.J. Hockenson
T.J. Hockenson's current ADP is 12.03, which is the 3rd pick of the 12th round, and 135th selection overall.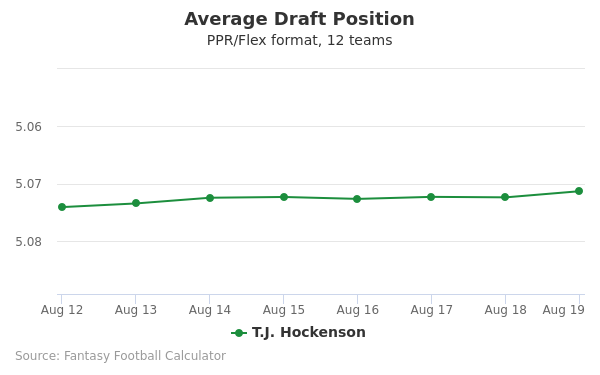 Adrian Peterson
Adrian Peterson's current ADP is 13.04, which is the 4th pick of the 13th round, and 148th selection overall.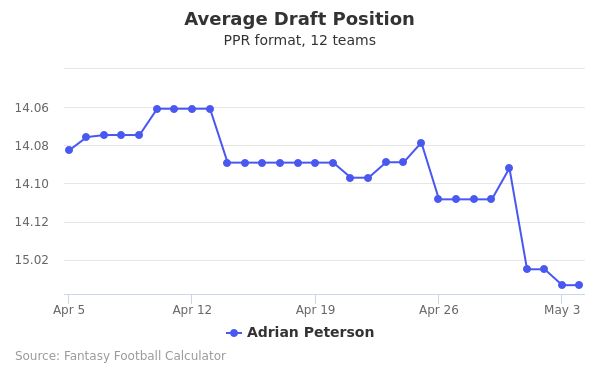 Detroit Lions 2020 Schedule
| Week | Home/Away | Opponent |
| --- | --- | --- |
| 1 | Home | Chicago Bears |
| 2 | Away | Green Bay Packers |
| 3 | Away | Arizona Cardinals |
| 4 | Home | New Orleans Saints |
| 6 | Away | Jacksonville Jaguars |
| 7 | Away | Atlanta Falcons |
| 8 | Home | Indianapolis Colts |
| 9 | Away | Minnesota Vikings |
| 10 | Home | Washington Redskins |
| 11 | Away | Carolina Panthers |
| 12 | Home | Houston Texans |
| 13 | Away | Chicago Bears |
| 14 | Home | Green Bay Packers |
| 15 | Away | Tennessee Titans |
| 16 | Home | Tampa Bay Buccaneers |
| 17 | Home | Minnesota Vikings |
Detroit Lions News
Nate Becker, Assigned to COVID-19 list
Becker was placed on the reserve/COVID-19 list Saturday, the Bills' official site reports.
Analysis: t's important to note Becker has not necessarily tested positive for the virus, but because he's been deemed to have been in close contact with fellow tight end Dawson Knox -- who tested positive for COVID-19 -- Becker has been placed on the list due to league protocol. With Knox already ruled out for the game and tight end Lee Smith additionally placed on the list, Becker was probably looking at a callup for Sunday's game against the Jets, but the Bills will have to make due with whatever they can piece together. Right now, Tyler Kroft is the only tight end set for action against New York.
October 24, 2020 12:19 PM EST
---
Marvin Jones, Cleared from injury report
Jones (knee) doesn't have an injury designation for Sunday's game in Atlanta, Tim Twentyman of the Lions' official site reports.
Analysis: Jones started the week as a non-participant before upgrading to limited participation Thursday and a full session Friday. He's played more than 80 percent of offensive snaps each game this season, but he's averaging only 2.8 catches for 29.2 yards, and he's seen just 10 targets in the three games Kenny Golladay has played. A matchup with the feeble Atlanta defense could help, though Jones was shut down by a similarly vulnerable Jacksonville unit last week.
October 23, 2020 12:20 PM EST
---
Travis Fulgham, Strong showing in Week 7 win
Fulgham secured five of 11 targets for 73 yards in the Eagles' 22-21 win over the Giants on Thursday night.
Analysis: The second-year wideout retained a starting role despite the return of DeSean Jackson from a hamstring injury, and he once again finished as Carson Wentz's most frequent target. Fulgham finished second in receptions and receiving yards to tight end Richard Rodgers, and he's now logged double-digit targets in three straight games. Fulgham's role is naturally expected to lessen once the Eagles begin getting their multitude of injured pass catchers back in earnest, but a leg injury suffered by Jackson late in Thursday's game now opens up the possibility of another opening in the receiving corps even when Alshon Jeffery (foot) is ready to jump back in action. Fulgham will look to continue offering strong production in a Week 8 divisional battle against the Cowboys on Sunday, Nov. 1.
October 22, 2020 9:53 PM EST
---
Brandon Powell, All clear Thursday
Powell (elbow) was absent from Thursday's injury report, Tori McElhaney of The Athletic reports.
Analysis: Powell popped up on the injury report Wednesday, as the elbow issue limited him in practice. Now healthy, expect the Florida product to assume his usual duties as the team's return man, while mixing in with depth receiving snaps. In six games this season, the 25-year-old has supplied three catches for 27 yards, 208 kick return yards and 79 punt return yards.
October 22, 2020 3:38 PM EST
---
Marvin Jones, Puts forth limited practice
Jones (knee) took part in Thursday's practice in a limited fashion.
Analysis: The activity level marks a step forward for Jones, who didn't take any reps during Wednesday's session. Assuming Jones can repeat his limited participation Friday or upgrade to full work, he should be in good shape to play this weekend in Atlanta. Through five games, Jones has been a disappointment for fantasy managers with only 14 receptions for 146 yards and a touchdown across his 24 targets.
October 22, 2020 12:52 PM EST
---