Lions Top Fantasy Players
These are the top fantasy football players of the Detroit Lions as ranked by Average Draft Position (ADP) in PPR-format mock drafts.
Data as of March 29, 2020.
Kenny Golladay
Kenny Golladay's current ADP is 2.09, which is the 9th pick of the 2nd round, and 21st selection overall.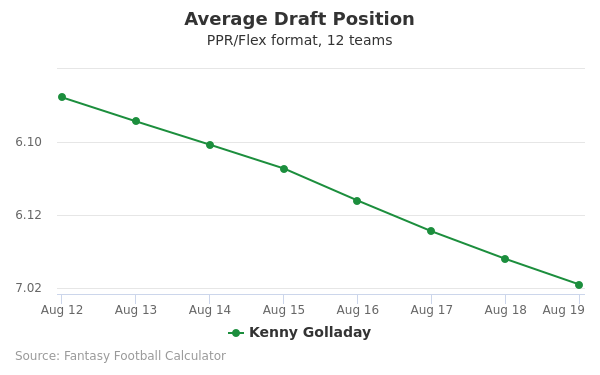 Kerryon Johnson
Kerryon Johnson's current ADP is 4.03, which is the 3rd pick of the 4th round, and 38th selection overall.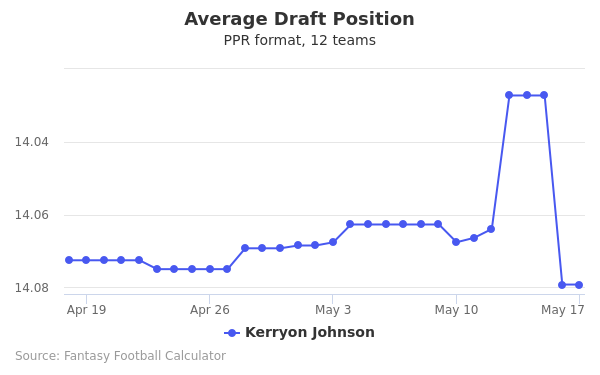 Marvin Jones
Marvin Jones's current ADP is 9.01, which is the 1st pick of the 9th round, and 96th selection overall.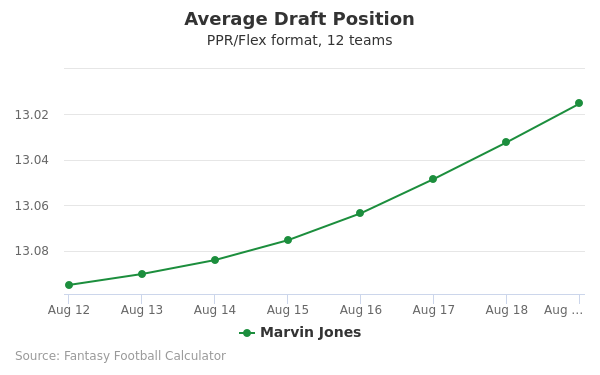 T.J. Hockenson
T.J. Hockenson's current ADP is 11.03, which is the 3rd pick of the 11th round, and 123rd selection overall.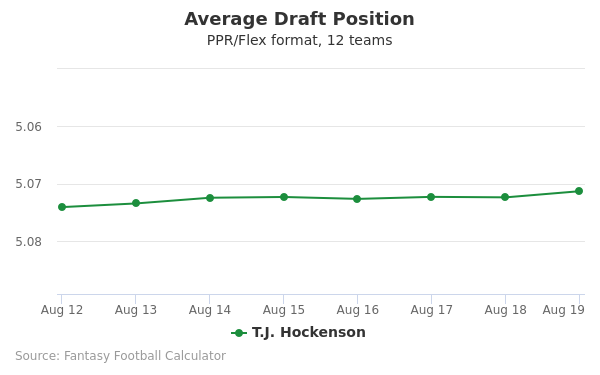 Matthew Stafford
Matthew Stafford's current ADP is 12.01, which is the 1st pick of the 12th round, and 132nd selection overall.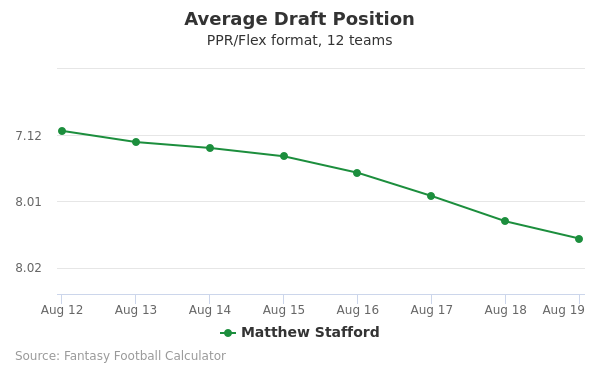 Matt Prater
Matt Prater's current ADP is 14.10, which is the 10th pick of the 14th round, and 166th selection overall.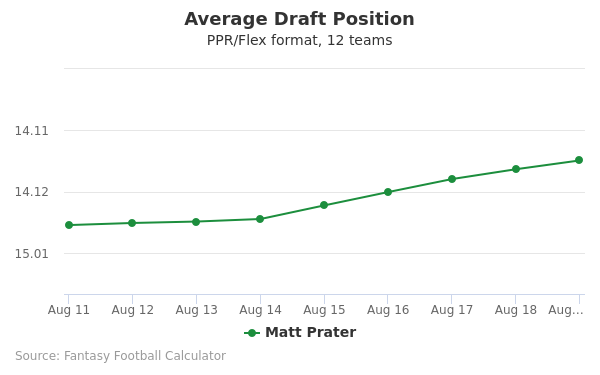 Detroit Lions 2019 Schedule
| Week | Home/Away | Opponent |
| --- | --- | --- |
| 1 | Away | Arizona Cardinals |
| 2 | Home | Los Angeles Chargers |
| 3 | Away | Philadelphia Eagles |
| 4 | Home | Kansas City Chiefs |
| 6 | Away | Green Bay Packers |
| 7 | Home | Minnesota Vikings |
| 8 | Home | New York Giants |
| 9 | Away | Las Vegas Raiders |
| 10 | Away | Chicago Bears |
| 11 | Home | Dallas Cowboys |
| 12 | Away | Washington Redskins |
| 13 | Home | Chicago Bears |
| 14 | Away | Minnesota Vikings |
| 15 | Home | Tampa Bay Buccaneers |
| 16 | Away | Denver Broncos |
| 17 | Home | Green Bay Packers |
Detroit Lions News
Donald Parham, Lands in Los Angeles
Parham signed a two-year contract with the Chargers on Wednesday, Daniel Popper of The Athletic reports.
Analysis: Parham's most recent pro action came with the Dallas Renegades in the XFL, during which he logged 24 catches for 307 yards and four touchdowns across five contests. He also spent time in Washington as an undrafted rookie last offseason. The Stetson product will now get a shot to compete for a depth role in the Chargers' tight end corps.
March 25, 2020 12:18 PM EST
---
Eric Ebron, Joins Pittsburgh TE corps
Ebron will sign a two-year, $12 million deal with the Steelers, Adam Schefter of ESPN reports.
Analysis: Ebron is bouncing back from procedures in both of his ankles, but evidently the Steelers are comfortable with the way he's progressing and have added another pass-catching weapon for QB Ben Roethlisberger. When healthy, Ebron can be a useful red-zone option, as evidenced by the the fact the he scored 17 touchdowns in 27 games over the last two seasons he spent with the Colts.
March 20, 2020 10:22 AM EST
---
Darren Fells, Re-signs with Houston
Fells is signing a two-year, $7 million contract to stay with the Texans, Aaron Wilson of the Houston Chronicle reports.
Analysis: Fells signed a one-year, $1.5 million contract last offseason and went on to set career highs in every major receiving category: 34 catches for 341 yards and seven touchdowns on 48 targets. He's mostly been known for run blocking throughout his pro career, but he does have 17 TDs among his 102 catches, and his 12 red-zone targets last season were second most among Houston pass catchers. With Fells entering his age-34 season and likely to take on a good number of snaps again, the 2020 fantasy prospects for Jordan Akins (hamstring), Jordan Thomas and Kahale Warring don't look great. Expect the Texans to use some form of rotation at tight end, likely involving two or three players on a regular basis.
March 10, 2020 6:42 AM EST
---
Theo Riddick, Ready for free agency
Riddick (shoulder) has been medically cleared and is set to become an unrestricted free agent, Mike Klis of 9News Denver reports.
Analysis: Riddick signed with the Broncos in early August and suffered a shoulder fracture shortly thereafter. He may have been healthy enough to return from injured reserve in the second half of the season, but the Broncos used their two IR activations on Drew Lock and Tim Patrick. The 28-year-old running back now hopes to drum up interest on the open market as a passing-down specialist, a role in which he averaged 4.4 catches per game from 2015 to 2018 with the Lions.
March 6, 2020 9:30 AM EST
---
Kenny Golladay, Candidate for contract extension
Golladay is a candidate for a contract extension this offseason, Chris Burke of the Athletic reports.
Analysis: Detroit's future at wide receiver isn't clear with each of Golladay, Marvin Jones and Danny Amendola under contact for no more than one more season. Extending Golladay thus seems like a no-brainer, and it seems likely that the Lions will also bring in a young body at the position through the draft or free agency.
March 3, 2020 7:58 AM EST
---