Lions Top Fantasy Players
These are the top fantasy football players of the Detroit Lions as ranked by Average Draft Position (ADP) in PPR-format mock drafts.
Data as of February 25, 2021.
D'Andre Swift
D'Andre Swift's current ADP is 3.03, which is the 3rd pick of the 3rd round, and 27th selection overall.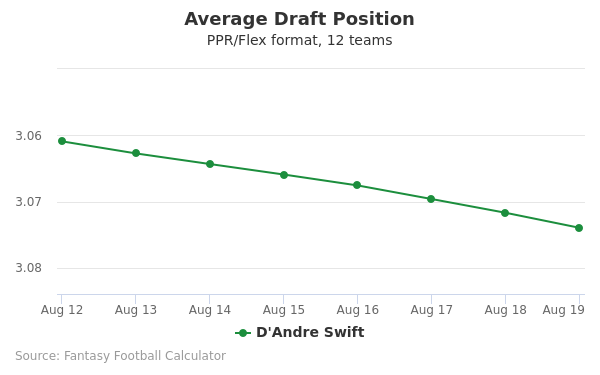 Kenny Golladay
Kenny Golladay's current ADP is 4.10, which is the 10th pick of the 4th round, and 45th selection overall.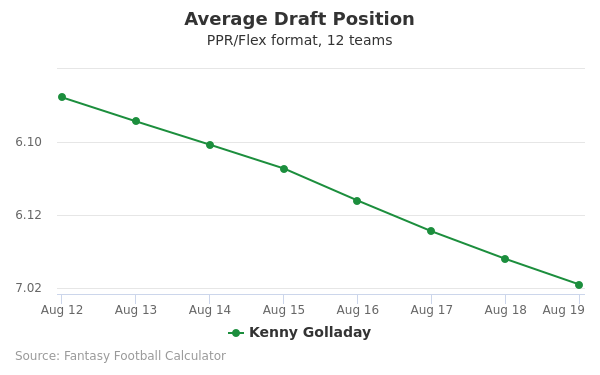 T.J. Hockenson
T.J. Hockenson's current ADP is 6.09, which is the 9th pick of the 6th round, and 69th selection overall.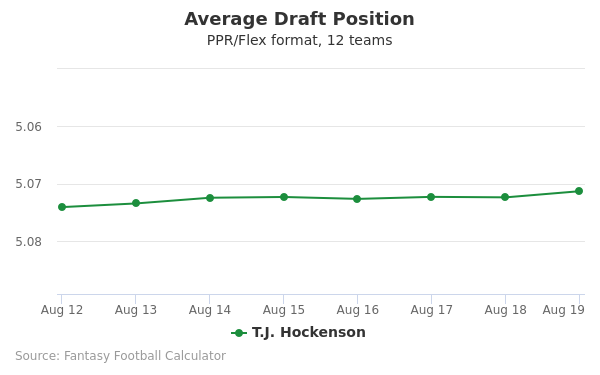 Marvin Jones
Marvin Jones's current ADP is 12.04, which is the 4th pick of the 12th round, and 136th selection overall.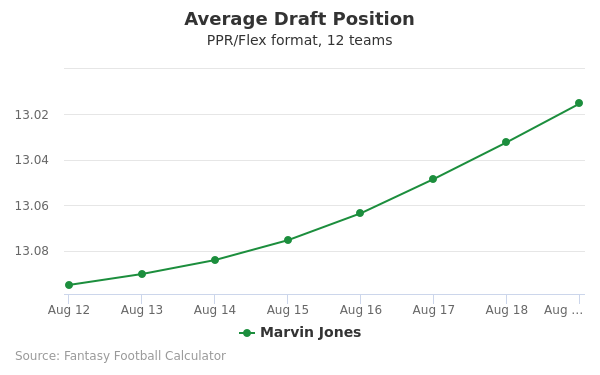 Jared Goff
Jared Goff's current ADP is 13.01, which is the 1st pick of the 13th round, and 144th selection overall.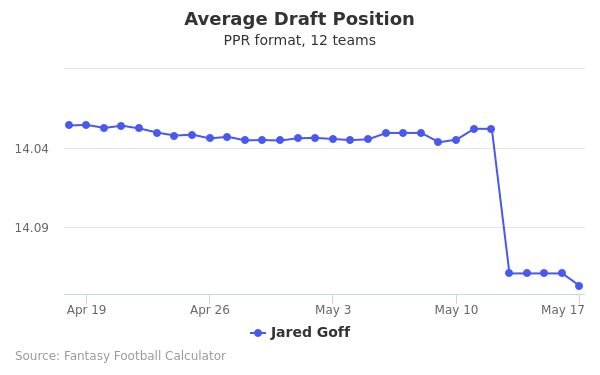 Adrian Peterson
Adrian Peterson's current ADP is 13.04, which is the 4th pick of the 13th round, and 148th selection overall.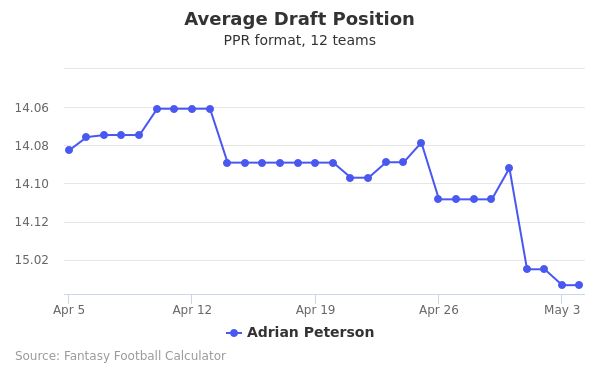 Matt Prater
Matt Prater's current ADP is 15.06, which is the 6th pick of the 15th round, and 173rd selection overall.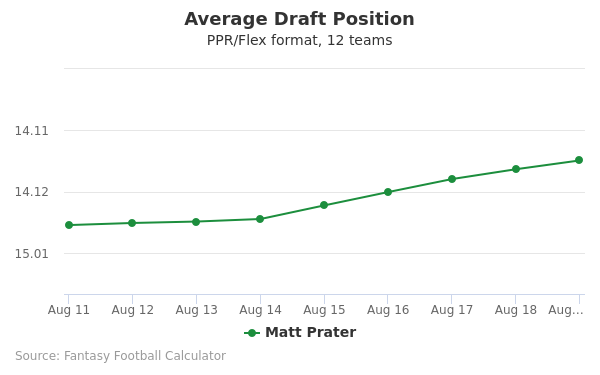 Detroit Lions 2020 Schedule
| Week | Home/Away | Opponent |
| --- | --- | --- |
| 1 | Home | Chicago Bears |
| 2 | Away | Green Bay Packers |
| 3 | Away | Arizona Cardinals |
| 4 | Home | New Orleans Saints |
| 6 | Away | Jacksonville Jaguars |
| 7 | Away | Atlanta Falcons |
| 8 | Home | Indianapolis Colts |
| 9 | Away | Minnesota Vikings |
| 10 | Home | Washington Redskins |
| 11 | Away | Carolina Panthers |
| 12 | Home | Houston Texans |
| 13 | Away | Chicago Bears |
| 14 | Home | Green Bay Packers |
| 15 | Away | Tennessee Titans |
| 16 | Home | Tampa Bay Buccaneers |
| 17 | Home | Minnesota Vikings |
Detroit Lions News
Marvin Jones, Stafford reunion possible
Jones is expected to be interested in signing with the Rams, ESPN's Adam Schefter reports.
Analysis: An impending free agent, Jones was born in southern California and the 30-year-old would presumably prefer to sign with a contender this offseason. While this report is nothing but speculation, the Rams do seem like an especially logical destination for Jones after the organization traded for quarterback Matthew Stafford, who played with Jones for the past five seasons in Detroit and connected with him for at least nine touchdowns in three of the past four seasons.
February 17, 2021 12:23 PM EST
---
Matthew Stafford, Recovering from long list of injuries
Stafford's injuries in 2020 included a partially torn UCL in his right thumb, a torn UCL in his left elbow, torn rib cartilage, an ankle sprain and a left knee injury, Mitch Albom of the Detroit Free Press reports.
Analysis: Stafford was removed after one series in the Week 16 loss to Tampa Bay, but he otherwise played at least 80 percent of offensive snaps in each of Detroit's games in 2020, continuing to gut it out long after the team was eliminated from the playoffs. The Lions have since agreed to trade Stafford to Los Angeles, where he'll team up with coach Sean McVay to lead an offense that has Cooper Kupp, Robert Woods, Tyler Higbee and Cam Akers as its top returning playmakers. It isn't necessarily a better group of pass catchers than what Stafford is accustomed to work with, but the coaching and overall quality of the roster will be an upgrade compared to Detroit. Despite the long list of injuries, there hasn't been any report of Stafford needing offseason surgery.
February 11, 2021 8:33 AM EST
---
D'Andre Swift, Could get new backfield partner?
Despite referring to Swift as a three-down back, Lions OC Anthony Lynn said he wants to find "someone else to go with him," Chris Burke of The Athletic reports.
Analysis: A 2020 second-round pick, Swift showed the three-down ability as a rookie, averaging 4.6 YPC and 6.3 YPT while scoring 10 TDs on 160 touches. He should be locked in as Detroit's lead back under a new coaching staff, but that doesn't necessarily mean he'll elevate to a 20-touch-per-week, RB1-type workload. Lynn typically split snaps and touches between two or three backs in Los Angeles, where his teams regularly ranked near the top of the league in percentage of targets (and fantasy points) going to RBs. Granted, Lynn's teams sometimes had both Melvin Gordon and Austin Ekeler available out of the backfield, while Detroit's situation behind Swift appears questionable. The comments from Lynn on Wednesday suggest he isn't too excited about Adrian Peterson (an impending free agent) or Kerryon Johnson (one year left on his rookie contract).
February 10, 2021 12:14 PM EST
---
Kerryon Johnson, Not a fit with new coaching staff?
The Lions' new coaching staff doesn't seem to view Johnson as a solid No. 2 running back, according to Chris Burke of The Athletic.
Analysis: Offensive coordinator Anthony Lynn referred to D'Andre Swift as a "three-down back" but also said the team will still need to "find someone else" to complement him. Johnson, a former second-round pick himself, thus figures to face competition for a backup RB role, or possibly even for a roster spot. He was largely used as a pass blocker in 2020, while Swift and 35-year-old Adrian Peterson handled most of the carries and targets. Now entering the final year of his rookie contract, Johnson may not have a future in Detroit under the new management.
February 10, 2021 12:00 PM EST
---
Matthew Stafford, Traded to Rams
Stafford was traded to the Rams for Jared Goff, two first-round draft picks and a third-round pick Saturday, Adam Schefter of ESPN reports.
Analysis: In a blockbuster trade, the Rams sent the first overall pick from 2016 to Detroit in exchange for the first overall pick from 2009. Stafford should start immediately in Los Angeles, equipped with wide receivers Robert Woods and Cooper Kupp and a strong offensive line.
January 30, 2021 7:03 PM EST
---