Packers Top Fantasy Players
These are the top fantasy football players of the Green Bay Packers as ranked by Average Draft Position (ADP) in PPR-format mock drafts.
Data as of July 29, 2021.
Davante Adams
Davante Adams's current ADP is 1.12, which is the 12th pick of the 1st round, and 11th selection overall.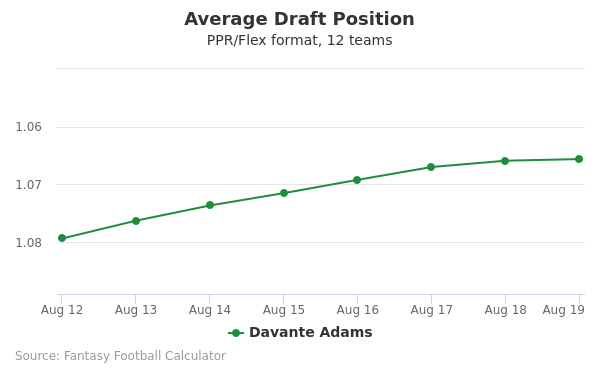 Aaron Jones
Aaron Jones's current ADP is 1.12, which is the 12th pick of the 1st round, and 12th selection overall.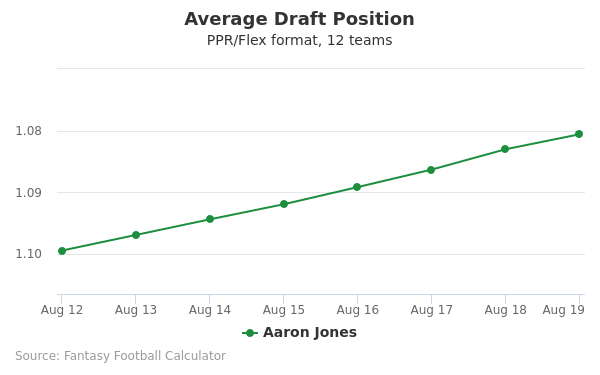 Aaron Rodgers
Aaron Rodgers's current ADP is 6.09, which is the 9th pick of the 6th round, and 69th selection overall.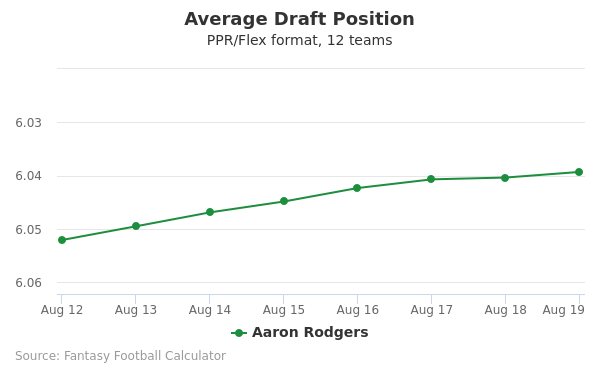 A.J. Dillon
A.J. Dillon's current ADP is 8.09, which is the 9th pick of the 8th round, and 93rd selection overall.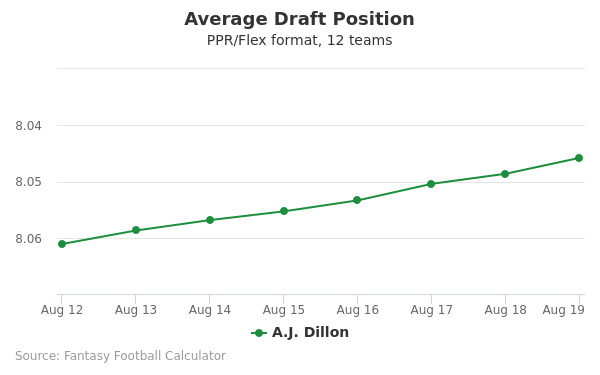 Robert Tonyan Jr.
Robert Tonyan Jr.'s current ADP is 10.10, which is the 10th pick of the 10th round, and 118th selection overall.
Randall Cobb
Randall Cobb's current ADP is 13.08, which is the 8th pick of the 13th round, and 151st selection overall.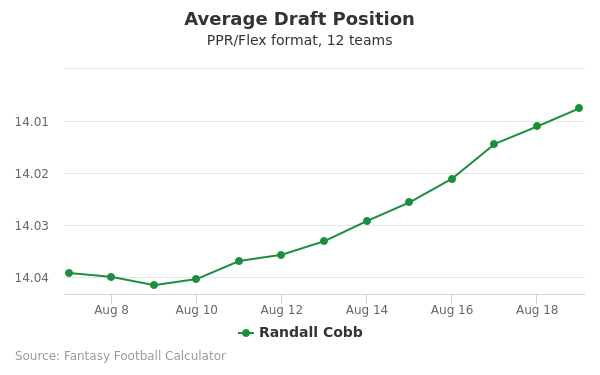 Mason Crosby
Mason Crosby's current ADP is 15.06, which is the 6th pick of the 15th round, and 174th selection overall.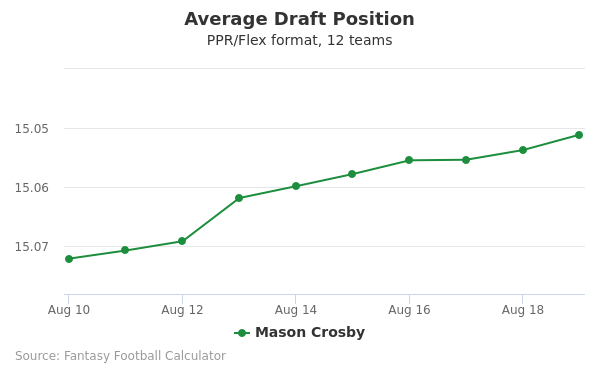 Green Bay Packers 2020 Schedule
| Week | Home/Away | Opponent |
| --- | --- | --- |
| 1 | Away | Minnesota Vikings |
| 2 | Home | Detroit Lions |
| 3 | Away | New Orleans Saints |
| 4 | Home | Atlanta Falcons |
| 6 | Away | Tampa Bay Buccaneers |
| 7 | Away | Houston Texans |
| 8 | Home | Minnesota Vikings |
| 9 | Away | San Francisco 49ers |
| 10 | Home | Jacksonville Jaguars |
| 11 | Away | Indianapolis Colts |
| 12 | Home | Chicago Bears |
| 13 | Home | Philadelphia Eagles |
| 14 | Away | Detroit Lions |
| 15 | Home | Carolina Panthers |
| 16 | Home | Tennessee Titans |
| 17 | Away | Chicago Bears |
Green Bay Packers News
Aaron Rodgers, Agrees to re-worked deal
Rodgers has agreed to a re-worked deal with Green Bay, NFL.com reports.
Analysis: Per the terms of the agreement, the QB is now under contract with the Packers through 2022, with the 2023 portion of his deal having been deleted. In any case, Rodgers -- who had previously expressed frustration the organization -- is in the fold and currently practicing with the team in training camp. Additionally, he'll be joined by wide receiver Randall Cobb, a player the veteran signal caller reportedly wanted to play with once again and who was recently re-acquired in a trade with the Texans.
July 29, 2021 2:37 PM EST
---
Aaron Rodgers, Practicing on first day of camp
Rodgers is leading the starting offense Wednesday at the first practice of Packers training camp, Ryan Wood of the Green Bay Press-Gazette reports.
Analysis: Meanwhile, ESPN's Adam Schefter reports that the Packers are finalizing a trade for Texans slot receiver Randall Cobb, whose return to Green Bay seems to have been requested by Rodgers. Whatever the case, the 37-year-old QB is on board for at least one more year with the Packers, following an offseason filled with rumors of trades and retirement. He'll have a deeper WR group at his disposal this year, with Cobb, Devin Funchess and third-round pick Amari Rodgers joining Davante Adams, Allen Lazard and Marquez Valdes-Scantling.
July 28, 2021 9:35 AM EST
---
Aaron Rodgers, Reports for start of camp
Packers president Mark Murphy told a fan that Rodgers is present for the first day of training camp, Rob Demovsky of ESPN.com reports.
Analysis: Murphy didn't respond when a reporter asked if he could be quoted, but it does seem he was being honest, considering Mike Renner of PFF and freelance writer Greg Bates got pictures/video of Rodgers entering the team facility. Recent rumors suggested the quarterback might retire if the Packers didn't trade him, while the more recent update from Monday points toward a resolution that will keep him in Green Bay for one more season before allowing for his departure next spring. His presence for the beginning of camp doesn't necessarily mean he'll practice right away if he's still disgruntled, but it should at least protect him from the $50,000-per-day fines that could come with a holdout. Rodgers and the Packers appear ready to make things work, if only for one last season.
July 27, 2021 6:49 AM EST
---
Davante Adams, Willing to reopen extension talks
Following the expected restructure of Aaron Rodgers' contract, Adams has indicated he's willing to discuss a new contract with the Packers, Adam Schefter of ESPN reports.
Analysis: Adams and the Packers broke off negotiations for an extension less than a week ago after things grew stale but the reported new Rodgers deal seems to have spurred the star wideout's willingness to get things back on track. Adams figures to snare a new deal among the best wideouts in the league when he signs on the dotted line as he enters the last season of a four-year, $58.96 million contract with the Packers signed in late 2017.
July 26, 2021 1:31 PM EST
---
Aaron Rodgers, Nearing agreement with Packers
Rodgers and the Packers are close to an agreement that would keep the quarterback in Green Bay for 2021 but then set up his departure from the team next offseason, Adam Schefter of ESPN reports.
Analysis: Schefter notes that the deal is "not done, but it is close." Earlier Monday, Ian Rapoport of NFL Network reported something along the same lines, saying Rodgers had "indicated to people close to him" that he planned to play for the Packers this season. The quarterback hasn't made any public comments in recent days, and team executives Brian Gutekunst and Mark Murphy didn't drop any big hints when they spoke to media Monday morning/afternoon. If Schefter's latest report proves accurate -- as his usually do -- Rodgers presumably would want contractual assurance that he'd become a free agent next offseason (he's signed through 2023).
July 26, 2021 1:00 PM EST
---