Texans Top Fantasy Players
These are the top fantasy football players of the Houston Texans as ranked by Average Draft Position (ADP) in PPR-format mock drafts.
Data as of May 21, 2022.
Brandin Cooks
Brandin Cooks's current ADP is 5.07, which is the 7th pick of the 5th round, and 55th selection overall.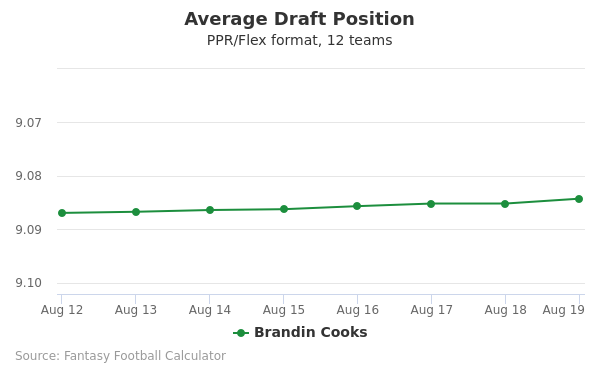 Marlon Mack
Marlon Mack's current ADP is 13.11, which is the 11th pick of the 13th round, and 155th selection overall.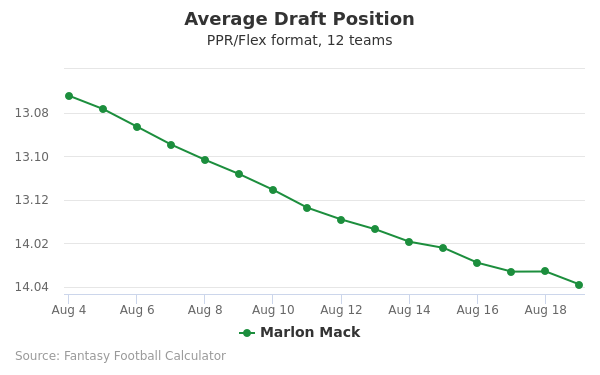 Houston Texans 2020 Schedule
| Week | Home/Away | Opponent |
| --- | --- | --- |
| 1 | Away | Kansas City Chiefs |
| 2 | Home | Baltimore Ravens |
| 3 | Away | Pittsburgh Steelers |
| 4 | Home | Minnesota Vikings |
| 5 | Home | Jacksonville Jaguars |
| 6 | Away | Tennessee Titans |
| 7 | Home | Green Bay Packers |
| 9 | Away | Jacksonville Jaguars |
| 10 | Away | Cleveland Browns |
| 11 | Home | New England Patriots |
| 12 | Away | Detroit Lions |
| 13 | Home | Indianapolis Colts |
| 14 | Away | Chicago Bears |
| 15 | Away | Indianapolis Colts |
| 16 | Home | Cincinnati Bengals |
| 17 | Home | Tennessee Titans |
Houston Texans News
Scottie Phillips, Clears Waivers
Phillips was reverted to IR after clearing waivers Tuesday, Aaron Wilson of ProFootballNetwork.com reports.
Analysis: Phillips suited up three times for the Texans last season, getting six carries for 13 yards, and securing two of three targets for nine yards. His season was cut short due to an ankle injury in Week 9 against Miami that sent him to IR, and he never returned. The 24-year-old will be forced to miss the 2022 season, but he'll look to return strong in 2023 and earn an NFL roster spot.
May 3, 2022 4:22 PM EST
---
Scottie Phillips, Let go by Houston
Phillips (ankle) was waived by the Texans on Monday.
Analysis: Phillips will search for a new landing spot spending the last two seasons in Houston. He appeared in 11 total contests, rushing eight times for 22 yards and catching three passes for 16 yards.
May 2, 2022 8:38 PM EST
---
DeAndre Hopkins, Won't appeal suspension
Hopkins withdrew the appeal of the six-game suspension he received from the NFL on Monday for violating the league's performance-enhancing substances policy, Josh Weinfuss of ESPN.com reports.
Analysis: With the news that he won't seek a reduction in the suspension, Hopkins will end up missing 11 straight contests, as he was sidelined for the final four games of the 2021 regular season in addition to the Cardinals' wild-card round loss to the Rams due to a torn MCL in his knee. Per the terms of his suspension, Hopkins remains eligible to participate in all preseason practices and games, so he'll at least be a part of the team environment over the next several months. While Hopkins is out, the newly-acquired Marquise Brown is expected to operate as the Cardinals' No. 1 receiver, with A.J. Green, Rondale Moore and Antoine Wesley profiling as the top options behind him on the depth chart.
May 2, 2022 2:10 PM EST
---
DeAndre Hopkins, Handed six-game suspension
The NFL is suspending Hopkins for six games for violating the league's Performance Enhancing Drug policy, Adam Schefter of ESPN reports.
Analysis: With Hopkins slated to miss time early on this season, come Week 1, the Cardinals' wideout corps is slated to be led by Marquise Brown, A.J. Green and Rondale Moore.
May 2, 2022 1:11 PM EST
---
Jordan Akins, Lands in New York
Akins is signing with the Giants, Jordan Raanan of ESPN.com reports.
Analysis: A 2018 third-round pick, Akins never topped 418 yards or two TDs in his four years with the Texans, though he did play at least 13 games each season. He and Ricky Seals-Jones will compete to replace Evan Engram (Jaguars) as the Giants' top pass catcher at tight end, though the upcoming NFL Draft could bring a third competitor for the job.
April 21, 2022 11:22 AM EST
---