Texans Top Fantasy Players
These are the top fantasy football players of the Houston Texans as ranked by Average Draft Position (ADP) in PPR-format mock drafts.
Data as of March 3, 2021.
Deshaun Watson
Deshaun Watson's current ADP is 4.12, which is the 12th pick of the 4th round, and 48th selection overall.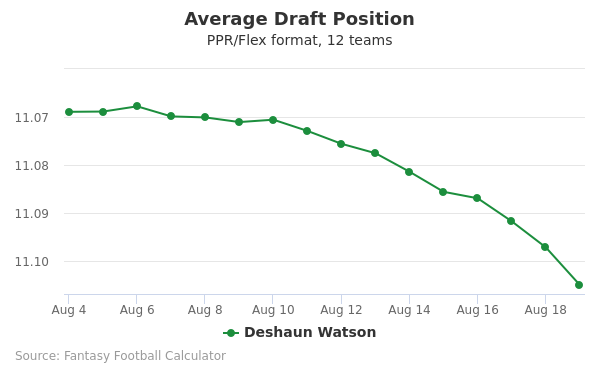 Will Fuller
Will Fuller's current ADP is 5.07, which is the 7th pick of the 5th round, and 55th selection overall.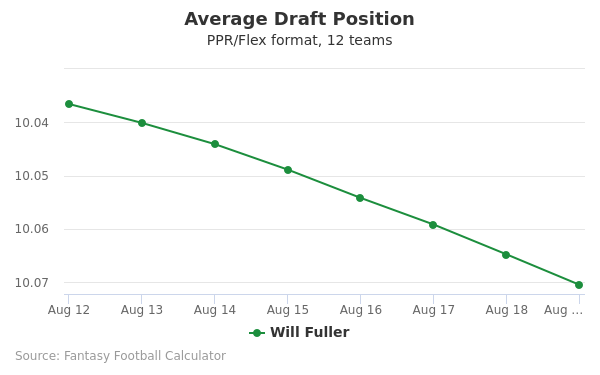 David Johnson
David Johnson's current ADP is 6.02, which is the 2nd pick of the 6th round, and 61st selection overall.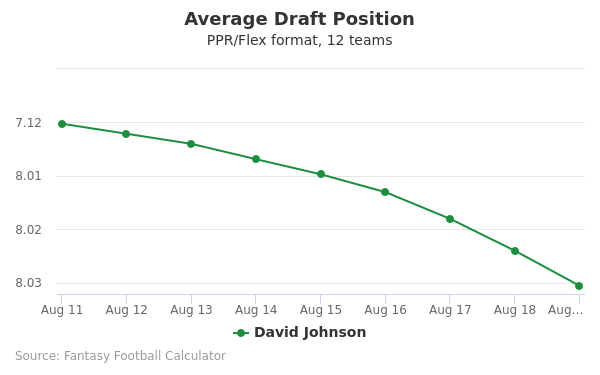 Brandin Cooks
Brandin Cooks's current ADP is 7.11, which is the 11th pick of the 7th round, and 82nd selection overall.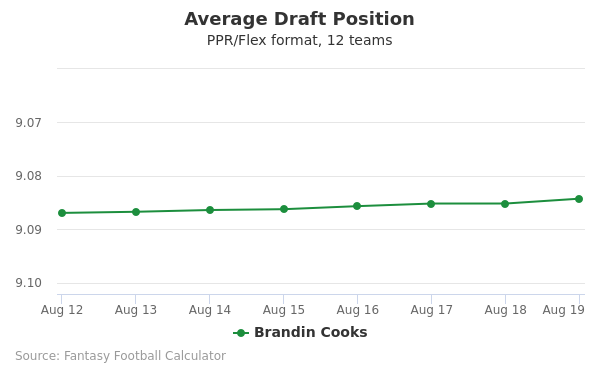 Duke Johnson
Duke Johnson's current ADP is 13.03, which is the 3rd pick of the 13th round, and 147th selection overall.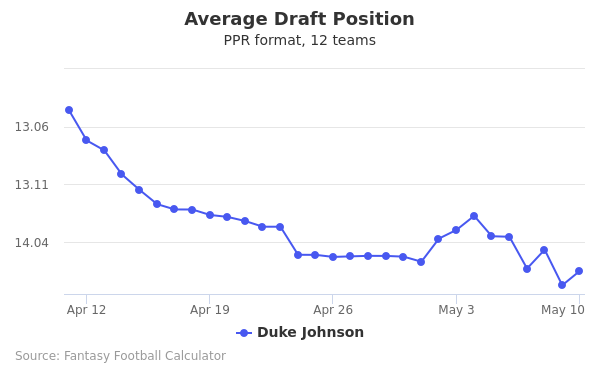 Kaimi Fairbairn
Kaimi Fairbairn's current ADP is 14.12, which is the 12th pick of the 14th round, and 168th selection overall.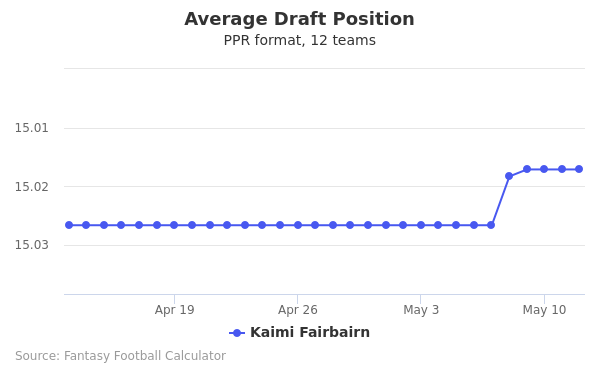 Houston Texans 2020 Schedule
| Week | Home/Away | Opponent |
| --- | --- | --- |
| 1 | Away | Kansas City Chiefs |
| 2 | Home | Baltimore Ravens |
| 3 | Away | Pittsburgh Steelers |
| 4 | Home | Minnesota Vikings |
| 5 | Home | Jacksonville Jaguars |
| 6 | Away | Tennessee Titans |
| 7 | Home | Green Bay Packers |
| 9 | Away | Jacksonville Jaguars |
| 10 | Away | Cleveland Browns |
| 11 | Home | New England Patriots |
| 12 | Away | Detroit Lions |
| 13 | Home | Indianapolis Colts |
| 14 | Away | Chicago Bears |
| 15 | Away | Indianapolis Colts |
| 16 | Home | Cincinnati Bengals |
| 17 | Home | Tennessee Titans |
Houston Texans News
David Johnson, Agrees to reduce salary
Johnson has agreed to restructure his contract, which now will have $4.25 million guaranteed out of a potential $6 million in 2021 compensation, Adam Schefter of ESPN reports.
Analysis: Prior to the new arrangement, Johnson was scheduled for a $7.95 million base salary, including $2.1 million guaranteed. The first number goes down and the second up, with player and team reaching an agreement to keep Johnson in Houston for the final year of his lucrative contract. Now that that's settled, the Texans can figure out the rest of their roster, starting with the tumultuous Deshaun Watson situation. Johnson's team context will go from bad to worse if the Texans don't have the star QB under center.
March 2, 2021 12:09 PM EST
---
Deshaun Watson, Willing to sit out games
Watson is willing to sit out the preseason and even miss regular-season games if the Texans don't agree to trade him, independent NFL journalist Dov Kleiman reports.
Analysis: Dan Graziano of ESPN.com reported Thursday that Watson has already informed new Texans coach David Culley that he has no intention of playing for the team again, so announcing a willingness to skip games is simply the star signal-caller doubling-down on his position. Tom Pelissero of NFL Network reports that Houston still isn't taking trade inquiries for Watson, making it notable that the team could fine the 25-year-old over $3 million if he skips events such the offseason minicamp, plus preseason and regular-season games. Of course, if Watson is indeed as firmly entrenched in his desire to be traded as it seems, the Texans could ultimately be forced to relent and recoup losses rather than playing hardball. Watson's no-trade clause could complicate eventual negotiations, as any final deal would require his approval, but Houston should still be well positioned receive multiple first-round picks in return for the three-time Pro Bowler.
February 26, 2021 12:48 PM EST
---
David Johnson, Still wanted by Houston
The Texans hope to retain Johnson for 2021, Aaron Wilson of the Houston Chronicle reports.
Analysis: Johnson put together a fairly solid inaugural campaign in Houston, with 1,005 scrimmage yards and eight total touchdowns, but he was also limited to 12 appearances due to injuries. The 29-year-old carries an $8.8 million cap hit for 2021, per Spotrac.com, a figure which Wilson notes the Texans want to bring down. Johnson only carries a $2.1 million dead cap figure, so if he's unwilling to agree on a restructured contract the team could cut him without much penalty, as happened to former backfield mate Duke Johnson on Friday. Agreeing to terms on a deal that would help him to stick around could be beneficial for Johnson, as he seems to have a clear path to a large workload in Houston but wouldn't be guaranteed that on the open market.
February 26, 2021 10:18 AM EST
---
Will Fuller, Not likely to be franchise-tagged
The Texans don't plan to give Fuller a franchise tag, Aaron Wilson of the Houston Chronicle reports.
Analysis: The window to use the tag started Tuesday and ends March 9. Fuller is Houston's only realistic candidate, but the team may think the $16.54 million tender is an overpay for a guy averaging 5.4 missed games per season. Although he finally stayed healthy in 2020, the 26-year-old wideout missed the final five games after the NFL handed him a six-game PED suspension. He'll be eligible to return for Week 2 in 2021, be it with Houston or a different team.
February 25, 2021 1:13 PM EST
---
Deshaun Watson, Dug in on trade request
Watson met with David Culley last Friday and told the Texans' new coach he has no intention of playing for the team, Dan Graziano of ESPN.com reports.
Analysis: Watson reiterated his trade request, shutting the door on any notion that a new coach might convince him to stick around. No matter, Dianna Russini of ESPN reports the Texans are still avoiding trade conversations and insisting they won't deal their disgruntled QB. In the unlikely event of neither side budging, the Texans will be able to fine Watson for every practice and game he misses, as the young QB is under contract through 2025 after signing a four-year extension in September. The deal includes a no-trade clause, which means Watson will have some say in the process if the Texans eventually relent and consider trade offers.
February 25, 2021 12:29 PM EST
---