Nick Chubb
Cleveland Browns
Running Back #31
Cleveland Browns
Running Back #31
Photo: Icon Sportswire
Personal
| | |
| --- | --- |
| Age | 25 |
| Birthdate | December 27, 1995 |
| Height | 5'11" |
| Weight | 227 lb |
Draft
College
Georgia
Year
2018
Pick
Round: 2, Overall: 35
Team
CLE
Fantasy Value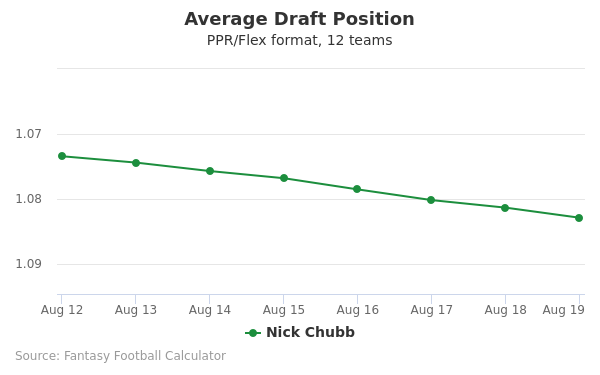 The code below will display a graph that updates every day to show the ADP data for Nick Chubb for the past 30 days in 12-team PPR leagues.
You may use this graph on your website for free with a link back to this page for attribution.
Player News
Nick Chubb: Wants to remain a Brown
Chubb indicated he wants to remain a member of the Browns after his rookie contract expires in 2021, Jake Trotter of ESPN.com reports. "It would mean a lot," Chubb said. "Cleveland is where I want to be. Hopefully everything can work out in that direction."
Analysis: Chubb added that his agent and the team have already discussed a potential extension this offseason. He's been a key component of Cleveland's offense since he arrived as a second-round pick in 2018, but it was the 2020 season behind one of the best offensive lines in the NFL and as part of a run-heavy offense that solidified his desire to remain with Cleveland.
Jun. 16, 2021 5:18 AM EST
Player Stats
YEAR
TM
GM
Rushing
Receiving
ATT
YDS
YPC
TD
FUM
REC
TGT
%
YDS
TD
YPC
2018
CLE
16
192
996
5.2
8
0
20
29
69.0
149
2
7.5
2019
CLE
16
298
1,494
5.0
8
3
36
49
73.5
278
0
7.7
2020
CLE
12
190
1,067
5.6
12
1
16
18
88.9
150
0
9.4
Recent Articles
Week 16 once again saw some massive upsets and some terrible game management, with teams imploding on their way to the playoffs.  There...
Read more »
December 28, 2020. Premium
December 28, 2020
Premium
Providing key insights on the most important Dynasty League fantasy football news, one week at a time.
Read more »
December 10, 2020. Premium
December 10, 2020
Premium
We've seen waiver-wire pickups continue to be an important part of fantasy football and some have even become full-time starters for...
Read more »
November 26, 2020. Premium
November 26, 2020
Premium
Who Should You Start?
Who Should You Draft?