Colts Top Fantasy Players
These are the top fantasy football players of the Indianapolis Colts as ranked by Average Draft Position (ADP) in PPR-format mock drafts.
Data as of June 25, 2022.
Jonathan Taylor
Jonathan Taylor's current ADP is 1.01, which is the 1st pick of the 1st round, and 1st selection overall.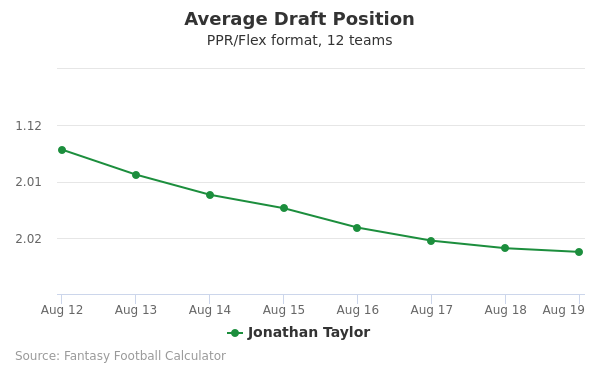 Michael Pittman Jr.
Michael Pittman Jr.'s current ADP is 4.12, which is the 12th pick of the 4th round, and 48th selection overall.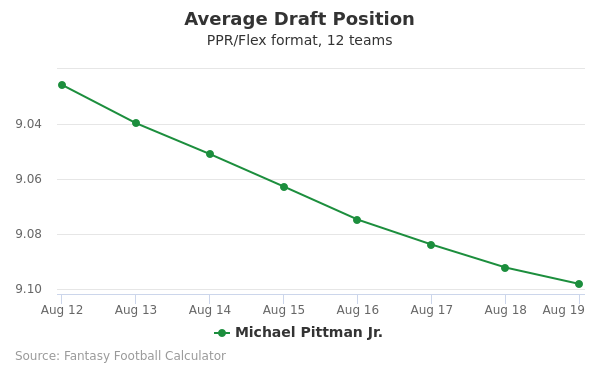 Nyheim Hines
Nyheim Hines's current ADP is 10.10, which is the 10th pick of the 10th round, and 117th selection overall.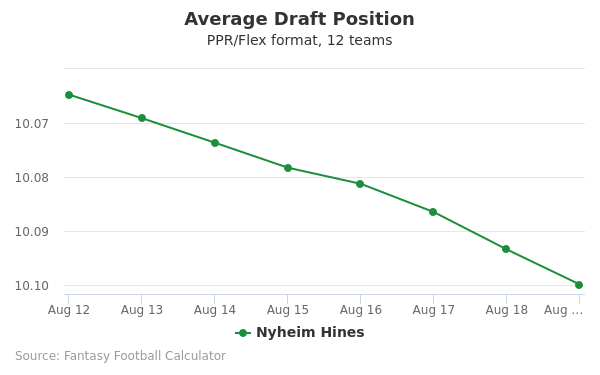 Indianapolis Defense
Indianapolis Defense's current ADP is 12.08, which is the 8th pick of the 12th round, and 139th selection overall.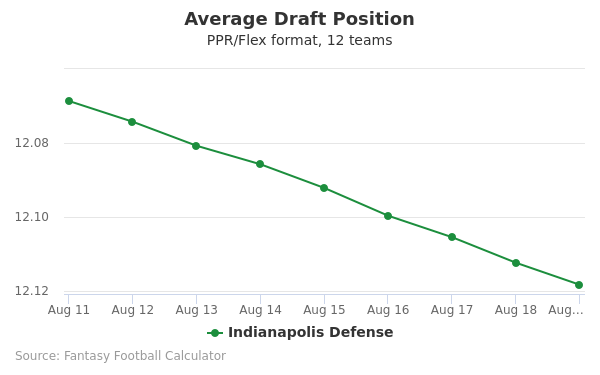 Matt Ryan
Matt Ryan's current ADP is 13.04, which is the 4th pick of the 13th round, and 147th selection overall.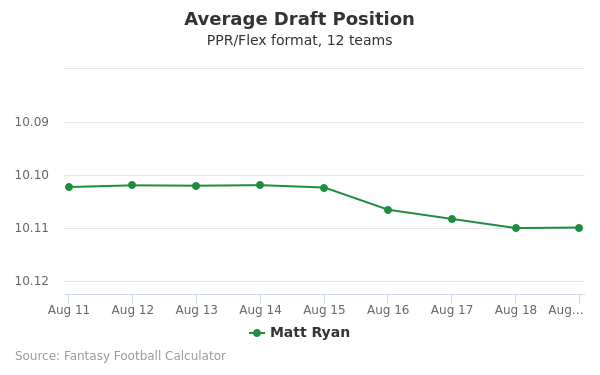 Rodrigo Blankenship
Rodrigo Blankenship's current ADP is 15.01, which is the 1st pick of the 15th round, and 168th selection overall.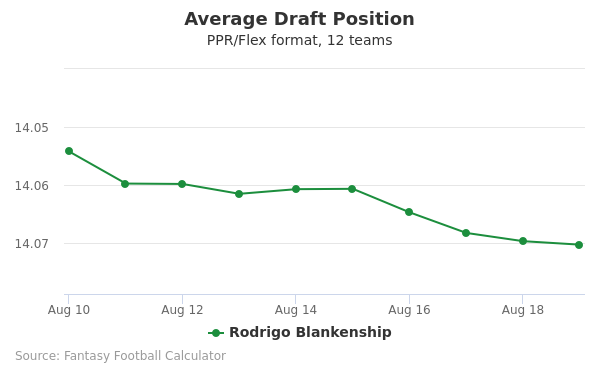 Indianapolis Colts 2020 Schedule
| Week | Home/Away | Opponent |
| --- | --- | --- |
| 1 | Away | Jacksonville Jaguars |
| 2 | Home | Minnesota Vikings |
| 3 | Home | New York Jets |
| 4 | Away | Chicago Bears |
| 5 | Away | Cleveland Browns |
| 6 | Home | Cincinnati Bengals |
| 8 | Away | Detroit Lions |
| 9 | Home | Baltimore Ravens |
| 10 | Away | Tennessee Titans |
| 11 | Home | Green Bay Packers |
| 12 | Home | Tennessee Titans |
| 13 | Away | Houston Texans |
| 14 | Away | Las Vegas Raiders |
| 15 | Home | Houston Texans |
| 16 | Away | Pittsburgh Steelers |
| 17 | Home | Jacksonville Jaguars |
Indianapolis Colts News
Parris Campbell, Looking good this summer
Campbell was busy at June minicamp, exclusively working with the first-team offense and catching passes all over the field, Zak Keefer of The Athletic reports.
Analysis: Campbell missed most of last season after having foot surgery in October, but he returned for Week 18 and now has remained healthy throughout the offseason. How long he stays that way is anyone's guess, as injuries have limited the 2019 second-round pick to 15 games total in three seasons. Campbell has the inside track for a top-three role nonetheless, facing weak competition for snaps behind No. 1 receiver Michael Pittman. Apart from Pittman, Campbell and second-round rookie Alec Pierce, the Colts have a host of undrafted young players and late-round picks at wide receiver.
June 22, 2022 1:54 PM EST
---
Rodrigo Blankenship, Operating as starter at OTAs
Colts head coach Frank Reich said Monday that Blankenship is the favorite to win the starting job over Jake Verity, Kevin Hickey of USA Today reports.
Analysis: Blankenship operated as the Colts' place kicker to start 2021, but he played just five games before being placed on IR with a hip injury, which ultimately ended his season. Michael Badgley replaced Blankenship last year, but he remains a free agent as Indianapolis signed Verity to provide competition to Blankenship during the offseason. Now healthy, Blankenship is poised to reclaim his starting gig. Across 21 career games, he's converted 43 of 51 field-goal attempts, with six of his eight misses coming from 40-plus yards.
Rodrigo Blankenship player page.
June 20, 2022 12:03 PM EST
---
Darrell Daniels, Released by Houston
The Texans released Daniels on Friday, Aaron Wilson of ProFootballNetwork.com reports.
Analysis: Daniels signed a contract with Houston in May after spending three years in Arizona. However, the Texans have opted to move on from the veteran tight end in favor of former Bengals tight end Mason Schreck, who signed with Houston on Friday.
June 10, 2022 12:52 PM EST
---
Jacoby Brissett, Chances of starting role rising?
Brissett's chances of operating as the Browns' starting quarterback for an extended period of time in 2022 appear to be increasing in the wake of seemingly growing legal trouble for Deshaun Watson.
Analysis: It's been an unpleasantly active early part of the week for Watson and the Browns, as the quarterback is the subject of two new civil lawsuits alleging inappropriate behavior with massage therapists, as well as an unflattering New York Times report. Brissett signed a one-year contract with the Browns in March shortly after the trade for Watson, presumably in part due to his experience having to take the reins of a starting role on short notice. With the league's investigation into Watson's alleged conduct still ongoing and now likely set to prolong further than originally thought, Brissett could be in for an extended run with the top job in the coming season.
June 8, 2022 4:42 PM EST
---
Rodrigo Blankenship, In offseason competition battle
Blankenship is expected to compete with fellow Jake Verity for the Colts' starting kicker job this offseason, Kevin Hickey of USA Today reports.
Analysis: Blankenship has held Indianapolis' starting kicker duties over the past two seasons when healthy, but played just five games in 2021 before being placed on injured reserve with a season-ending hip injury in November. The third-year kicker made 11 of the 14 field goals he attempted and missed one extra point attempt in 2021. Blankenship was relatively consistent in his rookie season with the Colts, nailing 32 of his 37 field goal attempts, and is still the favorite to retain the starting placekicker role over 2020 undrafted free agent Verity.
Rodrigo Blankenship player page.
June 1, 2022 3:07 PM EST
---