Jonathan Taylor
Indianapolis Colts
Running Back #28
Indianapolis Colts
Running Back #28
Photo: Icon Sportswire
Personal
| | |
| --- | --- |
| Age | 23 |
| Birthdate | January 19, 1999 |
| Height | 5'11" |
| Weight | 219 lb |
Draft
College
Wisconsin
Year
2020
Pick
Round: 2, Overall: 41
Team
IND
Fantasy Value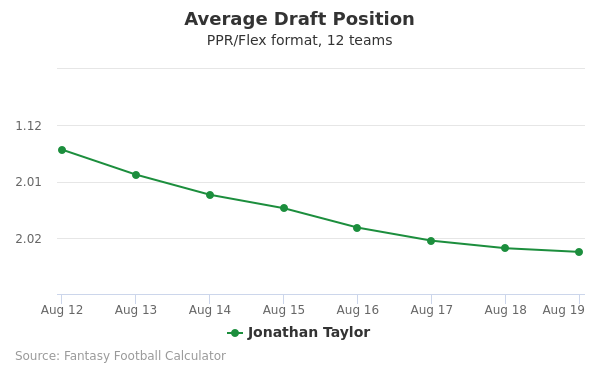 The code below will display a graph that updates every day to show the ADP data for Jonathan Taylor for the past 30 days in 12-team PPR leagues.
You may use this graph on your website for free with a link back to this page for attribution.
Player News
Jonathan Taylor: Season ends on sour note
Taylor recorded 15 rushes for 77 yards in Sunday's 26-11 loss to the Jaguars. He added three receptions on four targets for 18 yards.
Analysis: As expected, Taylor worked efficiently against Jacksonville's defense, an effort that was aided by runs of 23 and 13 yards. However, he was stuffed on fourth down multiple times, including once at the goal line at the beginning of the fourth quarter. Taylor also had game script working against him, with the Colts unexpectedly working from behind after the opening possession. The result was his lowest carry total since Week 6, and the first time he hasn't attempted at least 20 rushes in his last four contests. Despite the disappointing close to the campaign on both an individual and team level, Taylor racked up 2,171 total yards from scrimmage with 20 trips to the end zone across 17 games.
Jan. 9, 2022 2:36 PM EST
Player Stats
YEAR
TM
GM
Rushing
Receiving
ATT
YDS
YPC
TD
FUM
REC
TGT
%
YDS
TD
YPC
2020
IND
16
232
1,169
5.0
11
1
36
39
92.3
299
1
8.3
Recent Articles
Your NFL Week 17 FanDuel Values and Busts
Read more »
January 1, 2022. Premium
Week 15 is already upon us - the first week of the fantasy football playoffs - and we have an outbreak in COVID cases throughout the...
Read more »
December 17, 2021. Premium
December 17, 2021
Premium
Week 14 marks the last regular-season game in most leagues and now is not the time to get fancy with your lineup. A win means you're in...
Read more »
December 10, 2021. Premium
December 10, 2021
Premium
Who Should You Start?
Who Should You Draft?