Raiders Top Fantasy Players
These are the top fantasy football players of the Las Vegas Raiders as ranked by Average Draft Position (ADP) in PPR-format mock drafts.
Data as of July 4, 2022.
Davante Adams
Davante Adams's current ADP is 1.11, which is the 11th pick of the 1st round, and 10th selection overall.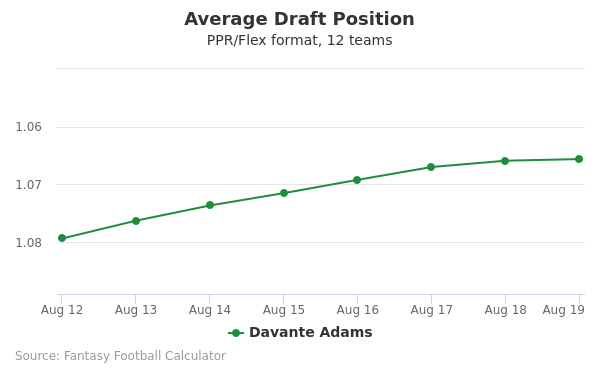 Josh Jacobs
Josh Jacobs's current ADP is 4.06, which is the 6th pick of the 4th round, and 42nd selection overall.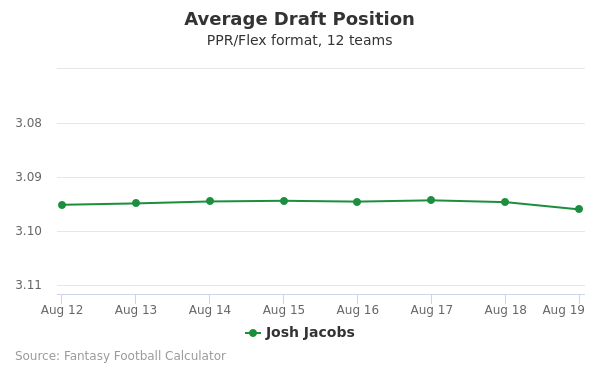 Darren Waller
Darren Waller's current ADP is 4.06, which is the 6th pick of the 4th round, and 42nd selection overall.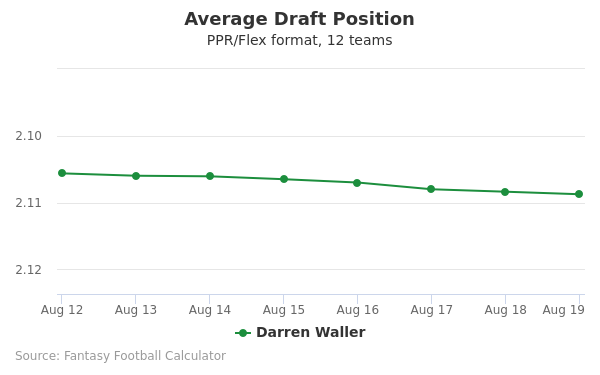 Hunter Renfrow
Hunter Renfrow's current ADP is 6.02, which is the 2nd pick of the 6th round, and 62nd selection overall.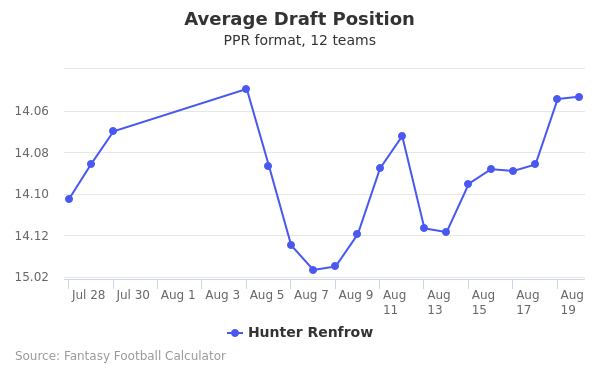 Derek Carr
Derek Carr's current ADP is 10.03, which is the 3rd pick of the 10th round, and 111th selection overall.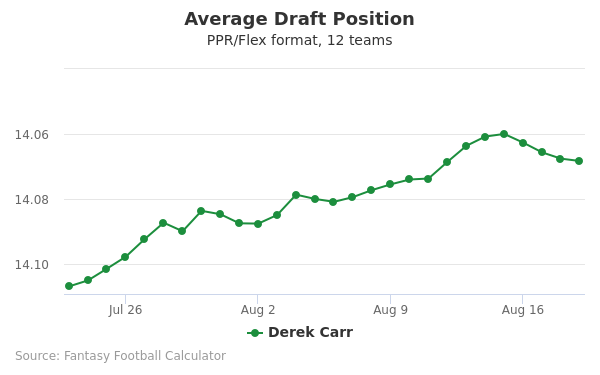 Daniel Carlson
Daniel Carlson's current ADP is 13.02, which is the 2nd pick of the 13th round, and 145th selection overall.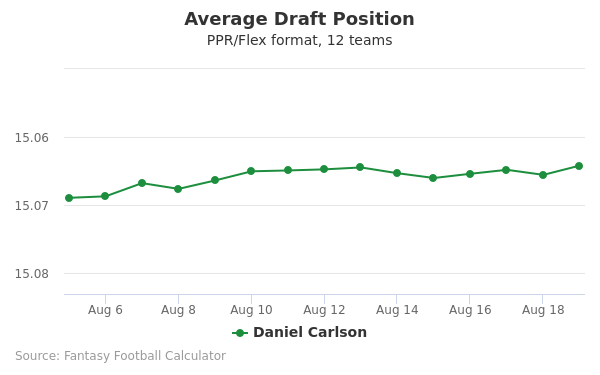 Kenyan Drake
Kenyan Drake's current ADP is 14.06, which is the 6th pick of the 14th round, and 161st selection overall.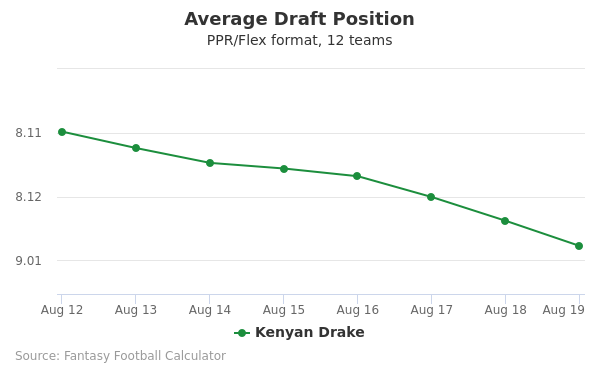 Las Vegas Raiders 2020 Schedule
| Week | Home/Away | Opponent |
| --- | --- | --- |
| 1 | Away | Carolina Panthers |
| 2 | Home | New Orleans Saints |
| 3 | Away | New England Patriots |
| 4 | Home | Buffalo Bills |
| 5 | Away | Kansas City Chiefs |
| 7 | Home | Tampa Bay Buccaneers |
| 8 | Away | Cleveland Browns |
| 9 | Away | Los Angeles Chargers |
| 10 | Home | Denver Broncos |
| 11 | Home | Kansas City Chiefs |
| 12 | Away | Atlanta Falcons |
| 13 | Away | New York Jets |
| 14 | Home | Indianapolis Colts |
| 15 | Home | Los Angeles Chargers |
| 16 | Home | Miami Dolphins |
| 17 | Away | Denver Broncos |
Las Vegas Raiders News
Lynn Bowden Jr., Competing for roster spot
Alain Poupart of Sports Illustrated predicts that Bowden's versatility will land him a roster spot with the Dolphins this coming season.
Analysis: Bowden, who didn't play last season due to a hamstring injury, was sidelined during a portion of the team's OTAs, but was subsequently able to re-take the field and should be ready to compete fully in training camp. While the 24-year-old's path to steady touches in Miami's offense is murky, Poupart suggests that Bowden's diverse skill set should land him a depth role in the team's re-tooled wideout corps, which also includes top options Tyreek Hill and Jaylen Waddle, along with Cedrick Wilson, Trent Sherfield, Preston Williams and Erik Ezukanma.
June 27, 2022 12:26 PM EST
---
Josh Jacobs, Non-participant at minicamp
Jacobs was held out of practices at June minicamp due to an undisclosed injury, Vic Tafur of The Athletic reports.
Analysis: With no report of offseason surgery or a major injury, Jacobs seemingly has a good chance to be ready for the start of training camp in late July. He's entering the fourth and final season of his rookie contract, after the Raiders declined to pick up his fifth-year option for $8.03 million. Between that and the presence of a new coaching staff, Jacobs won't automatically have the same role as in past seasons, though it helps his cause to have modest competition for early down snaps -- namely 28-year-old Kenyan Drake (coming back from a major ankle injury) and fourth-round rookie Zamir White. For passing situations, the Raiders have a few more options, with Jacobs and Drake joined by offseason signings Ameer Abdullah and Brandon Bolden.
June 21, 2022 6:02 AM EST
---
Cordarrelle Patterson, Will be held out of minicamp
The Falcons will hold Patterson out during mandatory minicamp, D. Orlando Ledbetter of The Atlanta Journal-Constitution reports.
Analysis: Falcons head coach Arthur Smith said before Tuesday's practice that Patterson is "working on a vet offseason program" instead of participating in minicamp practices. The converted kick returner experienced a breakout campaign during his first year in Atlanta, totaling 1,166 scrimmage yards and 11 touchdowns. However, he fell off towards the end of the season, registering just 100 total yards and one score over his last four games. A better conditioned Patterson could garner more opportunities on a game-by-game basis and may be more effective later in the season, which should bode well for his overall fantasy potential.
Cordarrelle Patterson player page.
June 14, 2022 10:33 AM EST
---
Keelan Doss, Signs with Giants
Doss signed a contract with the Giants on Friday, Adam Schefter of ESPN reports.
Analysis: Doss participated in this week's training sessions with the Giants before ultimately getting signed Friday. He last played in the NFL in 2019, so he'll likely begin the season with the team's practice squad.
June 10, 2022 7:16 AM EST
---
Hunter Renfrow, Inking two-year extension
Renfrow and the Raiders have agreed to terms on a two-year, $32 million contract extension Friday, Kevin Patra of NFL.com reports.
Analysis: Renfrow was entering the final year of his rookie contract, and his new deal comes following an impressive Pro Bowl campaign in which he racked up 103 catches for 1,038 yards and nine touchdowns on 128 targets. The addition of Davante Adams to Las Vegas' wide receiver corps pairs Renfrow with another of the league's premier route runners. Tight end Darren Waller completes Derek Carr's top receiving trio, and his contract may be next up for the Raiders to address.
June 10, 2022 6:47 AM EST
---