Raiders Top Fantasy Players
These are the top fantasy football players of the Las Vegas Raiders as ranked by Average Draft Position (ADP) in PPR-format mock drafts.
Data as of May 16, 2021.
Darren Waller
Darren Waller's current ADP is 2.09, which is the 9th pick of the 2nd round, and 20th selection overall.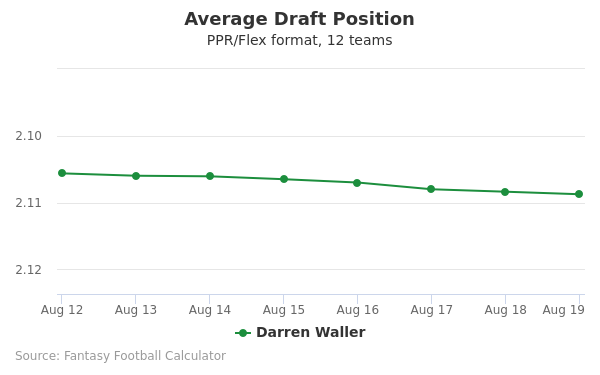 Josh Jacobs
Josh Jacobs's current ADP is 2.12, which is the 12th pick of the 2nd round, and 23rd selection overall.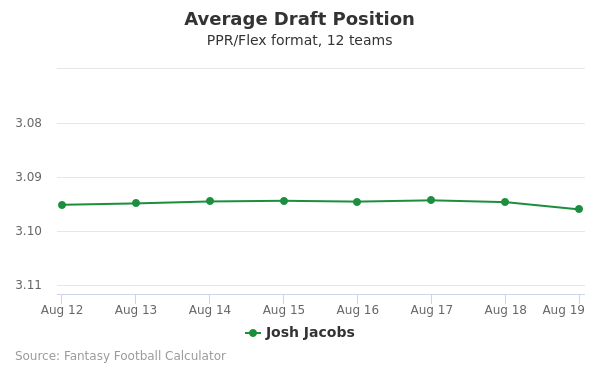 Kenyan Drake
Kenyan Drake's current ADP is 7.02, which is the 2nd pick of the 7th round, and 74th selection overall.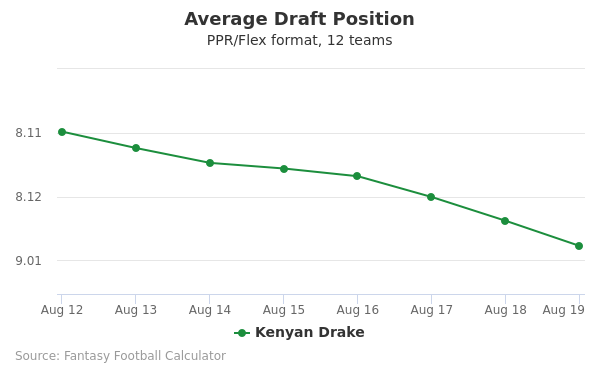 Henry Ruggs III
Henry Ruggs III's current ADP is 11.02, which is the 2nd pick of the 11th round, and 121st selection overall.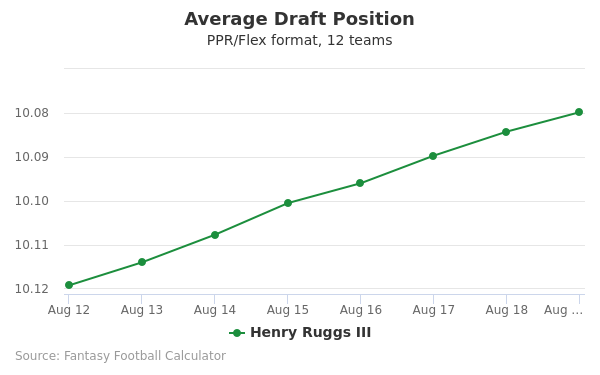 John Brown
John Brown's current ADP is 13.11, which is the 11th pick of the 13th round, and 155th selection overall.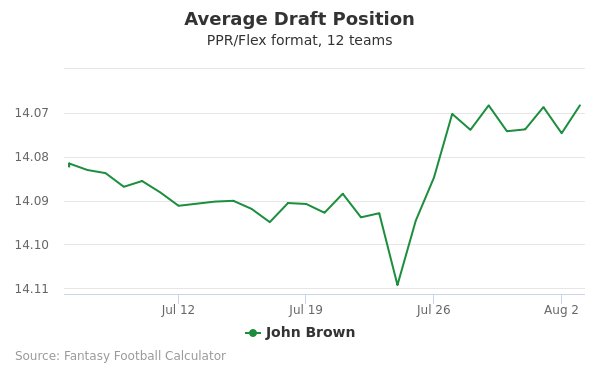 Derek Carr
Derek Carr's current ADP is 14.06, which is the 6th pick of the 14th round, and 161st selection overall.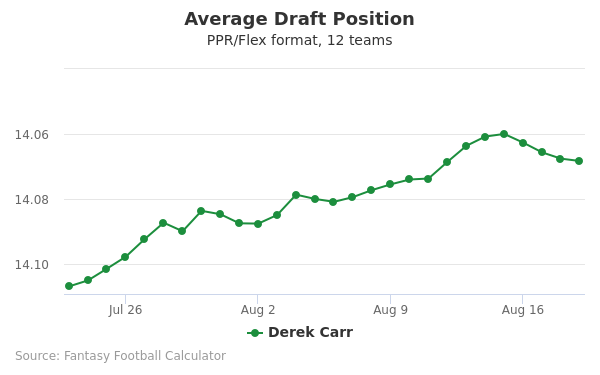 Daniel Carlson
Daniel Carlson's current ADP is 15.02, which is the 2nd pick of the 15th round, and 170th selection overall.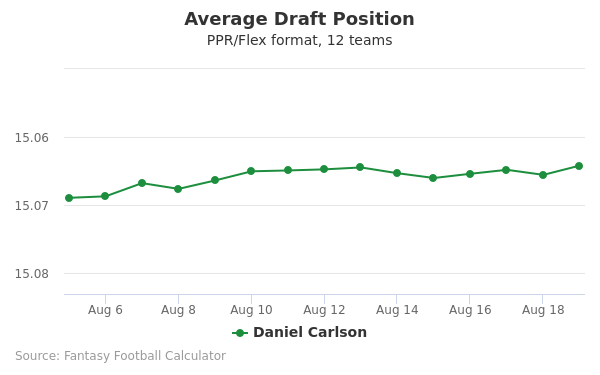 Las Vegas Raiders 2020 Schedule
| Week | Home/Away | Opponent |
| --- | --- | --- |
| 1 | Away | Carolina Panthers |
| 2 | Home | New Orleans Saints |
| 3 | Away | New England Patriots |
| 4 | Home | Buffalo Bills |
| 5 | Away | Kansas City Chiefs |
| 7 | Home | Tampa Bay Buccaneers |
| 8 | Away | Cleveland Browns |
| 9 | Away | Los Angeles Chargers |
| 10 | Home | Denver Broncos |
| 11 | Home | Kansas City Chiefs |
| 12 | Away | Atlanta Falcons |
| 13 | Away | New York Jets |
| 14 | Home | Indianapolis Colts |
| 15 | Home | Los Angeles Chargers |
| 16 | Home | Miami Dolphins |
| 17 | Away | Denver Broncos |
Las Vegas Raiders News
Eddy Pineiro, Lands in Indianapolis
Pineiro (groin) agreed to terms on a one-year contract with the Colts on Thursday, Adam Schefter of ESPN reports.
Analysis: Pineiro spent the entire 2020 campaign on injured reserve, but had it not been for Cairo Santos' emergence in Chicago, it seems as though he could have been activated mid-season. Though he's now healthy, it doesn't seem likely that Pineiro will have many opportunities to dethrone Rodrigo Blankenship as the Colts' top kicker this offseason.
May 13, 2021 2:22 PM EST
---
Marcus Baugh, Cut by Washington
Baugh was released Monday.
Analysis: Washington restocked the tight end room by drafting John Bates in the fourth round and signing free agent Sammis Reyes, leaving Baugh expendable. Baugh, who caught one pass for two yards last season, will hope to latch on with another team.
May 10, 2021 9:39 AM EST
---
Cordarrelle Patterson, Inks deal with ATL
Patterson is signing a one-year, $3 million contract with the Falcons, Mike Garafolo of NFL Network reports.
Analysis: The 30-year-old is best known for his work on kick returns but can also provide depth at running back or wide receivers. The Bears used him as a backup RB last season, with Patterson taking 64 carries for 232 yards (3.6 YPC) and catching 21 passes for 132 yards (6.3 YPR). He isn't exactly a natural in the backfield, but Patterson could be in the mix for backup work, especially if the Falcons don't bring in an early draft pick at RB. It's also possible he shifts back to a depth role at wide receiver.
Cordarrelle Patterson player page.
April 15, 2021 8:15 AM EST
---
Henry Ruggs III, May need to compete
Ruggs could face veteran competition for snaps after the Raiders signed John Brown and Willie Snead to replace Nelson Agholor (Patriots), Jerry McDonald of the Bay Area News Group reports.
Analysis: Agholor unexpectedly emerged as the team's No. 1 wideout and top deep threat last season, essentially filling the role that Ruggs was drafted for. Meanwhile, the first-round pick put up a 26/452/2 receiving line in 13 games, with a couple huge plays surrounded by month-long stretches of near-invisibility. With Snead and Hunter Renfrow likely competing for slot work, the top candidates for perimeter snaps are Ruggs, Brown and Bryan Edwards. The Raiders surely hope their 2020 first-round pick can step up as the top guy, but Vic Tafur of the Athletic suggests the team may actually be more confident in Edwards, who was selected 69 picks later (81st overall) in the same draft. It's possible Ruggs opens his second pro season in a rotation if he doesn't assert himself ahead of Edwards in training camp.
March 27, 2021 10:37 AM EST
---
Taiwan Jones, Re-ups with AFC East champs
Jones re-signed with Buffalo on Thursday, Chris Brown of the Bills' official site reports.
Analysis: The veteran has almost no chance of seeing meaningful carries in 2021, but he's one of the league's better special teams men and the Bills have been happy to use up a roster spot with Jones in recent years. Jones has been in the league since 2011, and the next campaign with be his fourth with Buffalo.
March 18, 2021 12:08 PM EST
---