Raiders Top Fantasy Players
These are the top fantasy football players of the Las Vegas Raiders as ranked by Average Draft Position (ADP) in PPR-format mock drafts.
Data as of March 30, 2020.
Josh Jacobs
Josh Jacobs's current ADP is 2.05, which is the 5th pick of the 2nd round, and 16th selection overall.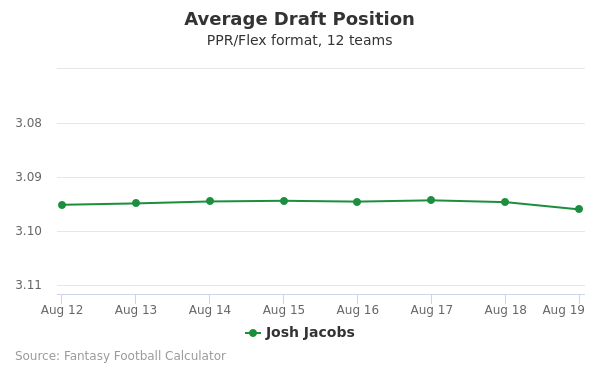 Darren Waller
Darren Waller's current ADP is 6.10, which is the 10th pick of the 6th round, and 69th selection overall.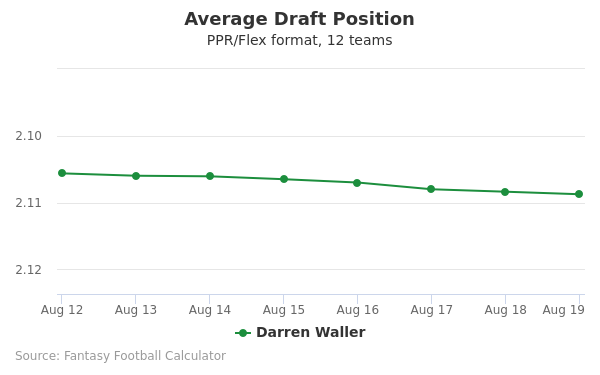 Tyrell Williams
Tyrell Williams's current ADP is 11.04, which is the 4th pick of the 11th round, and 123rd selection overall.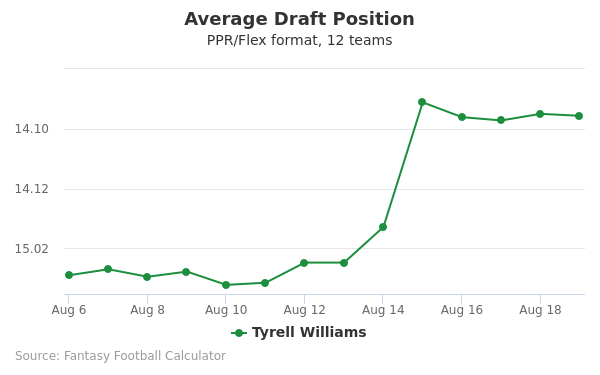 Hunter Renfrow
Hunter Renfrow's current ADP is 14.05, which is the 5th pick of the 14th round, and 161st selection overall.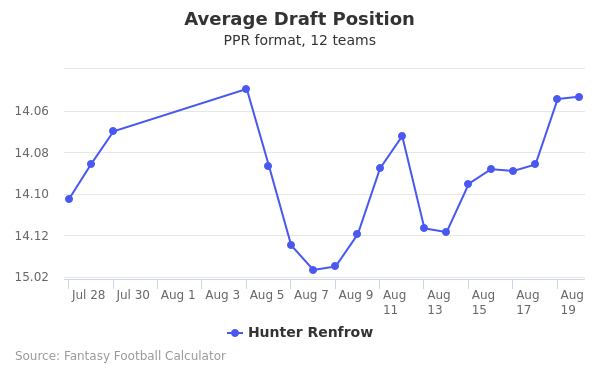 Derek Carr
Derek Carr's current ADP is 14.12, which is the 12th pick of the 14th round, and 168th selection overall.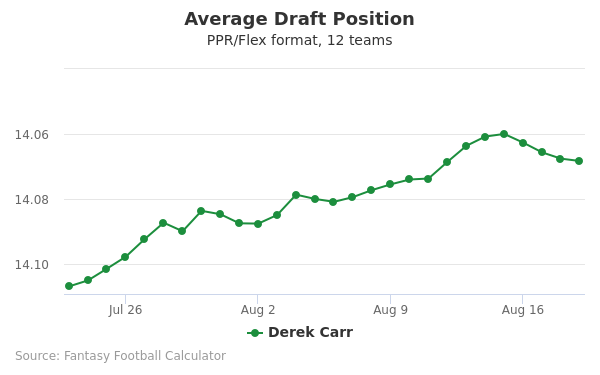 Las Vegas Raiders 2019 Schedule
| Week | Home/Away | Opponent |
| --- | --- | --- |
| 1 | Home | Denver Broncos |
| 2 | Home | Kansas City Chiefs |
| 3 | Away | Minnesota Vikings |
| 4 | Away | Indianapolis Colts |
| 5 | Home | Chicago Bears |
| 7 | Away | Green Bay Packers |
| 8 | Away | Houston Texans |
| 9 | Home | Detroit Lions |
| 10 | Home | Los Angeles Chargers |
| 11 | Home | Cincinnati Bengals |
| 12 | Away | New York Jets |
| 13 | Away | Kansas City Chiefs |
| 14 | Home | Tennessee Titans |
| 15 | Home | Jacksonville Jaguars |
| 16 | Away | Los Angeles Chargers |
| 17 | Away | Denver Broncos |
Las Vegas Raiders News
Derek Carr, Supported by Mariota
New teammate Marcus Mariota said the Raiders are still Carr's team, Scott Bair of NBC Sports Bay Area reports.
Analysis: A two-year, $17.6 million contract with $7.5 million guaranteed makes Mariota the highest-paid backup quarterback in the NFL, quickly sparking rumors about a job battle. It's worth noting that Carr has a much larger contract, one that would allow the Raiders to clear out as much as $16.1 million in cap space if he's traded or released this offseason, per overthecap.com. The 28-year-old may find himself looking over his shoulder if he struggles early in the season, but it doesn't sound like this will be a competition for the Week 1 starting job.
March 25, 2020 9:08 AM EST
---
Taiwan Jones, Packing bags for Buffalo
Jones signed a one-year deal with the Bills on Wednesday, Mike Garafolo of NFL Network reports.
Analysis: Jones will provide the Bills with key versatility, both as a special-teams ace and as a depth running back. He'll join a murky backfield behind Devin Singletary, as Frank Gore and Senorise Perry both stand to part ways with Buffalo in free agency.
March 18, 2020 12:43 PM EST
---
Seth Roberts, Leaving Baltimore for Carolina
Roberts (ankle) is signing with the Panthers, Joe Person of The Athletic reports.
Analysis: Roberts tweeted a hint Tuesday, saying "Joe Brady" and nothing more. He'll now get to work the Panthers new offensive coordinator, joining a young team that's swapping out Cam Newton for Teddy Bridgewater at quarterback. Assuming there are no major complications from his January ankle injury, the 29-year-old Roberts should be in the mix for Carolina's No. 3 receiver job behind D.J. Moore and Curtis Samuel. The occupant of that role in 2019, Jarius Wright, is now an unrestricted free agent.
March 18, 2020 11:54 AM EST
---
Johnny Holton, Cut by Pittsburgh
The Steelers cut Holton on Tuesday, Teresa Varley of the team's official site reports.
Analysis: Holton produced just three catches for 21 yards, and he returned three kickoffs for 55 yards through 16 games in 2019. The 28-year-old likely offers depth receiver help and special-teams upside elsewhere.
March 17, 2020 3:19 PM EST
---
Pharaoh Brown, Back with Cleveland
Brown (illness) will remain with the Browns after the team placed a contract tender on the exclusive rights free agent.
Analysis: The 25-year-old had a quiet role for the Browns in 2019, suiting up in just nine games, and he accumulated two catches for 27 yards. With the team signing Austin Hooper to the richest contract for a tight end in the league Monday, Brown will likely assume a depth or blocking role heading into the 2020 season.
March 16, 2020 3:08 PM EST
---