Dolphins Top Fantasy Players
These are the top fantasy football players of the Miami Dolphins as ranked by Average Draft Position (ADP) in PPR-format mock drafts.
Data as of April 8, 2020.
DeVante Parker
DeVante Parker's current ADP is 7.11, which is the 11th pick of the 7th round, and 82nd selection overall.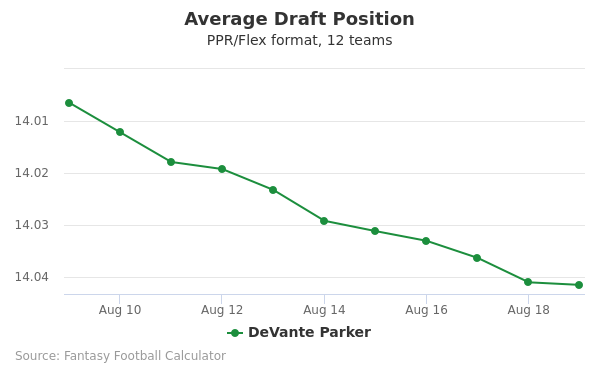 Preston Williams
Preston Williams's current ADP is 11.03, which is the 3rd pick of the 11th round, and 123rd selection overall.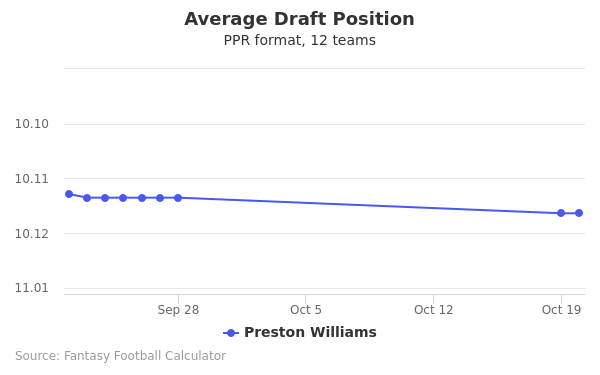 Mike Gesicki
Mike Gesicki's current ADP is 11.06, which is the 6th pick of the 11th round, and 125th selection overall.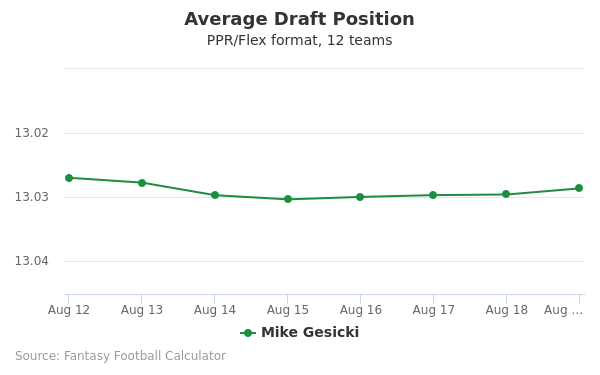 Jordan Howard
Jordan Howard's current ADP is 11.12, which is the 12th pick of the 11th round, and 132nd selection overall.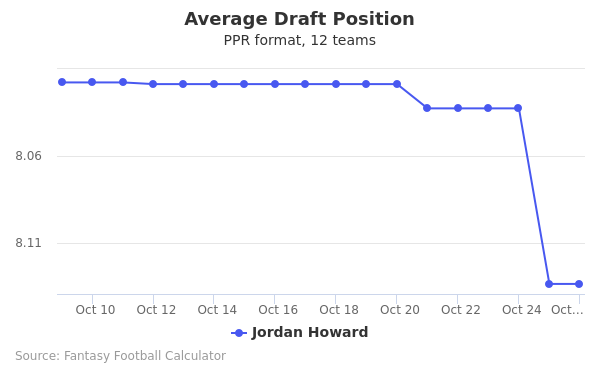 Josh Rosen
Josh Rosen's current ADP is 14.08, which is the 8th pick of the 14th round, and 164th selection overall.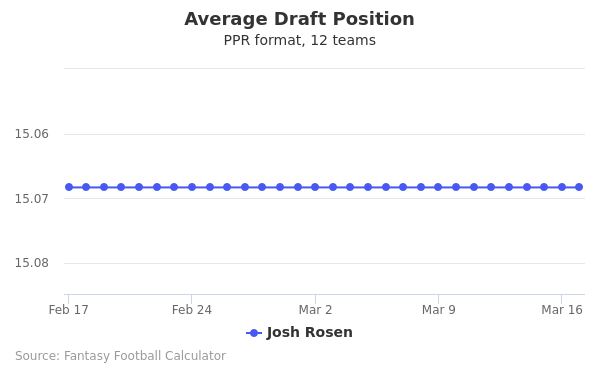 Miami Dolphins 2019 Schedule
| Week | Home/Away | Opponent |
| --- | --- | --- |
| 1 | Home | Baltimore Ravens |
| 2 | Home | New England Patriots |
| 3 | Away | Dallas Cowboys |
| 4 | Home | Los Angeles Chargers |
| 6 | Home | Washington Redskins |
| 7 | Away | Buffalo Bills |
| 8 | Away | Pittsburgh Steelers |
| 9 | Home | New York Jets |
| 10 | Away | Indianapolis Colts |
| 11 | Home | Buffalo Bills |
| 12 | Away | Cleveland Browns |
| 13 | Home | Philadelphia Eagles |
| 14 | Away | New York Jets |
| 15 | Away | New York Giants |
| 16 | Home | Cincinnati Bengals |
| 17 | Away | New England Patriots |
Miami Dolphins News
Kenny Stills, Larger role expected in 2020
The Texans will rely on Stills more this coming season after the team traded DeAndre Hopkins to the Cardinals, Sarah Barshop of ESPN.com reports.
Analysis: Stills moves up to second on the depth chart, while Will Fuller becomes the team's No. 1 wideout. Trading Hopkins leaves a huge void in the passing game, one which head coach Bill O'Brien hopes to be filled by Stills and Fuller. Hopkins accounted for 29.3 percent of Houston's catches in 2019, the third highest share by any player in the NFL last season. The only player with a larger target share than Hopkins (28.8 percent) was New Orleans' Michael Thomas (33 percent). When factoring in Fuller's injury history -- he averages 5.5 games missed per season -- Stills could eventually move up higher than second on the depth chart.
April 5, 2020 4:52 AM EST
---
Kenyan Drake, Officially signs tender
Drake signed his transition tag tender Saturday according to the Cardinals organization.
Analysis: This shouldn't come as much of a surprise considering the transition tag allowed for the Cardinals to match any sort of offer Drake might have received on the open market. The former Dolphins tailback will headline a new-look offense that now features explosive wide receiver DeAndre Hopkins, and perhaps more importantly, will be absent David Johnson, who was sent to the Texans in the deal that netted the All-Pro wideout.
March 21, 2020 9:49 AM EST
---
Kalen Ballage, Stout competition arrives
Ballage (Achilles) is facing competition for carries from new backfield mate Jordan Howard (shoulder), Chris Perkins of The Athletic reports.
Analysis: Ballage and Howard both fit the mold of early-down running backs with limited receiving upside, an indication that they could spend the summer competing for one role. Howard's track record of consistency (4.3 career YPC) stands to give him a clear lead over Ballage, who scrounged up a dismal 1.8 YPC across 74 rushing attempts in 2019. Myles Gaskin and Patrick Laird also stand to compete for backfield roles during the offseason.
March 20, 2020 9:50 AM EST
---
Kenyan Drake, Gets transition tag
The Cardinals are placing a transition tag on Drake, Adam Schefter of ESPN reports.
Analysis: The transition tag doesn't involve any draft pick compensation but does allow the team to match any offer sheet. It's a strong indication the Cardinals intend to keep Drake, be it through their own negotiations or by matching a deal he signs with another team. Of course, there's always some chance -- however small -- that the running back gets a huge offer the Cardinals aren't willing to match.
March 16, 2020 8:22 AM EST
---
Damien Williams, Option to be picked up
With the Chiefs planning to pick up Williams' contract option, the running back is slated to earn $2.3 million in 2020, Ian Rapoport of NFL Network reports.
Analysis: Over his past two campaigns with Kansas City, Williams combined for 161 carries for 754 yards, to go along with 53 catches for 373 yards and 13 total TDs through 27 games. The 27-year-old capped things last season by rushing 17 times for 104 yards and a TD while hauling in four passes for 29 yards and another score during the Chiefs' 31-20 win over the 49ers in Super Bowl LIV. As things stand, Williams continues to profile as the team's top backfield option, with the likes of Darrel Williams, Darwin Thompson and Elijah McGuire also currently in the mix.
March 16, 2020 7:04 AM EST
---