Giants Top Fantasy Players
These are the top fantasy football players of the New York Giants as ranked by Average Draft Position (ADP) in PPR-format mock drafts.
Data as of March 30, 2020.
Saquon Barkley
Saquon Barkley's current ADP is 1.03, which is the 3rd pick of the 1st round, and 2nd selection overall.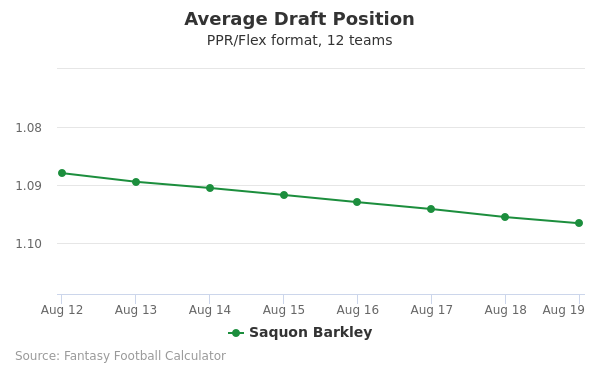 Evan Engram
Evan Engram's current ADP is 5.08, which is the 8th pick of the 5th round, and 56th selection overall.
Sterling Shepard
Sterling Shepard's current ADP is 8.09, which is the 9th pick of the 8th round, and 93rd selection overall.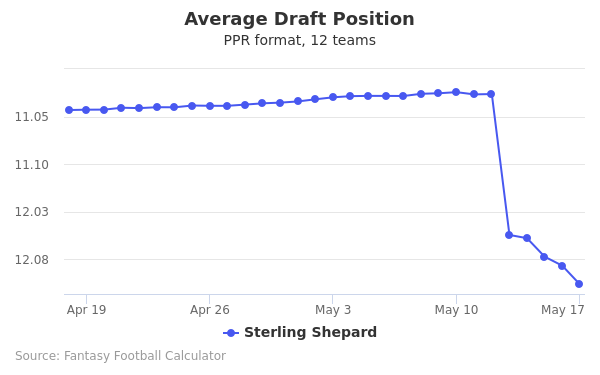 Darius Slayton
Darius Slayton's current ADP is 9.10, which is the 10th pick of the 9th round, and 106th selection overall.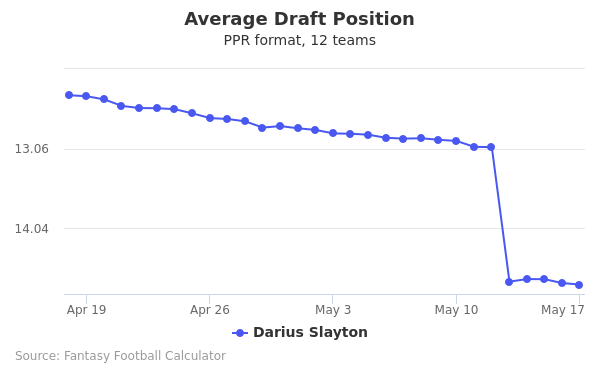 Golden Tate
Golden Tate's current ADP is 10.09, which is the 9th pick of the 10th round, and 116th selection overall.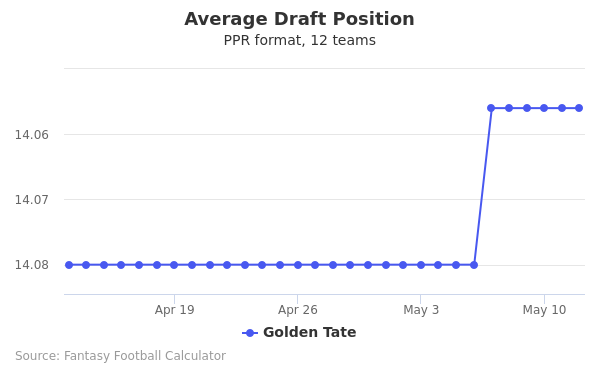 Daniel Jones
Daniel Jones's current ADP is 11.05, which is the 5th pick of the 11th round, and 125th selection overall.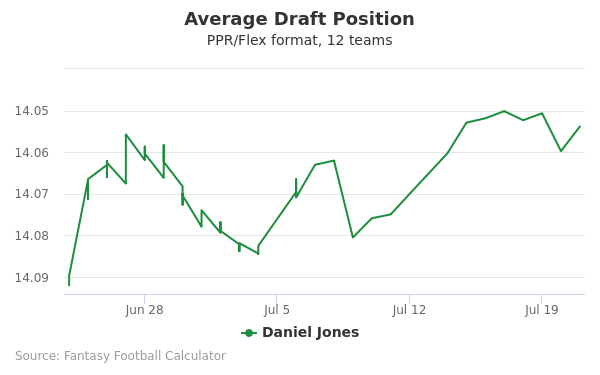 Dion Lewis
Dion Lewis's current ADP is 13.09, which is the 9th pick of the 13th round, and 152nd selection overall.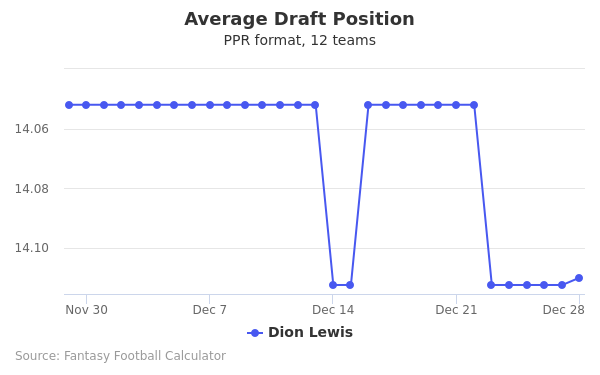 New York Giants 2019 Schedule
| Week | Home/Away | Opponent |
| --- | --- | --- |
| 1 | Away | Dallas Cowboys |
| 2 | Home | Buffalo Bills |
| 3 | Away | Tampa Bay Buccaneers |
| 4 | Home | Washington Redskins |
| 5 | Home | Minnesota Vikings |
| 6 | Away | New England Patriots |
| 7 | Home | Arizona Cardinals |
| 8 | Away | Detroit Lions |
| 9 | Home | Dallas Cowboys |
| 10 | Away | New York Jets |
| 12 | Away | Chicago Bears |
| 13 | Home | Green Bay Packers |
| 14 | Away | Philadelphia Eagles |
| 15 | Home | Miami Dolphins |
| 16 | Away | Washington Redskins |
| 17 | Home | Philadelphia Eagles |
New York Giants News
Odell Beckham Jr, On trading block?
The Browns are looking to trade Beckham (core muscle), Troy L. Smith of the Cleveland Plain Dealer reports, citing a claim by ESPN Radio host Bart Scott.
Analysis: Scott, a former Jets and Ravens linebacker, made the claim this week. "Just know you heard it here first," Scott said. "I'm telling you right now, Odell Beckham is on the trading block and it's real right now." Scott didn't point to any specific information, but projected confidence in his statement. The Browns haven't confirmed this news. One thing for certain, new Cleveland head coach Kevin Stefanski made moves early during the free agency period that hints at a change in an offensive philosophy that was wide receiver focused in 2019. The Browns added tight end Austin Hooper and fullback Andy Janovich, suggesting less focus on Beckham and Jarvis Landry in 2020.
March 19, 2020 5:52 AM EST
---
Aldrick Rosas, Receives RFA tender
The Giants are using a second-round tender on Rosas, Ralph Vacchiano of SportsNet New York reports.
Analysis: The restricted free agent tender will cost $3.3 million, which suggests Rosas has job security for 2020. The 25-year-old kicker has converted 82.7 percent of field-goal attempts and 91.5 percent of PATs in three NFL seasons, sandwiching two subpar campaigns around an excellent showing in 2018. The Giants may be undecided on a long-term commitment.
March 16, 2020 8:12 AM EST
---
Rhett Ellison, Retires from NFL
Ellison (concussion) is retiring from football.
Analysis: Ellison missed the final six games of 2019 after suffering a concussion in November. He had previously missed Week 17 in 2018 while recovering from concussion symptoms, so it shouldn't come as any surprise to see the 31-year-old tight end choose retirement. The Giants are left with Evan Engram and Kaden Smith at the top of their depth chart, while Ellison finishes his NFL career with 118 catches for 1,189 yards and seven touchdowns in 113 regular-season games. He was mostly known for his run blocking but also displayed flashes of pass-catching ability when Engram missed time with injuries the past few years.
March 9, 2020 8:37 AM EST
---
Evan Engram, Still using walking boot
Engram (foot) remains in a walking boot and isn't expected to practice until training camp, Ryan Dunleavy of the NY Post reports.
Analysis: Engram had surgery Dec. 20 to address a Lisfranc injury in his left foot, and while he said the ligament wasn't completely torn, he nonetheless faces a lengthy rehab process. The 23rd overall pick from the 2017 draft has averaged 4.5 catches for 51.9 yards and 0.35 touchdowns per game through three seasons, playing in 34 of a possible 48 contests. The Giants have a couple months before they need to decide on a fifth-year option, but it should be an easy enough decision to do so at the expected price of approximately $6 million. Fellow Giants tight end Rhett Ellison (concussion) reportedly is considering retirement, while Kaden Smith could be in the mix for the No. 2 job after he caught 30 of 42 targets for 267 yards and three TDs over the final six weeks of 2019. With a new coaching staff in place, the Giants can start their offseason program as soon as Apr. 6.
February 28, 2020 8:36 AM EST
---
Rhett Ellison, May retire this offseason
Ellison (concussion) is considering retirement, Ryan Dunleavy of the NY Post reports.
Analysis: Ellison missed the final six games of 2019 after suffering a concussion in November. He's now entering the final season of a four-year, $18 million contract, with the Giants able to clear out $5 million in cap space if they release the 31-year-old tight end this offseason, per overthecap.com. Reading between the lines, Ellison would need to accept a pay cut to stay with the Giants, and that's assuming he even wants to play football for another season. His combination of strong blocking and competent short-pass catching could make Ellison appealing to a variety of teams in need of a No. 2 tight end.
February 28, 2020 8:22 AM EST
---