Giants Top Fantasy Players
These are the top fantasy football players of the New York Giants as ranked by Average Draft Position (ADP) in PPR-format mock drafts.
Data as of March 2, 2021.
Saquon Barkley
Saquon Barkley's current ADP is 1.05, which is the 5th pick of the 1st round, and 4th selection overall.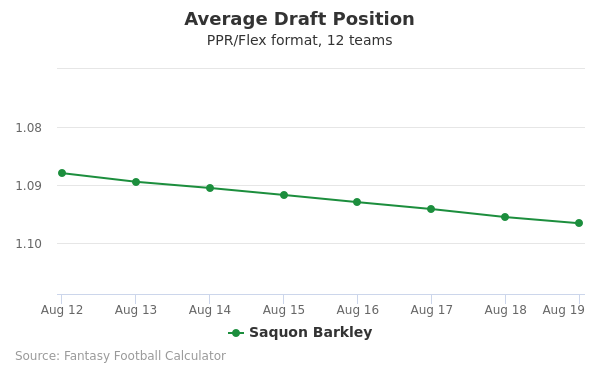 Evan Engram
Evan Engram's current ADP is 8.12, which is the 12th pick of the 8th round, and 96th selection overall.
Sterling Shepard
Sterling Shepard's current ADP is 11.11, which is the 11th pick of the 11th round, and 131st selection overall.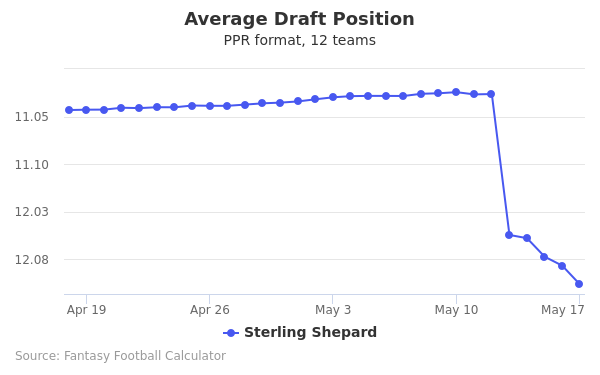 Wayne Gallman
Wayne Gallman's current ADP is 12.02, which is the 2nd pick of the 12th round, and 134th selection overall.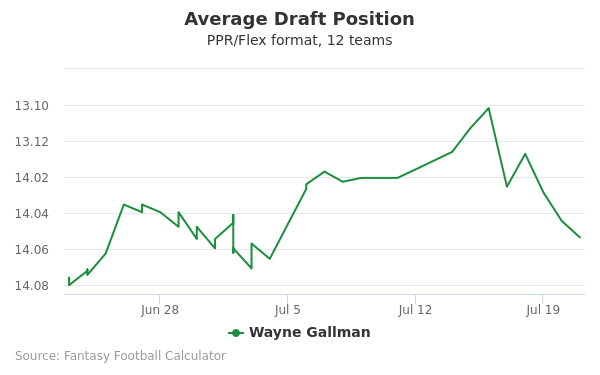 Darius Slayton
Darius Slayton's current ADP is 12.07, which is the 7th pick of the 12th round, and 138th selection overall.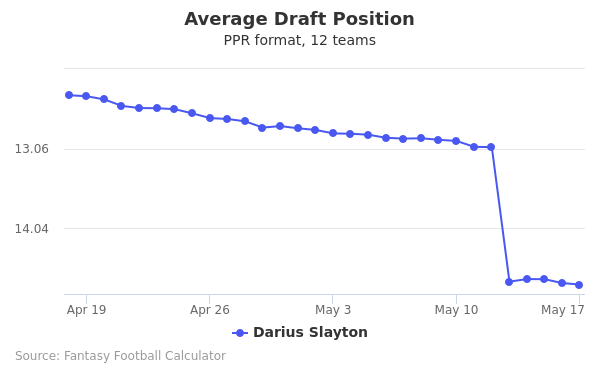 Golden Tate
Golden Tate's current ADP is 14.08, which is the 8th pick of the 14th round, and 163rd selection overall.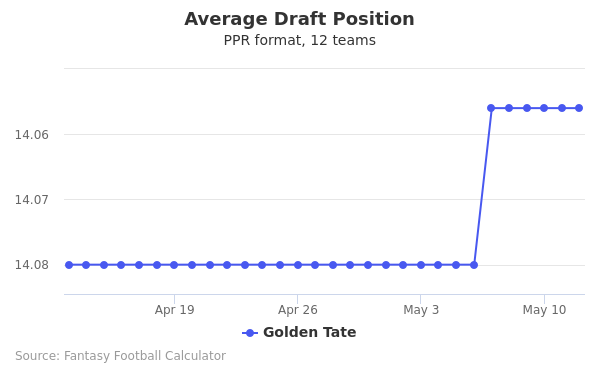 NY Giants Defense
NY Giants Defense's current ADP is 15.03, which is the 3rd pick of the 15th round, and 171st selection overall.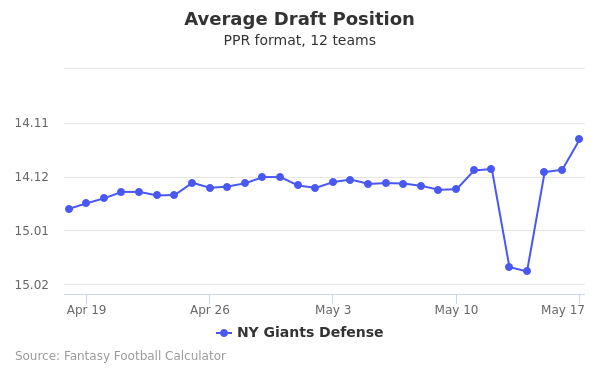 New York Giants 2020 Schedule
| Week | Home/Away | Opponent |
| --- | --- | --- |
| 1 | Home | Pittsburgh Steelers |
| 2 | Away | Chicago Bears |
| 3 | Home | San Francisco 49ers |
| 4 | Away | Los Angeles Rams |
| 5 | Away | Dallas Cowboys |
| 6 | Home | Washington Redskins |
| 7 | Away | Philadelphia Eagles |
| 8 | Home | Tampa Bay Buccaneers |
| 9 | Away | Washington Redskins |
| 10 | Home | Philadelphia Eagles |
| 12 | Away | Cincinnati Bengals |
| 13 | Away | Seattle Seahawks |
| 14 | Home | Arizona Cardinals |
| 15 | Home | Cleveland Browns |
| 16 | Away | Baltimore Ravens |
| 17 | Home | Dallas Cowboys |
New York Giants News
Daniel Jones, Locked in for 2021
The Giants appear committed to Jones as their starting quarterback for 2021, according to ESPN's Jordan Raanan.
Analysis: A few NFL teams appear ready to give up on first-round QBs they drafted in recent years, but the Giants are expected to stick with Jones, hoping he'll play better if he has more help around him. To that end, the team could stand to add a solid blocker and another reliable pass catcher, in addition to the potential benefit from getting Saquon Barkley (knee) back on the field. While Jones figures to be the Week 1 starter, it is possible he'll be on a shorter leash in 2021, especially if the Giants find a better backup than Colt McCoy.
February 9, 2021 7:27 AM EST
---
Saquon Barkley, Progressing well
Though Barkley, who's bouncing back from knee surgery, indicated that he's doing "doing really well" in his injury rehab, the running back has yet to outline a target date for his return to action, ESPN.com reports.
Analysis: Barkley tore his right ACL in Week 2 of the 2020 season and underwent surgery to address the issue on Oct. 30. Given the timing of his season-ending procedure, he would appear to have a solid chance to be ready to run behind the Giants' revamped offensive line in time for the team's 2021 opener. That said, it remains to be seen when Barkley -- and his teammates for that matter -- next take the field in any capacity.
February 3, 2021 1:06 PM EST
---
Davis Webb, Staying in Buffalo
Webb signed a reserve/future contract with the Bills on Tuesday.
Analysis: Webb shuffled between active roster and practice squad all season but never took a regular-season snap. It's the second-straight season that Webb has signed a reserve/future contract with the Bills. Veteran Matt Barkley is heading into free agency, leaving Josh Allen and Jake Fromm as the only other quarterbacks on the roster.
January 26, 2021 7:57 PM EST
---
Odell Beckham Jr, On track with ACL recovery
Browns GM Andrew Berry said Beckham's recovery from knee surgery is going very well, Andrew Gribble of the Browns' official site reports.
Analysis: Beckham tore the ACL in his left knee Oct. 25 and underwent surgery Nov. 10. He'll presumably be held out of practices throughout the offseason program, likely hoping to return at some point during training camp. Ian Rapoport of NFL Network suggested in November that Beckham could be traded, but recent comments from both Berry and the 28-year-old wideout suggest OBJ is part of the Browns' plan for 2021, according to Mary Kay Cabot of the Cleveland Plain Dealer.
January 26, 2021 8:58 AM EST
---
Saquon Barkley, Planning rehab with OBJ
Barkley (knee) plans to do rehab work with Browns wide receiver Odell Beckham, es reports.
Analysis: The former teammates both suffered ACL tears this past fall, with Barkley having surgery Oct. 30 and Beckham getting his Nov. 10. MCL damage forced Barkley to wait more than a month after the initial injury to have surgery, with doctors then repairing a torn ACL and meniscus. The running back already acknowledged that the meniscus repair could delay the weight-bearing portion of his rehab, making his progress one of the top developments to track for fantasy football throughout spring and summer. Barkley is entering the fourth and final season of his rookie contract, though the Giants can lock him in through 2022 with a fifth-year option -- a decision they'll need to make this spring.
January 20, 2021 8:03 AM EST
---