Giants Top Fantasy Players
These are the top fantasy football players of the New York Giants as ranked by Average Draft Position (ADP) in PPR-format mock drafts.
Data as of June 25, 2022.
Saquon Barkley
Saquon Barkley's current ADP is 3.05, which is the 5th pick of the 3rd round, and 28th selection overall.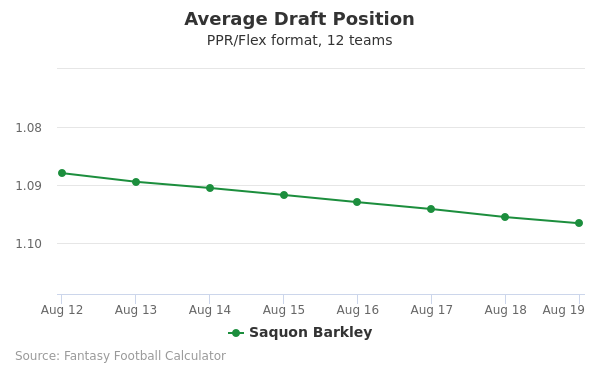 Kadarius Toney
Kadarius Toney's current ADP is 10.12, which is the 12th pick of the 10th round, and 119th selection overall.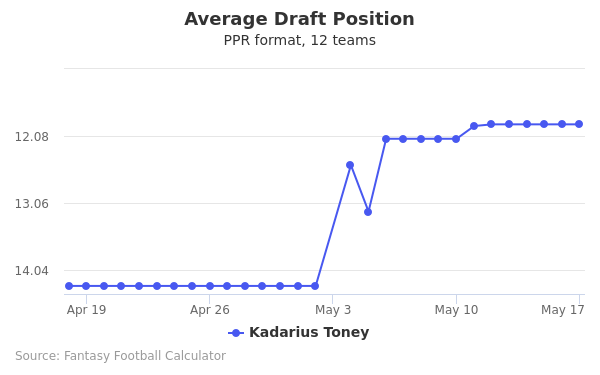 Kenny Golladay
Kenny Golladay's current ADP is 13.09, which is the 9th pick of the 13th round, and 152nd selection overall.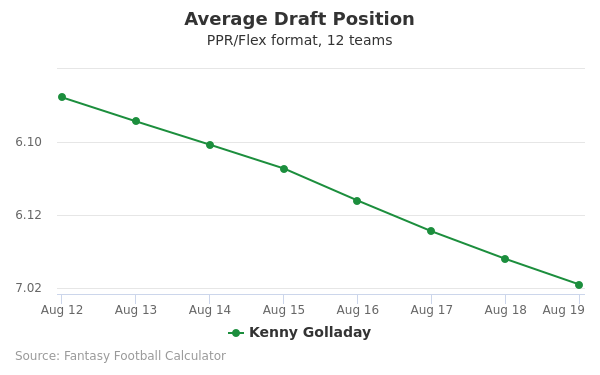 New York Giants 2020 Schedule
| Week | Home/Away | Opponent |
| --- | --- | --- |
| 1 | Home | Pittsburgh Steelers |
| 2 | Away | Chicago Bears |
| 3 | Home | San Francisco 49ers |
| 4 | Away | Los Angeles Rams |
| 5 | Away | Dallas Cowboys |
| 6 | Home | Washington Redskins |
| 7 | Away | Philadelphia Eagles |
| 8 | Home | Tampa Bay Buccaneers |
| 9 | Away | Washington Redskins |
| 10 | Home | Philadelphia Eagles |
| 12 | Away | Cincinnati Bengals |
| 13 | Away | Seattle Seahawks |
| 14 | Home | Arizona Cardinals |
| 15 | Home | Cleveland Browns |
| 16 | Away | Baltimore Ravens |
| 17 | Home | Dallas Cowboys |
New York Giants News
Odell Beckham Jr, Rams optimistic deal can get done
Though Beckham (knee) remains a free agent, Rams COO Kevin Demoff has expressed optimism that the team will be able to re-sign the wideout, Jourdan Rodrigue of The Athletic reports.
Analysis: That said, there's no specific timeline for such a potential deal to get done, with Beckham still recovering from a torn ACL that he suffered in the Super Bowl. With that in mind, it's unclear when the 29-year-old old might be ready for game action, with Rodrigue relaying that previous reports have suggested a possible return to play for the wideout in November. Either way, if Beckham does indeed decide to return to the Rams, whenever he's ready to suit up he'd bolster a wideout corps headed by Cooper Kupp and newcomer Allen Robinson, with Van Jefferson, Ben Skowronek, Brandon Powell and Tutu Atwell currently in the mix for slotting behind the team's top duo.
June 21, 2022 8:18 AM EST
---
Golden Tate, Pursuing baseball career
Tate could be ready to move on from football after he signed a contract Tuesday with a collegiate summer baseball club, the West Coast League's Port Angeles Lefties.
Analysis: In his statement, Tate didn't explicitly say that he has retired from the NFL, but he noted that he will "look forward to having a lot of fun and exploring baseball more." The 33-year-old Tate, who played baseball for two seasons at Notre Dame while simultaneously starring at receiver for the Fighting Irish, was also drafted on two occasions by MLB clubs but chose not to sign. Once the summer baseball league winds down, Tate will presumably see what his future holds in the sport, but a return to the NFL is seemingly growing dimmer. He hasn't appeared in an NFL game since 2020, though he was a member of the Titans' practice squad last season for a little over a month.
June 15, 2022 9:16 AM EST
---
Geno Smith, Holds slight lead after minicamp
Head coach Pete Carroll said following the last day of mandatory minicamp Thursday that Smith is ahead of Drew Lock in the quarterback competition, Bob Condotta of The Seattle Times reports.
Analysis: Smith had the early edge heading into the offseason program because he had a three-year head start on Lock in Seattle's system. Nevertheless, Carroll reiterated that Lock isn't too far behind, signaling that this battle will extend into training camp. Neither Smith nor Lock is considered a difference-maker under center, so the Seahawks will need to protect the ball to win games this season. Whichever quarterback can avoid turnovers in camp and the preseason has the best chance to emerge victorious.
June 9, 2022 1:36 PM EST
---
Daniel Jones, Cleared for contact
Giants head coach Brain Daboll said Tuesday that Jones (neck) has been cleared for contact, Ralph Vacchiano of SportsNet New York reports.
Analysis: Jones missed the final six games of the 2021 campaign due to a neck strain, but he appears to have moved past the issue with Daboll saying the quarterback would suit up if the Giants had a game Tuesday. Regardless, health isn't the only concern for Jones, who sports a 22:17 TD:INT the past two seasons after throwing for 3,027 yards and 24 touchdowns across 13 appearances as a rookie.
June 7, 2022 10:06 AM EST
---
Sterling Shepard, Coming along in recovery
Shepard started jogging again last week for the first time since suffering a torn Achilles in December, Josina Anderson of CBS Sports reports.
Analysis: Shepard's recovery from the injury, which he suffered in Week 15 last year, seems to be on track as Giants general manager Joe Schoen previously indicated that he hoped the wideout would be back by August. With that in mind, Shepard mentioned to Anderson that there's no pressure when it comes to his exact return date and that he's been limited to taking mental reps and catching balls from the jugs machine while working at the Giants' facility this offseason. The 29-year-old, who finished fourth on the team in receiving yards during his injury-riddled 2021 campaign -- hauling in 36 catches for 366 yards and one touchdown over seven games -- has appeared in 29 total games across the past three seasons.
June 2, 2022 1:18 PM EST
---