Jets Top Fantasy Players
These are the top fantasy football players of the New York Jets as ranked by Average Draft Position (ADP) in PPR-format mock drafts.
Data as of April 6, 2020.
LeVeon Bell
LeVeon Bell's current ADP is 3.11, which is the 11th pick of the 3rd round, and 35th selection overall.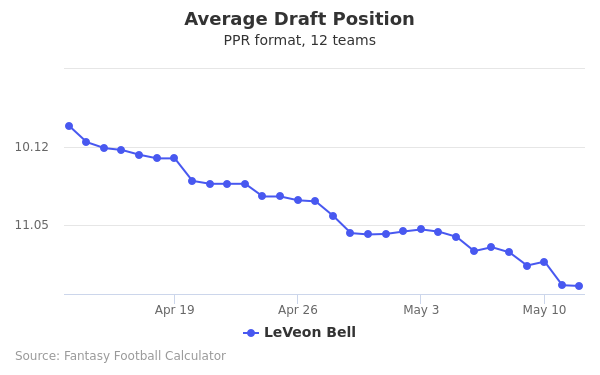 Sam Darnold
Sam Darnold's current ADP is 11.02, which is the 2nd pick of the 11th round, and 121st selection overall.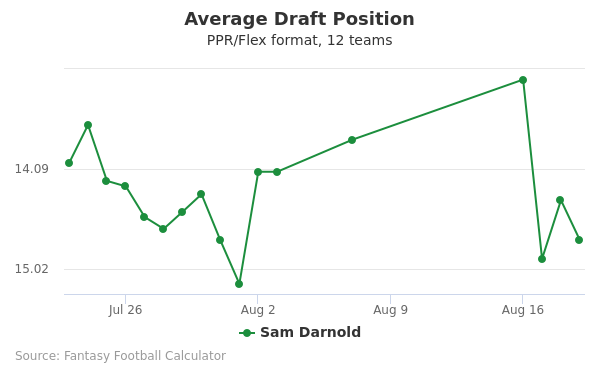 Jamison Crowder
Jamison Crowder's current ADP is 11.10, which is the 10th pick of the 11th round, and 130th selection overall.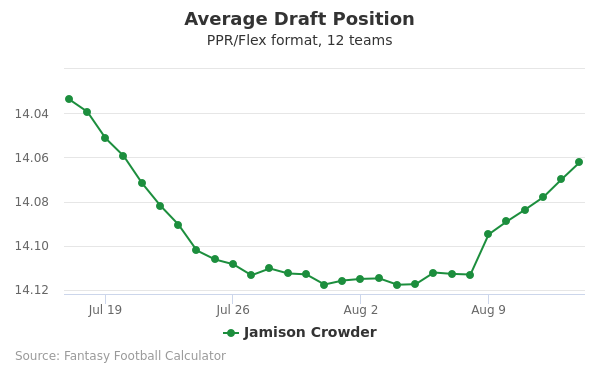 Breshad Perriman
Breshad Perriman's current ADP is 12.09, which is the 9th pick of the 12th round, and 141st selection overall.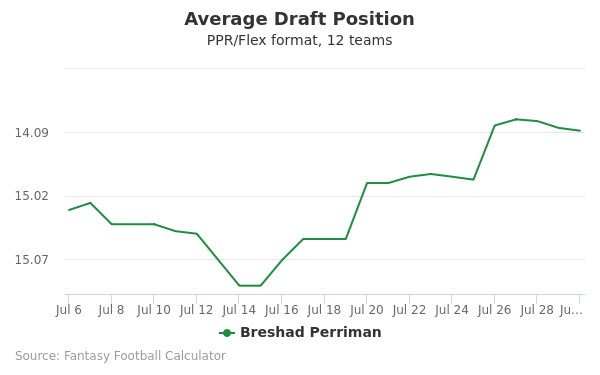 Chris Herndon IV
Chris Herndon IV's current ADP is 14.12, which is the 12th pick of the 14th round, and 168th selection overall.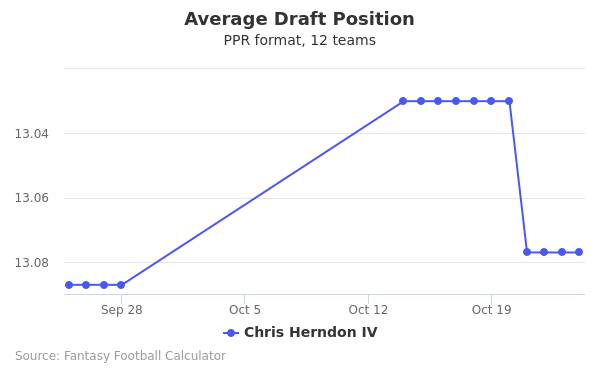 New York Jets 2019 Schedule
| Week | Home/Away | Opponent |
| --- | --- | --- |
| 1 | Home | Buffalo Bills |
| 2 | Home | Cleveland Browns |
| 3 | Away | New England Patriots |
| 5 | Away | Philadelphia Eagles |
| 6 | Home | Dallas Cowboys |
| 7 | Home | New England Patriots |
| 8 | Away | Jacksonville Jaguars |
| 9 | Away | Miami Dolphins |
| 10 | Home | New York Giants |
| 11 | Away | Washington Redskins |
| 12 | Home | Las Vegas Raiders |
| 13 | Away | Cincinnati Bengals |
| 14 | Home | Miami Dolphins |
| 15 | Away | Baltimore Ravens |
| 16 | Home | Pittsburgh Steelers |
| 17 | Away | Buffalo Bills |
New York Jets News
Eric Tomlinson, Rejoins Giants
Tomlinson signed a contract with the Giants on Saturday, Paul Schwartz of the New York Post reports.
Analysis: Tomlinson spent time on four teams in 2019 -- including the Giants -- and totaled one catch for one yard in eight games. The 27-year-old figures to be fighting for a roster spot as a reserve tight end come training camp.
March 28, 2020 6:10 PM EST
---
Robby Anderson, Signs on with Carolina
Anderson is signing a two-year, $20 million contract with the Panthers, Adam Schefter of ESPN reports.
Analysis: Anderson likely is disappointed with the financial terms, perhaps suffering from a lack of interest due to the 2020 NFL Draft being loaded at his position. From an on-field standpoint he'll have plenty of competition for targets, joining D.J. Moore and Curtis Samuel to give Teddy Bridgewater one of the fastest WR groups in the NFL. The agreement reunites Anderson with Panthers head coach Matt Rhule, who held the same position at Temple when the wideout played there in 2013 and 2015. It remains to be seen if Rhule, Anderson and offensive coordinator Joe Brady can help Bridgewater unlock a downfield element that wasn't really part of his game last year in New Orleans (Bridgewater's 6.0 aDOT was shallowest in the league among QBs with 100 or more attempts).
March 24, 2020 12:45 PM EST
---
Jojo Natson, Signs with Cleveland
Natson signed a one-year, $1 million contract with the Browns on Thursday, Ian Rapoport of NFL Network reports.
Analysis: Natson stands to provide Cleveland with receiver depth and upside as a return specialist. He averaged 22.2 yards per kick return and 8.2 yards per punt return across 12 games with the Rams last season.
March 19, 2020 3:47 PM EST
---
Josh McCown, Uncertain about NFL future
McCown (hamstring) told GQ's Alex Shultz that he hasn't made a decision on continuing his football career.
Analysis: A report from January suggested McCown had told the Eagles he wasn't ready to retire, but the recent interview with GQ makes it sound like he's reconsidering. The veteran quarterback will turn 41 in July, and he's still recovering from January surgery to address the hamstring tear he suffered in a wild-card playoff loss to Seattle. Meanwhile, the Eagles have re-signed fellow quarterback Nate Sudfeld on a one-year contract.
March 18, 2020 8:21 AM EST
---
Jojo Natson, Let go by Rams
Natson (hamstring) was cut by the Rams on Tuesday, Field Yates of ESPN reports.
Analysis: Natson finished the season on injured reserve after suffering a hamstring injury in the beginning of December. The 26-year-old was used primarily as a return specialist with the Rams, averaging 22.2 yards per kick return and 8.2 yards per punt return through 12 games in 2019.
March 10, 2020 3:13 PM EST
---