Jets Top Fantasy Players
These are the top fantasy football players of the New York Jets as ranked by Average Draft Position (ADP) in PPR-format mock drafts.
Data as of March 2, 2021.
Jamison Crowder
Jamison Crowder's current ADP is 9.05, which is the 5th pick of the 9th round, and 100th selection overall.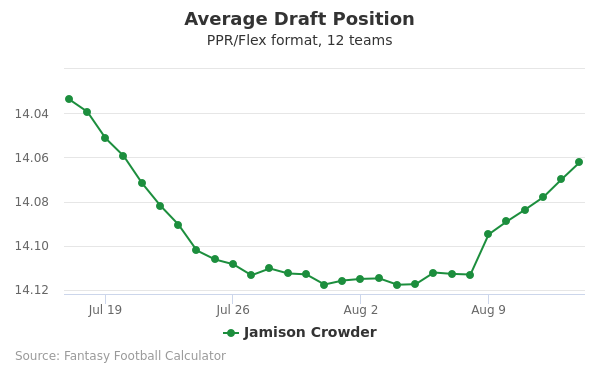 Ty Montgomery
Ty Montgomery's current ADP is 13.06, which is the 6th pick of the 13th round, and 150th selection overall.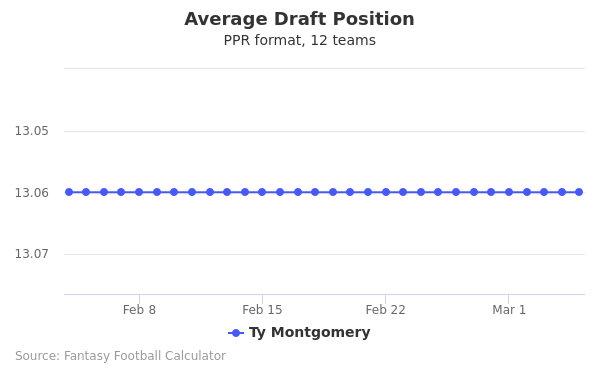 Frank Gore
Frank Gore's current ADP is 13.09, which is the 9th pick of the 13th round, and 153rd selection overall.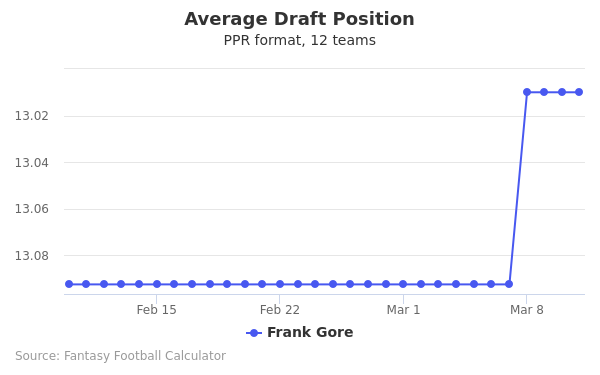 Denzel Mims
Denzel Mims's current ADP is 14.01, which is the 1st pick of the 14th round, and 157th selection overall.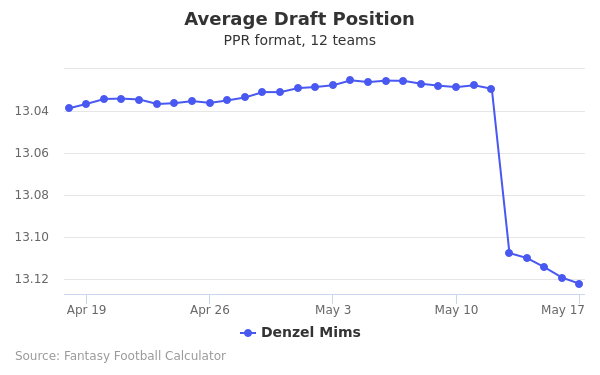 NY Jets Defense
NY Jets Defense's current ADP is 14.02, which is the 2nd pick of the 14th round, and 157th selection overall.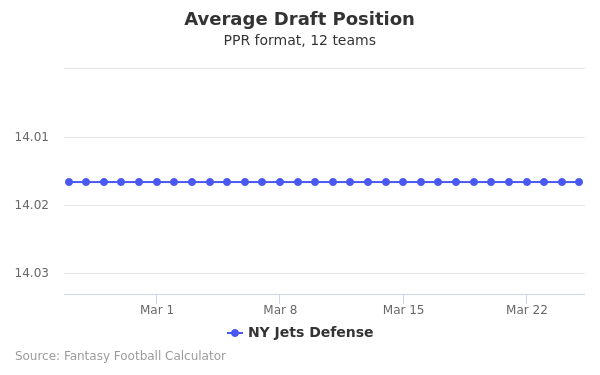 New York Jets 2020 Schedule
| Week | Home/Away | Opponent |
| --- | --- | --- |
| 1 | Away | Buffalo Bills |
| 2 | Home | San Francisco 49ers |
| 3 | Away | Indianapolis Colts |
| 4 | Home | Denver Broncos |
| 5 | Home | Arizona Cardinals |
| 6 | Away | Los Angeles Chargers |
| 7 | Home | Buffalo Bills |
| 8 | Away | Kansas City Chiefs |
| 9 | Home | New England Patriots |
| 10 | Away | Miami Dolphins |
| 12 | Home | Miami Dolphins |
| 13 | Home | Las Vegas Raiders |
| 14 | Away | Seattle Seahawks |
| 15 | Away | Los Angeles Rams |
| 16 | Home | Cleveland Browns |
| 17 | Away | New England Patriots |
| 6 | Away | Miami Dolphins |
| 11 | Away | Los Angeles Chargers |
New York Jets News
Josh McCown, Released by Houston
The Texans released McCown on Monday, Field Yates of ESPN reports.
Analysis: McCown didn't ultimately suit up for a single game with the Texans in 2020, after having linked with the team mid-season. The veteran signal-caller, who will turn 42 this offseason, may be motivated to turn his attention toward coaching instead of playing. Houston now only has AJ McCarron on the depth chart behind Deshaun Watson, who recently reiterated his request to be traded.
March 1, 2021 1:28 PM EST
---
Sam Darnold, Jets still evaluating options
The Jets intend to fully evaluate the 2021 NFL Draft's to quarterback prospects before making a decision about Darnold's future with the team, Ian Rapoport of NFL Network reports.
Analysis: Rapoport notes that the Jets have gotten 'real interest' about dealing Darnold, who the team selected No. 3 overall back in the 2018 NFL Draft, but that any deal will have to wait until after top prospects have completed their Pro Days and subsequent interviews. Ralph Vacchiano of SportsNet New York recently estimated that Darnold could return value around the range of a "second-round pick, plus maybe another mid-to-late rounder" should the Jets indeed decide to deal him, with potential suitors including the Bears, Panthers, Broncos, 49ers, Patriots and Washington Football Team. Darnold, who will turn 24 this offseason, is coming off a pedestrian third year, with just 2,208 passing yards and a 9:11 TD:INT across 12 appearances. He was noticeably more productive in 2019 over a similar span of games, with 3,024 passing yards and a 19:13 TD:INT in 13 contests.
February 22, 2021 9:19 AM EST
---
Eric Tomlinson, Re-signs with Baltimore
Tomlinson is re-signing with the Ravens, Aaron Wilson of the Houston Chronicle reports.
Analysis: Tomlinson has played for five teams over the past five years, catching 17 passes for 194 yards and one touchdown on 1,144 defensive snaps. The veteran blocking specialist likely will enter training camp as the third or fourth tight end on Baltimore's depth chart, behind Mark Andrews and Nick Boyle (knee) at the very least.
February 10, 2021 7:18 AM EST
---
LeVeon Bell, No action in Super Bowl LV
Bell did not touch the ball during Kansas City's 31-9 loss to the Buccaneers in Super Bowl LV.
Analysis: Bell's offensive opportunities completely dried up with Clyde Edwards-Helaire back in the lineup, especially with Darrel Williams keeping a firm grip on the Chiefs' change-of-pace role. The soon-to-be 29-year-old appeared in nine regular-season games with Kansas City after being cut by the Jets in Week 5, and he logged 63 carries for 254 yards (4.0 YPC) and two scores in that span. Bell also caught 13 of 17 targets for 99 yards with the Chiefs. Now heading for free agency, the memory of Bell's electric on-field abilities with the Steelers from 2013-17 should be enough for him to earn another shot elsewhere in the league, but there's no guarantee that he holds more than a depth role by the time the 2021 campaign kicks off.
February 7, 2021 8:45 PM EST
---
LeVeon Bell, Cleared to play
Bell (knee) doesn't have an injury designation for the Super Bowl against Tampa Bay on Sunday.
Analysis: Bell closed out the week with a full practice and will be ready for his first Super Bowl. It isn't clear he'll have a meaningful role, as he got just two carries and three targets in the divisional round of the playoffs, working well behind Darrel Williams in a game Clyde Edwards-Helaire missed. With the rookie now healthy, Bell looks like Option C in the KC backfield.
February 5, 2021 11:04 AM EST
---