Jets Top Fantasy Players
These are the top fantasy football players of the New York Jets as ranked by Average Draft Position (ADP) in PPR-format mock drafts.
Data as of May 29, 2023.
Garrett Wilson
Garrett Wilson's current ADP is 3.10, which is the 10th pick of the 3rd round, and 34th selection overall.
Aaron Rodgers
Aaron Rodgers's current ADP is 9.12, which is the 12th pick of the 9th round, and 108th selection overall.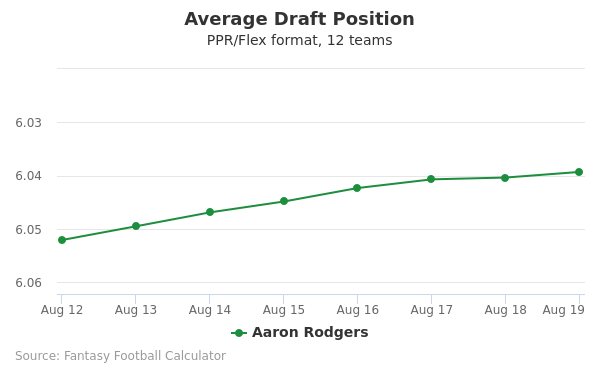 New York Jets 2020 Schedule
| Week | Home/Away | Opponent |
| --- | --- | --- |
| 1 | Away | Buffalo Bills |
| 2 | Home | San Francisco 49ers |
| 3 | Away | Indianapolis Colts |
| 4 | Home | Denver Broncos |
| 5 | Home | Arizona Cardinals |
| 6 | Away | Los Angeles Chargers |
| 7 | Home | Buffalo Bills |
| 8 | Away | Kansas City Chiefs |
| 9 | Home | New England Patriots |
| 10 | Away | Miami Dolphins |
| 12 | Home | Miami Dolphins |
| 13 | Home | Las Vegas Raiders |
| 14 | Away | Seattle Seahawks |
| 15 | Away | Los Angeles Rams |
| 16 | Home | Cleveland Browns |
| 17 | Away | New England Patriots |
| 6 | Away | Miami Dolphins |
| 11 | Away | Los Angeles Chargers |
New York Jets News
Elijah Moore, Favored target in OTAs
Moore was targeted often by quarterback Deshaun Watson during Wednesday's session of organized team activities, Athony Poisal of the Browns' official site reports.
Analysis: Moore, who was acquired from the Jets via trade during the offseason, is expected to serve as the Browns' slot receiver with Amari Cooper and Donovan Peoples-Jones the wideouts. Whether Moore is designated as a No. 2 or No. 3 on depth charts, the numbers won't mean much. The Browns are expected to throw often, and all three should benefit from quarterback Deshaun Watson in a full-season role.
May 26, 2023 5:25 PM EST
---
Eric Tomlinson, Gets cut loose
Tomlinson was released by the Texans on Thursday, Brooks Kubena of the Houston Chronicle reports.
Analysis: Tomlinson signed a deal with Houston on May 3 after spending the 2022 campaign in Denver, but it appears his time with the Texans will be cut short. The veteran tight end made nine receptions on 13 targets for 79 yards and a pair of touchdowns in 2022 for the Broncos, which saw him appearing in all 17 contents. He'll now be looking to join a new franchise.
May 18, 2023 2:40 PM EST
---
Sam Darnold, Getting a real shot in San Fran?
Coach Kyle Shanahan said Thursday that Darnold, Brock Purdy (elbow) and Trey Lance are "all capable of being franchise-like quarterbacks", David Lombardi of The Athletic reports.
Analysis: Shanahan mentioned Purdy's eight starts last year as an example of "franchise-like" play, also noting that Lance is the "best we've had him right now" (after some injury struggles) while Darnold "hasn't been in the best situations" prior to San Francisco. Comments from both Shanahan and John Lynch hint at Purdy being the favorite to start once he's healthy, but his ongoing rehab from UCL surgery leaves Lance and Darnold to compete for first-team reps this spring/summer, giving both opportunities to make an impression in one of the league's more fluid QB rooms. Darnold turns 26 in June and is signed to a one-year, $4.5 million contract that includes $3.5 million guaranteed.
May 12, 2023 5:30 AM EST
---
John Wolford, Joins Tamp
Wolford signed with Tampa Bay on Tuesday, Scott Smith of the Buccaneers' official site reports.
Analysis: The former Ram gives Tampa a third quarterback on the roster for spring practices, behind Baker Mayfield and Kyle Trask. The 27-year-old Wolford started one game for Los Angeles in 2020 and three last year, but he hasn't shown much promise with only one TD pass and five interceptions on 104 pass attempts in the NFL.
May 9, 2023 7:04 AM EST
---
Eric Tomlinson, Heading to Houston
Tomlinson and the Texans agreed on a contract Wednesday, Mike Garafolo of NFL Network reports.
Analysis: Tomlinson will head to Houston after he spent the 2022 campaign with the Broncos, reeling in a career-high nine catches for 79 yards and two scores over 17 games. The 31-year-old will reunite with tight end coach Jake Moreland, who was in Denver last season. Tomlinson will provide an additional depth option behind newly-acquired Dalton Schultz in 2023.
May 3, 2023 9:44 AM EST
---