Jets Top Fantasy Players
These are the top fantasy football players of the New York Jets as ranked by Average Draft Position (ADP) in PPR-format mock drafts.
Data as of May 15, 2021.
Jamison Crowder
Jamison Crowder's current ADP is 9.09, which is the 9th pick of the 9th round, and 105th selection overall.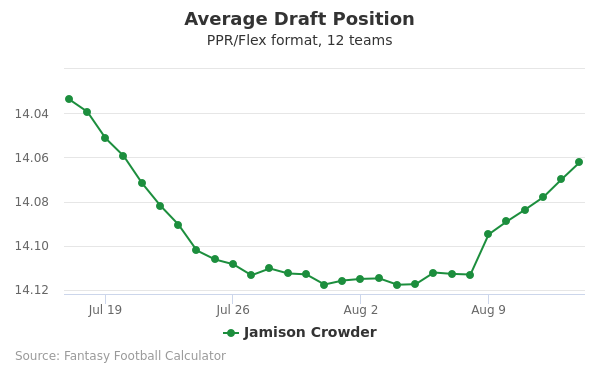 Corey Davis
Corey Davis's current ADP is 10.03, which is the 3rd pick of the 10th round, and 111th selection overall.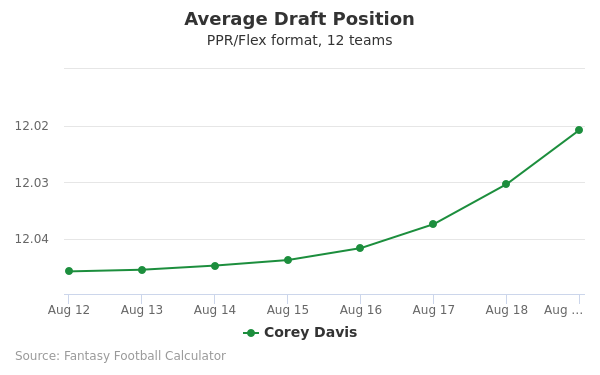 Michael Carter
Michael Carter's current ADP is 12.07, which is the 7th pick of the 12th round, and 138th selection overall.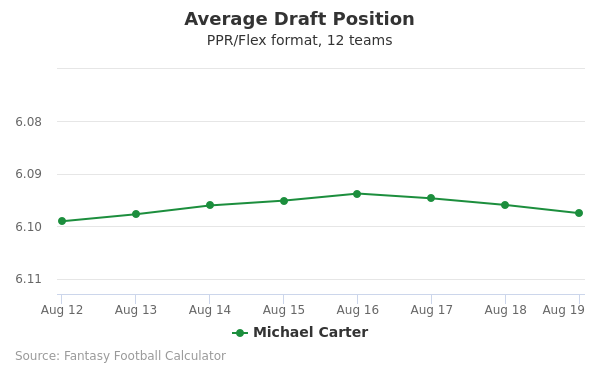 Elijah Moore
Elijah Moore's current ADP is 13.01, which is the 1st pick of the 13th round, and 144th selection overall.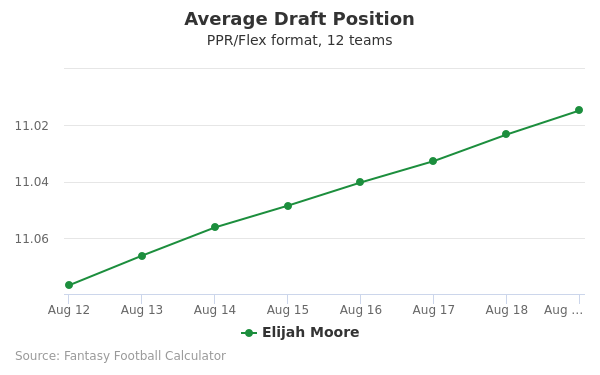 Zach Wilson
Zach Wilson's current ADP is 13.05, which is the 5th pick of the 13th round, and 148th selection overall.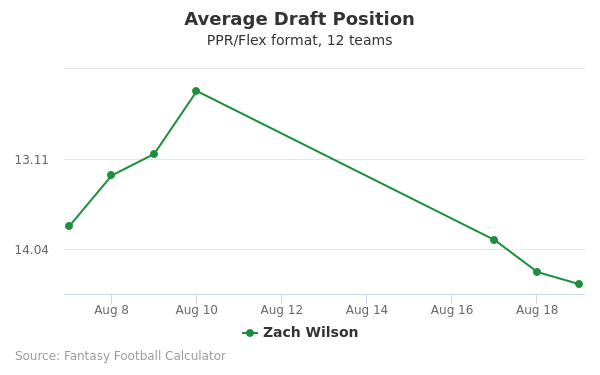 Tevin Coleman
Tevin Coleman's current ADP is 13.10, which is the 10th pick of the 13th round, and 154th selection overall.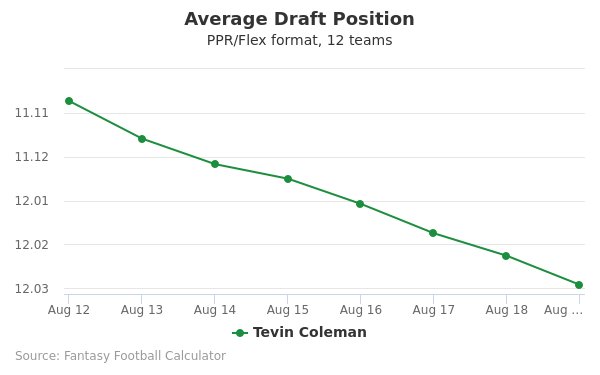 Denzel Mims
Denzel Mims's current ADP is 13.11, which is the 11th pick of the 13th round, and 155th selection overall.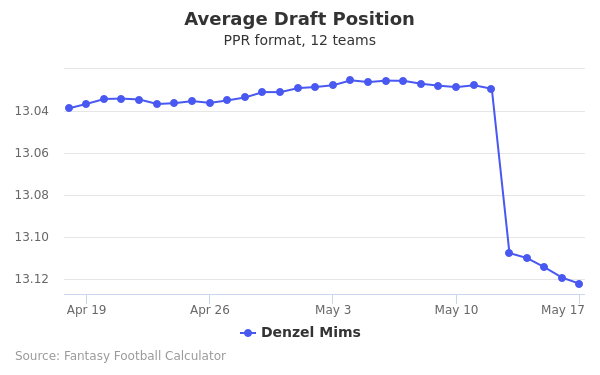 Lamical Perine
Lamical Perine's current ADP is 14.02, which is the 2nd pick of the 14th round, and 158th selection overall.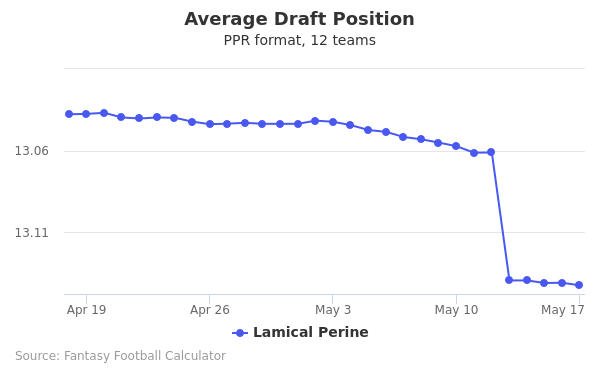 New York Jets 2020 Schedule
| Week | Home/Away | Opponent |
| --- | --- | --- |
| 1 | Away | Buffalo Bills |
| 2 | Home | San Francisco 49ers |
| 3 | Away | Indianapolis Colts |
| 4 | Home | Denver Broncos |
| 5 | Home | Arizona Cardinals |
| 6 | Away | Los Angeles Chargers |
| 7 | Home | Buffalo Bills |
| 8 | Away | Kansas City Chiefs |
| 9 | Home | New England Patriots |
| 10 | Away | Miami Dolphins |
| 12 | Home | Miami Dolphins |
| 13 | Home | Las Vegas Raiders |
| 14 | Away | Seattle Seahawks |
| 15 | Away | Los Angeles Rams |
| 16 | Home | Cleveland Browns |
| 17 | Away | New England Patriots |
| 6 | Away | Miami Dolphins |
| 11 | Away | Los Angeles Chargers |
New York Jets News
Lamical Perine, Could be odd man out
Perine (illness) could be the odd man out in the Jets' running back rotation this season, Connor Hughes of The Athletic reports.
Analysis: Perine lacks the speed and quick cutting ability coveted by new offensive coordinator Mike LaFleur, and the 2020 fourth-rounder's coming off a poor rookie season in which he produced just 3.6 yards per carry. New York once again used a fourth-round pick on a running back in 2021 to grab Michael Carter out of UNC, and the team also signed Tevin Coleman, who played for LaFleur in San Francisco. In order to maintain a roster spot in the crowded Jets backfield, Perine will have to beat out one or two of the aforementioned new additions or fellow holdovers Ty Johnson and Josh Adams, who both flashed more upside than Perine in limited action last season.
May 2, 2021 4:40 PM EST
---
Sam Darnold, Contract option picked up
The Panthers have picked up Darnold's fifth-year contract option, Joe Person of The Athletic reports.
Analysis: Per the report, the decision to do so guarantees Darnold $18.9 million in 2022, keeping him under team control for the next two seasons. Darnold, who the Panthers obtained from the Jets last month in exchange for second-, fourth- and sixth-round draft picks, thus appears locked in as the team's franchise signal-caller for the foreseeable future. That's a notion solidified by the team having dealt Teddy Bridgewater to Denver on Wednesday and then passing on taking a QB with the eighth overall pick in the first round of the NFL Draft on Thursday. Currently in the mix to back up Darnold are Will Grier, P.J. Walker and Tommy Stevens, but it's possible the team could bring in additional competition for the assignment.
April 30, 2021 9:33 AM EST
---
Jeff Smith, Inks tender with Jets
Smith (shoulder) signed his ERFA tender with the Jets on Monday, NFL reporter Aaron Wilson reports.
Analysis: Smith played a fairly consistent role in New York's offense early last season, but he saw his role completely dwindle down the stretch as the rest of the team's receiving corps got healthier. A shoulder injury also knocked him out early Week 17. He'll spend the offseason competing for a depth spot on the final roster.
April 19, 2021 3:47 PM EST
---
Sam Darnold, Dealt to Carolina
The Jets are trading Darnold to the Panthers.
Analysis: The Jets ended up with a pretty good haul, getting a 2021 sixth-round pick, a 2022 second-rounder and a 2022 fourth-rounder, per Adam Schefter of ESPN. A Teddy Bridgewater trade could be on deck, while the Panthers are planning to exercise the fifth-year option on Darnold's rookie contract, according to Jonathan Jones of CBS Sports.
April 5, 2021 1:26 PM EST
---
Denzel Mims, Facing snap competition
The Jets have added Corey Davis and Keelan Cole to a wideout group that returns Mims and Jamison Crowder, Connor Hughes of The Athletic reports.
Analysis: The Jets likely envision Davis, Crowder and Mims as their top three, in some order, with Cole then filling in as a high-end No. 4 who can be the top backup for multiple receiver spots. Mims was held back by hamstring injuries and a concussion during his rookie season, but as a recent second-round pick he should have every chance to lock down a starting job. He'll likely be catching his passes from a rookie QB, with the majority of mock drafts linking the Jets to BYU's Zach Wilson.
March 30, 2021 1:07 PM EST
---