In mid-March, the Patriots traded a first and third round pick to the Saints for Brandin Cooks and a fourth round pick. Which is surprising, because this is the Patriots after all. Usually they are the ones trading for picks, specifically second round picks.
The move is also a bit of a head-scratcher since the Patriots have their top three wide receivers returning in Julian Edelman, Chris Hogan and Malcolm Mitchell. Further complicating matters is that most of these players mirror each other. While they are all versatile that can play either in the slot or on the outside, it did not appear to be a need for the team.
That being said, what the Patriots saw was a game breaker who would open more inside for Edelman and their tight ends, and be another weapon in the increasing likely case that Gronkowski continues his injury trend.
Last year, Cooks posted 78 catches on 117 targets for 1,173 yards and 8 touchdowns. This was good for the 8th best WR point total in standard fantasy football leagues, and WR1 status. So the question is, does this move to the Patriots help, hurt, or keep Cooks' value the same?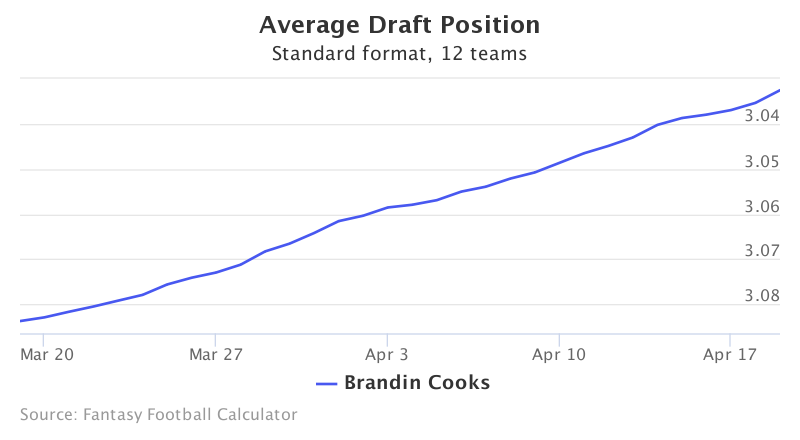 As you can see since the trade, his value has already begun to trend upward, even if it is only two spots of ADP. Let's call that the Patriots effect. This trend will most likely continue. But is that wise for a player going from first option to potentially third?
Generally, Cooks' ADP is correctly positioned. He will receive slightly less targets but enters into a more dangerous offense. His output should remain similar. The great impact will be on Julian Edelman and the Saints wide receivers. Edelman will not approach his 158 targets and should see a downgrade in production. For the Saints, Willie Snead and Michael Thomas receive a big boost with no major threat to the opening targets that Cooks leaves. Both should trend up draft boards heading into the spring.
---
Filed under: Free Articles