Today we will jump right in and review a recently completed 12-team PPR mock draft. Now is the time to complete mock drafts so you can see where current players are going compared to last year and watch how their ADP changes over the next few months with injuries, training camp, and other news unfolding.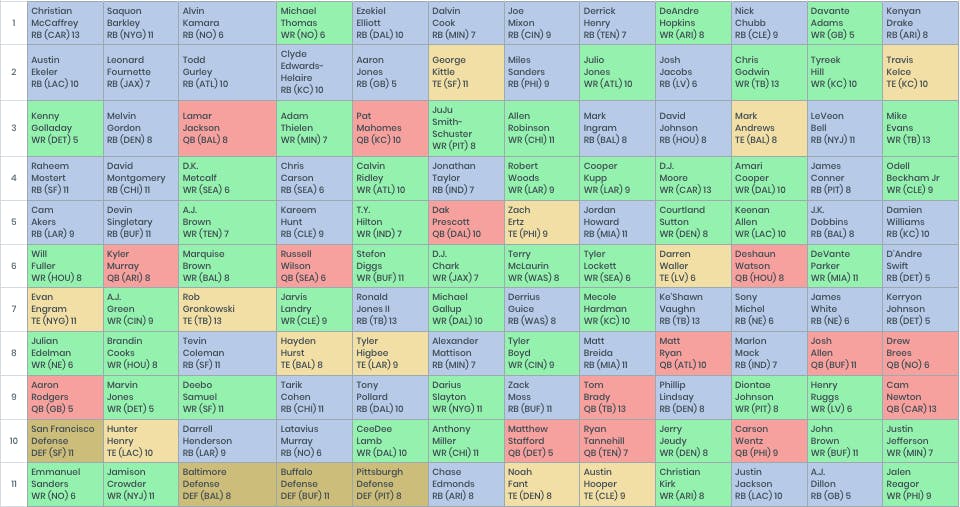 You can mock draft on your phone for free on iPhone and Android .
Round 1
Best Pick – Ezekiel Elliott - Pick 1.05
There really isn't too much to debate about this pick at the 1.05 position. Zeke is a bell-cow running back who contributes in the passing game, receives all of the goal-line work, and has a good offense around him. He's a threat to finish as the RB1 this season and any owner would jump at the chance to land him here.
Worst Pick – Kenyan Drake - Pick 1.12
When selecting my first-round pick, especially if it's a running back, I want to be confident that I can rely on this player to have a ton of carries, providing my team with a weekly floor with a high upside. Kenyan Drake, someone who has never been a featured back for an entire season, feels like an unnecessary risk at the back of the first round, as we're still not 100% how the Arizona backfield will unfold during the season. Teammate Chase Edmonds was rock-solid before a hamstring injury caused him to miss several games to end the season and I wouldn't be surprised if he ends up capping Drake's overall upside this year.
Round 2
Best Pick – Austin Ekeler – Pick 2.12
Austin Ekeler may have some normal "check down" targets taken away with Tyrod Taylor opting to escape the pocket instead, but this shouldn't take away from his value, especially in full PPR leagues. Ekeler is the go-to guy in the offense and will attempt to play the Christian McCaffrey role on his team. The Chargers will have their fair share of games they are trailing in and are not uncommon to playing in close games. Ekeler will be a vital piece of the offense and we've seen he can produce as the RB1 on his team. At the end of the second round, I'd be happy to have Ekeler make his way back to me to pair with the aforementioned McCaffrey.
Worst Pick – Josh Jacobs – PIck 2.04
In full PPR leagues, Jacobs is currently being overvalued. He ended the 2019 season with only 20 receptions and his season-high in receptions in a single game last season was three. Jacobs' production tailed off to end the season, and, while his carries were there, he was not scoring touchdowns. He finished as the RB21 in full-PPR leagues but his value remains much higher in standard or even half-PPR leagues. Passing on the next six running backs in this draft in favor of Jacobs is not something I would do in a full-PPR league.
Rounds 3 & 4
Best Pick – Mike Evans - Pick 3.12
With an ADP of late second / early third round, Mike Evans is a great pick here. Every year he's been consistent and now he's playing with the GOAT. Sure, Brady isn't one to just bomb it down the field, not caring about his TD-to-INT stats, but Brady will be able to put him in better positions to succeed while delivering a more accurate ball. Evans will have another productive year which may see him at a career-high in TDs even if he does receive fewer targets.
Worst Pick – Jonathan Taylor – Pick 4.07
Jonathan Talyor entered the NFL draft as one of the most talented RBs in this years' class, however, he finds himself as part of a crowded Indianapolis backfield. This complicates things, as we hope that "talent wins out" and he gets the nod, however, this sometimes takes a season to unfold. Someone I would have rather drafted in this spot is Cris Carson who has a proven track record of how he's used in a run-heavy offense.
Rounds 5 & 6
Best Pick – Stefon Diggs - Pick 6.08
Steffon Diggs enters the year as the Buffalo Bills' WR1 and the drop alleged drop in skill from Kirk Cousins to Josh Allen is being overblown. A good amount of people are confident that the Buffalo Bills will take the AFC East crown from the Patriots, and if they do this, they will need to win 10+ games. John Brown and Dawson Knox will receive a bunch of looks, but who else will catch the ball? Diggs is going to see well over 100 targets and the only question mark is the number of TDs he will be able to score. You may not want him to be your WR1 but he provides a very solid floor to be your WR2 with upside. In this draft, Diggs was selected as a WR3 and you would be very happy with this come draft day.
Worst Pick – Cam Akers - Pick 5.01
5.07 ADP. There is currently a five-round difference between where Cam Akers and Darrell Henderson are being drafted. We think we know what will happen in the Rams' backfield but ultimately, we will need to see how preseason (if we have one) ends up with snap counts and production. I'm not high on Darrell Henderson this season, but what it's not out of the realm of possibilities that it's a split backfield for at least half of the year. We've been high on rookie running backs before that haven't produced in year one or have just started to break out in the last few games of the season. I would take a chance on Akers in the 5th, but not before selecting Devin Singletary or Kareem Hunt this season.
Rounds 7 & 8
Best Pick – Michael Gallup - Pick 7.06
Undervalued in drafts right now. In playing just 14 games he managed to finish as the WR22 and is being drafted currently as the WR32. Adding CeeDee Lamb to the mix could affect Gallup's production, but Gallup was even outperforming Amari Cooper heading into the final stretch of the season. Gallup will pay off at his current ADP and this offense should produce a lot of fantasy success.
Worst Pick – Mecole Hardman - Pick 7.08
Mecole Hardman has a current ADP of 10.01 and was selected way too early in this draft. I can get behind the upside of Hardman in the KC offense, but with Hill, Kelce, Watkins, and CHE involved, Mecole will be hard-pressed to give you any consistency. Instead of picking Hardman here, Tyler Boyd, Julian Edelman, Brandin Cooks, and even Marvin Jones are options I would rather have. If you like Hardman and the upside he could bring this season, why not select him a round earlier than his ADP to ensure he's on your team.
Rounds 9-11
Best Pick – Jamison Crowder - Pick 11.02
Once again, Jamison Crowder is being undervalued. In full PPR leagues last season, Crowder finished as WR26, and he was drafted as the WR48 in this draft. Denzel Mims, Brashad Perriman, and Chris Herndon are the only "threats" to Crowder, but none of them are good enough to take away guaranteed targets he's likely to see once again. Last season Crowder saw around 7.6 targets per game and in the 10th/11th round, the value is still being underappreciated. The only question mark with Crowder this season is whether or not he can stay healthy again for a full 16 games.
Worst Pick – Deebo Samuel - Pick 9.03
After fracturing his foot a few weeks ago, Samuel's ADP has dropped, understandably. However, investing a 9th round pick on someone who may or may not be ready for the season opener is a risky proposition, especially when there are healthier options at WR available. If Deebo does return by the beginning of the season, just how healthy will he be? If Deebo drops father, sure, you can take a chance on him, but as your WR4 there's a ton of risk.
---
Filed under: Free Articles