2017 Review
After missing all but 5 games of the previous 3 seasons, Josh Gordon made his long awaited return to the gridiron in 2017 and barely missed a beat. During his 5 game return, he put up an average of 11.5 PPR fantasy points, good for 21st at the position, despite having to catch balls from DeShone Kizer. From his performances, it's clear that Gordon still has the chops to put up big numbers in the NFL.
ADP Update
Gordon is currently being drafted as the 11th wide receiver and3.06 overall in fantasy football ADP.Data is from 12-team standard mock drafts.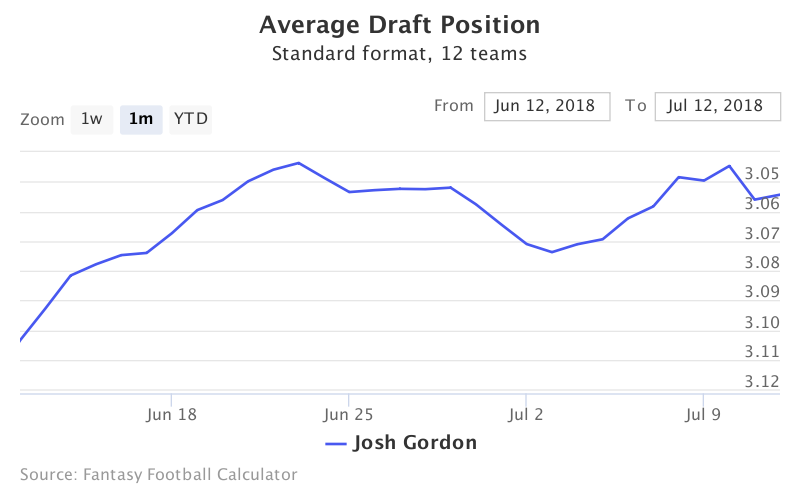 Gordon's ADP has been on a steady rise over the past month due to his upside and the lack of sexy options at the wide receiver position. Putting him in the top 12 is asking a lot from the Brown's passing offense, but I can see the appeal of a full season of Josh Gordon.
A full season in Cleveland for Gordon?
No one has ever questioned Josh Gordon's ability. Over his 40 game career, he averages almost 5 catches and 80 yards per game, with 15 touchdowns. Not to mention the 2013 proof of concept where he caught 87 balls for 1646 yards and 9 touchdowns, including two games with over 230 yards! Those are elite numbers.
When considering drafting Gordon, you are weighing two variables for 2018 production; the Cleveland Browns' offense and his ability to stay out of trouble.From the football prospective, things are looking up for the Browns' offense. Tyrod Taylor is a vast improvement over anyone throwing the ball for Cleveland last year, the offensive line is above average, and there are plenty of weapons. I don't think Gordon will be seeing his customary 9 targets a game, butthe myriad of skill players(Corey Coleman, Jarvis Landry, Duke Johnson, Nick Chubb, Carlos Hyde) will open up a lot more space for Gordon.
As for his ability to stay out of trouble, that is murkier. From all accounts, he has recommitted and stayed clean, but it's a risk that can't be ignored. Especially since this risk doesn't seem to be dampening his draft position.
Conclusion
Gordon's ADP of 3.06 and 11th overall at the position places him as a WR1 in 12 team standards leagues. That seems like a risky proposition for a player who has missed so much time.
Still Gordon is only 27, in his prime, and has an upgraded offense around him, making him a reasonable upside option in the third round. Just know that the downside risk is real and immense.
---
Filed under: Free Articles