Wide receivers are critical in fantasy football.
A good fantasy roster is deep in pass catching talent, especially in PPR leagues.
These 5 players are the latest ones in the news.
Use this information to help start the right players, monitor the waiver wire and identify trade targets.
N'Keal Harry WR (NE)
N'Keal Harry Dressed for practice: Harry (leg) was seen on the field for the start of Wednesday's practice, Mike Reiss of ESPN.com reports.
Our take: Harry had his workload lightened during Tuesday's practice after having his right left checked out by the team trainers. It is worth noting that it is not a fully padded practice for the Patriots on Wednesday, as players are in shorts and light shoulder pads, but it definitely is an encouraging sign for Harry, especially if he is able to put in a full days' work.
It's possible to track the change in N'Keal Harry's fantasy value over time by looking at where he's drafted. According to the latest PPR average draft position data, he's being drafted in at the 9.10 spot.
How much this impacts Harry remains to be seen.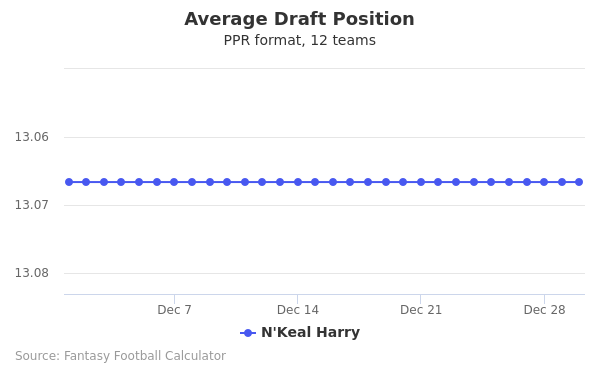 Tyreek Hill WR (KC)
Tyreek Hill Returns to practice: Hill (quadriceps) was on the field Wednesday for the start of the Chiefs' practice, Brooke Pryor of The Kansas City Star reports.
Our take: Hill first bruised his right quad in a July 30 camp session and has had his workload limited ever since. His presence on the field Wednesday is an encouraging sign, but the Chiefs may opt to limit his reps and exposure to contact to guard against a potential setback. Based on his limited activity in camp to date, Hill seems unlikely to suit up in Saturday's preseason opener versus the Bengals.
The fantasy value of Tyreek Hill is measured by his average draft position (ADP). The graph below shows how it's trending in the latest mock drafts . In recent drafts, Hill's current ADP is 2.01
How much this impacts Hill remains to be seen.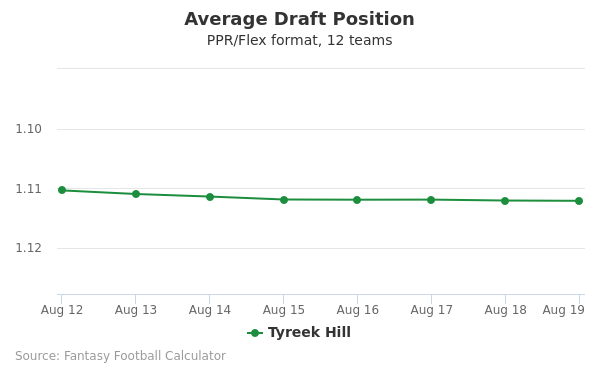 D.K. Metcalf WR (SEA)
D.K. Metcalf Should be ready for Thursday's game: Metcalf (oblique) participated in Tuesday's scrimmage without limitations and is expected to play in Thursday's preseason game versus the Broncos, Bob Condotta of the Seattle Times reports.
Our take: Metcalf strained his oblique in practice last week and was limited to individual drills until Tuesday's team scrimmage when he worked at full speed. The rookie second-round pick made contested catches against the Seahawks' first-team secondary during the scrimmage, proving he should be ready to showcase his skills against the Broncos. Fantasy owners should be interested in Metcalf's NFL debut, considering his athleticism and build give him a ceiling of Calvin Johnson. However, the questions marks about his route-running give him a more modest projection.
Up until now, D.K. Metcalf has been drafted at the 10.01 in PPR leagues.
Watch out to see if Metcalf's value changes in light of this update.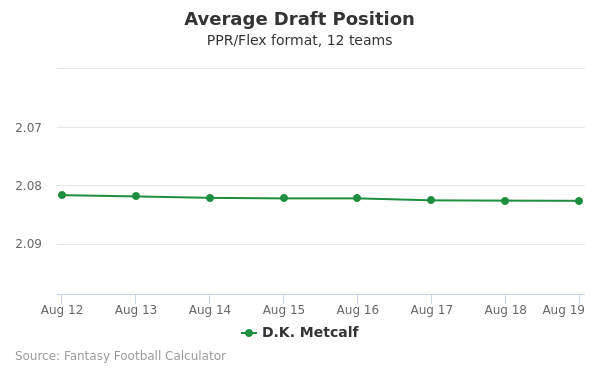 Deon Cain WR (IND)
Deon Cain Set to play Thursday: Cain, who is coming back from a torn ACL in August 2018, will play in Thursday's preseason game at Buffalo, head coach Frank Reich told 1070 am Indianapolis.
Fantasy impact: The 2018 sixth-round pick has been at full speed in practice and will play his first preseason game after missing all of last season. Cain may not be full speed until midway through the 2019 campaign as he comes back from the injry. However, he's a player to watch as he could eventually contend for a regular role amid a deep receiving corps.
Cain isn't currently being drafted in fantasy drafts right now.
Robert Davis WR (WAS)
Robert Davis Showing off in camp: Davis (knee/leg) hauled in a deep pass on a go route from rookie quarterback Dwayne Haskins on Tuesday, Rhiannon Walker of The Athletic reports.
Fantasy impact: Perhaps more impressive than the catch in double coverage was Davis' ability to make the play in the first place. Basically one year removed from tearing three major ligaments (ACL, PCL and LCL) in his right knee and fracturing his tibia during a training camp practice, he nonetheless avoided the PUP list this summer and doesn't seem to be limited. His first in-game chance to begin his march up the depth chart is Thursday in Cleveland.
Davis isn't currently being drafted in fantasy drafts right now.
News and analysis powered by RotoWire.
---
Filed under: Free Articles