Wide receivers are critical in fantasy football.
A good fantasy roster is deep in pass catching talent, especially in PPR leagues.
These 5 players are the latest ones in the news.
Use this information to help start the right players, monitor the waiver wire and identify trade targets.
Dante Pettis WR (SF)
Dante Pettis Still has Shanahan's confidence: Coach Kyle Shanahan said he's been critical of Pettis (groin) because he believes the wide receiver is talented enough to become the best player on the 49ers, Eric Branch of The San Francisco Chronicle reports. "[Pettis] can be our best player on this team," Shanahan said. "He can be our No. 1 receiver, our No. 2 receiver, our slot receiver, or just a role receiver. And he's shown that he can do all of that, but he hasn't shown it consistently enough so that we know exactly where to put him."
What it means: Shanahan clarified that his uncertainty involves the exact nature of Pettis' role, not whether the 23-year-old will be an important part of the team. Pettis got the start and took regular snaps with the first-team offense in Saturday's preseason win over Kansas City, but he also stayed in the game until early in the fourth quarter, long after Jimmy Garoppolo, Marquise Goodwin , Tevin Coleman and Matt Breida had been removed. Now dealing with a minor groin injury, Pettis acknowledged Monday that the criticism from Shanahan is valid, noting that he needs to improve his route running and sense of urgency. Health permitting, Pettis should be a big part of the gameplan for Week 1 at Tampa Bay, though his role may suffer if he struggles early. The 49ers hope solid depth will make up for their lack of a clear No. 1 wideout, with Goodwin and Pettis joined by Deebo Samuel, Trent Taylor (foot), Kendrick Bourne, Jordan Matthews, Richie James and Jalen Hurd (back).
It's possible to track the change in Dante Pettis's fantasy value over time by looking at where he's drafted. According to the latest PPR average draft position data, he's being drafted in at the 9.08 spot.
Keep an eye out on his value going forward.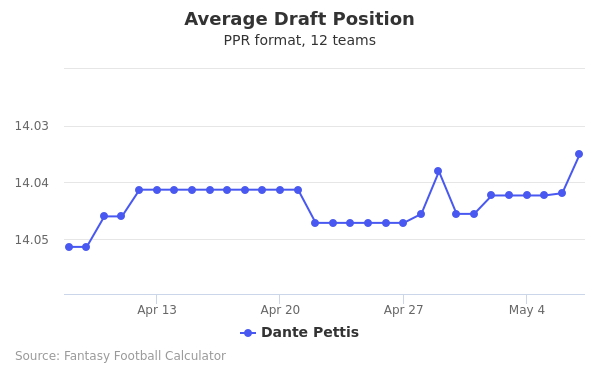 Deandre Carter WR (HOU)
Deandre Carter Primary replacement for Coutee: With news the Keke Coutee (ankle) may not be ready for Week 1, Carter stands as the primary beneficiary of playing time, Aaron Wilson of the Houston Chronicle reports.
Fantasy impact: Texans head coach Bill O'Brien said he was "not hopeful" that Coutee will be available Sept. 9 against New Orleans. Carter helped fill in for Coutee in 2018, catching 20 passes over seven games after the Texans claimed him mid-season.
Carter isn't currently being drafted in fantasy drafts right now.
Jalen Hurd WR (SF)
Jalen Hurd Absence continues: Coach Kyle Shanahan said Tuesday that Hurd (back) will be re-assessed next week, and won't play in the preseason finale Thursday against the Chargers, Nick Wagoner of ESPN.com reports.
What it means: This is certainly not a good time to have a set back, as the rookie's status for Week 1 is quite uncertain ahead of the regular season. It will be the third straight preseason game missed for Hurd, and it seems the team is prioritizing his long-term health while he deals with back tightness. The 49ers are dealing with a slew of injuries to their receiving corps, so it will likely be depth receivers that will be called to action for Thursday's tilt.
Hurd isn't currently being drafted in fantasy drafts right now.
Trent Taylor WR (SF)
Trent Taylor Week 1 status in doubt: Coach Kyle Shanahan said Tuesday that it's "highly unlikely" that Taylor (foot) will be ready for Week 1, Matt Maiocco of NBC Sports Bay Area reports.
What it means: Taylor was spotted in a walking boot following surgery to repair a Jones fracture in his pinky toe last week. The original recovery timeline was placed at 4-to-6 weeks, which gives him an outside chance for the start of the regular season. If the veteran can't suit up, duties would hand off to Deebo Samuel or Jordan Matthews in three-wide sets.
Taylor isn't currently being drafted in fantasy drafts right now.
Antonio Brown WR (OAK)
Antonio Brown Good grasp of offense: Brown, who has been a full practice participant of late, has displayed "good retention" of the Raiders offense despite having previously missed time due to a foot problem and then issues with his helmet, Scott Bair of NBC Sports California reports.
What it means: The report notes that the wideout has returned to the field in great shape, and now that he's back into a daily routine with the team, coach Jon Gruden sounds confident that Brown will be a nice addition to the Raiders' passing game. "He's a good player," Gruden noted. "He'll be great." With the team's starters not in line to play in Thursday's preseason finale against the Seahawks, Brown's first game action with his new team is slated to occur in Week 1 against the Broncos.
Up until now, Antonio Brown has been drafted at the 2.09 in PPR leagues.
Watch out to see if Brown's value changes in light of this update.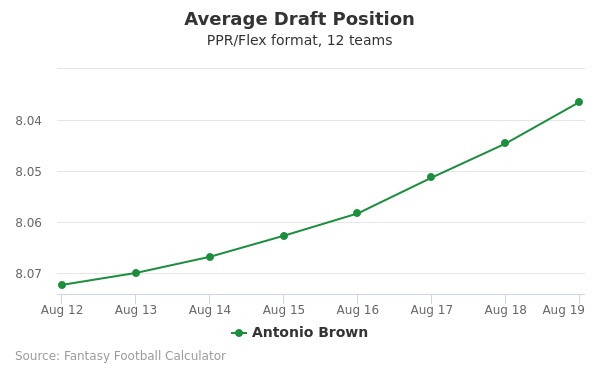 News and analysis powered by RotoWire.
---
Filed under: Free Articles