Wide receivers are critical in fantasy football.
A good fantasy roster is deep in pass catching talent, especially in PPR leagues.
These 2 players are the latest ones in the news.
Use this information to help start the right players, monitor the waiver wire and identify trade targets.
Josh Gordon WR (FA)
Josh Gordon Hopes for training camp return: Gordon (suspension) hopes to be reinstated by training camp, Ben Arthur of SeattlePI reports.
Our take: Gordon is currently serving his sixth career suspension in the form of an indefinite ban for violating the league's performance-enhancing substances and substances of abuse policy Dec. 16. Currently a free agent, Gordon hauled in 27 passes for 426 yards and one score across 11 combined games with the Seahawks and Patriots in 2019, and he previously served as a key contributor in New England's aerial attack in 2018 while averaging 18.0 yards per catch. The 29-year-old still offers intriguing field-stretching abilities, and earning reinstatement in time to participate in training camps would likely increase his chances of getting a shot with a new club, but he'll first need to convince league officials that he's made tangible progress off the field.
It's possible to track the change in Josh Gordon's fantasy value over time by looking at where he's drafted. According to the latest PPR average draft position data, he's being drafted in at the spot.
Keep an eye out on his value going forward.
Jarvis Landry WR (CLE)
Jarvis Landry Expects to retake field in August: Landry (hip) indicated Wednesday that he's slightly ahead of schedule in his recovery and anticipates returning to the field in August, Scott Petrak of the Elyria Chronicle-Telegram reports.
Our take: Landry admitted that it's been more challenging in his rehab efforts due to the COVID-19 pandemic that has prevented him from accessing certain resources but suggested it's going well overall. Barring a setback down the road, the seventh-year wideout appears to be on track to return to action before the Browns travel to Baltimore for Week 1 of the regular season.
The fantasy value of Jarvis Landry is measured by his average draft position (ADP). The graph below shows how it's trending in the latest mock drafts . In recent drafts, Landry's current ADP is 7.02
Watch out to see if Landry's value changes in light of this update.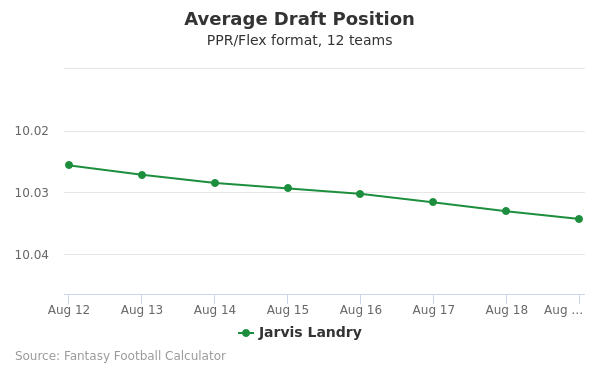 News and analysis powered by RotoWire.
---
Filed under: Free Articles