Steelers Top Fantasy Players
These are the top fantasy football players of the Pittsburgh Steelers as ranked by Average Draft Position (ADP) in PPR-format mock drafts.
Data as of June 3, 2023.
Najee Harris
Najee Harris's current ADP is 2.04, which is the 4th pick of the 2nd round, and 16th selection overall.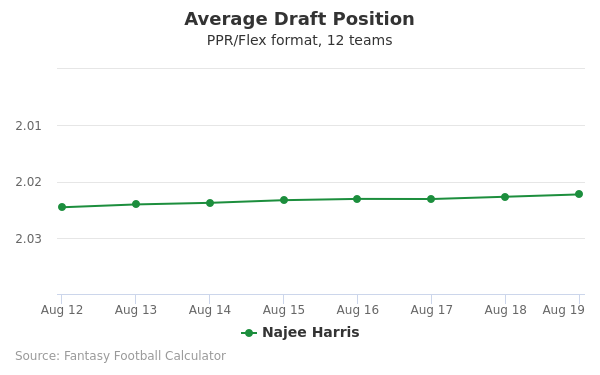 Pat Freiermuth
Pat Freiermuth's current ADP is 7.11, which is the 11th pick of the 7th round, and 82nd selection overall.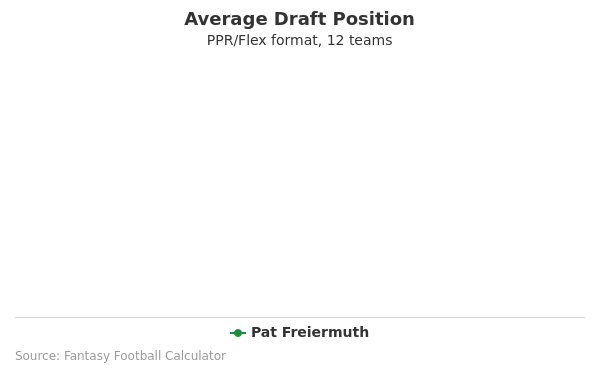 George Pickens
George Pickens's current ADP is 8.10, which is the 10th pick of the 8th round, and 93rd selection overall.
Pittsburgh Steelers 2020 Schedule
| Week | Home/Away | Opponent |
| --- | --- | --- |
| 1 | Away | New York Giants |
| 2 | Home | Denver Broncos |
| 3 | Home | Houston Texans |
| 4 | Away | Tennessee Titans |
| 5 | Home | Philadelphia Eagles |
| 6 | Home | Cleveland Browns |
| 7 | Away | Baltimore Ravens |
| 9 | Away | Dallas Cowboys |
| 10 | Home | Cincinnati Bengals |
| 11 | Away | Jacksonville Jaguars |
| 12 | Home | Baltimore Ravens |
| 13 | Home | Washington Redskins |
| 14 | Away | Buffalo Bills |
| 15 | Away | Cincinnati Bengals |
| 16 | Home | Indianapolis Colts |
| 17 | Away | Cleveland Browns |
| 7 | Away | Tennessee Titans |
| 8 | Away | Baltimore Ravens |
Pittsburgh Steelers News
Jesse James, Joins New Orleans
The Saints signed James (biceps) on Wednesday, Katherine Terrell of ESPN.com reports.
Analysis: James signed a one-year deal with the Browns last year but appeared in just two games before suffering a season-ending biceps injury. Given he passed a physical before signing his contract with New Orleans, the veteran tight end appears to be healthy heading into 2023 and will look to make the Saints' Week 1 roster. During a three-year stretch in Pittsburgh, the 2015 fifth-round pick caught 112 passes for 1,133 yards and eight touchdowns, but he's failed to replicate that production in each of his last three stops (Detroit, Chicago, Cleveland).
May 31, 2023 2:49 PM EST
---
Chase Claypool, Not practicing
Claypool is being held out of practice with a soft tissue injury, WCSR's Mark Grogte reports.
Analysis: His absence from a few spring practices shouldn't matter so long as Claypool is healthy for training camp this summer. He looks to be third on the depth chart behind DJ Moore and Darnell Mooney (ankle), the latter of whom has also been absent from spring practices. Claypool didn't do much after coming over from Pittsburgh in a trade last fall and now enters his contract year in a suboptimal situation for putting up numbers.
May 31, 2023 11:42 AM EST
---
Pat Freiermuth, Practicing this offseason
Freiermuth (knee) has been practicing during OTAs this offseason, Brian Batko of the Pittsburgh Post-Gazette reports.
Analysis: Freiermuth sustained a knee sprain during the Steelers' regular-season finale in January, but he appears to be back to full health now that the team has begun offseason activities. The 24-year-old enters the 2023 campaign as Pittsburgh's clear No. 1 tight end after securing 63 of 98 targets for 732 yards and two touchdowns last season.
May 31, 2023 10:41 AM EST
---
Mason Rudolph, Heads back to Pittsburgh
The Steelers re-signed Rudolph to a one-year contract Monday, Mark Kaboly of The Athletic reports.
Analysis: A 2018 third-round pick, Rudolph heads back to Pittsburgh after making 10 starts in four years with the team. He sports a career 61.5 percent completion rate with 16 touchdowns and 11 interceptions. Rudolph will try to push Mitch Trubisky for backup duties behind Kenny Pickett.
May 15, 2023 7:19 PM EST
---
Mason Rudolph, Visiting with Pittsburgh
Rudolph is visiting the Steelers on Tuesday and could be re-signed, Jeremy Fowler of ESPN.com reports.
Analysis: The Steelers selected Rudolph in the third round of the 2018 Draft, and he appeared in 17 games over his first three seasons, completing 61.5 percent of his passes for 2,366 yards and a 16:11 TD:INT. The 27-year-old spent the 2022 campaign as Pittsburgh's No. 3 QB and dressed for one game but didn't record any snaps. If he re-signs, Rudolph figures to compete with undrafted rookie Tanner Morgan for a similar role behind Kenny Pickett and Mitch Trubisky.
May 15, 2023 3:17 PM EST
---