Steelers Top Fantasy Players
These are the top fantasy football players of the Pittsburgh Steelers as ranked by Average Draft Position (ADP) in PPR-format mock drafts.
Data as of June 24, 2022.
Najee Harris
Najee Harris's current ADP is 1.05, which is the 5th pick of the 1st round, and 4th selection overall.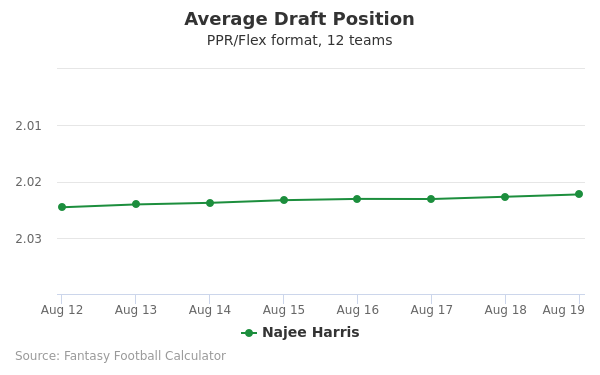 Diontae Johnson
Diontae Johnson's current ADP is 4.01, which is the 1st pick of the 4th round, and 37th selection overall.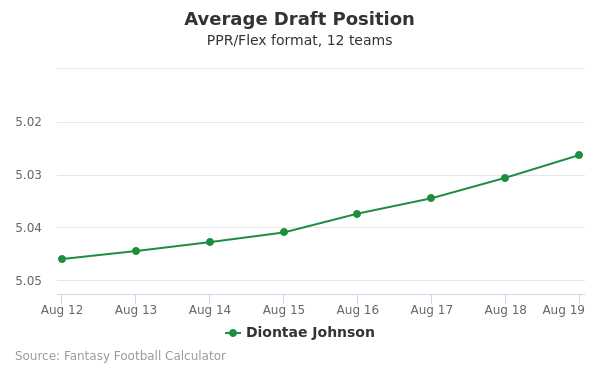 Pat Freiermuth
Pat Freiermuth's current ADP is 8.07, which is the 7th pick of the 8th round, and 91st selection overall.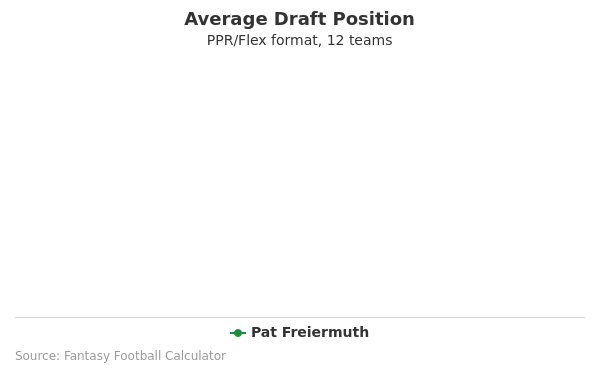 Chase Claypool
Chase Claypool's current ADP is 9.04, which is the 4th pick of the 9th round, and 99th selection overall.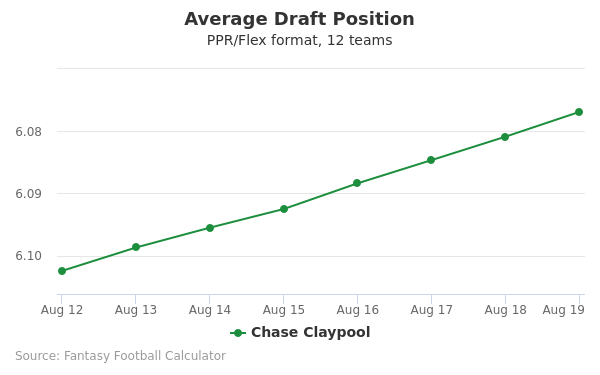 Pittsburgh Defense
Pittsburgh Defense's current ADP is 13.08, which is the 8th pick of the 13th round, and 152nd selection overall.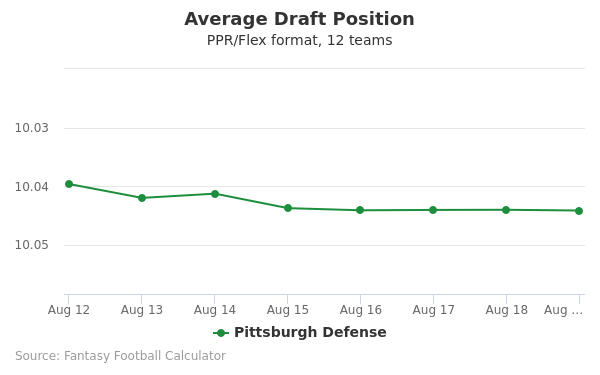 Kenny Pickett
Kenny Pickett's current ADP is 14.09, which is the 9th pick of the 14th round, and 165th selection overall.
Pittsburgh Steelers 2020 Schedule
| Week | Home/Away | Opponent |
| --- | --- | --- |
| 1 | Away | New York Giants |
| 2 | Home | Denver Broncos |
| 3 | Home | Houston Texans |
| 4 | Away | Tennessee Titans |
| 5 | Home | Philadelphia Eagles |
| 6 | Home | Cleveland Browns |
| 7 | Away | Baltimore Ravens |
| 9 | Away | Dallas Cowboys |
| 10 | Home | Cincinnati Bengals |
| 11 | Away | Jacksonville Jaguars |
| 12 | Home | Baltimore Ravens |
| 13 | Home | Washington Redskins |
| 14 | Away | Buffalo Bills |
| 15 | Away | Cincinnati Bengals |
| 16 | Home | Indianapolis Colts |
| 17 | Away | Cleveland Browns |
| 7 | Away | Tennessee Titans |
| 8 | Away | Baltimore Ravens |
Pittsburgh Steelers News
James Washington, Says he'll be ok for training camp
A sore foot tendon prevented Washington from participating in June minicamp, but he's confident he'll be ready for the start of training camp, Mickey Spagnola of DallasCowboys.com reports.
Analysis: Washington also missed OTAs with the previously undisclosed injury, and at one point in late May he was spotted with a protective boot over his foot. He said at the time he'd be ready for June minicamp, and while that didn't come to fruition, he'll now have a month and a half to prepare for training camp. Fellow wideouts CeeDee Lamb (undisclosed) and Michael Gallup (torn ACL) also missed June minicamp, with Gallup being the Week 1 concern among the bunch as he continues his rehab from early February surgery.
June 17, 2022 8:26 AM EST
---
James Washington, Works on the side Thursday
Washington, who sported a walking boot last week, did some resistance cord work off to the side Thursday, Jon Machotaof The Athletic reports.
Analysis: While the specifics of Washington's injury are unclear, the wideout did at least shed his walking boot Thursday, which suggests that the issue he's dealing with is not a long-term concern. Once Washington is able to practice fully, he's in line to compete with third-round pick Jalen Tolbert for snaps behind CeeDee Lamb, which will be a situation to monitor, given that fellow wideout Michael Gallup is working his way back from a torn ACL suffered Week 17 of last season.
June 3, 2022 2:38 PM EST
---
Jaylen Samuels, Let go by Cardinals
Samuels was waived by Arizona on Tuesday.
Analysis: This move comes immediately after the Cardinals officially announced the signing of running back Darrel Williams. Samuels signed a reserve/future contract with Arizona in January after playing just 16 offensive snaps over three games with the Texans in 2021. His five carries for nine rushing yards last season were also both career lows for the fifth-year running back.
May 31, 2022 3:58 PM EST
---
James Washington, Spotted with boot over foot
Washington has been wearing a protective boot over his foot but thinks he'll be okay for mandatory minicamp in mid-June, Calvin Watkins of The Dallas Morning News reports.
Analysis: The free-agent acquisition is expected to compete for snaps behind CeeDee Lamb, with regular playing time potentially available for both Washington and third-round pick Jalen Tolbert if Michael Gallup (torn ACL) isn't ready for Week 1. It isn't a great sign that Washington is now dealing with an injury of his own, though he doesn't believe it'll be a long- term issue. The 2018 second-round pick missed five games in his four years with the Steelers, but despite staying mostly healthy he never built on his 735-yard sophomore effort, instead sinking to 392 yards in 2020 and 285 yards last season.
May 25, 2022 12:40 PM EST
---
Matthew Wright, Let go Wednesday
Wright was released by the Jaguars on Wednesday, John Reid of The Florida Times-Union reports.
Analysis: Wright's release comes after a season in which he appeared in 14 contests for Jacksonville, making 21 of 24 field-goal attempts, for an 88 percent conversion rate. The second-year pro took over for the released Josh Lambo in Week 4 last season, and never relinquished kicker duties. It would now appear that Ryan Santoso, who was signed in March after spending time with the Panthers and Lions last season, as well as undrafted free agent Andrew Mevis, will compete for Kicker duties for the Jags.
May 11, 2022 1:46 PM EST
---