Alexander Mattison
Minnesota Vikings
Running Back #22
Minnesota Vikings
Running Back #22
iconsportswire.com
Personal
| | |
| --- | --- |
| Age | |
| Birthdate | None |
| Height | 5'11" |
| Weight | 221 lb |
Draft
College
Boise State
Year
2019
Pick
Round: 3, Overall: 102
Team
MIN
Fantasy Value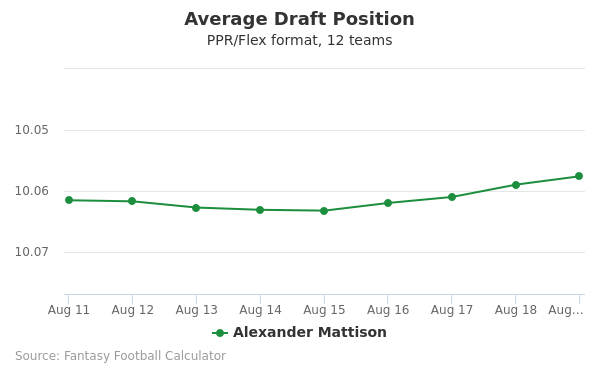 The code below will display a graph that updates every day to show the ADP data for Alexander Mattison for the past 30 days in 12-team PPR leagues.
You may use this graph on your website for free with a link back to this page for attribution.
Player News
Alexander Mattison: Scores twice in finale
Mattison rushed 10 times for 54 yards and two touchdowns in Sunday's 29-13 win over the Bears.
Analysis: Mattison's season-best performance included a pair of one-yard touchdowns. With Minnesota opting to rest its starters during the second half, Mattison filled Dalvin Cook's lead tailback role. Once the Vikings take the field in the playoffs, however, Mattison should return to his usual backup job.
Jan. 8, 2023 1:49 PM EST
Player Stats
YEAR
TM
GM
Rushing
Receiving
ATT
YDS
YPC
TD
FUM
REC
TGT
%
YDS
TD
YPC
2019
MIN
16
100
462
4.6
1
1
10
12
83.3
82
0
8.2
2020
MIN
16
96
434
4.5
2
0
13
15
86.7
125
1
9.6
Recent Articles
Make sure you keep up with the news as teams announce who is sitting/starting, but you should still use up any remaining FAAB to grab...
Read more »
January 3, 2023. Premium
I spent some time mock drafting in a 12-team Non-PPR (Standard) league and I had the 5th spot.  Here is a look at the finished draft. ...
Read more »
August 5, 2022. Premium
Not much to write about this week, except that COVID is starting to really run rampant in the NFL right in time for your fantasy...
Read more »
December 14, 2021. Premium
December 14, 2021
Premium
Who Should You Start?
Who Should You Draft?