Chase Claypool
Pittsburgh Steelers
Wide Receiver #11
Pittsburgh Steelers
Wide Receiver #11
Photo: Icon Sportswire
Personal
| | |
| --- | --- |
| Age | 23 |
| Birthdate | July 7, 1998 |
| Height | 6'4" |
| Weight | 238 lb |
Draft
College
Notre Dame
Year
2020
Pick
Round: 2, Overall: 49
Team
PIT
Fantasy Value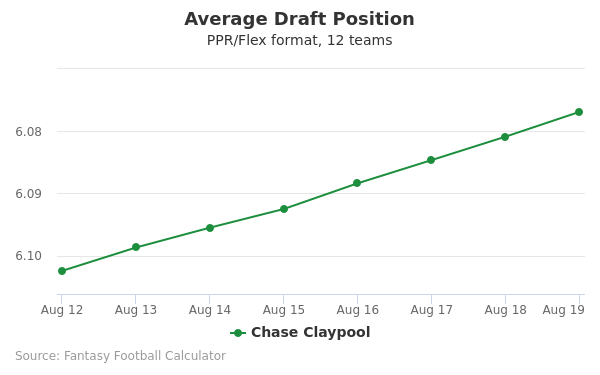 The code below will display a graph that updates every day to show the ADP data for Chase Claypool for the past 30 days in 12-team PPR leagues.
You may use this graph on your website for free with a link back to this page for attribution.
Player News
Chase Claypool: Ends rookie year with two more TDs
Claypool had five receptions for 59 yards and two touchdowns in Sunday's 48-37 loss to Cleveland.
Analysis: The Steelers were unable to take care of business against a fierce division rival, but Claypool was able to reward those still relying on him in alternate and DFS formats with another multi-score game. The 2020 second-round pick exploded onto the scene with a seven-catch, 110-yard performance to go along with three touchdowns way back in Week 5 of the regular season. The Notre Dame product earned a regular rotation spot in the Steelers' deep receiver corps, finishing his rookie campaign with 62 receptions for 873 yards and nine touchdowns, also adding two more scores on 10 rushing attempts. Claypool checks in a 6-foot-4 and 238 pounds, making him an ideal starting wideout when factoring in the athleticism he displayed in just his first taste of pro action. With Juju Smith-Schuster set to become an unrestricted free agent this upcoming offseason, Claypool is in a prime position to split starting duties with Dionte Johnson and form a dynamic fantasy duo. Even if Smith-Schuster sticks around, he is likely to occupy the slot and let Claypool continue to see regular playing time lined up on the outside. The 22-year-old's stock will trend upwards heading into next year's draft so long as Ben Roethlisberger continues to stave off retirement.
Jan. 11, 2021 2:15 AM EST
Player Stats
YEAR
TM
GM
Receiving
Rushing
REC
TGT
%
YDS
TD
YPC
ATT
YDS
YPC
TD
FUM
2020
PIT
16
62
109
56.9
873
9
14.1
10
16
1.6
2
1
Recent Articles
With the 2020 fantasy season finishing, many players deserve recognition for their performance in a season unlike any other. Between...
Read more »
January 7, 2021. Premium
As we do every week, we saw players who had their dynasty outlook trend upwards and others who are not automatic starts and are matchup...
Read more »
November 24, 2020. Premium
November 24, 2020
Premium
Hopefully, you don't mind a new opinion in our weekly DraftKing article, and you probably won't mind too much if you've been losing...
Read more »
November 20, 2020. Premium
November 20, 2020
Premium
Who Should You Start?
Who Should You Draft?