Cole Beasley
Buffalo Bills
Wide Receiver #11
Buffalo Bills
Wide Receiver #11
Photo: Icon Sportswire
Personal
| | |
| --- | --- |
| Age | 32 |
| Birthdate | April 26, 1989 |
| Height | 5'8" |
| Weight | 177 lb |
Draft
College
SMU
Year
2012
Pick
UDFA
Team
DAL FA
Fantasy Value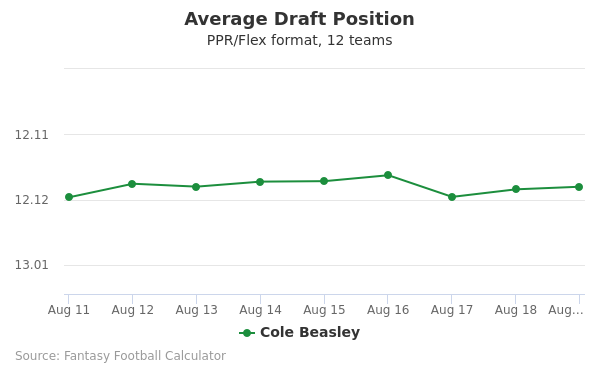 The code below will display a graph that updates every day to show the ADP data for Cole Beasley for the past 30 days in 12-team PPR leagues.
You may use this graph on your website for free with a link back to this page for attribution.
Player News
Cole Beasley: Plays through leg fracture
Beasley played through a fractured fibula during the playoffs, Michael Giardi of NFL Network reports.
Analysis: The Bills listed Beasley with a knee injury from Week 17 through the AFC Championship Game, never revealing any details. The slot receiver missed only one game (the regular-season finale) but said the injury bothered him during the first two rounds of the playoffs. Beasley felt better during the AFCCG loss to Kansas City, and he expects to have a normal offseason after catching seven passes in his final appearance of the campaign. The 31-year-old should be safe in Buffalo for the third season of his four-year, $29 million contract, considering he finished 2020 with career highs for catches (82), receiving yards (967), targets (107), yards per catch (11.8) and yards per target (9.0) and catch rate (76.6 percent).
Jan. 25, 2021 11:18 AM EST
Player Stats
YEAR
TM
GM
Receiving
Rushing
REC
TGT
%
YDS
TD
YPC
ATT
YDS
YPC
TD
FUM
Recent Articles
We are down to just 4 teams, and Kansas City may have been dealt a huge blow with the concussion to Patrick Mahomes.  So far he is...
Read more »
January 22, 2021. Premium
NFL Conference Championship Week is upon us where if you win, you're in the Super Bowl. We have a pair of Hall of Fame QBs battling it...
Read more »
January 20, 2021. Premium
Week 2 of the playoffs features some of the best defenses in the NFL, so there will be a lot fewer high scoring games and more defensive...
Read more »
January 15, 2021. Premium
Who Should You Start?
Who Should You Draft?