Dallas Goedert
Philadelphia Eagles
Tight End #88
Philadelphia Eagles
Tight End #88
iconsportswire.com
Personal
| | |
| --- | --- |
| Age | 28 |
| Birthdate | January 3, 1995 |
| Height | 6'5" |
| Weight | 256 lb |
Draft
College
South Dakota State
Year
2018
Pick
Round: 2, Overall: 49
Team
PHI
Fantasy Value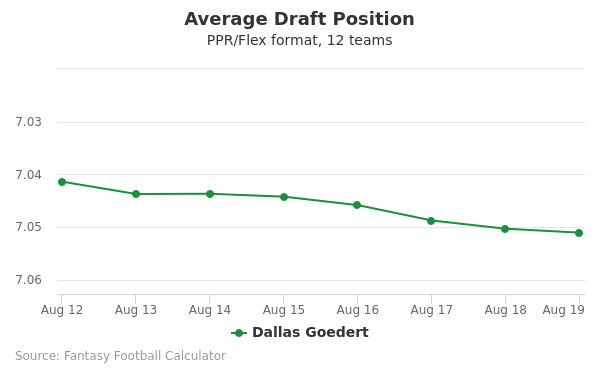 The code below will display a graph that updates every day to show the ADP data for Dallas Goedert for the past 30 days in 12-team PPR leagues.
You may use this graph on your website for free with a link back to this page for attribution.
Player News
Dallas Goedert: Focused on improving routes
Goedert has been spending more time with the Eagles wide receivers this spring to work on his routes and releases, Dave Zangaro of NBC Sports reports.
Analysis: The tight end said he started spending more time with the WRs last season and has continued with it during/after spring workouts. Goedert caught 79.7 percent of his targets last year and had career highs for catches and yards per game -- 4.6 for 58.5 -- but he missed five straight weeks with a shoulder injury and finished at 55/702/3, down from 56/830/4 in 15 games the year before. He could have a career year in 2023 without a significant increase in target share if the Philadelphia offense remains elite and Goedert simply has better luck with TDs and/or injuries. He remains the third option in the passing game, behind WRs A.J. Brown and DeVonta Smith and potentially facing a bit more competition for short passes following the trade for RB D'Andre Swift.
May. 23, 2023 7:58 AM EST
Player Stats
YEAR
TM
GM
Receiving
Rushing
REC
TGT
%
YDS
TD
YPC
ATT
YDS
YPC
TD
FUM
2018
PHI
16
33
44
75.0
334
4
10.1
0
0
0
0
0
2019
PHI
16
58
87
66.7
607
5
10.5
0
0
0
0
2
2020
PHI
12
46
65
70.8
524
3
11.4
0
0
0
0
0
Recent Articles
Your DraftKings GPP Picks for the NFL Championship Weekend
Read more »
April 18, 2023. Premium
This weekend was a lot more boring than last weekend, but we still had some good games with fun finishes.  We also had a decent upset...
Read more »
April 18, 2023. Premium
Super Bowl LVII Preview & Prop Bets. This article will go over the most fantasy-relevant players from each team and you can use that as...
Read more »
April 18, 2023. Premium
Who Should You Start?
Who Should You Draft?