David Johnson
Houston Texans
Running Back #31
Houston Texans
Running Back #31
Photo: Icon Sportswire
Personal
| | |
| --- | --- |
| Age | 29 |
| Birthdate | December 16, 1991 |
| Height | 6'1" |
| Weight | 224 lb |
Draft
College
Northern Iowa
Year
2015
Pick
Round: 3, Overall: 86
Team
ARZ
Fantasy Value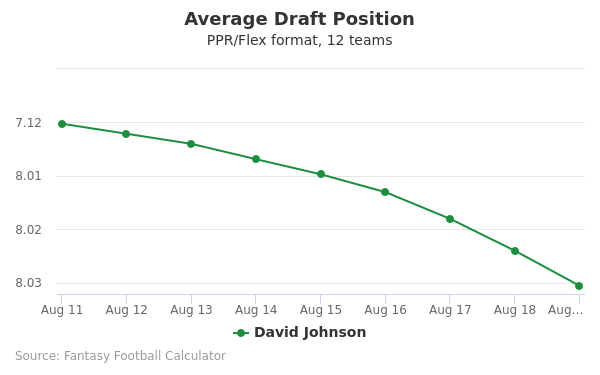 The code below will display a graph that updates every day to show the ADP data for David Johnson for the past 30 days in 12-team PPR leagues.
You may use this graph on your website for free with a link back to this page for attribution.
Player News
David Johnson: Agrees to reduce salary
Johnson has agreed to restructure his contract, which now will have $4.25 million guaranteed out of a potential $6 million in 2021 compensation, Adam Schefter of ESPN reports.
Analysis: Prior to the new arrangement, Johnson was scheduled for a $7.95 million base salary, including $2.1 million guaranteed. The first number goes down and the second up, with player and team reaching an agreement to keep Johnson in Houston for the final year of his lucrative contract. Now that that's settled, the Texans can figure out the rest of their roster, starting with the tumultuous Deshaun Watson situation. Johnson's team context will go from bad to worse if the Texans don't have the star QB under center.
Mar. 2, 2021 12:09 PM EST
Player Stats
YEAR
TM
GM
Rushing
Receiving
ATT
YDS
YPC
TD
FUM
REC
TGT
%
YDS
TD
YPC
Recent Articles
Week 14 went on without any weird hitches, which is a nice return to normal after a few weeks of schedule changes.  We did see a few...
Read more »
December 14, 2020. Premium
December 14, 2020
Premium
So far, injuries continue to overshadow the Covid-19 situation during the 2020 season. With a number of stars already out for the season...
Read more »
December 4, 2020. Premium
Not much to report on after Week 10 of the NFL.  We did see another round of COVID positives, injuries, and crazy finishes, but for the...
Read more »
November 16, 2020. Premium
November 16, 2020
Premium
Who Should You Start?
Who Should You Draft?