Deshaun Watson
Houston Texans
Quarterback #4
Houston Texans
Quarterback #4
Photo: Icon Sportswire
Personal
| | |
| --- | --- |
| Age | 25 |
| Birthdate | September 14, 1995 |
| Height | 6'2" |
| Weight | 221 lb |
Draft
College
Clemson
Year
2017
Pick
Round: 1, Overall: 12
Team
HOU
Fantasy Value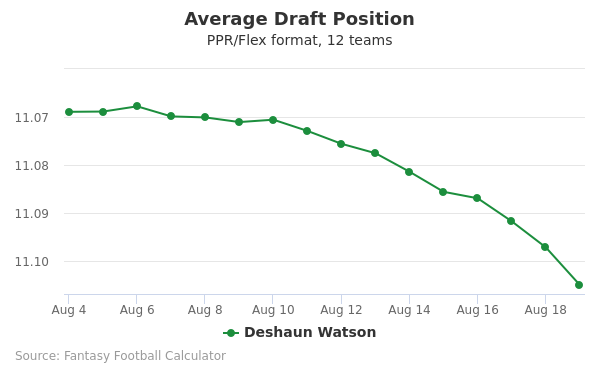 The code below will display a graph that updates every day to show the ADP data for Deshaun Watson for the past 30 days in 12-team PPR leagues.
You may use this graph on your website for free with a link back to this page for attribution.
Player News
Deshaun Watson: Facing new complaint
The Houston Police Department released a statement Friday regarding a report filed against Watson. "Today, a complainant filed a report with the Houston Police Department concerning Deshaun Watson. As with any allegation, the Houston Police Department is now conducting an investigation and will not comment further during the investigative process."
Analysis: In recent weeks, 21 civil lawsuits have been filed against Watson, alleging inappropriate conduct and sexual assault. The NFL opened an investigation into the matter on March 18, at which time the Texans noted they "still stay in close contact with the league as they do" but "do not anticipate making any additional statements until" it concludes, per NFL.com. After Friday's complaint, Watson's lawyer, Rusty Hardin, released a statement on behalf of Watson. According to Sarah Barshop of ESPN.com, "We welcome this long overdue development. Now we will learn the identity of at least one accuser. We will fully cooperate with the Houston Police Department." There appears to be no end in sight to Watson's situation as the legal system does its due diligence.
Apr. 2, 2021 3:47 PM EST
Player Stats
YEAR
TM
GM
Passing
Rushing
CMP
ATT
%
YDS
YPC
TD
INT
SACKS
ATT
YDS
YPC
TD
FUM
Recent Articles
With week 1 of the playoffs (for most of you) in the books, it's time now to focus on your next challenge.  That might mean you need to...
Read more »
December 15, 2020. Premium
December 15, 2020
Premium
This week there were a ton of late COVID-related absences which left fantasy managers scrambling to the waiver wire for last-second...
Read more »
December 1, 2020. Premium
Top picks for your Thanksgiving FanDuel slate. 
Read more »
November 26, 2020. Premium
November 26, 2020
Premium
Who Should You Start?
Who Should You Draft?