Harrison Butker
Kansas City Chiefs
Place Kicker #7
Kansas City Chiefs
Place Kicker #7
Photo: Icon Sportswire
Personal
| | |
| --- | --- |
| Age | 26 |
| Birthdate | July 14, 1995 |
| Height | 6'4" |
| Weight | 206 lb |
Draft
College
Georgia Tech
Year
2017
Pick
Round: 7, Overall: 233
Team
CAR
Fantasy Value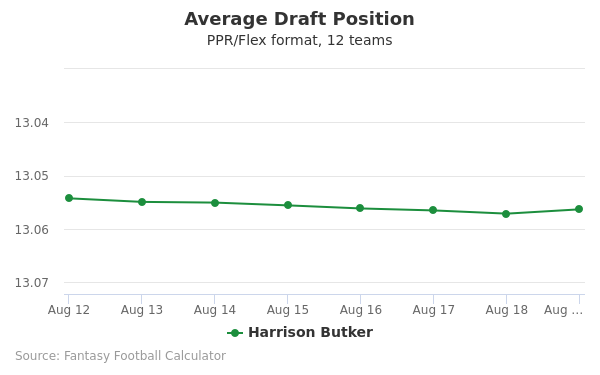 The code below will display a graph that updates every day to show the ADP data for Harrison Butker for the past 30 days in 12-team PPR leagues.
You may use this graph on your website for free with a link back to this page for attribution.
Player News
Harrison Butker: Another impressive kicking campaign
Butker closed out the regular season Saturday versus the Broncos hitting both of his field-goal tries and both of his extra-point attempts.
Analysis: Butker posted another fabulous campaign from a kicking standpoint in 2021, connecting on 89.3 percent of his field-goal attempts and all but two of his 49 extra-point attempts. His kicking volume hasn't been on quite the level it was earlier in his career, when he attempted 42 field goals in 2017 and 38 field goals in 2019, finishing out the year tied for 18th in makes (25) while finishing 21st in attempts (28). He did salvage some value by finishing fifth among kickers in extra-point conversions (47), which figures to be a big part of his equation behind a high-powered Chiefs offense.
Jan. 11, 2022 2:28 PM EST
Player Stats
YEAR
TM
GM
Kicking
FGM
FGA
FG%
EPM
EPA
EP%
2017
2TM
14
38
42
90.5
28
28
100.0
2018
KC
16
24
27
88.9
65
69
94.2
2019
KC
16
34
38
89.5
45
48
93.8
2020
KC
16
25
27
92.6
48
54
88.9
Recent Articles
Just like that, we've reached the end of the regular season. For those that have opted to have Week 18 as your championship week, good...
Read more »
January 7, 2022. Premium
Now that we're about two-thirds through the fantasy regular season you should have a pretty good idea where your team is headed. Did you...
Read more »
November 19, 2021. Premium
November 19, 2021
Premium
Who Should You Start?
Who Should You Draft?