Jamaal Williams
Detroit Lions
Running Back #30
Detroit Lions
Running Back #30
Photo: Icon Sportswire
Personal
| | |
| --- | --- |
| Age | 26 |
| Birthdate | April 3, 1995 |
| Height | 6'0" |
| Weight | 211 lb |
Draft
College
BYU
Year
2017
Pick
Round: 4, Overall: 134
Team
GB
Fantasy Value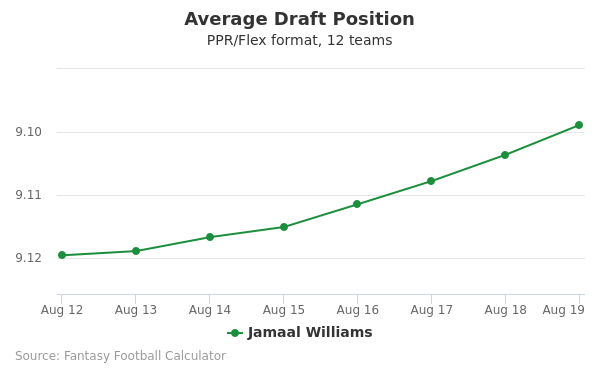 The code below will display a graph that updates every day to show the ADP data for Jamaal Williams for the past 30 days in 12-team PPR leagues.
You may use this graph on your website for free with a link back to this page for attribution.
Player News
Jamaal Williams: Joining Detroit on two-year deal
Williams agreed to a two-year contract worth up to $7.5 million with the Lions on Tuesday, Tom Pelissero of NFL Network reports.
Analysis: The 25-year-old expressed a desire to stay in Green Bay earlier this offseason, but after the re-signing of Aaron Jones he'll move on to Detroit. Williams primarily operated as the Packers' secondary running back and rushed for 505 yards on 4.2 yards per carry while catching 31 passes for 236 yards with three total touchdowns in 2020. He should fill a similar role in the Lions' backfield behind lead back D'Andre Swift.
Mar. 16, 2021 8:58 PM EST
Player Stats
YEAR
TM
GM
Rushing
Receiving
ATT
YDS
YPC
TD
FUM
REC
TGT
%
YDS
TD
YPC
Recent Articles
We are down to just 4 teams, and Kansas City may have been dealt a huge blow with the concussion to Patrick Mahomes.  So far he is...
Read more »
January 22, 2021. Premium
Many of you probably ended your fantasy seasons last week, but for you unfortunate few that play into Week 17, you may still need to...
Read more »
December 29, 2020. Premium
December 29, 2020
Premium
As COVID cases begin to climb again, the NFL is not exempt from the increases.  Over half of the teams saw at least 1 COVID positive...
Read more »
November 9, 2020. Premium
Who Should You Start?
Who Should You Draft?