James White
New England Patriots
Running Back #28
New England Patriots
Running Back #28
Photo: Icon Sportswire
Personal
| | |
| --- | --- |
| Age | 29 |
| Birthdate | February 3, 1992 |
| Height | 5'9" |
| Weight | 204 lb |
Draft
College
Wisconsin
Year
2014
Pick
Round: 4, Overall: 130
Team
NE
Fantasy Value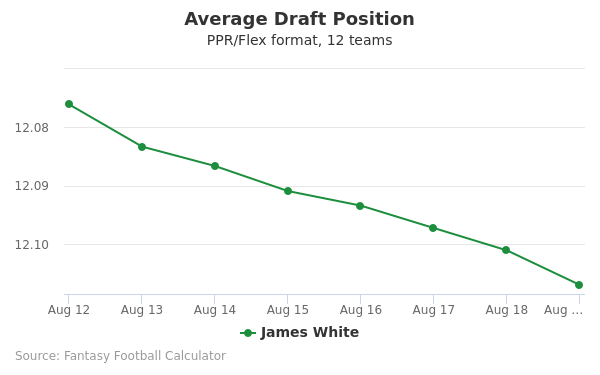 The code below will display a graph that updates every day to show the ADP data for James White for the past 30 days in 12-team PPR leagues.
You may use this graph on your website for free with a link back to this page for attribution.
Player News
James White: Stays with Patriots
White has agreed to a one-year deal to remain with the Patriots, Mike Reiss of ESPN.com reports.
Analysis: White will thus stick with the team that took him in the fourth round of the 2014 NFL Draft. Since then, the 29-year-old has established himself as a reliable pass-catching option out of the Patriots' backfield. This past season, White recorded 35 carries for 121 yards and two TDs along with 49 catches on 62 targets for 375 yards and a receiving score over the course of 14 games. While those numbers weren't at the same level as the those he had logged previously, it's plausible that White could see an uptick in production in 2021, given the probability that New England's passing attack will improve due to offseason upgrades in personnel.
Mar. 24, 2021 8:23 AM EST
Player Stats
YEAR
TM
GM
Rushing
Receiving
ATT
YDS
YPC
TD
FUM
REC
TGT
%
YDS
TD
YPC
Recent Articles
So far, injuries continue to overshadow the Covid-19 situation during the 2020 season. With a number of stars already out for the season...
Read more »
November 29, 2020. Premium
November 29, 2020
Premium
Providing key insights on the most important Dynasty League fantasy football news, one week at a time.
Read more »
November 25, 2020. Premium
November 25, 2020
Premium
Week 11 is in the books and the biggest loss we saw this week was QB Joe Burrow.  Unfortunately (and fortunately) it doesn't really give...
Read more »
November 24, 2020. Premium
November 24, 2020
Premium
Who Should You Start?
Who Should You Draft?