Jason Sanders
Miami Dolphins
Place Kicker #95
Miami Dolphins
Place Kicker #95
Personal
| | |
| --- | --- |
| Age | 25 |
| Birthdate | November 16, 1995 |
| Height | 5'11" |
| Weight | 184 lb |
Draft
College
None
Year
2018
Pick
Round: 7, Overall: 229
Team
MIA
Fantasy Value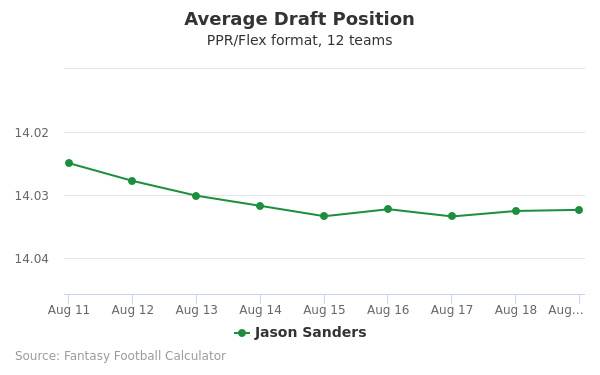 The code below will display a graph that updates every day to show the ADP data for Jason Sanders for the past 30 days in 12-team PPR leagues.
You may use this graph on your website for free with a link back to this page for attribution.
Player News
Jason Sanders: Staying in Miami long term
Sanders is signing a five-year, $22 million extension that includes $10 million guaranteed, Adam Schefter of ESPN reports.
Analysis: The new deal keeps Sanders under contract with the Dolphins through 2026, his age-30/31 season. The 2018 seventh-round pick has converted 86.5 percent of field-goal attempts and 98 percent of PATs through 48 NFL games, peaking in 2020 when he converted eight of nine tries from 50 yards or more. For his career, Sanders has made 12 of 15 (80 percent) from 50-plus, and 24 of 32 (75 percent) in the 40-49 range. He's good enough to warrant fantasy consideration even if the Miami offense appears mediocre again.
Feb. 16, 2021 9:04 AM EST
Player Stats
YEAR
TM
GM
Kicking
FGM
FGA
FG%
EPM
EPA
EP%
Recent Articles
Learn more about every fantasy football topic there is. From beginner help to advanced draft strategies to daily fantasy strategy tips.
Read more »
February 27, 2020. Premium
Who Should You Start?
Who Should You Draft?