Nyheim Hines
Indianapolis Colts
Running Back #7
Indianapolis Colts
Running Back #7
Photo: Icon Sportswire
Personal
| | |
| --- | --- |
| Age | |
| Birthdate | None |
| Height | 5'8" |
| Weight | 198 lb |
Draft
College
null
Year
2018
Pick
Round: 4, Overall: 104
Team
IND
Fantasy Value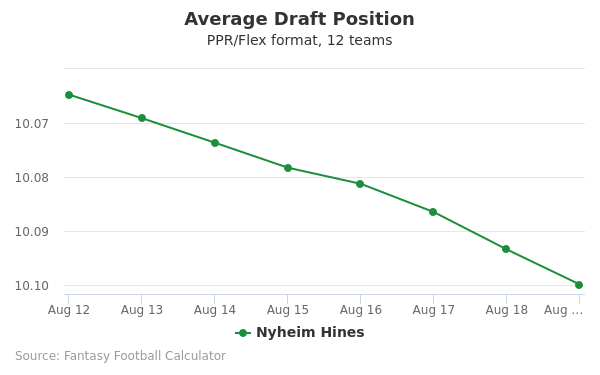 The code below will display a graph that updates every day to show the ADP data for Nyheim Hines for the past 30 days in 12-team PPR leagues.
You may use this graph on your website for free with a link back to this page for attribution.
Player News
Nyheim Hines: Could see slot work
Hines is a candidate to benefit from the Colts' addition of quarterback Matt Ryan,Nate Atkins of the Indianapolis Star reports.
Analysis: Per Atkins, look for team to utilize Hines in more creative ways, which could include work out of the slot, a scenario that would boost the running back's touches while working behind top option Jonathan Taylor. Per JJ Stankevitz of the Colts' official site, the notion of Hines seeing more work out of the slot has been echoed by GM Chris Ballard, while coach Frank Reich has also suggested that the team will look to find ways to get the ball into the hands of the 2018 fourth-rounder more often. This past season, Hines logged 56 carries for 276 yards and two TDs in 17 games, while catching 40 of his 57 targets for 310 yards and a receiving score. The 25-year-old's catch and target totals last year while working with QB Carson Wentz represented career-lows, but with Ryan at the helm, it's reasonable to expect Hines to see an uptick in both categories, and with that increased PPR utility in 2022.
Apr. 1, 2022 8:45 AM EST
Player Stats
YEAR
TM
GM
Rushing
Receiving
ATT
YDS
YPC
TD
FUM
REC
TGT
%
YDS
TD
YPC
2018
IND
16
85
314
3.7
2
0
63
81
77.8
425
2
6.7
2019
IND
16
52
199
3.8
2
1
44
58
75.9
320
0
7.3
2020
IND
16
89
380
4.3
3
0
63
76
82.9
482
4
7.7
Recent Articles
The Running Back position is the most prized year after year.  Almost half of the picks in the first four rounds are Running Back, and...
Read more »
August 18, 2021. Premium
Leagues aren't usually won on draft day, but if you can find some late-round running backs that hit, you may find yourself lifting that...
Read more »
June 17, 2021. Premium
Who Should You Start?
Who Should You Draft?