Buccaneers Top Fantasy Players
These are the top fantasy football players of the Tampa Bay Buccaneers as ranked by Average Draft Position (ADP) in PPR-format mock drafts.
Data as of February 25, 2021.
Mike Evans
Mike Evans's current ADP is 3.08, which is the 8th pick of the 3rd round, and 31st selection overall.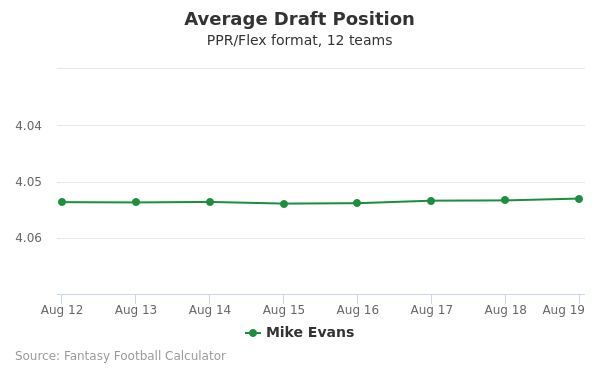 Chris Godwin
Chris Godwin's current ADP is 4.08, which is the 8th pick of the 4th round, and 44th selection overall.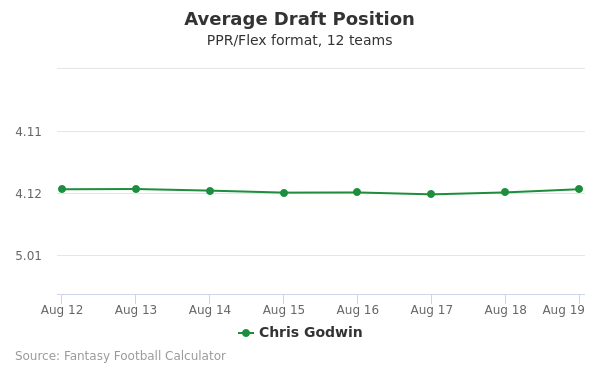 Ronald Jones II
Ronald Jones II's current ADP is 5.11, which is the 11th pick of the 5th round, and 58th selection overall.
Leonard Fournette
Leonard Fournette's current ADP is 7.03, which is the 3rd pick of the 7th round, and 74th selection overall.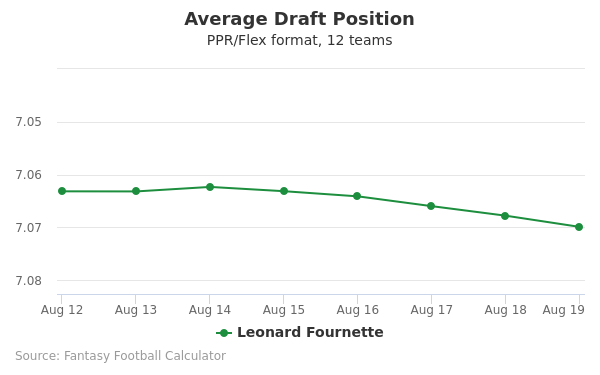 Tom Brady
Tom Brady's current ADP is 7.03, which is the 3rd pick of the 7th round, and 75th selection overall.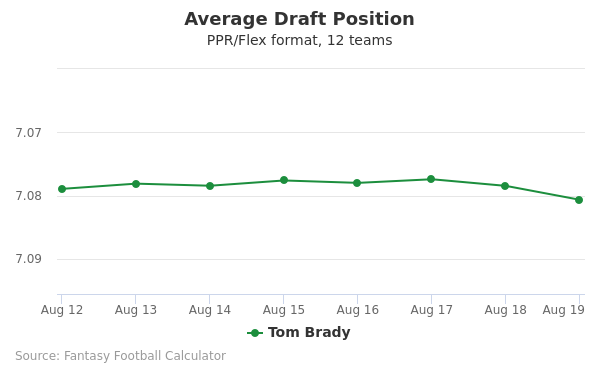 Rob Gronkowski
Rob Gronkowski's current ADP is 7.09, which is the 9th pick of the 7th round, and 81st selection overall.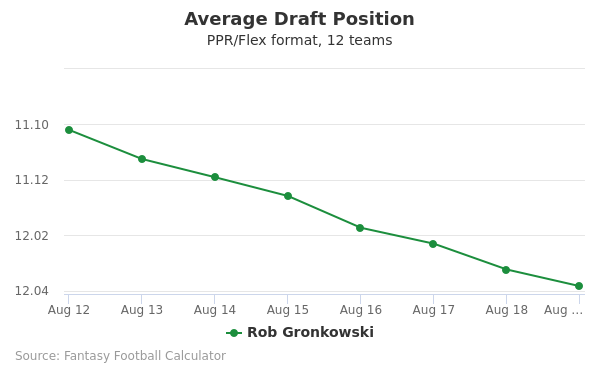 Antonio Brown
Antonio Brown's current ADP is 9.05, which is the 5th pick of the 9th round, and 101st selection overall.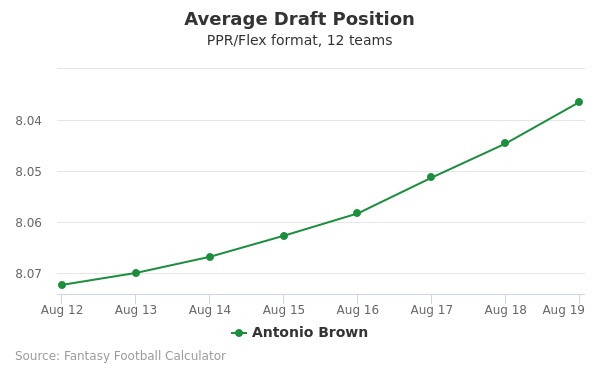 LeSean McCoy
LeSean McCoy's current ADP is 12.01, which is the 1st pick of the 12th round, and 132nd selection overall.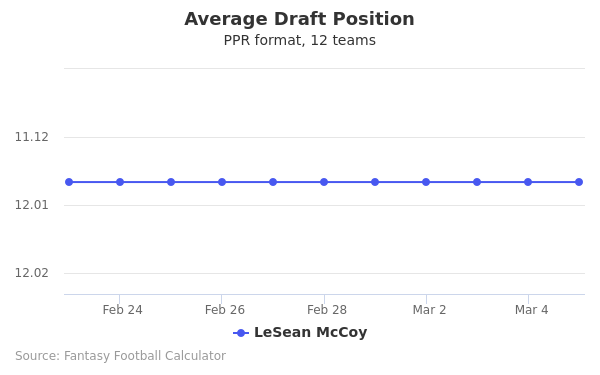 Tampa Bay Defense
Tampa Bay Defense's current ADP is 12.08, which is the 8th pick of the 12th round, and 140th selection overall.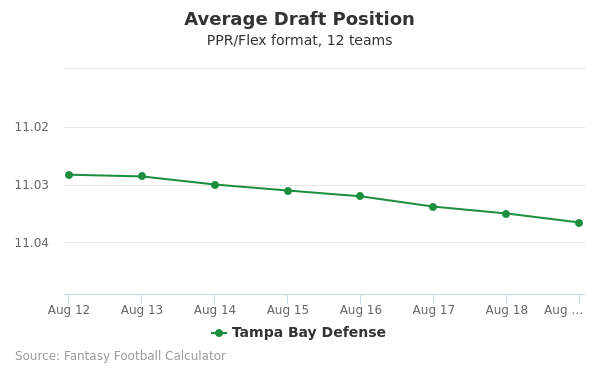 Ryan Succop
Ryan Succop's current ADP is 15.02, which is the 2nd pick of the 15th round, and 170th selection overall.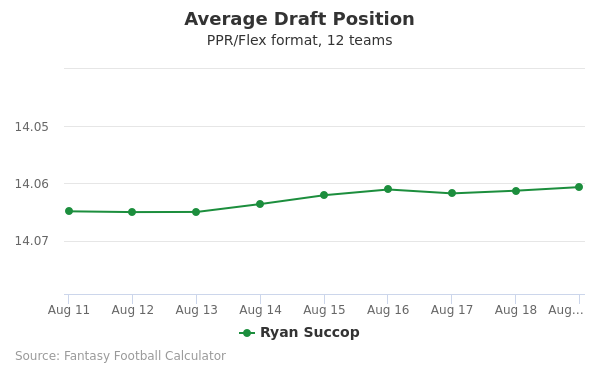 Tampa Bay Buccaneers 2020 Schedule
| Week | Home/Away | Opponent |
| --- | --- | --- |
| 1 | Away | New Orleans Saints |
| 2 | Home | Carolina Panthers |
| 3 | Away | Denver Broncos |
| 4 | Home | Los Angeles Chargers |
| 5 | Away | Chicago Bears |
| 6 | Home | Green Bay Packers |
| 7 | Away | Las Vegas Raiders |
| 8 | Away | New York Giants |
| 9 | Home | New Orleans Saints |
| 10 | Away | Carolina Panthers |
| 11 | Home | Los Angeles Rams |
| 12 | Home | Kansas City Chiefs |
| 14 | Home | Minnesota Vikings |
| 15 | Away | Atlanta Falcons |
| 16 | Away | Detroit Lions |
| 17 | Home | Atlanta Falcons |
Tampa Bay Buccaneers News
DeSean Jackson, Release made official
The Eagles released Jackson (ankle) on Friday.
Analysis: Jackson, who only played eight games over two seasons with the Eagles while battling multiple injuries, never appeared to have a real chance at sticking around for 2021. Cutting the 34-year-old will save Philadelphia roughly $5.8 million against the cap, per Field Yates of ESPN, and the move will allow Jackson to immediately search for another organization where he can continue his career. Jackson still flashed big-play ability when healthy last season -- he had an 81-yard touchdown against the Cowboys back in Week 16 -- but at this stage in his career, he'll likely have a difficult time finding a starting role in free agency.
February 19, 2021 1:52 PM EST
---
DeSean Jackson, Release forthcoming?
The Eagles are expected to release Jackson (ankle), John Clark of NBC Sports Philadelphia reports.
Analysis: Philadelphia can save roughly $6 million against the salary cap by cutting Jackson, per Eliot Shorr-Parks of Sports Radio 94 WIP Philadelphia. Such a move would make real sense for a team currently more than $40 million over the cap for next season and staring down a quarterback transition, with Carson Wentz recently having been traded to Indianapolis. Compounding matters is the fact that Jackson, who turned 34 in December, has only managed to suit up for eight games over the last two seasons due to a combination of injuries. Per Jimmy Kempski of PhillyVoice.com, Jackson has already posted a farewell message to the Eagles via his personal Instagram account.
February 19, 2021 12:45 PM EST
---
Ronald Jones II, Bound for minor surgery
Jones will undergo surgery to have a pin removed from his left pinky finger Tuesday, Rick Stroud of the Tampa Bay Times reports.
Analysis: Jones had surgery to address a broken finger back in mid-December, and he'll now undergo another procedure to fully address the issue. After returning from his initial surgery Jones was able to play through his finger injury, though he did subsequently miss time due to COVID-19 protocols and a quad contusion, ultimately playing second fiddle to Leonard Fournette during Tampa Bay's playoff run. Jones should remain on track for the tentative start of offseason workouts, and with Fournette on track to become an unrestricted free agent March, Ke'Shawn Vaughn could end up being his primary competition for the No.1 backfield spot.
February 15, 2021 9:40 AM EST
---
O.J. Howard, Entering contact year in '21
Howard finished the 2020 regular season with 11 receptions (19 targets) for 146 yards and two touchdowns across four games before suffering his season-ending Achilles injury Week 4 against the Chargers.
Analysis: Howard's 2020 campaign will go down in the books as a prototypical case of a substantial missed opportunity for both player and team. The fourth-year pro appeared to have instant rapport with Tom Brady and had already been targeted 19 times over 132 snaps before going down for the season. The early exit was unfortunately nothing new for the 2017 first-round pick, who's yet to play a full 16 games in any of his first four NFL campaigns. Howard has flashed plenty of potential at times and could well have been on his way to a career-best year in 2020; while that possibility was ultimately derailed, he'll certainly have no shortage of motivation to prove himself in his 2021 contract year, when he'll carry a cap hit of just over $6 million as per Spotrac.
February 11, 2021 3:49 PM EST
---
Antony Auclair, Another quiet season in '20
Auclair failed to bring in his only target over eight games during the 2020 regular season, logging 70 snaps overall from scrimmage and another 83 on special teams.
Analysis: The fourth-year pro mostly toiled in anonymity again in 2020, arguably more so than in his first three seasons, when he at least got on the board with a minimum of one reception. Auclair's snap count on both offense and special teams were both career lows, and when he was in uniform, it was for his solid run-blocking and special teams play. The depth chart simply got to steep for Auclair to navigate this past season, as Rob Gronkowski and Cameron Brate proved capable of handling pass-catching duties at tight end almost exclusively. Auclair played 2020 on a one-year contract, and given his familiarity with the organization and system, it's certainly possible he's back for a fifth year in 2021.
February 11, 2021 2:52 PM EST
---