Buccaneers Top Fantasy Players
These are the top fantasy football players of the Tampa Bay Buccaneers as ranked by Average Draft Position (ADP) in PPR-format mock drafts.
Data as of March 31, 2020.
Chris Godwin
Chris Godwin's current ADP is 2.03, which is the 3rd pick of the 2nd round, and 14th selection overall.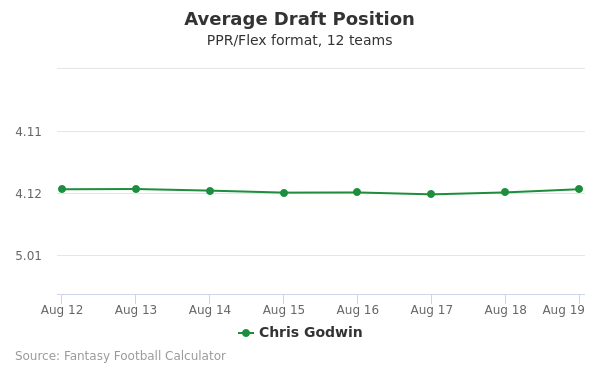 Mike Evans
Mike Evans's current ADP is 2.09, which is the 9th pick of the 2nd round, and 20th selection overall.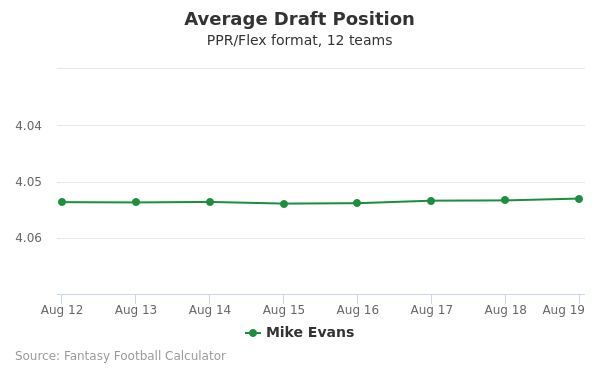 Ronald Jones II
Ronald Jones II's current ADP is 8.11, which is the 11th pick of the 8th round, and 95th selection overall.
O.J. Howard
O.J. Howard's current ADP is 9.07, which is the 7th pick of the 9th round, and 102nd selection overall.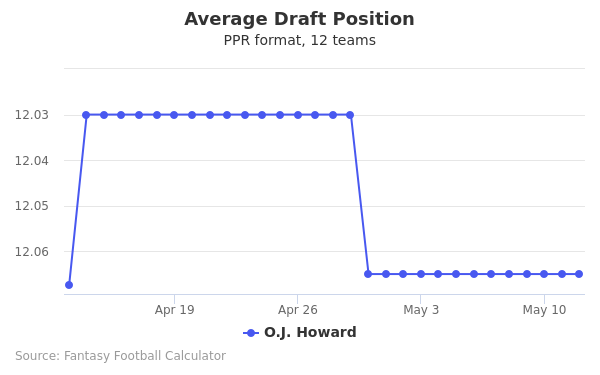 Jameis Winston
Jameis Winston's current ADP is 10.01, which is the 1st pick of the 10th round, and 108th selection overall.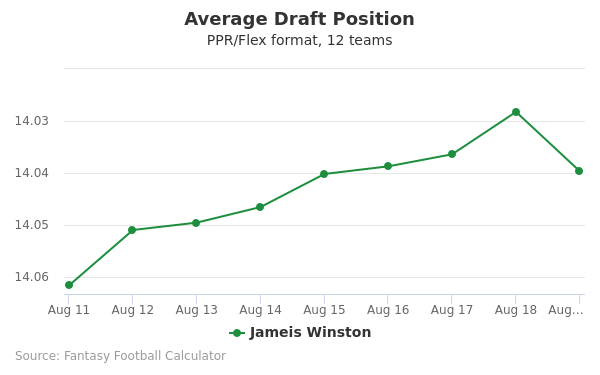 Tom Brady
Tom Brady's current ADP is 12.02, which is the 2nd pick of the 12th round, and 133rd selection overall.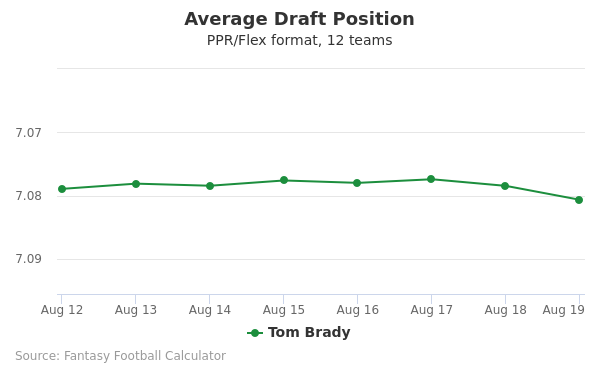 Tampa Bay Buccaneers 2019 Schedule
| Week | Home/Away | Opponent |
| --- | --- | --- |
| 1 | Home | San Francisco 49ers |
| 2 | Away | Carolina Panthers |
| 3 | Home | New York Giants |
| 4 | Away | Los Angeles Rams |
| 5 | Away | New Orleans Saints |
| 6 | Home | Carolina Panthers |
| 8 | Away | Tennessee Titans |
| 9 | Away | Seattle Seahawks |
| 10 | Home | Arizona Cardinals |
| 11 | Home | New Orleans Saints |
| 12 | Away | Atlanta Falcons |
| 13 | Away | Jacksonville Jaguars |
| 14 | Home | Indianapolis Colts |
| 15 | Away | Detroit Lions |
| 16 | Home | Houston Texans |
| 17 | Home | Atlanta Falcons |
Tampa Bay Buccaneers News
Jameis Winston, Gets support from former coach
Winston's (thumb/knee) former coach in Tampa Bay, Bruce Arians, said Wednesday in an interview on Fox Sports Radio's "The Rich Eisen Show" that he's reached out to two teams, campaigning for them to sign the quarterback, Eduardo A. Encina of the Tampa Bay Times reports. "I talked to two teams," Arians said. "I think it was just to [tell them], 'Get him on your roster' and it would be a great fit. One team was not interested and the other one was."
Analysis: Winston's hopes of returning to Tampa Bay for a sixth season ended nearly two weeks ago, when it became apparent that Tom Brady was leaving New England to sign with the Buccaneers. Though he's just 26 years old and has 70 career starts on his resume, Winston's high turnover rate has likely contributed heavily to the cool market he's faced thus far in free agency. With few -- if any -- starting jobs open for Winston and another experienced, more accomplished option in Cam Newton also looking for work, Winston could be forced to settle for a backup job at his next stop.
March 29, 2020 7:59 AM EST
---
Ronald Jones II, Getting competition soon?
Coach Bruce Arians said the Bucs would "love to have a pass-catching back" to complement Jones in the backfield, Greg Auman of The Athletic reports.
Analysis: This might be taken as a hint that the Bucs are comfortable with Jones as their lead runner, but it also could be interpreted as a critique of his blocking and receiving skills. The offseason priorities in Tampa Bay were to add Tom Brady and re-sign key players in the defensive front seven, while RB Peyton Barber and WR Breshad Perriman were permitted to leave without much of a challenge. The backfield depth chart now looks paper-thin behind Jones, featuring Dare Ogunbowale, T.J. Logan (thumb) and Aca'Cedric Ware -- a trio with 16 combined NFL carries. Tampa figures to add running backs in the coming weeks, and while that may include an early draft pick, Arians doesn't seem too worried about the position.
March 27, 2020 11:27 AM EST
---
Peyton Barber, Joins crowd in Washington
Barber is signing a two-year contract with Washington, Jeremy Fowler of ESPN.com reports.
Analysis: Washington entered the offseason with Derrius Guice, Adrian Peterson and Bryce Love (knee) in the backfield and now has added Barber and J.D. McKissic. The team figures to carry three or four running backs on the Week 1 roster, so Barber will need to battle for a spot unless there's a glut of injuries in front of him. With career averages of 3.6 yards per carry and 6.1 per reception, the 26-year-old isn't likely to find regular touches now that he's left the RB abyss of Tampa Bay.
March 24, 2020 12:15 PM EST
---
Cameron Brate, Staying with Bucs
Brate agreed to re-structure his contract with Tampa Bay on Sunday, Greg Auman of The Athletic reports.
Analysis: Brate was originally due to make $6 million with the team in 2020, however, he's expected to take a pay cut of some kind. He's been a steady contributor for the Buccaneers in his career, as over the past five seasons, his 27 touchdowns ranks fourth among tight ends over that span. Despite likely sitting behind O.J. Howard on the depth chart heading into 2020, his fantasy value received a major boost when Tom Brady elected to sign with Tampa Bay.
March 22, 2020 8:07 AM EST
---
O.J. Howard, Major upgrade at QB
Howard is slated to catch passes from Tom Brady this coming season after the latter signed a two-year deal with the Buccaneers this week, Jim Trotter of NFL.com reports.
Analysis: The early stages of Howard's career have been largely defined by injury and inconsistent usage in the offensive schemes of both former head coach Dirk Koetter and current boss Bruce Arians. However, if the talented fourth-year pro is ever going to break out, it could well happen in the 2020 season, as he's set for a significant upgrade at quarterback. Howard has yet to exceed 34 receptions or 565 receiving yards in any of his first three campaigns; however, given Brady's favorable history with tight ends of Howard's elite skill set and the heavy use of the play-action passing and intermediate routes the future Hall of Famer has proven so proficient in, Howard could be primed for a significant spike in production in the coming season.
March 19, 2020 11:54 AM EST
---