Mike Evans (WR) #13
| | |
| --- | --- |
| ADP: | Round: 2, Pick: 8 |
| Team: | Tampa Bay |
| Ht / Wt: | 6'5" / 231 lb. |
| College: | Texas A&M |
| Age: | 23 |
| Born: | August 21, 1993 |
| Drafted: | 2014 / Rd. 1 (7) |
| Draft Team: | TB |
Injury Status - Week 18
Not on injury report
.
News
Excited about working with Arians
Friday, January 25, 6:07 PM
Evans is looking forward to working under new head coach Bruce Arians next season, Herbie Teope of NFL.com reports. "I'm excited," Evans said. "I've heard nothing but good things about him. I'm sure he's going to be ready to work, and I am as well."
.
Average Draft Position (ADP) Value
March 20, 2019
Mike Evans's fantasy value is measured by his average draft position (ADP) in fantasy football mock drafts. In recent drafts, Evans's current ADP is 2.08, which indicates that his fantasy outlook is to be the 8th pick of the 2nd round, and 19th selection overall.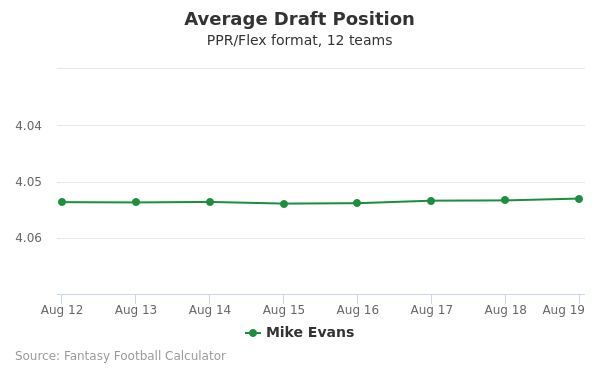 The code below will display a graph that updates every day to show the ADP data for Mike Evans for the past 30 days in 12-team PPR leagues.
You may use this graph on your website for free with a link back to this page for attribution.
Data from fantasy football 12-team standard scoring average draft position data, based off of the latest fantasy football mock drafts.
Recent drafts with Mike Evans:
| Draft # | Date | Format | Evans's Draft Pick |
| --- | --- | --- | --- |
| 5939487 | 3/20/2019 | Standard | 23rd |
| 5939484 | 3/20/2019 | Standard | 24th |
| 5939356 | 3/20/2019 | Standard | 24th |
| 5939355 | 3/20/2019 | Standard | 19th |
| 5939297 | 3/20/2019 | Standard | 20th |
| 5938940 | 3/20/2019 | Standard | 25th |
| 5938833 | 3/20/2019 | Standard | 25th |
| 5938743 | 3/20/2019 | Standard | 19th |
| 5938654 | 3/20/2019 | Standard | 25th |
| 5938650 | 3/20/2019 | Standard | 25th |
Players drafted after Mike Evans:
.
Mike Evans Biography
Youth
Mike Evans was born in Galveston, Texas in 1993. He attended Ball High School where he starred on the basketball team and ran track. In his senior year, he started to play football where he had 25 catches for 648 yards and seven touchdowns. This was enough for him to earn District 24-4A honors and the attention of college football recruiters.
College
Evans played for the Texas Aggies from 2011-2013. He sat on the bench as a redshirt freshman in 2011. He had a breakout year as a football freshman in 2012 when he had 82 catches for 1,105 yards and five touchdowns. The coaches from the Southeastern Conference (SEC) gave him All-SEC honors after his freshman year performance.
The 2013 season was even more spectacular as he was named the AT&T ESPN Player of the Week for his 7 catch 279 yard game against Alabama. He followed that game up with an 11 catch 287 yard and four touchdown game against Auburn.
Evans was named to the First-Team All-Southeastern Conference team and to the First-Team AP-America Team in 2013. He finished his second year of college football with 69 catches for 1,394 yards and 12 touchdowns. Evans announced that he was entering the NFL draft after his second year of college football.
Mike Evan's college highlights: https://www.youtube.com/watch?v=83NnauIVZZI
NFL Combine
Evans was invited to attend the 2014 NFL Combine in Indianapolis, Indiana. His combine results were as follows:
40 Time: 4.53 seconds
Bench Press (225 lbs.): 12 reps
Vertical Jump: 37.0 inches
3 Cone Drill: 7.08 seconds
20 YD Shuttle: 4.26 seconds
60 YD Shuttle: 11.58 seconds
Evans received a grade of 6.15. A grade of 6.15 means he was rated as a player who should become an instant starter in the league. The scouts projected him to be a 1st or 2nd round pick.
NFL Draft
Evans entered the 2014 draft. This draft was considered to be the deepest wide receiver draft class in many years. He was picked by the Tampa Buccaneers with the seventh overall pick. Evans joined Vincent Jackson to form the "Dunkaneers" and the "Towers of Terror" since both players are 6'5" and make up one the tallest starting wide receiver pairs in the NFL.
NFL Career
Evans signed a rookie contract that gave him an annual salary of $3.65 million for the first four years and an $8.6 million signing bonus. The Buccaneers have an option to extend the rookie contract for a fifth year if they so choose. The fifth salary is determined by the average of the top ten wide receivers pay in 2018.
Evans opened his NFL career with five catches for 37 yards against the Carolina Panthers in the season opener. He scored his first NFL touchdown in a game against the Pittsburg Steelers in the fourth game of the season. In week nine, he exploded for 124 yards on seven passes. He also scored two touchdowns. Evans got his first 200-yard game on November 16 in a game against the Washington Redskins. He ended the season by catching 68 passes for 1,051 yards and 12 touchdowns.
Second Season
Evans started the season with a hamstring injury and didn't make his first start until the second game. He had a 101-yard receiving game against the Houston Texans in the third week. His best game came against the Washington Redskins when he caught eight passes for 164 yards with a touchdown. He ended the season with 74 catches for 1,206 yards.
Third Season
Evans started his third season with 99-yard performance with a touchdown on five catches. He didn't stop and ended up being only the fourth wide receiver to start his career with 1,000 plus receiving yards in his first three seasons. He also became the first player drafted by the Buccaneers to be selected to the Pro Bowl in 27 years.
Mike Evan's Buccaneer's highlights: https://www.youtube.com/watch?v=pvHvqfbd9OE
Follow Evans
You can follow Evans on Twitter and Instagram. His Twitter address is @MikeEvans_ and his Instagram address is @mikeevans.
.
Player Comparison
Who should you draft?
Leonard Fournette or Mike Evans