Titans Top Fantasy Players
These are the top fantasy football players of the Tennessee Titans as ranked by Average Draft Position (ADP) in PPR-format mock drafts.
Data as of February 25, 2021.
Derrick Henry
Derrick Henry's current ADP is 1.04, which is the 4th pick of the 1st round, and 4th selection overall.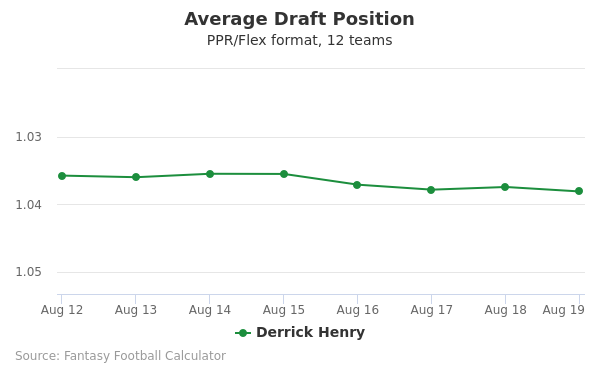 A.J. Brown
A.J. Brown's current ADP is 3.05, which is the 5th pick of the 3rd round, and 28th selection overall.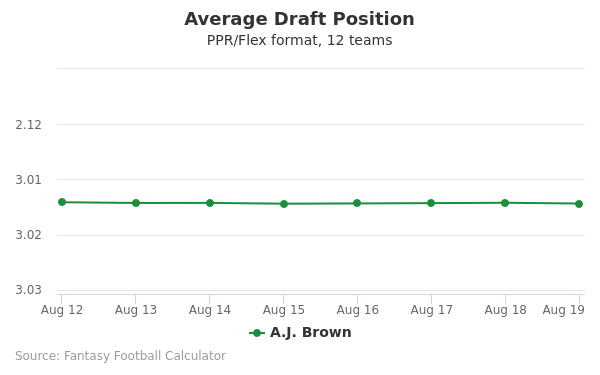 Ryan Tannehill
Ryan Tannehill's current ADP is 8.10, which is the 10th pick of the 8th round, and 93rd selection overall.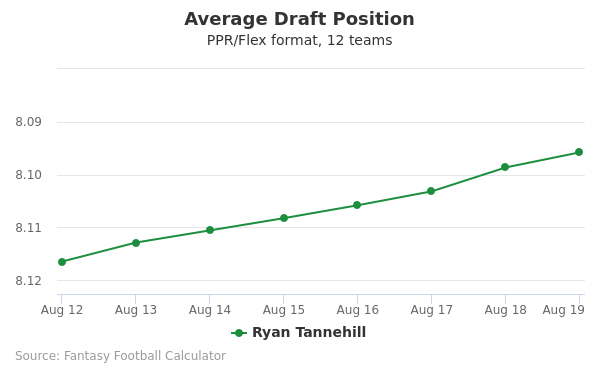 Corey Davis
Corey Davis's current ADP is 10.10, which is the 10th pick of the 10th round, and 117th selection overall.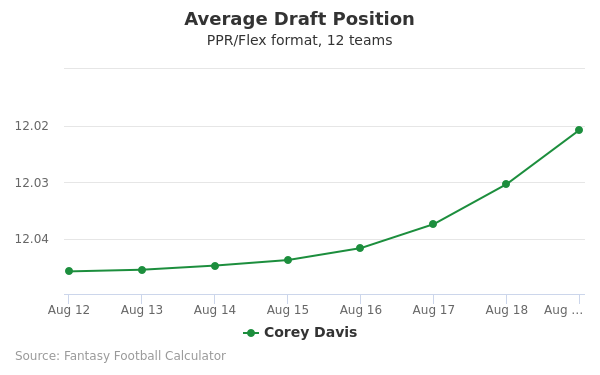 Jonnu Smith
Jonnu Smith's current ADP is 11.06, which is the 6th pick of the 11th round, and 125th selection overall.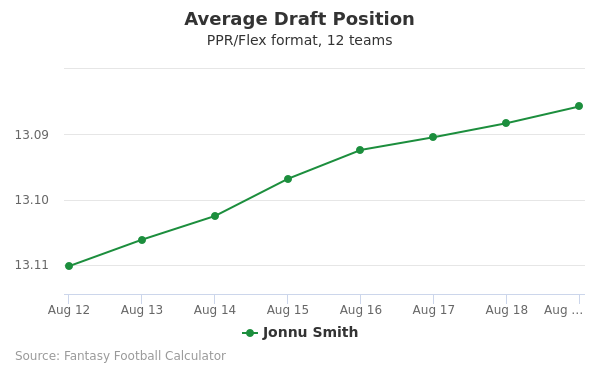 Stephen Gostkowski
Stephen Gostkowski's current ADP is 14.12, which is the 12th pick of the 14th round, and 167th selection overall.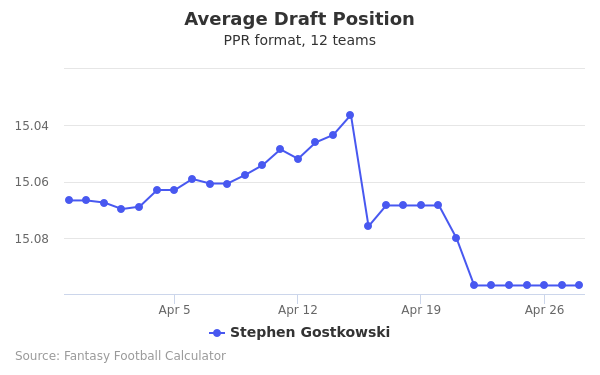 Tennessee Defense
Tennessee Defense's current ADP is 15.01, which is the 1st pick of the 15th round, and 169th selection overall.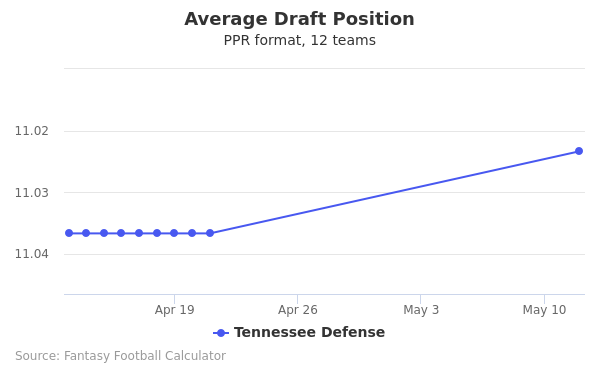 Tennessee Titans 2020 Schedule
| Week | Home/Away | Opponent |
| --- | --- | --- |
| 1 | Away | Denver Broncos |
| 2 | Home | Jacksonville Jaguars |
| 3 | Away | Minnesota Vikings |
| 4 | Home | Pittsburgh Steelers |
| 5 | Home | Buffalo Bills |
| 6 | Home | Houston Texans |
| 8 | Away | Cincinnati Bengals |
| 9 | Home | Chicago Bears |
| 10 | Home | Indianapolis Colts |
| 11 | Away | Baltimore Ravens |
| 12 | Away | Indianapolis Colts |
| 13 | Home | Cleveland Browns |
| 14 | Away | Jacksonville Jaguars |
| 15 | Home | Detroit Lions |
| 16 | Away | Green Bay Packers |
| 17 | Away | Houston Texans |
| 7 | Home | Pittsburgh Steelers |
Tennessee Titans News
Adam Humphries, Cut loose by Titans
The Titans released Humphries on Thursday, Turron Davenport of ESPN.com reports.
Analysis: Signed to a four-year, $36 million contract during the 2019 offseason, Humphries played in 19 regular-season games for Tennessee, catching 60 of 82 targets for 602 yards and four touchdowns. He was a reliable slot receiver before a concussion wiped out the second half of his 2020 campaign, but he never had a chance to live up to the contract while playing in a run-heavy offense that ranked near the bottom of the league in usage of three-wide formations. Humphries will turn 28 in June, so he still has time to revive his career with a new team.
February 25, 2021 1:28 PM EST
---
Alex Tanney, Retires from football
Tanney was placed on the reserve/retired list by the Giants on Tuesday, Aaron Wilson of the Houston Chronicle reports.
Analysis: Tanney is deciding to hang up his cleats after a nine-year NFL career in which he appeared in two games between the Titans and Giants. He completed 11 of 15 passes for 100 yards and one touchdown.
February 9, 2021 6:13 PM EST
---
Ryan Succop, Perfect performance in SB LV win
Succop made his only field-goal attempt -- from 52 yards -- and drilled all four extra-point tries during the Buccaneers' 31-9 win over the Chiefs in Super Bowl LV on Sunday.
Analysis: The veteran kicker put a fitting bow on a stellar season with his unblemished effort in Sunday's win. Succop just missed establishing a new career-best field-goal conversion rate with a 90.3 percent tally (28-for-31) during the regular season, with his three misses coming on attempts from beyond 40 yards. The 34-year-old did surprisingly miss five extra-point attempts, but it's difficult to quibble with a kicker who turned in a 9-for-9 tally on field goals and 12-for-13 mark on extra points during a four-game postseason run. Succop played 2020 on a one-year deal that netted him just over $1 million; given his body of work under that pact, he'll be a candidate for a multi-year contract this offseason with a Buccaneers squad that's likely to bring him back after the 12-year veteran brought some long-awaited stability to the kicking position.
February 8, 2021 10:07 AM EST
---
Adam Humphries, Potential cap casualty
Humphries (concussion) could be released this offseason, according to Gentry Estes of The Tennessean.
Analysis: Signed to a four-year, $36 million contract during the 2019 offseason, Humphries has averaged only 3.2 catches for 31.7 receiving yards in 19 regular-season games with the Titans. He made just one appearance after Week 8 in 2020, struggling with concussion symptoms throughout much of the season. The Titans will free up approximately $4.75 million in cap space if they trade or release the 27-year-old slot receiver this winter/spring.
January 28, 2021 7:55 AM EST
---
Ryan Succop, Drills clutch field goal
Succop was successful on his lone field-goal attempt of 46 yards and also converted all four extra-point tries in the Buccaneers' 31-26 win over the Packers in Sunday's NFC Championship Game.
Analysis: High-stakes games and conditions such as the one Succop's one field-goal attempt transpired under Sunday were exactly why the Buccaneers opted to move on from 2019 fifth-round pick Matt Gay after just one season in favor of a more experienced leg. The veteran coolly drilled a 46-yard try with 4:42 remaining after the Packers had closed to within five points, a critical kick that gave Tampa Bay valuable breathing room. Succop will carry a postseason streak of eight straight field goals (on eight attempts) into a Super LV matchup against the Chiefs on Sunday, Feb. 7 that could well afford the 34-year-old plenty of scoring opportunities.
January 25, 2021 10:14 AM EST
---