Tony Pollard
Dallas Cowboys
Running Back #1
Dallas Cowboys
Running Back #1
Photo: Icon Sportswire
Personal
| | |
| --- | --- |
| Age | |
| Birthdate | None |
| Height | 6'0" |
| Weight | 210 lb |
Draft
College
Memphis
Year
2019
Pick
Round: 4, Overall: 128
Team
DAL
Fantasy Value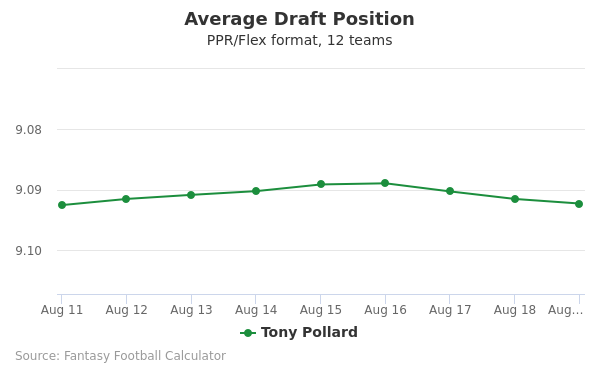 The code below will display a graph that updates every day to show the ADP data for Tony Pollard for the past 30 days in 12-team PPR leagues.
You may use this graph on your website for free with a link back to this page for attribution.
Player News
Tony Pollard: Getting work at wide receiver
Pollard has been getting some work at wide receiver according to head coach Mike McCarthy, Jon Machota of The Athletic reports.
Analysis: Pollard has shown flashes when given the opportunity, but it's hard to get many reps in the backfield behind a bell cow like Ezekiel Elliott. It makes sense to give Pollard some reps at receiver to try to increase his potential snaps, while not sacrificing Elliott's either. We'll have to wait and see how this evolves going into training camp, but it's something to keep and eye on and could add a little bit more value to Pollard.
Jun. 3, 2021 9:20 AM EST
Player Stats
YEAR
TM
GM
Rushing
Receiving
ATT
YDS
YPC
TD
FUM
REC
TGT
%
YDS
TD
YPC
Recent Articles
So far, injuries continue to overshadow the Covid-19 situation during the 2020 season. With a number of stars already out for the season...
Read more »
December 26, 2020. Premium
December 26, 2020
Premium
For most of you, it's fantasy championship time, so the waiver wire might not necessarily be needed at this point, but it never hurts to...
Read more »
December 22, 2020. Premium
December 22, 2020
Premium
The playoffs are well underway and there were some huge individual performances last week! Who helped your squad advance to the fantasy...
Read more »
December 22, 2020. Premium
December 22, 2020
Premium
Who Should You Start?
Who Should You Draft?