Redskins Top Fantasy Players
These are the top fantasy football players of the Washington Redskins as ranked by Average Draft Position (ADP) in PPR-format mock drafts.
Data as of October 19, 2020.
Terry McLaurin
Terry McLaurin's current ADP is 4.10, which is the 10th pick of the 4th round, and 46th selection overall.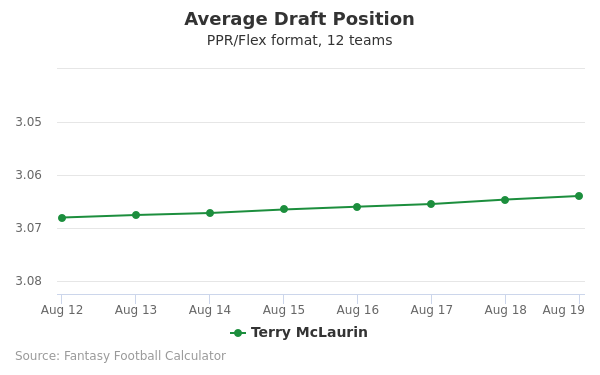 Antonio Gibson
Antonio Gibson's current ADP is 5.07, which is the 7th pick of the 5th round, and 55th selection overall.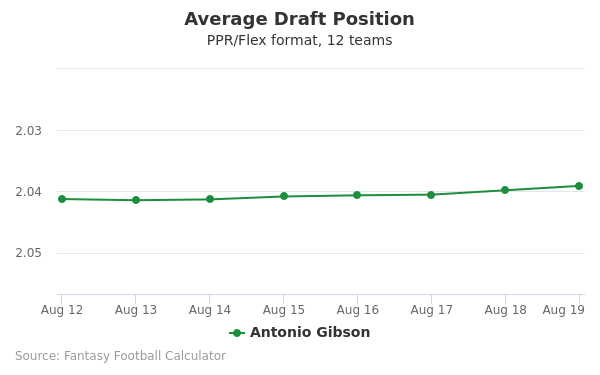 Washington Redskins 2020 Schedule
| Week | Home/Away | Opponent |
| --- | --- | --- |
| 1 | Home | Philadelphia Eagles |
| 2 | Away | Arizona Cardinals |
| 3 | Away | Cleveland Browns |
| 4 | Home | Baltimore Ravens |
| 5 | Home | Los Angeles Rams |
| 6 | Away | New York Giants |
| 7 | Home | Dallas Cowboys |
| 9 | Home | New York Giants |
| 10 | Away | Detroit Lions |
| 11 | Home | Cincinnati Bengals |
| 12 | Away | Dallas Cowboys |
| 13 | Away | Pittsburgh Steelers |
| 14 | Away | San Francisco 49ers |
| 15 | Home | Seattle Seahawks |
| 16 | Home | Carolina Panthers |
| 17 | Away | Philadelphia Eagles |
Washington Redskins News
Dustin Hopkins, Misses another field goal
Hopkins made two of three field goals and his lone extra-point attempt in Sunday's 20-19 loss to the Giants.
Analysis: Washington opened Sunday's game with a long 12-play drive, but it wasn't rewarded, as Hopkins pushed a 47-field goal wide right. He made up for it by being perfect for the rest of the afternoon, hitting kicks from 28 and 35 yards, but in a game that was decided by one point, there were questions about Hopkins' job security, especially since he's connected on just seven of 10 field goals this season. Coach Ron Rivera shut down that notion, though, saying that Hopkins' job is secure at this time. If these misses keep up, however, Hopkins' leash could get shorter, so he'll seek a clean showing in Week 7 against the Cowboys.
October 19, 2020 8:21 AM EST
---
Jamison Crowder, Can't do much with volume Sunday
Crowder caught seven of 13 targets for 48 yards in Sunday's 24-0 loss to the Dolphins.
Analysis: He led the Jets in receptions and targets once again, but for the first time this season Crowder wasn't able to turn the volume into significant production. Regardless of whether Sam Darnold (shoulder) or Joe Flacco has been under center, Crowder has seen double-digit targets and hauled in at least seven passes in all four games he's been able to suit up for, and with the winless Jets constantly playing from behind, he figures to remain the team's top wideout heading into Week 7's clash with the Bills.
October 18, 2020 7:28 PM EST
---
Case Keenum, Enters game in relief
Keenum completed five of 10 pass attempts for 46 yards with no touchdowns or interceptions in Week 6 against the Steelers.
Analysis: Keenum entered the game late in the third quarter after Baker Mayfield was pulled due to the aggravation of his rib injury. The game was already well out of reach, meaning he wasn't asked to do much in the closing quarter. More importantly, Keenum could be counted on to start in Week 7 against the Bengals if Mayfield is too injured to suit up. Keenum last suited up for major playing time as the quarterback for Washington in 2019, when he managed a 65 percent completion rate and an 11:5 TD:INT ratio.
October 18, 2020 7:24 PM EST
---
Cam Sims, Scores first NFL touchdown
Sims caught his lone target for a 22-yard touchdown in Sunday's 20-19 loss to the Giants.
Analysis: Sims came in for Isaiah Wright, who suffered what appeared to be a shoulder injury on the final drive. Antonio Gandy-Golden had injured his hamstring earlier in the game, so Sims, Terry McLaurin and Dontrelle Inman were Washington's only healthy wide receivers by the end. Sims promptly scored a touchdown, but his team came up short on the two-point attempt and wasn't able to recover the ensuing onsides kick. Sims will have a top-three role at WR if Inman and Gandy-Golden can't make it back for Week 7 against Dallas. The 2018 UDFA has bounced between the bottom of Washington's roster and the practice squad for three years now, with Sunday's touchdown being the first of his career.
October 18, 2020 5:10 PM EST
---
Isaiah Wright, Banged up in fourth quarter
Wright appeared to suffer an injury near the end of Sunday's 20-19 loss to the Giants, Rhiannon Walker of The Athletic reports.
Analysis: Wright was removed from the game with about 70 seconds remaining after he picked up six yards on a short reception. He finished with four catches for 25 yards on five targets, while replacement Cam Sims caught a 22-yard touchdown pass shortly after taking Wright's place. Sims could have a regular role in three-wide sets if Wright isn't ready for Week 7 against Dallas.
October 18, 2020 5:05 PM EST
---