Terry McLaurin
Washington Redskins
Wide Receiver #83
Washington Redskins
Wide Receiver #83
Photo: Icon Sportswire
Personal
| | |
| --- | --- |
| Age | 25 |
| Birthdate | April 15, 1996 |
| Height | 6'0" |
| Weight | 208 lb |
Draft
College
Ohio State
Year
2019
Pick
Round: 3, Overall: 76
Team
WAS
Fantasy Value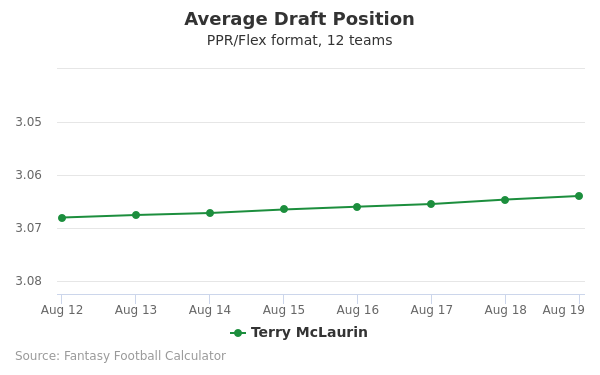 The code below will display a graph that updates every day to show the ADP data for Terry McLaurin for the past 30 days in 12-team PPR leagues.
You may use this graph on your website for free with a link back to this page for attribution.
Player News
Terry McLaurin: Solid effort in season-ending loss
McLaurin (ankle) brought in six of seven targets for 75 yards in Washington's 31-23 wild-card loss to the Buccaneers on Saturday night.
Analysis: The second-year speedster was second to Cam Sims in receptions and receiving yards during Washington' season-ending loss. McLaurin powered through an ankle issue in Week 17 and Saturday night, managing to still put together a combined 13-115-1 line in that pair of contests. Having eclipsed the 1,000-yard mark during the regular season for the first time in his career while also setting a new high-water mark in receptions (87), McLaurin will look to reach even greater heights in 2021 with what he'll hope will be greater stability at the quarterback position.
Jan. 9, 2021 9:35 PM EST
Player Stats
YEAR
TM
GM
Receiving
Rushing
REC
TGT
%
YDS
TD
YPC
ATT
YDS
YPC
TD
FUM
Recent Articles
After watching 6 games this past Super Wild Card Weekend, we not only learned a lot about players who have moved on to the divisional...
Read more »
January 15, 2021. Premium
Week 1 of the playoffs is played over two days, so we will be lumping all six games into one article this week. DraftKings (and other...
Read more »
January 8, 2021. Premium
The playoffs are well underway and there were some huge individual performances last week! Who helped your squad advance to the next...
Read more »
December 15, 2020. Premium
December 15, 2020
Premium
Who Should You Start?
Who Should You Draft?