Bills Top Fantasy Players
These are the top fantasy football players of the Buffalo Bills as ranked by Average Draft Position (ADP) in PPR-format mock drafts.
Data as of May 10, 2021.
Stefon Diggs
Stefon Diggs's current ADP is 2.01, which is the 1st pick of the 2nd round, and 12th selection overall.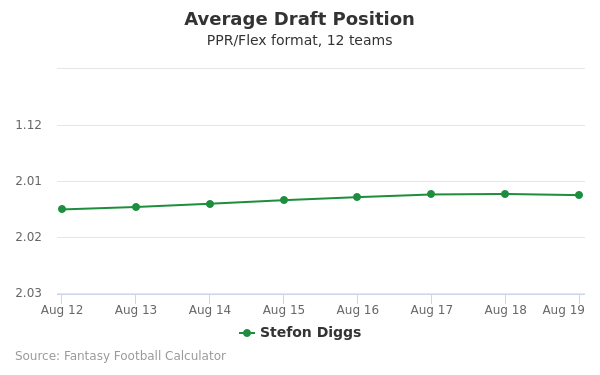 Josh Allen
Josh Allen's current ADP is 3.10, which is the 10th pick of the 3rd round, and 33rd selection overall.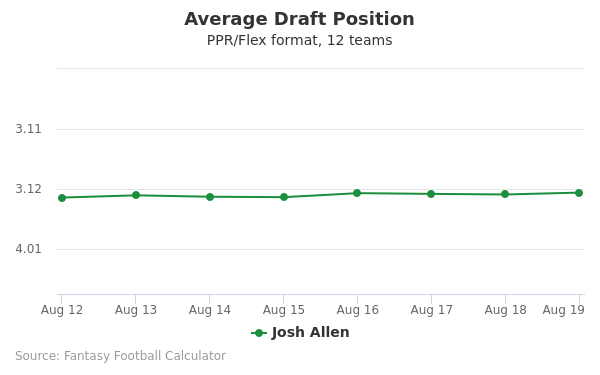 Devin Singletary
Devin Singletary's current ADP is 8.06, which is the 6th pick of the 8th round, and 89th selection overall.
Cole Beasley
Cole Beasley's current ADP is 9.12, which is the 12th pick of the 9th round, and 108th selection overall.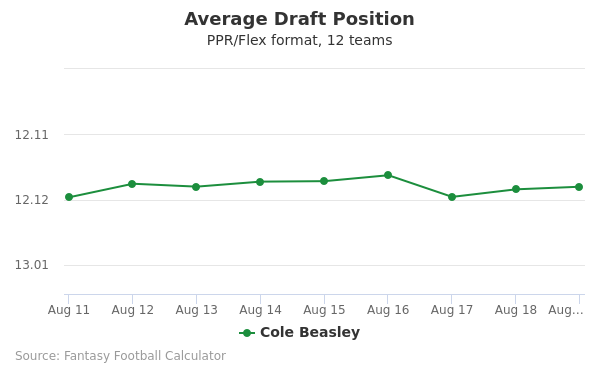 Zack Moss
Zack Moss's current ADP is 10.02, which is the 2nd pick of the 10th round, and 110th selection overall.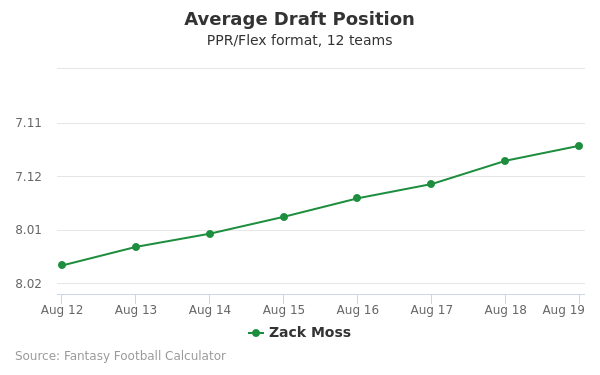 Buffalo Defense
Buffalo Defense's current ADP is 12.11, which is the 11th pick of the 12th round, and 142nd selection overall.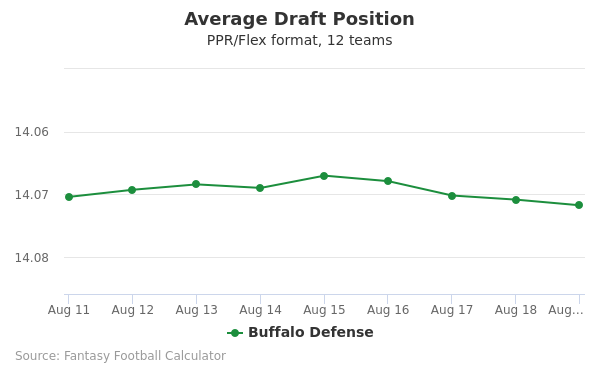 Gabriel Davis
Gabriel Davis's current ADP is 13.02, which is the 2nd pick of the 13th round, and 145th selection overall.
Tyler Bass
Tyler Bass's current ADP is 14.03, which is the 3rd pick of the 14th round, and 159th selection overall.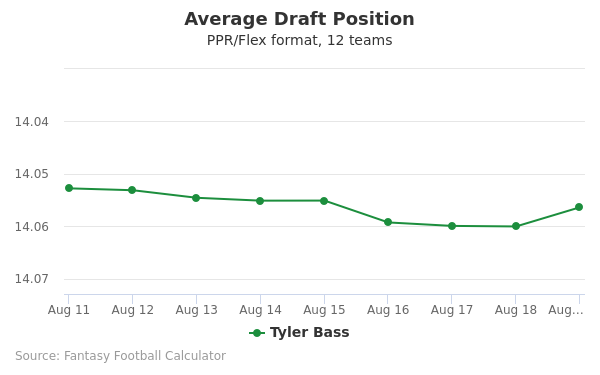 Emmanuel Sanders
Emmanuel Sanders's current ADP is 14.05, which is the 5th pick of the 14th round, and 161st selection overall.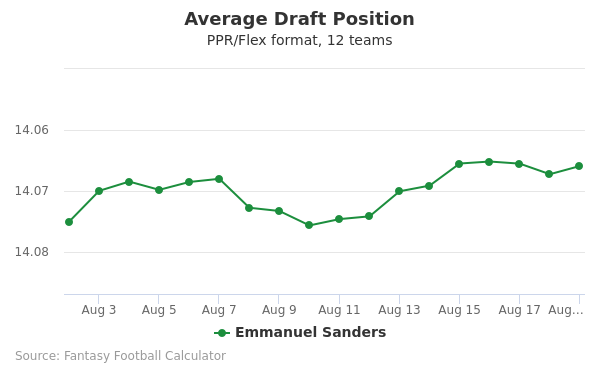 Kenny Stills
Kenny Stills's current ADP is 15.05, which is the 5th pick of the 15th round, and 172nd selection overall.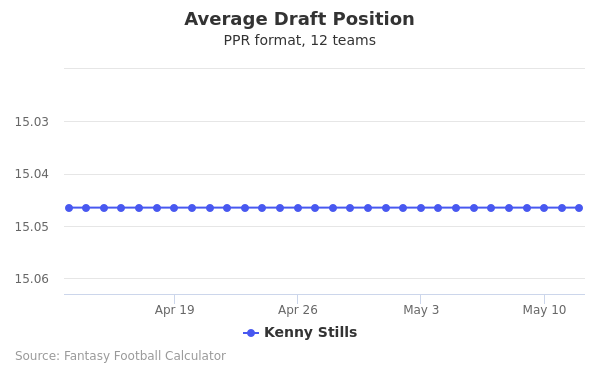 Buffalo Bills 2020 Schedule
| Week | Home/Away | Opponent |
| --- | --- | --- |
| 1 | Home | New York Jets |
| 2 | Away | Miami Dolphins |
| 3 | Home | Los Angeles Rams |
| 4 | Away | Las Vegas Raiders |
| 5 | Away | Tennessee Titans |
| 6 | Home | Kansas City Chiefs |
| 7 | Away | New York Jets |
| 8 | Home | New England Patriots |
| 9 | Home | Seattle Seahawks |
| 10 | Away | Arizona Cardinals |
| 12 | Home | Los Angeles Chargers |
| 13 | Away | San Francisco 49ers |
| 14 | Home | Pittsburgh Steelers |
| 15 | Away | Denver Broncos |
| 16 | Away | New England Patriots |
| 17 | Home | Miami Dolphins |
Buffalo Bills News
Josh Allen, Fifth-year option picked up
The Bills exercised the fifth-year option on Allen's rookie contract Monday, Albert Breer of Sports Illustrated reports.
Analysis: No surprise here, as Allen has gone from raw prospect to star quarterback over the course of three seasons. His completion percentage, passing yardage and touchdown totals have all improved by leaps and bounds with every season, and the 2018 seventh overall pick is coming off a stellar 2020 campaign in which he completed 69.2 percent of his passes for 4,544 yards and a 37:10 TD:INT. Allen's scheduled to play the fourth year of his rookie contract in 2021, with the fifth-year option covering the 2022 season.
May 3, 2021 8:26 AM EST
---
Devin Singletary, Competition remains as-is
The Bills did not select a running back with any of their eight selections in the 2021 NFL Draft to compete with Singletary and others for playing time.
Analysis: Buffalo, picking near the end of the first round, never had a chance at Najee Harris or Travis Etienne, nor are we sure the team would have even went with a running back had it had the chance. As it stands, Singletary is still at the top of the depth chart, but none of the options has the look of a feature back at this stage of their careers, and he'll compete with Zack Moss and newcomer Matt Breida -- plus anyone else the team might bring in -- to try to garner his share of the playing time in what's expected to be a high-powered offense once again.
May 2, 2021 11:14 AM EST
---
David Sills V, Receiving corps too crowded?
Sills (foot) is facing long odds to earn a spot on the Giants' active roster, Dan Duggan of The Athletic reports.
Analysis: Sills missed all of the 2020 season due to a fractured right foot, and even with a healthy offseason, there may not be room for him on New York's next 53-man squad. Duggan estimates that the Giants will roster six wideouts, and the likes of Kenny Golladay, Sterling Shepard, Darius Slayton and John Ross account for four of those slots. Dante Pettis seems like another likely active roster candidate, so the addition of one or more rookie wideouts in the 2021 NFL Draft could effectively leave Sills only in a position to compete for a role on the practice squad.
April 21, 2021 12:34 PM EST
---
Tommy Sweeney, Expected to be ready for 2021
Bills GM Brandon Beane said Tuesday that Sweeney should be ready for the 2021 season, Thad Brown of WROC-TV reports.
Analysis: Sweeney developed myocarditis as a complication from COVID-19 last season. Beane relayed that Sweeney still has a few more visits with the cardiologist before he's fully cleared, but the 25-year-old tight end is on track to play next year. With Dawson Knox and Jacob Hollister in the fold, Sweeney will be aiming for a depth role during training camp.
April 20, 2021 4:31 PM EST
---
Zay Jones, Staying with Las Vegas
The Raiders re-signed Jones on Thursday, Myles Simmons of NBC Pro Football Talk reports.
Analysis: Jones appeared to be on the verge of a potential breakout season after compiling 56 receptions for 652 yards and seven touchdowns for the Bills in 2018. The past two seasons have been underwhelming, however. In a combined 31 games for the Bills (five) and Raiders (26) since the start of 2019, the former East Carolina standout has yielded only 41 catches for 270 yards and one TD. Jones slots in as a depth option within the receiving corps, as Henry Ruggs (concussion), John Brown and Hunter Renfrow appear to be the clear No. 1, 2 and 3 wideouts.
March 18, 2021 5:00 PM EST
---