Bengals Top Fantasy Players
These are the top fantasy football players of the Cincinnati Bengals as ranked by Average Draft Position (ADP) in PPR-format mock drafts.
Data as of June 9, 2023.
Ja'Marr Chase
Ja'Marr Chase's current ADP is 1.07, which is the 7th pick of the 1st round, and 7th selection overall.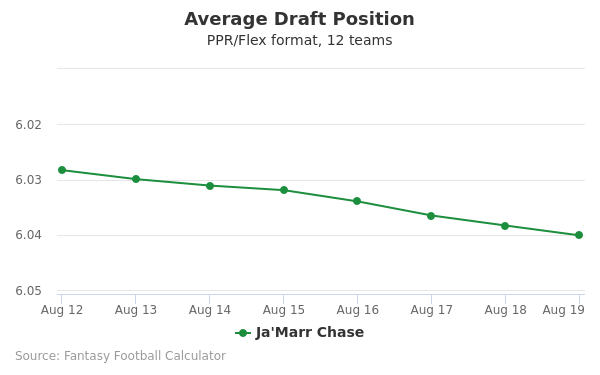 Joe Mixon
Joe Mixon's current ADP is 2.09, which is the 9th pick of the 2nd round, and 21st selection overall.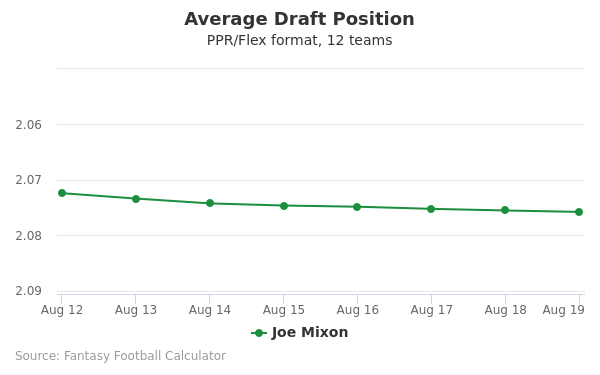 Joe Burrow
Joe Burrow's current ADP is 5.05, which is the 5th pick of the 5th round, and 52nd selection overall.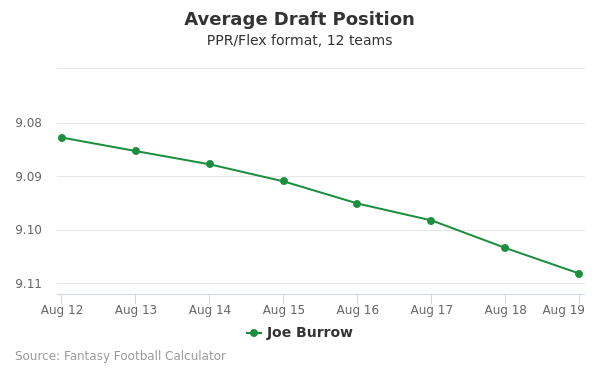 Cincinnati Bengals 2020 Schedule
| Week | Home/Away | Opponent |
| --- | --- | --- |
| 1 | Home | Los Angeles Chargers |
| 2 | Away | Cleveland Browns |
| 3 | Away | Philadelphia Eagles |
| 4 | Home | Jacksonville Jaguars |
| 5 | Away | Baltimore Ravens |
| 6 | Away | Indianapolis Colts |
| 7 | Home | Cleveland Browns |
| 8 | Home | Tennessee Titans |
| 10 | Away | Pittsburgh Steelers |
| 11 | Away | Washington Redskins |
| 12 | Home | New York Giants |
| 13 | Away | Miami Dolphins |
| 14 | Home | Dallas Cowboys |
| 15 | Home | Pittsburgh Steelers |
| 16 | Away | Houston Texans |
| 17 | Home | Baltimore Ravens |
Cincinnati Bengals News
CJ Uzomah, Limps off practice field
Uzomah left Friday's training session early due to a right leg injury, Connor Hughes of SNY.tv reports.
Analysis: Uzomah limped off the practice field early Friday, so his status will need to be monitored. The 30-year-old tight end handled a depth role in his debut season for the Jets last year, tallying a 21-232-2 receiving line in 15 appearances. It remains to be seen whether Uzomah's injury will force him to miss any significant time.
June 9, 2023 9:02 AM EST
---
Andy Dalton, Moves to backup spot
Head coach Frank Reich told reporters Thursday that Dalton is working primarily with the second team with Bryce Young being elevated to the starting quarterback spot, David Newton of ESPN.com reports.
Analysis: Dalton was listed as the starting quarterback during voluntary offseason workouts and began each drill with the first unit. The plan was always for Young to assume the starting role and Reich noted that he didn't tell Young he was the starter until the end of last week. Dalton will assume the backup role and work primarily with the second team during next week's three-day mandatory camp. Dalton was brought in by the Panthers in March after starting in 14 games for the Saints last season and he will continue to serve as a veteran mentor for Young.
June 8, 2023 3:55 PM EST
---
Jacques Patrick, Let go by Denver
The Broncos waived Patrick on Wednesday, Mike Klis of 9News Denver reports.
Analysis: Patrick signed with the Broncos in mid-May, but despite practicing well, he's been let go in favor of Tommy Hudson. Patrick has spent time with the Broncos, Bengals, 49ers, Panthers and Ravens after going undrafted out of Florida State in 2020, but he most recently played in the XFL, where he totaled 115 carries for 443 yards with San Antonio.
May 31, 2023 3:49 PM EST
---
Tyler Boyd, Shows up for voluntary practice
Boyd participated in Tuesday's voluntary practice, Kelsey Conway of The Cincinnati Enquirer reports.
Analysis: Boyd is healthy this spring after exiting the AFC Championship Game early with a deep thigh bruise. He won't be at every voluntary practice, but that's only because he's a ninth-year pro entering his fifth season in the same system and fourth with QB Joe Burrow. The continuity in Cincinnati helps the Bengals offense overall and puts Boyd in a lot of favorable situations/ matchups, but it also means he's third in line for targets again behind fellow WRs Ja'Marr Chase and Tee Higgins.
May 30, 2023 10:07 AM EST
---
Jeremy Hill, Announces retirement
Hill retired from the NFL on Wednesday, Aaron Wilson of KPRC 2 Houston reports.
Analysis: Hill was selected by the Bengals in the second round of the 2014 Draft and rushed 667 times for 2,757 yards and 29 touchdowns over his first three NFL seasons. However, the LSU product suffered a season-ending ankle injury in the middle of 2017 and tore his ACL in Week 1 of 2018. He attempted a comeback in 2020 but wasn't able to latch on with a team and has remained a free agent since.
May 24, 2023 12:49 PM EST
---