Bengals Top Fantasy Players
These are the top fantasy football players of the Cincinnati Bengals as ranked by Average Draft Position (ADP) in PPR-format mock drafts.
Data as of January 27, 2021.
Joe Mixon
Joe Mixon's current ADP is 3.06, which is the 6th pick of the 3rd round, and 29th selection overall.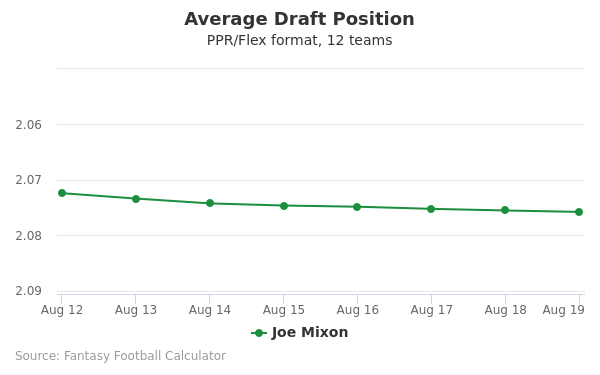 Tyler Boyd
Tyler Boyd's current ADP is 6.04, which is the 4th pick of the 6th round, and 64th selection overall.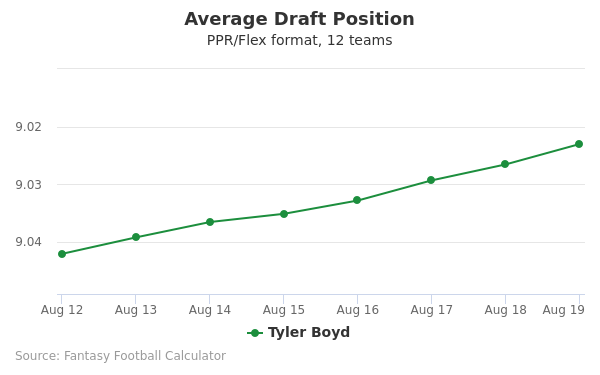 Joe Burrow
Joe Burrow's current ADP is 7.06, which is the 6th pick of the 7th round, and 78th selection overall.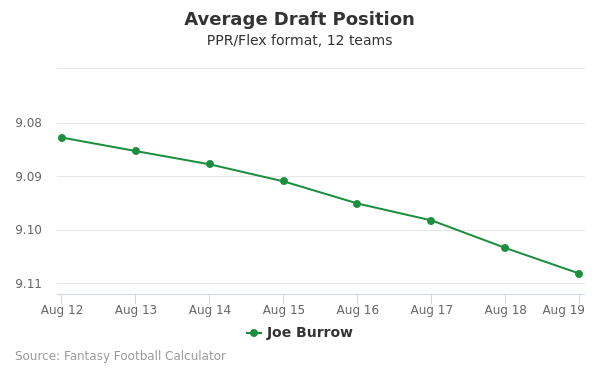 Tee Higgins
Tee Higgins's current ADP is 8.07, which is the 7th pick of the 8th round, and 90th selection overall.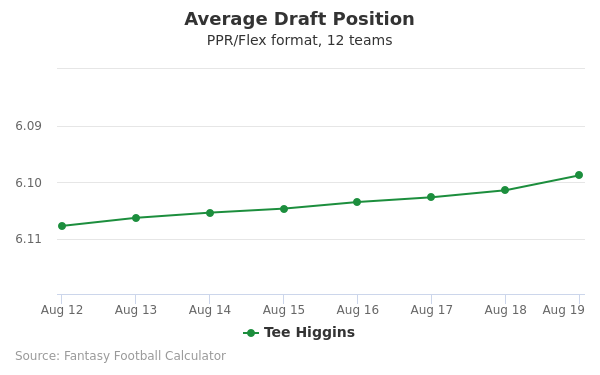 A.J. Green
A.J. Green's current ADP is 12.11, which is the 11th pick of the 12th round, and 143rd selection overall.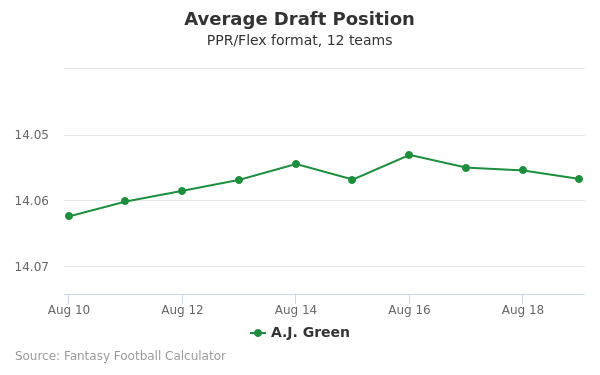 Giovani Bernard
Giovani Bernard's current ADP is 13.11, which is the 11th pick of the 13th round, and 155th selection overall.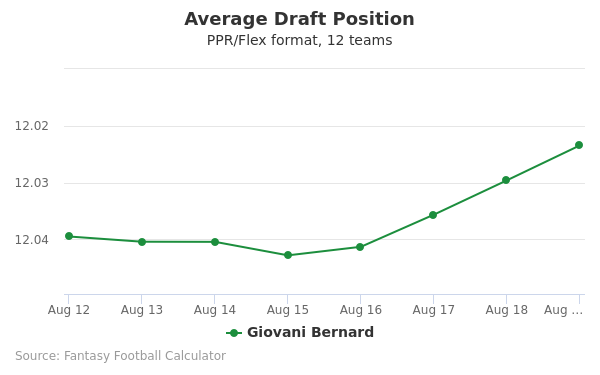 Randy Bullock
Randy Bullock's current ADP is 15.08, which is the 8th pick of the 15th round, and 176th selection overall.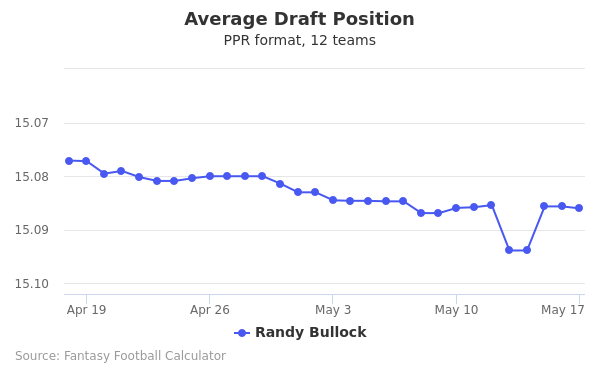 Cincinnati Bengals 2020 Schedule
| Week | Home/Away | Opponent |
| --- | --- | --- |
| 1 | Home | Los Angeles Chargers |
| 2 | Away | Cleveland Browns |
| 3 | Away | Philadelphia Eagles |
| 4 | Home | Jacksonville Jaguars |
| 5 | Away | Baltimore Ravens |
| 6 | Away | Indianapolis Colts |
| 7 | Home | Cleveland Browns |
| 8 | Home | Tennessee Titans |
| 10 | Away | Pittsburgh Steelers |
| 11 | Away | Washington Redskins |
| 12 | Home | New York Giants |
| 13 | Away | Miami Dolphins |
| 14 | Home | Dallas Cowboys |
| 15 | Home | Pittsburgh Steelers |
| 16 | Away | Houston Texans |
| 17 | Home | Baltimore Ravens |
Cincinnati Bengals News
Tristan Vizcaino, Inks practice squad deal
The Bills signed Vizcaino to the practice squad Saturday.
Analysis: Vizcaino will add organizational depth at kicker behind starter Tyler Bass. A Washington product, Vizcaino has played just one game since entering the league in 2018, connecting on all three field-goal attempts and both extra-point tries.
January 23, 2021 2:54 PM EST
---
AJ McCarron, Barely any action in 2020
McCarron only handled one offensive snap while appearing in two games for the Texans in 2020.
Analysis: McCarron did get a chance to throw the ball on his only play of the season, a pass which he completed for a gain of 20 yards. The 30-year-old signal-caller is scheduled to become an unrestricted free agent this offseason, but he shouldn't have any difficulty finding another backup role.
January 21, 2021 2:13 PM EST
---
Tee Higgins, Finishes with 908 yards
Higgins (hamstring) finished his rookie season with 67 catches for 908 yards and six touchdowns on 108 targets.
Analysis: Higgins played all 16 games, though he took just 15 snaps in Week 1 and three snaps in Week 17. In the eight games he and Joe Burrow both started and finished, Higgins averaged 5.0 catches for 75.4 yards and 0.5 TDs. The young wideout then averaged 4.8 catches for 55.8 yards and 0.4 TDs while playing with backup quarterbacks Weeks 12-16, before injuring his hamstring in the first quarter of the season finale. Higgins should return to health long before Burrow, who will be about 10 months removed from tearing his ACL when the 2021 regular season kicks off.
January 19, 2021 12:01 PM EST
---
Jordan Franks, Staying in Cleveland
Franks signed a reserve/future deal with Cleveland on Monday.
Analysis: Franks is expected to be healthy as he will remain in Cleveland for the upcoming year. It will likely take a few injuries before the tight end becomes utilized in the Browns' offensive plans.
January 18, 2021 1:40 PM EST
---
Tyler Kroft, Inactive Saturday
Kroft (coach's decision) is inactive for Saturday's playoff game against the Ravens.
Analysis: With Kroft inactive again Saturday, Dawson Knox will continue to work as the Bills' top tight end versus the Ravens, with Lee Smith and Reggie Gilliam available as reserve options.
January 16, 2021 4:02 PM EST
---