Bengals Top Fantasy Players
These are the top fantasy football players of the Cincinnati Bengals as ranked by Average Draft Position (ADP) in PPR-format mock drafts.
Data as of August 7, 2020.
Joe Mixon
Joe Mixon's current ADP is 1.11, which is the 11th pick of the 1st round, and 11th selection overall.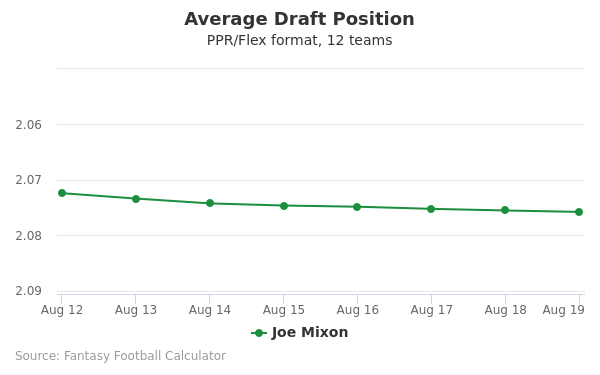 A.J. Green
A.J. Green's current ADP is 6.03, which is the 3rd pick of the 6th round, and 63rd selection overall.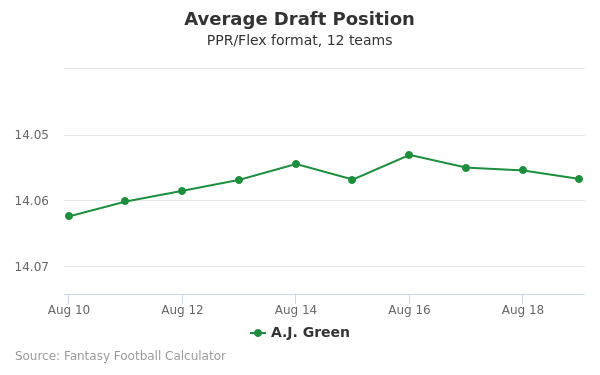 Tyler Boyd
Tyler Boyd's current ADP is 7.12, which is the 12th pick of the 7th round, and 83rd selection overall.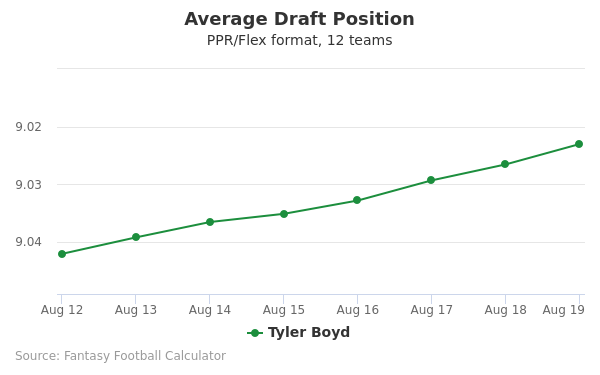 Joe Burrow
Joe Burrow's current ADP is 12.08, which is the 8th pick of the 12th round, and 140th selection overall.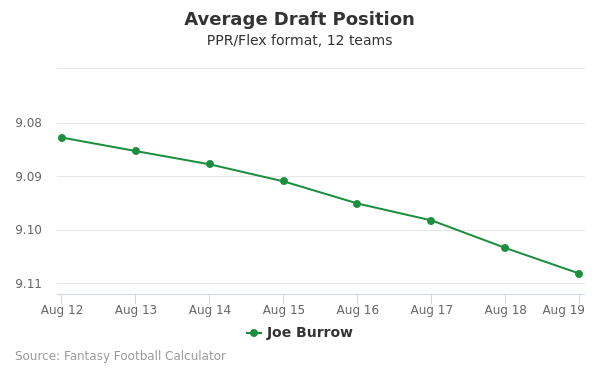 Cincinnati Bengals 2019 Schedule
| Week | Home/Away | Opponent |
| --- | --- | --- |
| 1 | Away | Seattle Seahawks |
| 2 | Home | San Francisco 49ers |
| 3 | Away | Buffalo Bills |
| 4 | Away | Pittsburgh Steelers |
| 5 | Home | Arizona Cardinals |
| 6 | Away | Baltimore Ravens |
| 7 | Home | Jacksonville Jaguars |
| 8 | Away | Los Angeles Rams |
| 10 | Home | Baltimore Ravens |
| 11 | Away | Las Vegas Raiders |
| 12 | Home | Pittsburgh Steelers |
| 13 | Home | New York Jets |
| 14 | Away | Cleveland Browns |
| 15 | Home | New England Patriots |
| 16 | Away | Miami Dolphins |
| 17 | Home | Cleveland Browns |
Cincinnati Bengals News
Jeremy Hill, Sent off by Raiders
The Raiders released Hill on Wednesday, Vic Tafur of The Athletic reports.
Analysis: Hill's time with the Raiders amounted to three days, and this move comes on the heels of Devontae Booker being activated from the reserve/COVID-19 list Tuesday. At the very least, Hill has proved the health of his right knee and will look to land an opportunity with another organization.
August 5, 2020 12:00 PM EST
---
Damion Willis, Good to go
Willis (undisclosed) passed his physical Monday, Jay Morrison of The Athletic reports.
Analysis: Willis jumped on and off the 53-man roster for Cincinnati in 2019, ultimately finishing his rookie campaign with nine receptions for 82 yards. With A.J. Green healthy and the team adding Tee Higgins via the draft, Willis will likely face an uphill battle to secure a spot this season.
August 3, 2020 9:42 PM EST
---
Logan Woodside, Favored to win backup job
Woodside has the "inside track" to the backup quarterback job in Tennessee, Turron Davenport of ESPN.com reports.
Analysis: Selected by Cincinnati in the seventh round of the 2018 draft, Woodside failed to make the Bengals' roster but quickly resurfaced on the Titans' practice squad. He then moved to the short-lived AAF, where he completed 58.3 percent of his passes for 7.0 YPA (with seven TDs and seven INTs) for the San Antonio franchise. Woodside re-signed with Tennessee last summer and played well in the preseason (7.1 YPA, four TDs, zero TDs), earning a spot on the practice squad before an arm injury sent him to injured reserve. He's now healthy for 2020 training camp, poised to compete with rookie seventh-round pick Cole McDonald for the right to serve as Ryan Tannehill's backup. The Titans' decision not to sign a veteran QB might be interpreted as a sign of confidence in Woodside, who reportedly remained heavily involved with the team while he was on IR last season.
August 3, 2020 6:48 AM EST
---
Jeremy Hill, Links up with Raiders
The Raiders have signed Hill to a contract, Vic Tafur of The Athletic reports.
Analysis: After hosting Hill on Friday and running him through a workout, physical and COVID-19 test, Las Vegas has added another player to the running back ranks. The Raiders' backfield is led by Josh Jacobs while Jalen Richard handles pass-catching duties, but Hill nonetheless will compete for a reserve role with fellow veteran Devontae Booker (illness). Hill spent the 2019 season away from football due to his recovery from a torn right ACL.
August 2, 2020 11:14 AM EST
---
Tristan Vizcaino, Gets another chance with Bengals
The Bengals signed Vizcaino on Saturday.
Analysis: Vizcaino is getting a second chance with Cincy after spending the 2019 offseason with the team. In the meantime, he was on the Cowboys' 90-man roster for a few months this offseason before they cut him loose back in April. Vizcaino is likely just a camp leg due to the presence of Randy Bullock on the roster.
August 1, 2020 5:52 PM EST
---