Bengals Top Fantasy Players
These are the top fantasy football players of the Cincinnati Bengals as ranked by Average Draft Position (ADP) in PPR-format mock drafts.
Data as of April 18, 2021.
Joe Mixon
Joe Mixon's current ADP is 3.03, which is the 3rd pick of the 3rd round, and 27th selection overall.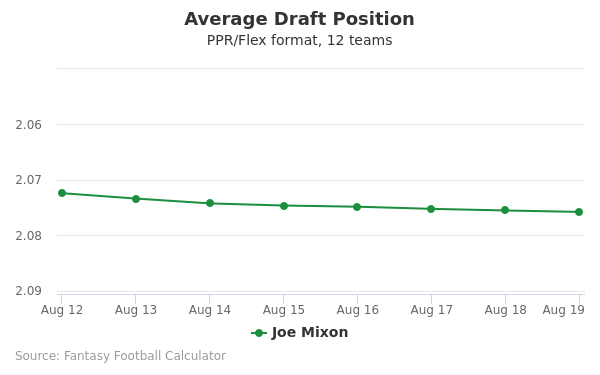 Tyler Boyd
Tyler Boyd's current ADP is 6.06, which is the 6th pick of the 6th round, and 65th selection overall.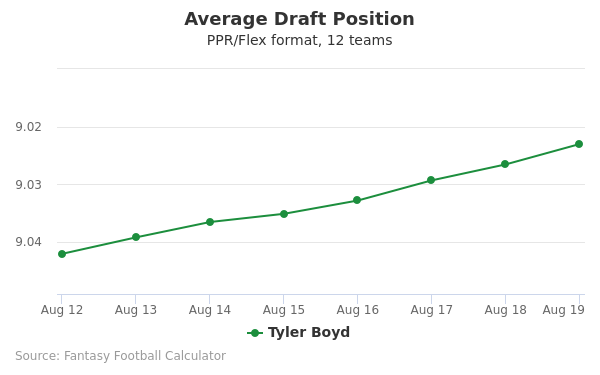 Tee Higgins
Tee Higgins's current ADP is 6.09, which is the 9th pick of the 6th round, and 69th selection overall.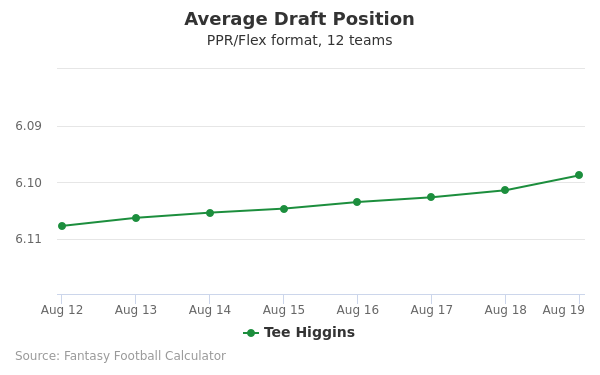 Joe Burrow
Joe Burrow's current ADP is 7.08, which is the 8th pick of the 7th round, and 80th selection overall.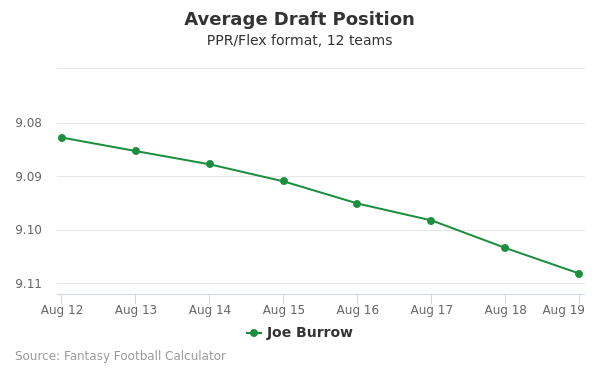 Samaje Perine
Samaje Perine's current ADP is 14.07, which is the 7th pick of the 14th round, and 163rd selection overall.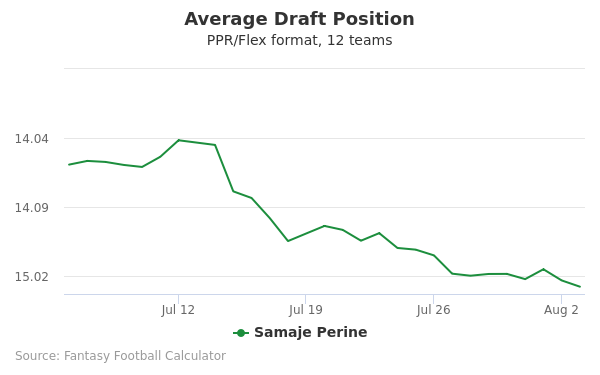 Cincinnati Bengals 2020 Schedule
| Week | Home/Away | Opponent |
| --- | --- | --- |
| 1 | Home | Los Angeles Chargers |
| 2 | Away | Cleveland Browns |
| 3 | Away | Philadelphia Eagles |
| 4 | Home | Jacksonville Jaguars |
| 5 | Away | Baltimore Ravens |
| 6 | Away | Indianapolis Colts |
| 7 | Home | Cleveland Browns |
| 8 | Home | Tennessee Titans |
| 10 | Away | Pittsburgh Steelers |
| 11 | Away | Washington Redskins |
| 12 | Home | New York Giants |
| 13 | Away | Miami Dolphins |
| 14 | Home | Dallas Cowboys |
| 15 | Home | Pittsburgh Steelers |
| 16 | Away | Houston Texans |
| 17 | Home | Baltimore Ravens |
Cincinnati Bengals News
CJ Uzomah, Cleared from Achilles tear
Uzomah (Achilles) told the London Is Blue podcast that he's been medically cleared, Adi Joseph of CBS Sports reports.
Analysis: Not that we're keeping track, but this has to be the first time an NFL player has dropped injury news on a Chelsea FC podcast. Uzomah apparently made a quick recovery from the Achilles tear he suffered Week 2, declaring himself healthy just seven months later. The Bengals may still opt to ease him into practices this spring/summer, but it sounds like Uzomah should be ready to challenge Drew Sample for playing time. Of course, the Bengals could add a rookie to their TE mix during the 20201 NFL Draft, potentially giving Sample and Uzomah some tougher competition.
April 14, 2021 7:06 AM EST
---
Giovani Bernard, Joining Brady and Friends in Tampa
Bernard is signing a one-year deal with Tampa Bay, Tom Pelissero of NFL Network reports.
Analysis: Bernard doesn't offer much as a runner, but he's a reliable pass catcher who also has a reputation for being one of the better pass-blocking RBs in the league. The Bucs tried LeSean McCoy, Leonard Fournette and Ke'Shawn Vaughn in the third-down role at different points last season, and while Fournette finally came around in the playoffs, his missed blocks and drops in the regular season won't be totally forgotten. The Bucs also have Vaughn, Ronald Jones and C.J. Prosise in the backfield, so Bernard isn't likely to see many carries even if he ends up playing a decent number of snaps.
April 12, 2021 1:01 PM EST
---
Giovani Bernard, Released by Cincy
The Bengals released Bernard on Wednesday, Jay Morrison of The Athletic reports.
Analysis: Bernard was scheduled for a $3.7 million base salary and up to $400,000 in bonuses in 2021, the second season of a two-year, $10.3 million extension. The Bengals asked him to take a pay cut a few weeks ago, and Bernard then requested his release when it became clear it wouldn't work out. Mike Garafolo of NFL Network says the 29-year-old running back is "expected to find a new gig soon." Meanwhile, the Bengals are left with Samaje Perine, Trayveon Williams and Jacques Patrick as their depth RBs behind Joe Mixon.
April 7, 2021 6:57 AM EST
---
Andy Dalton, Affirmed as starter
General manager Ryan Pace confirmed Friday that he views Dalton as the Bears' starting quarterback, Adam Hoge of NBC Sports Chicago reports.
Analysis: The Bears had already listed Dalton as the "QB1" heading into OTAs, but to see Pace so openly talk of him as the starter would seem to confirm that a competition with Nick Foles isn't being seriously considered. Per Hoge, the general manger discussed Dalton's style of play -- specifically his affinity for play-action, RPOs and ability to drop back -- as being a good fit for coach Matt Nagy's offense. Dalton should certainly offer Chicago more consistency under center than Mitchell Trubisky did in recent years, but it's also fair to question the fantasy ceiling of a 33-year-old quarterback who only managed two 4,000-yard passing seasons in nine years as a starter.
April 2, 2021 8:34 AM EST
---
Tee Higgins, Healthy and working out
Higgins is no longer bothered by his hamstring injury from the end of last season, Geoff Hobson of Bengals.com reports.
Analysis: He technically played all 16 games as a rookie, but he was eased into action with 15 snaps Week 1, while the hamstring injury limited him to three snaps in the season finale. Over the 14 games in between, Higgins averaged 4.8 catches for 64.9 yards on 7.6 targets, scoring six TDs and putting up solid efficiency stats (62.6 percent catch rate, 8.5 YPT) despite playing for a four-win team that scored 19.4 points per game (29th). With A.J. Green and his 104 targets from last season now out of the picture, Higgins should take on an even larger role in the Cincinnati offense. The 22-year-old wideout has been working out in Arizona and should be a full-go for any team offseason activities.
March 26, 2021 10:40 AM EST
---