Browns Top Fantasy Players
These are the top fantasy football players of the Cleveland Browns as ranked by Average Draft Position (ADP) in PPR-format mock drafts.
Data as of June 27, 2022.
Nick Chubb
Nick Chubb's current ADP is 1.10, which is the 10th pick of the 1st round, and 10th selection overall.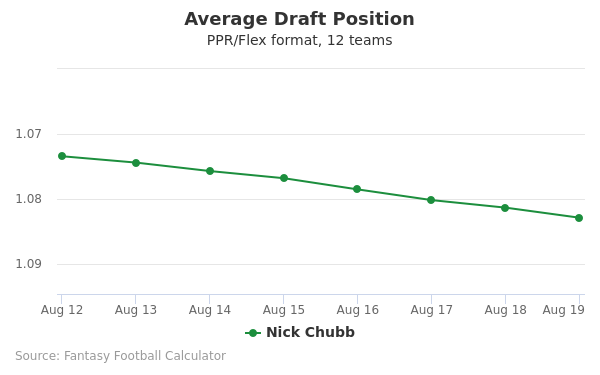 Amari Cooper
Amari Cooper's current ADP is 5.03, which is the 3rd pick of the 5th round, and 50th selection overall.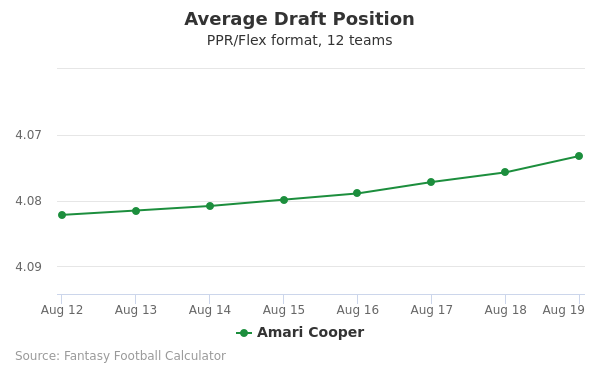 Kareem Hunt
Kareem Hunt's current ADP is 6.08, which is the 8th pick of the 6th round, and 68th selection overall.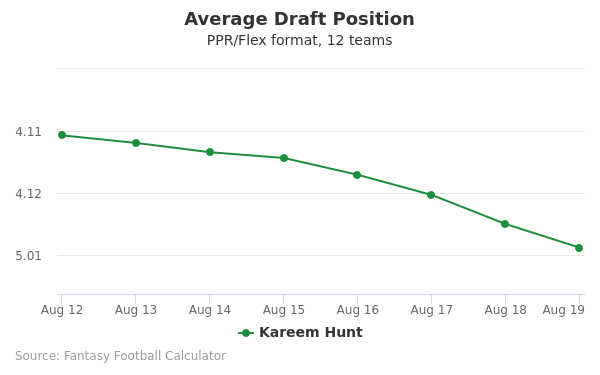 Deshaun Watson
Deshaun Watson's current ADP is 9.04, which is the 4th pick of the 9th round, and 100th selection overall.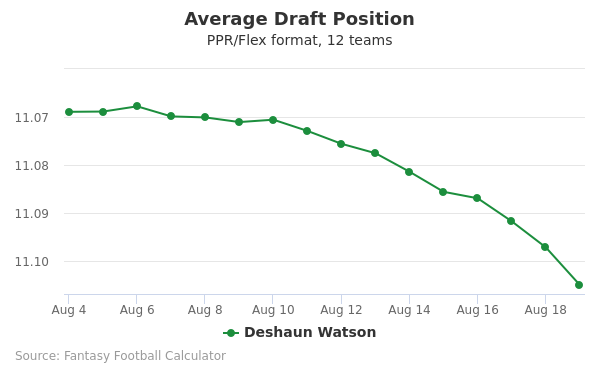 David Njoku
David Njoku's current ADP is 13.08, which is the 8th pick of the 13th round, and 151st selection overall.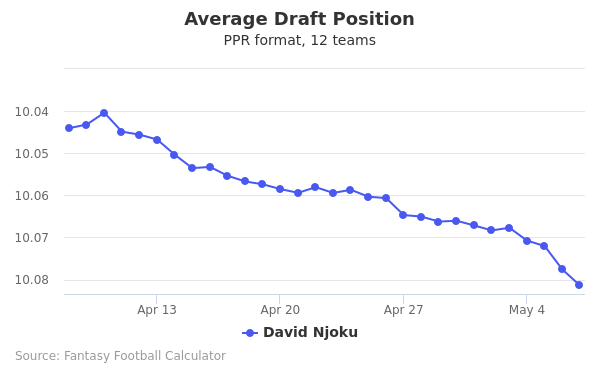 Cleveland Defense
Cleveland Defense's current ADP is 15.05, which is the 5th pick of the 15th round, and 172nd selection overall.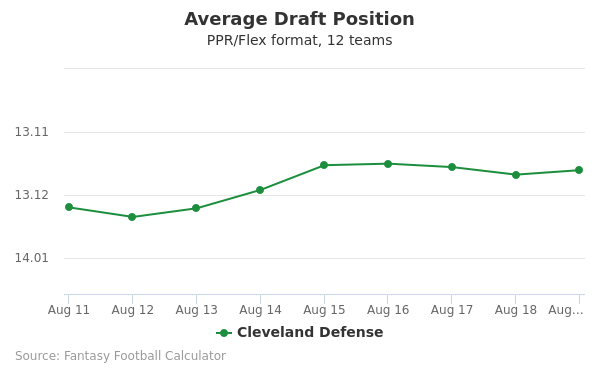 Cleveland Browns 2020 Schedule
| Week | Home/Away | Opponent |
| --- | --- | --- |
| 1 | Away | Baltimore Ravens |
| 2 | Home | Cincinnati Bengals |
| 3 | Home | Washington Redskins |
| 4 | Away | Dallas Cowboys |
| 5 | Home | Indianapolis Colts |
| 6 | Away | Pittsburgh Steelers |
| 7 | Away | Cincinnati Bengals |
| 8 | Home | Las Vegas Raiders |
| 10 | Home | Houston Texans |
| 11 | Home | Philadelphia Eagles |
| 12 | Away | Jacksonville Jaguars |
| 13 | Away | Tennessee Titans |
| 14 | Home | Baltimore Ravens |
| 15 | Away | New York Giants |
| 16 | Away | New York Jets |
| 17 | Home | Pittsburgh Steelers |
Cleveland Browns News
Dontrell Hilliard, Ready to battle for backup role
Hilliard has impressed while carrying a heavy workload in minicamp, Jim Wyatt of the Titans' official site reports.
Analysis: Hilliard is set to battle with rookie Hassan Haskins for the primary backup role to Derrick Henry in 2022. He caught a pair of touchdown passes from Ryan Tannehill during a minicamp practice Thursday, which is notable given Henry's lack of involvement in the passing game. Hilliard was also impressive in his limited opportunity in 2021, highlighted by a 131-yard effort on the ground against the Patriots in Week 12. His familiarity with the offense could be another reason he has the advantage over Haskins for the second spot on the running back depth chart -- at least initially.
Dontrell Hilliard player page.
June 17, 2022 10:38 AM EST
---
Josh Gordon, Leaves practice with trainer
Gordon left Wednesday's minicamp practice early due to an undisclosed injury, Adam Teicher of ESPN.com reports.
Analysis: Gordon signed a reserve/future contract with the Chiefs this offseason after he joined their practice squad in late September. In his first year with Kansas City, he caught just five of 14 targets for 32 yards and a touchdown across 12 appearances. However, if healthy, he'll have an opportunity to carve out a bigger role in 2022 after the departure of Tyreek Hill.
June 15, 2022 10:57 AM EST
---
Baker Mayfield, Excused from mandatory minicamp
The Browns have excused Mayfield (shoulder) from next week's mandatory minicamp, Jeremy Fowler of ESPN.com reports.
Analysis: Mayfield will be allowed to remain away from team facilities during mandatory minicamp without being subjected to fines. The 2018 first-round pick also hasn't attended voluntary OTAs, as both he and the team remain in favor of a trade following the acquisition of Deshaun Watson. Mayfield is continuing to rehab from January shoulder surgery, so it's possible he wouldn't be handling on-field reps even if he were motivated to participate in team activities.
June 8, 2022 9:27 AM EST
---
Stephen Carlson, Cleared to return
Carlson will work out with the Giants on Monday after being officially cleared to return to football activities, Tom Pelissero of NFL Network reports.
Analysis: The UDFA from Princeton saw just nine targets in his first two years in the league before a torn ACL suffered during a preseason game forced him to miss the entire 2021 season. Carlson is still looking for another opportunity after Cleveland opted not to retain him for the 2022 campaign, but at least now he has a clean bill of health working in his favor.
June 6, 2022 11:12 AM EST
---
D'Ernest Johnson, Agrees to one-year deal
Johnson and the Browns have reached an agreement on a one-year deal worth $2.43 million, Adam Schefter of ESPN reports.
Analysis: Johnson was originally tendered by the Browns, which game them the ability to match any other offer he received. Without any substantial offers, the running back has ultimately opted to take the deal with Cleveland. With Nick Chubb and Kareem Hunt the primary two backs in the offense, Johnson projects to again be the next-man-up should either go down with an injury. He averaged 5.34 yards per attempt on 100 carries for the team in 2021, while finding the end zone three times.
June 4, 2022 12:01 PM EST
---