Browns Top Fantasy Players
These are the top fantasy football players of the Cleveland Browns as ranked by Average Draft Position (ADP) in PPR-format mock drafts.
Data as of May 31, 2023.
Nick Chubb
Nick Chubb's current ADP is 1.12, which is the 12th pick of the 1st round, and 12th selection overall.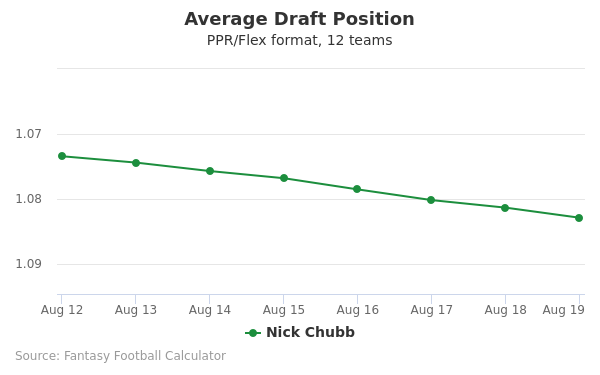 Amari Cooper
Amari Cooper's current ADP is 4.06, which is the 6th pick of the 4th round, and 42nd selection overall.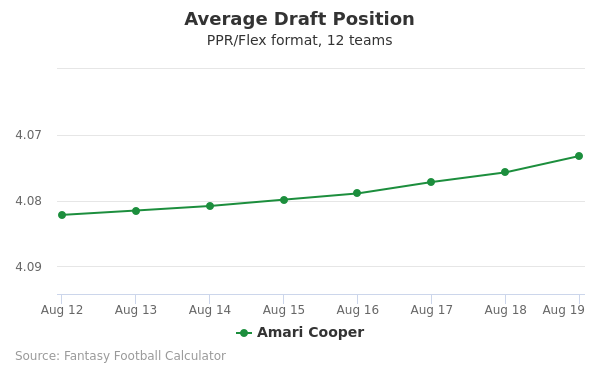 Elijah Moore
Elijah Moore's current ADP is 9.07, which is the 7th pick of the 9th round, and 103rd selection overall.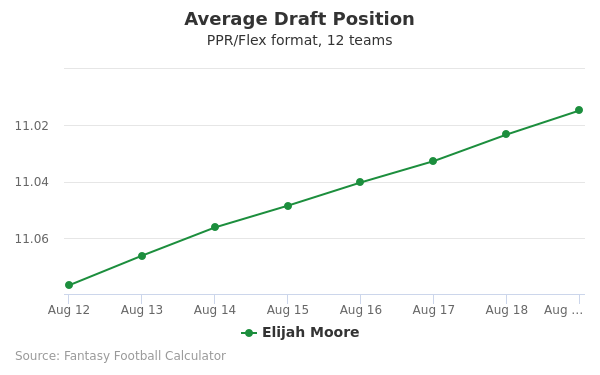 Deshaun Watson
Deshaun Watson's current ADP is 11.03, which is the 3rd pick of the 11th round, and 123rd selection overall.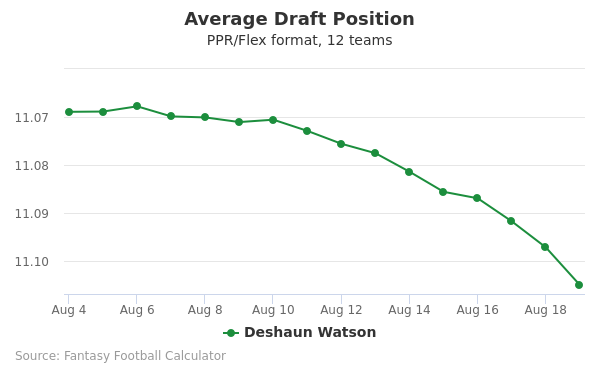 Cleveland Browns 2020 Schedule
| Week | Home/Away | Opponent |
| --- | --- | --- |
| 1 | Away | Baltimore Ravens |
| 2 | Home | Cincinnati Bengals |
| 3 | Home | Washington Redskins |
| 4 | Away | Dallas Cowboys |
| 5 | Home | Indianapolis Colts |
| 6 | Away | Pittsburgh Steelers |
| 7 | Away | Cincinnati Bengals |
| 8 | Home | Las Vegas Raiders |
| 10 | Home | Houston Texans |
| 11 | Home | Philadelphia Eagles |
| 12 | Away | Jacksonville Jaguars |
| 13 | Away | Tennessee Titans |
| 14 | Home | Baltimore Ravens |
| 15 | Away | New York Giants |
| 16 | Away | New York Jets |
| 17 | Home | Pittsburgh Steelers |
Cleveland Browns News
Baker Mayfield, Starting role up for grabs
Offensive coordinator Dave Canales said Wednesday the Buccaneers won't rush to name Mayfield of Kyle Trask as the starting quarterback for the 2023 season, Brianna Dix of the team's official site reports.
Analysis: Mayfield and Trask both managed to avoid added competition at the quarterback position during the 2023 NFL Draft, though Tampa Bay did sign John Wolford on Tuesday. Canales said the starting role will go to the quarterback who proves they can take "care of the ball" and "push the ball down the field," and while Mayfield certainly looks like the favorite to win out among the Buccaneers' current options, it's possible a competition could still linger late into the offseason. The 28-year-old Mayfield inked with Tampa Bay on a one-year, $8.5 million contract back in March and may be facing his last real chance at a career bounceback.
May 10, 2023 7:52 AM EST
---
Stephen Carlson, Headed to Chicago
Carlson agreed to a one-year contract with Chicago on Saturday, Tom Pelissero of NFL Network reports.
Analysis: The tight end out of Princeton is going from Cleveland to Chicago after signing with the Bears on Saturday. He hasn't played in the NFL since 2020, but in his last two active seasons with Cleveland, he recorded six catches for 62 yards and one touchdown while acting as a special teams ace, playing over 80 percent of the special team's snaps. This is the third tight end Chicago has brought in this offseason, luring Robert Tonyan away from Green Bay and signing Damien Caffrey as an undrafted free agent.
May 6, 2023 12:55 PM EST
---
Donovan Peoples-Jones, Potential replacement drafted
The Browns envision third-round draft pick Cedric Tillman as an eventual replacement for Peoples-Jones, who is entering the final year of his rookie deal, Zac Jackson of The Athletic reports.
Analysis: Peoples-Jones is coming off his best season, but an already loaded receivers room got more crowded after the Browns added Tillman, a big-bodied X receiver that could excel in the red zone. It's unlikely Tillman has a big role at the start of the 2023 season, but a more pass-centric offense could provide him snaps to showcase the promise Cleveland sees in him. Despite the hype surrounding the draft pick, Peoples-Jones is expected to be one of the top three on the depth chart, along with Amari Cooper and Elijah Moore.
Donovan Peoples-Jones player page.
April 29, 2023 5:15 AM EST
---
Ja'Marcus Bradley, Gets new contract from Pittsburgh
The Steelers signed Bradley to a reserve/future contract Tuesday.
Analysis: Bradley spent the majority of the 2022 regular season unsigned until joining up with the Steelers' practice squad Nov. 23. While he never suited up for Pittsburgh, it appears the 26-year-old made enough of an impression to earn a prospective contract heading into the 2023 offseason. Bradley has yet to make his NFL debut.
Ja'Marcus Bradley player page.
January 10, 2023 6:52 PM EST
---
Harrison Bryant, Two catches in finale
Bryant caught two of two targets for 20 yards in a 28-14 loss to the Steelers in Week 18.
Analysis: Bryant finished the season with season highs in catches (31), targets (42) and yards (239) along with one touchdown. An increase in production was expected after Browns didn't bring tight end Austin Hooper back, although Bryant was clearly second behind David Njoku, who lived up to the four-year deal he signed during the offseason. Bryant has one more year left on his rookie deal and should return in the same role for the 2023 season. Cleveland's down year was not the fault of its receivers. The club is in "win now" mode after sinking so much into quarterback Deshaun Watson, so expect the same crew of targets back next season, when the Browns hope to see its pricey quarterback live up to his price tag.
January 10, 2023 5:01 AM EST
---