Jerry Jeudy
Denver Broncos
Wide Receiver #10
Denver Broncos
Wide Receiver #10
Photo: Icon Sportswire
Personal
| | |
| --- | --- |
| Age | 22 |
| Birthdate | April 24, 1999 |
| Height | 6'1" |
| Weight | 193 lb |
Draft
College
Alabama
Year
2020
Pick
Round: 1, Overall: 15
Team
DEN
Fantasy Value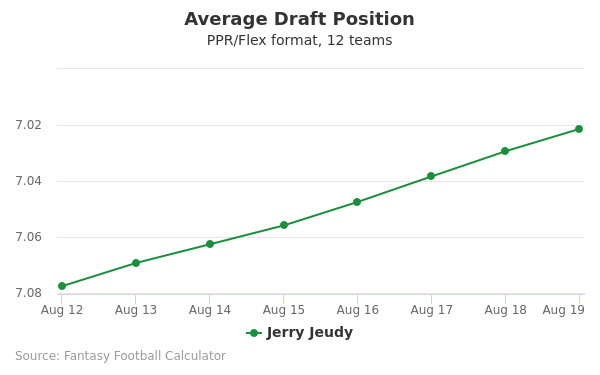 The code below will display a graph that updates every day to show the ADP data for Jerry Jeudy for the past 30 days in 12-team PPR leagues.
You may use this graph on your website for free with a link back to this page for attribution.
Player News
Jerry Jeudy: High hopes in Year 2
Jeudy is a candidate for a breakout season in Denver, according to Nick Kosmider of The Athletic.
Analysis: Jeudy enters his second year with the Broncos with high expectations based on his rookie campaign. Despite dealing with a nagging ankle injury at times last season and playing with three different starting quarterbacks, Jeudy amassed 856 receiving yards in 2020. Looking ahead, the return of fellow wideout Courtland Sutton from an ACL injury should open up even more opportunities for Jeudy in the middle of the field, where his impressive skills as a route runner can shine. Though the Broncos still need to decide who will be delivering the ball to Jeudy and Co. in 2021, a noticeable step forward in production for the 22-year-old receiver is a plausible outcome.
Jul. 9, 2021 2:36 PM EST
Player Stats
YEAR
TM
GM
Receiving
Rushing
REC
TGT
%
YDS
TD
YPC
ATT
YDS
YPC
TD
FUM
2020
DEN
16
52
113
46.0
856
3
16.5
0
0
0
0
0
Recent Articles
In this article we will take a quick look at the dynasty fantasy football landscape, noting who is rising, who is falling, and who are...
Read more »
July 24, 2021. Premium
As the NFL Draft approaches, rookie fever continues to intensify. Increasingly important in the fantasy football world, the 2021 draft...
Read more »
January 28, 2021. Premium
Just like that, the fantasy season has come and gone, but over this past week, we had a ton of great performances. In this week's...
Read more »
January 5, 2021. Premium
Who Should You Start?
Who Should You Draft?