Jerry Jeudy
Denver Broncos
Wide Receiver #10
Denver Broncos
Wide Receiver #10
Photo: Icon Sportswire
Personal
| | |
| --- | --- |
| Age | 23 |
| Birthdate | April 24, 1999 |
| Height | 6'1" |
| Weight | 193 lb |
Draft
College
Alabama
Year
2020
Pick
Round: 1, Overall: 15
Team
DEN
Fantasy Value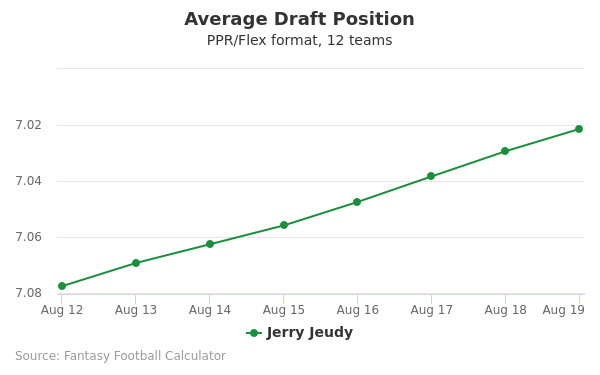 The code below will display a graph that updates every day to show the ADP data for Jerry Jeudy for the past 30 days in 12-team PPR leagues.
You may use this graph on your website for free with a link back to this page for attribution.
Player News
Jerry Jeudy: Appears in court
Jeudy, who appeared in Arapahoe County (Colorado) court Friday morning, was released on a $1,500 personal recognizance bond, Jeff Legwold of ESPN reports.
Analysis: Per NFL.com, Jeudy was arrested Thursday on second-degree criminal tampering charges with a domestic violence enhancer, but he did not submit a plea and is next scheduled to appear in court May 31. In a statement Thursday, the Broncos noted they "are aware of the matter involving Jerry Jeudy and are in the process of gathering more information."
May. 13, 2022 9:49 AM EST
Player Stats
YEAR
TM
GM
Receiving
Rushing
REC
TGT
%
YDS
TD
YPC
ATT
YDS
YPC
TD
FUM
2020
DEN
16
52
113
46.0
856
3
16.5
0
0
0
0
0
Recent Articles
Congratulations to those that have made it through to the fantasy semi-finals! Week 15 is a prime example of why you want to get that...
Read more »
December 22, 2021. Premium
December 22, 2021
Premium
Week 12's Dynasty Week In Review salivates over Elijah Moore, is impressed with Denver's pass-catchers, and is sad about pretty much...
Read more »
November 28, 2021. Premium
November 28, 2021
Premium
If your fantasy squads were not sunk by the torpedoes that were Jonathan Taylor and Austin Ekeler last week, congratulations! The pair...
Read more »
November 25, 2021. Premium
November 25, 2021
Premium
Who Should You Start?
Who Should You Draft?